Transform a secondhand wood bed frame into a frame that will match your bedroom decor with these easy tips.
Disclosure: I was given an opportunity to try Google Express.
The twins' are home on summer vacation and there is nothing they hate more than running errands. However, they are only 9 and too young to stay home alone so especially when their big brother is at work or college (yes he went all summer), I found it so much easier to do most of my shopping on-line. I ordered there back-to-school clothes, some of their back-to-school supplies, and even some groceries.
A big project I'd been putting off though was painting Marisol's bed frame. We'd picked it up second-hand, and it was black and hot pink, so it certainly didn't match her bedroom colors which are aqua, pink, grey, and white. So for the past couple of months, the bed frame has sat in their playroom against a wall just waiting for me to find the energy to paint it. With her home from school though every time she walked into that room I was reminded that it 'still' wasn't done. So instead of dragging the kids out to a couple of stores to pick up supplies, spend countless hours in the paint department looking at swatches (while she tried to decide on the perfect color) I did all of the ordering on-line using Google Express so we could just enjoy our day.
Here's a sneak peek of her bedroom now: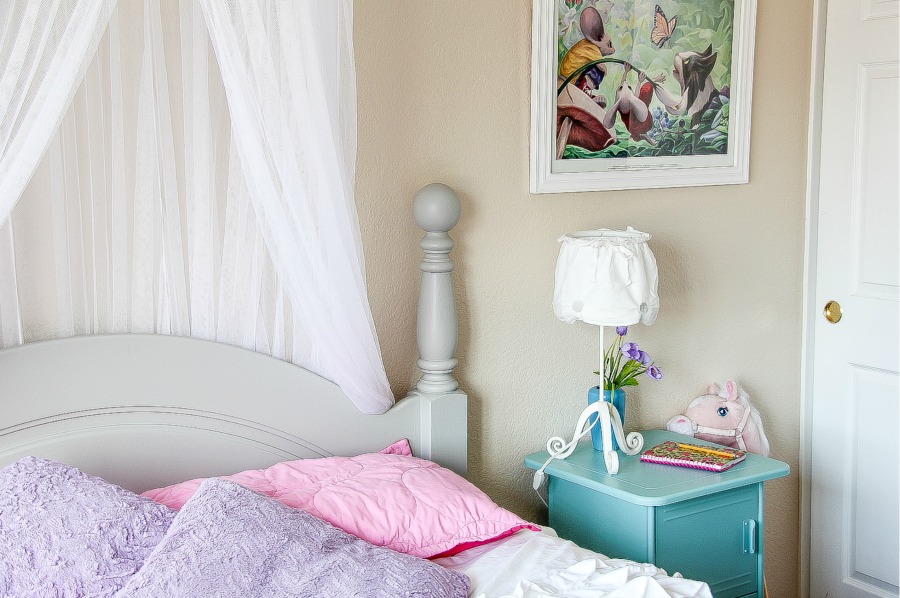 There will be a final reveal once it's finished over the next couple of weeks. She's given me lists of other things she would like me to do for it first though. Next up is to apparently make a scrap fabric garland to hang above the bed, from the bedposts similar to this fabric garland I made for above my reading chair.
Here are the before and during photos so you can see the color of the bed frame before and see why she wanted me to paint it to match her bedroom.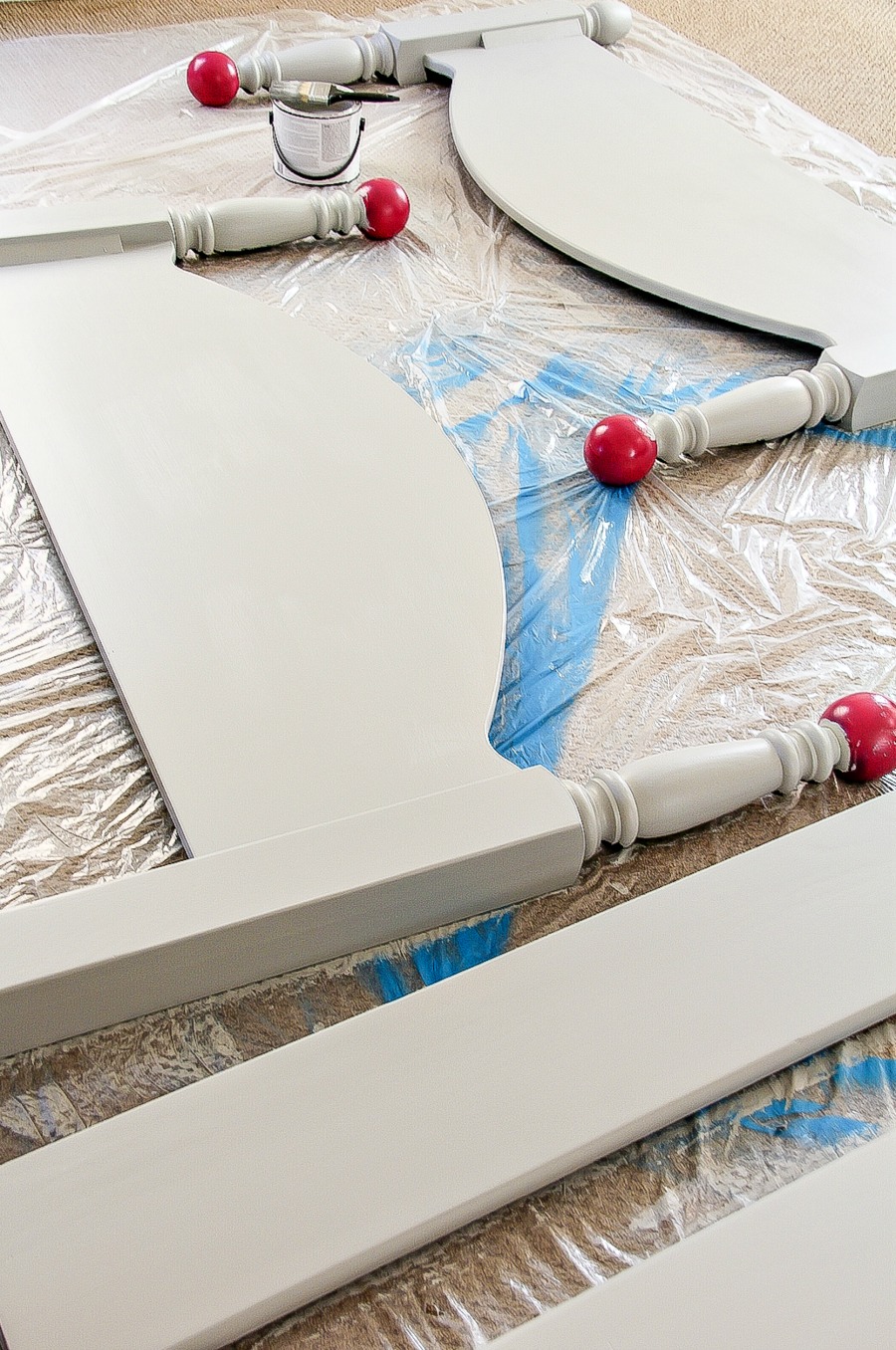 To free up some time to do this project which would have been 2 full days over summer vacation (one day of painting, and another day for shopping and assembling), I ordered the paint, brushes, and goggles using Google Express.
As I mentioned above if I'd taken Marisol to the hardware store, we would have come home with 30 swatches which she would have debated over for hours, there would have been a fight involved why I tried to explain that the colors she absolutely 'had' to have were not appropriate because they either didn't match her decor, or she would want to change it in a year because it was no longer her favorite color.
But, using Google Express I simply ordered a color and chose a back-up color in case the main color wasn't in stock and just went with it. I knew it had to be a fairly neutral color so we could get some longevity out of it with her constantly wanted to re-decorate and changing her 'must-have' color combinations every few months. So I placed my order for white, and then my back-up color as grey.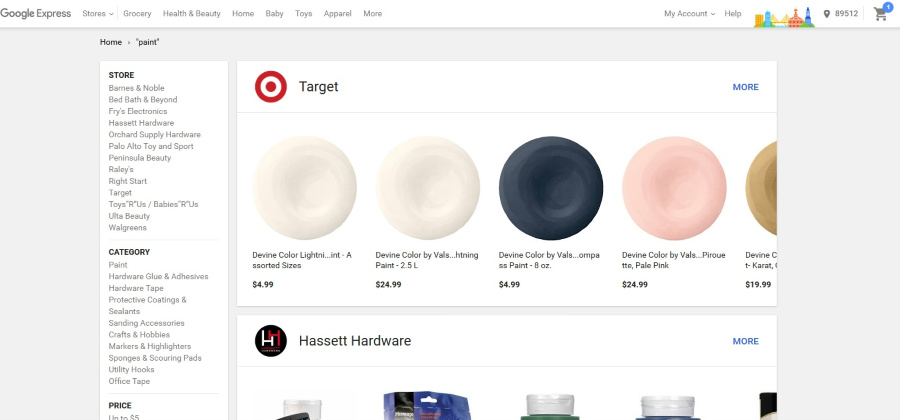 The white ended up being out of stock and grey was sent in its place and it ended up being perfect.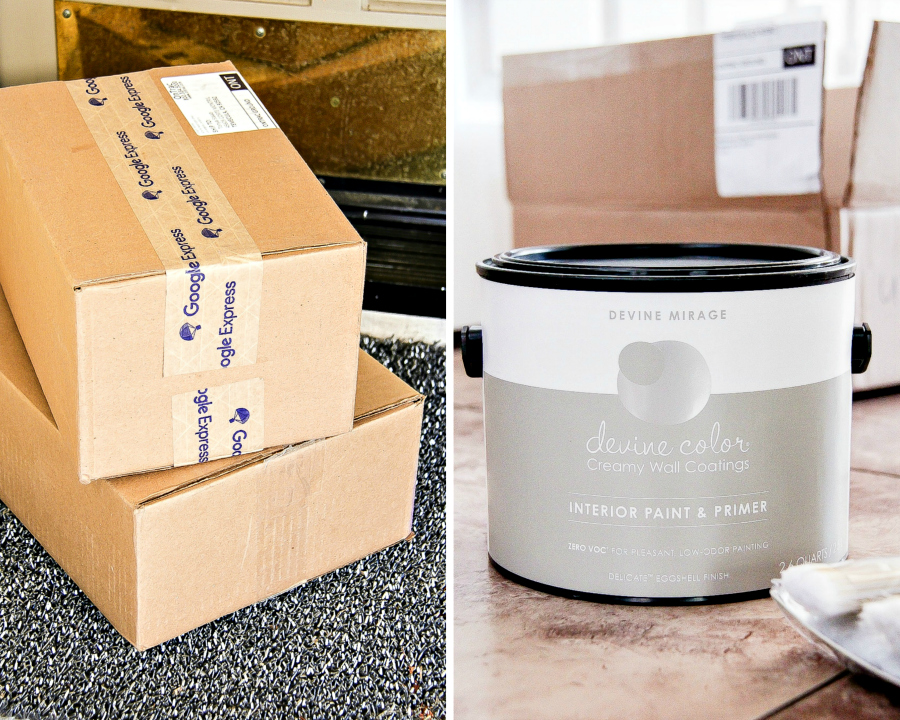 By the time I'd finished painting she absolutely LOVED the color because it matches the grey shelving units she has along one wall in her bedroom.
And so with all of that time that we didn't spend fighting over colors and at the hardware store grabbing swatches, bringing them home to match colors, going back to the store to buy paint, we spent that day playing with LEGO's. All. Day.
AS I mentioned I'll be sharing more photos of her bedroom as we finish the long list she has for me, but I wanted to share one more cool feature of Google Express. The price comparisons.
The kids' bathroom sink has been draining very slowly lately and I keep forgetting to buy Draino when I go to the grocery store so I ordered it from Google Express while I was placing my order … one of the kids just happened to complain as I was ordering which was perfect timing. But take a look at this: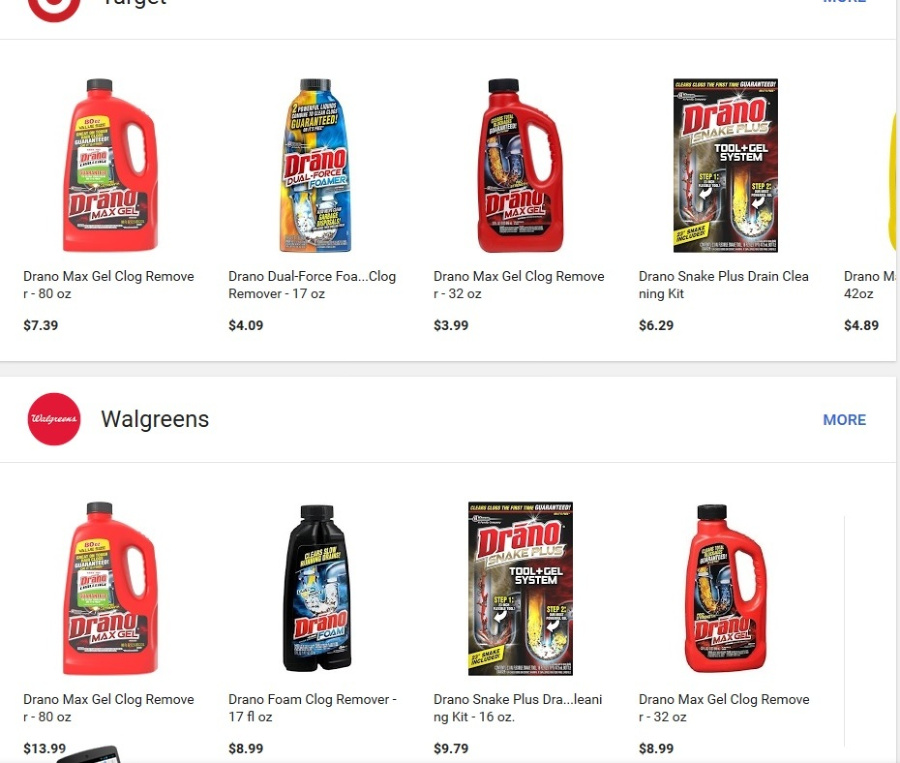 And no, those aren't the only stores available for order, there are others too, but I thought you'd find the comparison in price very interesting.

If you want to try out Google Express I have two great offers to share with you.
Free 6-month membership (includes free shipping, $54 value) using promo code FREETIME.
Then, enter my promo code 7FFX5M46D to receive $15 off your first order using my referral code.
You can shop at popular stores like Target and Costco, simply add items to your cart, choose when you want delivery from each store (same-day, overnight or 2-day), and check out using Google Payments.
With a Google Express membership, you can get fast and free delivery on eligible orders. If you don't have a membership, delivery starts at $4.99 per store for eligible orders.
What would you do with your free time if you did your shopping on-line? Post a comment here or upload a photo on social media of your Saturday with the #MyNewSaturday and #GoogleExpress hashtag.
Give $15, Get $15: Offer may end at any time/valid until 08/31/2016 while your account is active. Limited to Google Express accounts that received the offer from Google. Each valid referral gets you a $15 courtesy credit when the new users you referred place their first order using your referral code. Alcohol, gift cards, membership costs, and shipping & service fees excluded. Credits you give are subject to these terms. Credits you get are subject to these terms.*