Celebrate St. Patrick's Day on a budget by reusing your Christmas decorations. We've got 10 great ideas to get you started.
St. Patrick's Day is only 6 days away. Are you looking for last minute ideas?
Pull your Christmas decorations out of storage because we've got 10 ways you can reuse it for your St. Patrick's Day celebrations.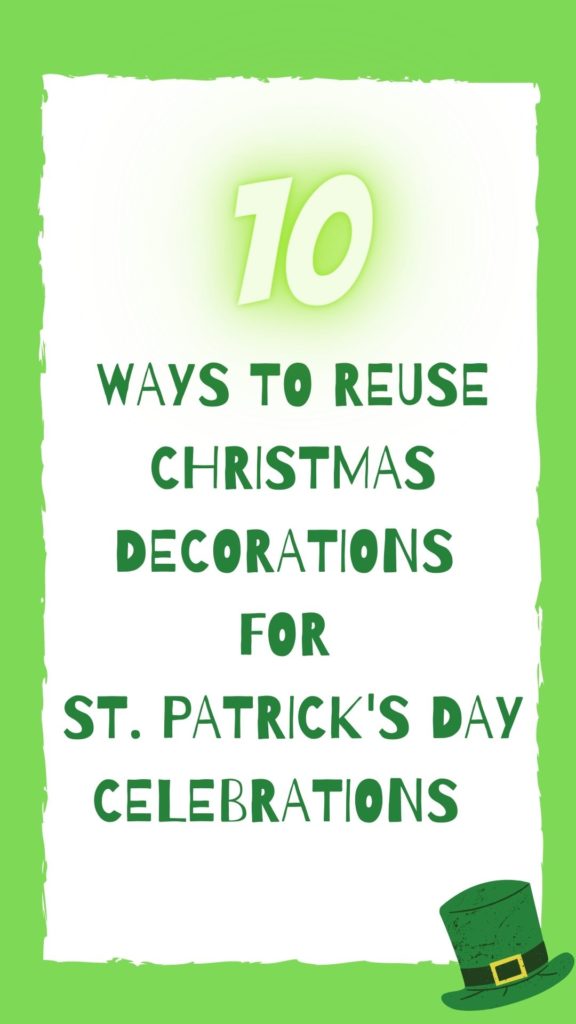 Note: This list was originally published on Cove Financial which has since closed.
There's no need to purchase expensive St. Patrick's Day decor, instead, reuse your Christmas decor! It's amazing what you can do with what you probably already have.
10 ways to use your Christmas decor for St. Patrick's Day
Christmas Lights
Hang green, white, or clear Christmas lights around your mantel, front door, pillars, or windows.
Tinsel
Green tinsel can be hung around the mantel, down the center of a table, or as a banner. Colored tinsel can be hung in a rainbow of colors, perfect for a photo booth backdrop. Cut a cloud of white card stock and fill a bucket with gold tinsel underneath.
Tablecloths, Placemats, and Runners
Re-use green, silver, gold, or white tablecloths, placemats, and runners. If you don't have a runner, fold a tablecloth into thirds and iron the edges. Mix and match patterns with solid colors.
Green Baubles
Fill a bowl, vase, or apothecary jar with green baubles for a simple, elegant centerpiece.Garlands and Wreaths: Dress up a plain garland or wreath with baubles in gold and green, gold coins, shamrocks, and ribbons.
Cups
Turn green cups into leprechaun hats. Turn them upside down and glue to a circle of paper. Add a black paper band and gold paper buckle. Alternatively, fill the leprechaun cup with straws or party treats.
Fabric, Plastic, or Ribbon
Use leftover ribbon from gift packages, old plastic tablecloths, scraps of fabric from tablecloths, napkins, or Christmas clothing that no longer fits to make decor. Cut it into strips and tie it to a piece of twine to make a fun garland. Or, stretch a wire hanger into a circular shape and tie the strips on to make a wreath. Colored ribbon can be pinned in the shape of a rainbow on cards, place cards, or card stock to use as a backdrop.
Napkins
Bring out those white and green napkins. This is a great way to use up leftover paper napkins from seasons past. Use a variety of shades of green and alternate the colors with white if you only have a few of each color. Tie cloth napkins with a green ribbon and attach a shamrock to them.
Candles
Tie a shamrock or ribbon to green, gold, white, or silver candles.
Gift Wrap and Bags
Leftover gift wrap and bags whether in fun prints or plain can be re-used in multiple ways. Wrap it around food cans for utensils, straws, and flowers. Attach it to blocks of wood or cutting boards to use as artwork or a backdrop for your mantel or party food table. Cut it into shamrock shapes to make cards, or, tie it onto candles and wreaths. Alternatively, place it under clear plates, or scatter like confetti down the center of your table.
More St. Patrick's day ideas
Tip: Shop the after-holiday sales for clearance items at 75-90% off. Look for items that you can use for other holidays too. Crepe paper, balloons, napkins, tablecloths, and candles can be interchanged for a number of holidays.
If you are in the San Diego area, grab a copy of the March issue of San Diego Family magazine. My Leprechaun Lunch for Kids is featured in their St. Patrick's Day roundup along with a list of St. Patrick's Day events around the San Diego area.
If you have a Smart & Final store nearby and subscribe to their email newsletter for current deals, savings, and promotions, you will see my Mint Oreo Hot Chocolate recipe is featured.