Are you looking for delicious recipes with strawberries? You will love these ones including tarts, jam, salsa, soup, salad, and more.
Last week I attended an event at True Food Kitchen hosted by the California Strawberry Commission. If you haven't been to True Food Kitchen I highly recommend it, it's been one of my favorite restaurants for a while. All of their dishes are fresh, farm-to-table, and you don't leave feeling bloated. Their cocktails are seriously amazing too.
We enjoyed a lot of freshly prepared dishes (while learning about California Strawberries) including:
Strawberries stuffed with goat cheese
Strawberry and heirloom tomato bruschetta
Strawberry salad lettuce cups
Chocolate pudding topped with fresh strawberries
Strawberry and rhubarb mojito cocktails
I hope these give you some delicious ideas to try at home, especially if you've been strawberry picking with the kids. I'm also sharing three of the California Strawberry Commissions recipe cards below. At the very end I have my own yummy ideas you should try as well.
Recipes with strawberries
Strawberry salsa recipe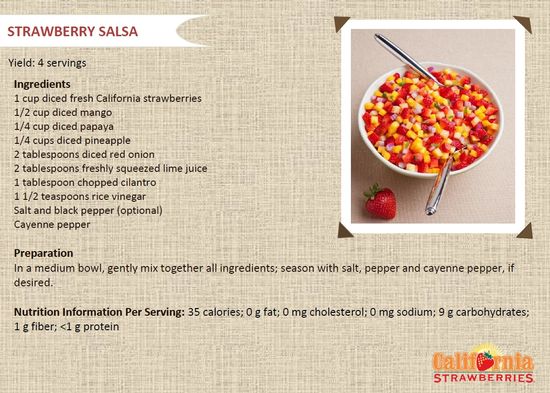 Strawberry soup recipe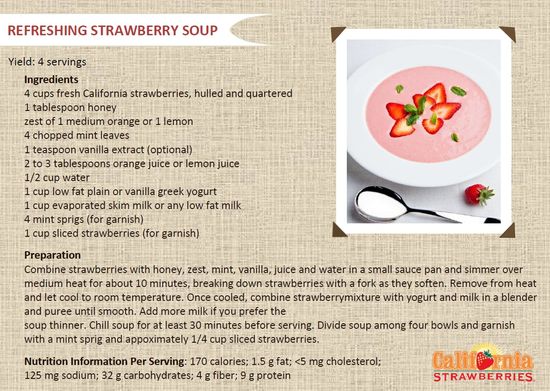 Strawberry caprese salad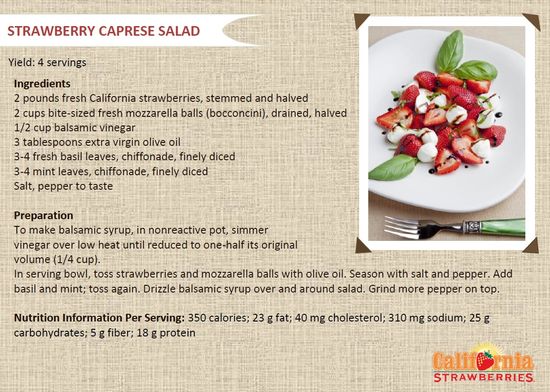 Strawberry facts and nutritional information
88% of strawberries in the United States are grown in California by more than 500 family farmers
There are only 50 calories per serving (a serving is approximately 1 cup or 8 medium strawberries)
They are full of nutrients including: vitamin C, folate, potassium, and fiber
According to David (from the California Strawberry Commission), if I eat more berries, I may even be able to remember where I left my car keys. Maybe I should actually try this. I misplace my car keys (and everything else) a lot.
You will find even more delicious recipes on the California Strawberry Commission website. They also have a pretty fabulous Pinterest board you need to follow that's full of delicious ideas.
More strawberry recipe ideas
Are you looking for more delicious recipes with strawberries? Here are some of mine that you need to try too: