This recipe for zucchini boats with sausage uses homegrown zucchini straight from the garden. It's a delicious quick and easy meal.
Recently, I posted about our zucchini plants. We have five plants in the garden and they are producing multiple zucchini every week. I'm having to get a little creative with these because only Mike and I really like zucchini. The kids look at me like I might be trying to poison them unless they are so finely chopped that they can't be seen by the human eye.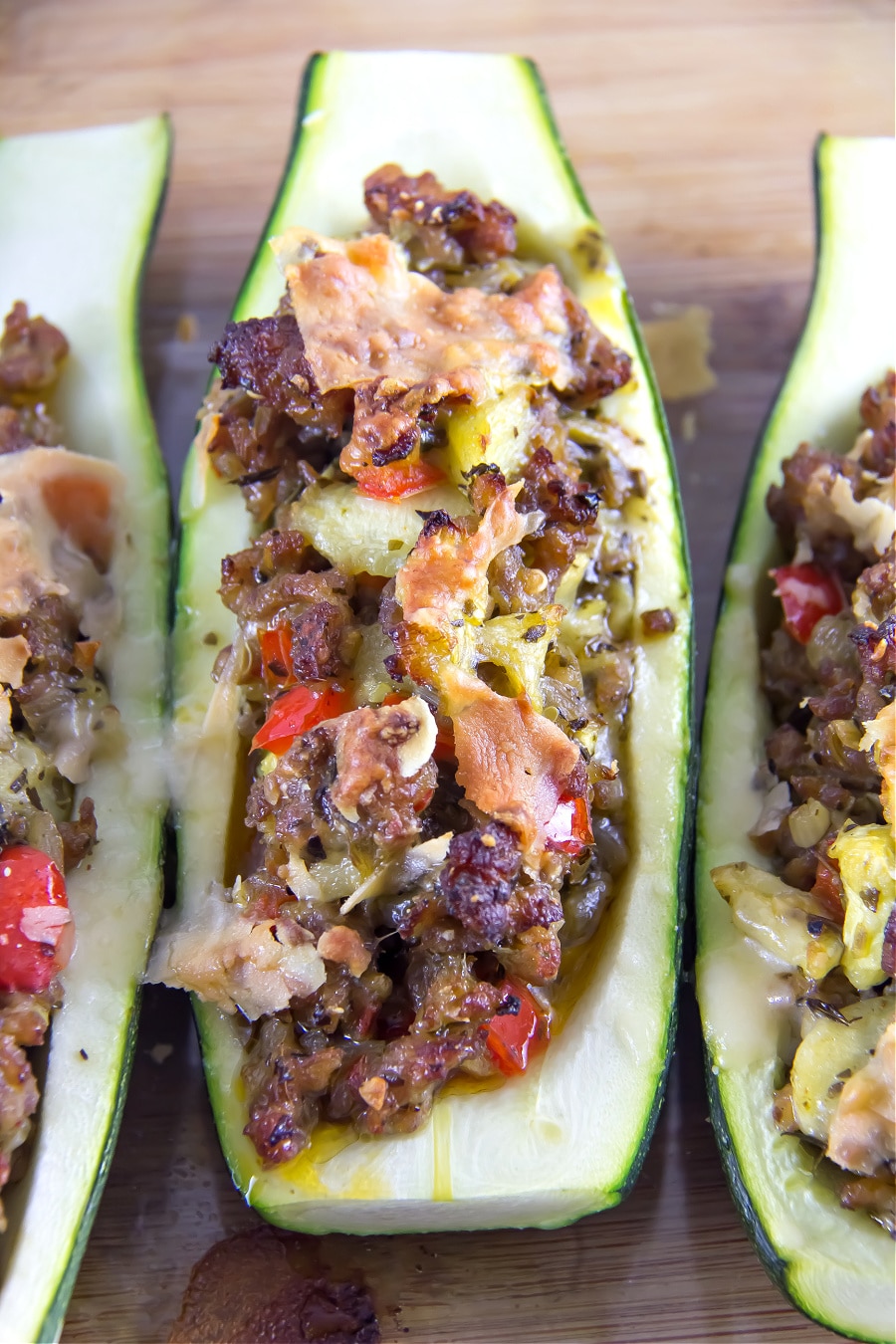 How to make zucchini boats
I've made zucchini boats with ground turkey and bacon previously. These ones though have mild Italian sausage giving them a delicious flavor.
How do you hollow zucchini
Hollowing out zucchini to make stuffed zucchini boats is easier than you think.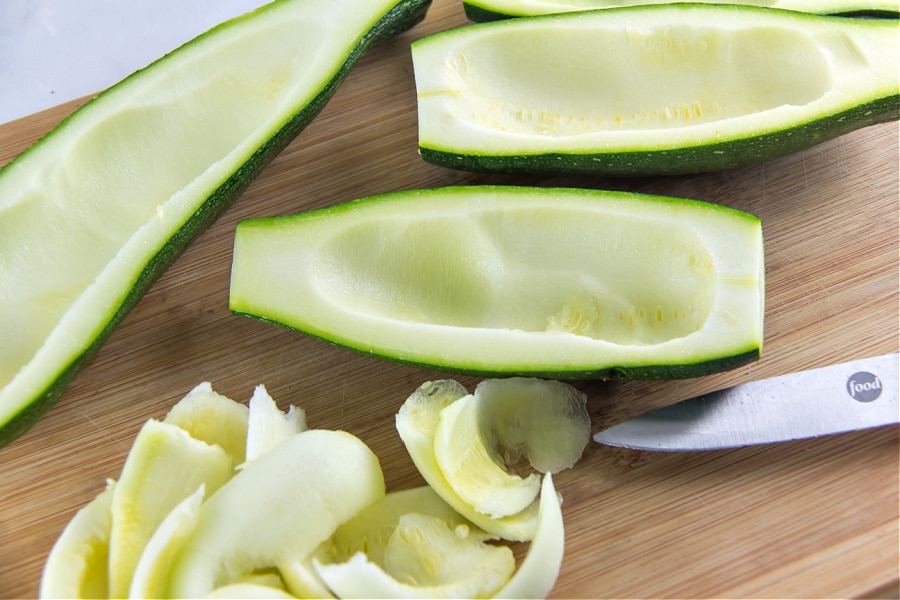 Cut the ends off the zucchini and then slice it in half lengthways. Use a melon baller to remove the seeded area. Don't throw it away though. Chop it up and you will cook that with the other filling ingredients.
Stuffed zucchini boats recipe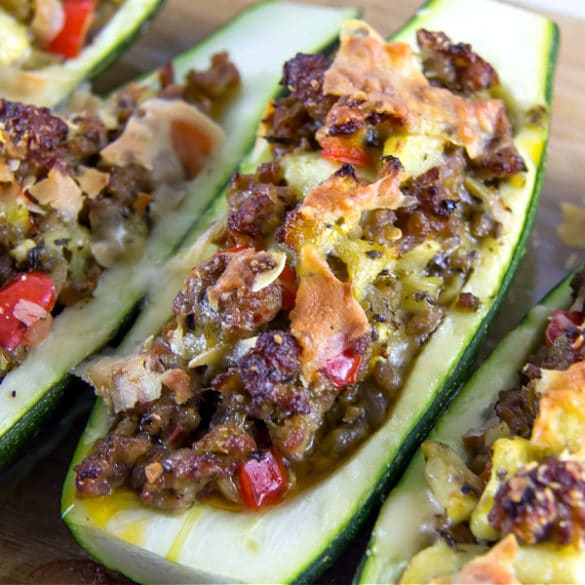 Ingredients
6 Zucchini 
1 pkg ground mild Italian sausage
1 red pepper (chopped into small pieces)
1 tsp Crushed Garlic (finely chopped)
1 Shallot (finely chopped)
1 tsp Dried Thyme
1 tbs Olive Oil
1/3 cup Parmesan cheese.
Pinch salt and pepper.
Instructions
Preheat the oven to 350F.
Cut your zucchini in half lengthways and then, using a melon scoop, remove the center portion of the zucchini. Chop it into small pieces. Set your zucchini boats aside.  
Add the oil to a frying pan and add the shallot and garlic.  Stir-fry until the shallot is a little translucent.
Add the sausage and cook, stirring occasionally, until the sausage is cooked through.
Toss in the zucchini and red pepper, thyme, half the Parmesan, salt, and pepper. Turn down the heat, cover, and simmer until the red pepper is softer.
Spoon the mixture into the zucchini boats, top with the remaining Parmesan cheese. Bake in the oven for approximately 15 minutes - a little longer if you like your zucchini well cooked, the less you bake it the more firm it will remain.
Recipe: by Tonya Staab tonyastaab.com
If you are making smaller appetizers, cut the zucchini in half first, and then in half lengthways.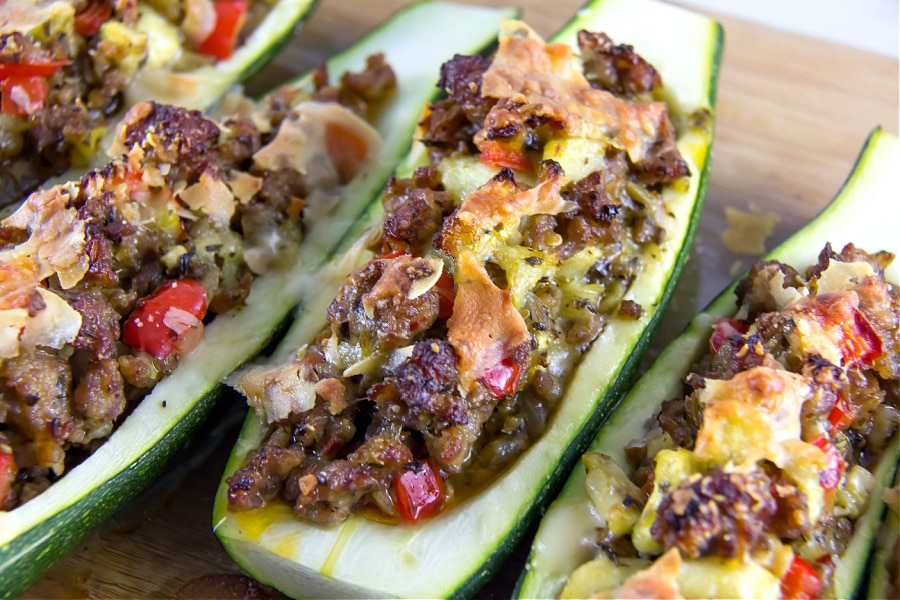 Have you tried zucchini boats with sausage? What else do you love to stuff zucchini boats with?
Looking for more delicious zucchini recipes? Try these:
Please pin this recipe for later: