This ginger pear tart is the perfect addition to your holiday entertaining party table.
Disclosure Thank you to Hickory Farms for kindly sponsoring this post. All opinions are 100% honest & completely my own.
Holiday entertaining is well underway, and this can bring a lot of stress for some. Not only the act of having to keep the house clean, but shopping, preparing, and catering for guests. And I know for myself and a few of my single friends who have kids the act of budgeting alone can be stressful enough if you are catering an entire dinner party alone.
So, I have an idea for you, send a gift basket or box to the hostess before the dinner party. Something that will help her with the catering and leave her to feel like a small weight has been lifted. Hickory Farms have some wonderful (and delicious) options to choose from; everything from cheese, meats, and crackers, to chocolates and treats, and even gift baskets with wine.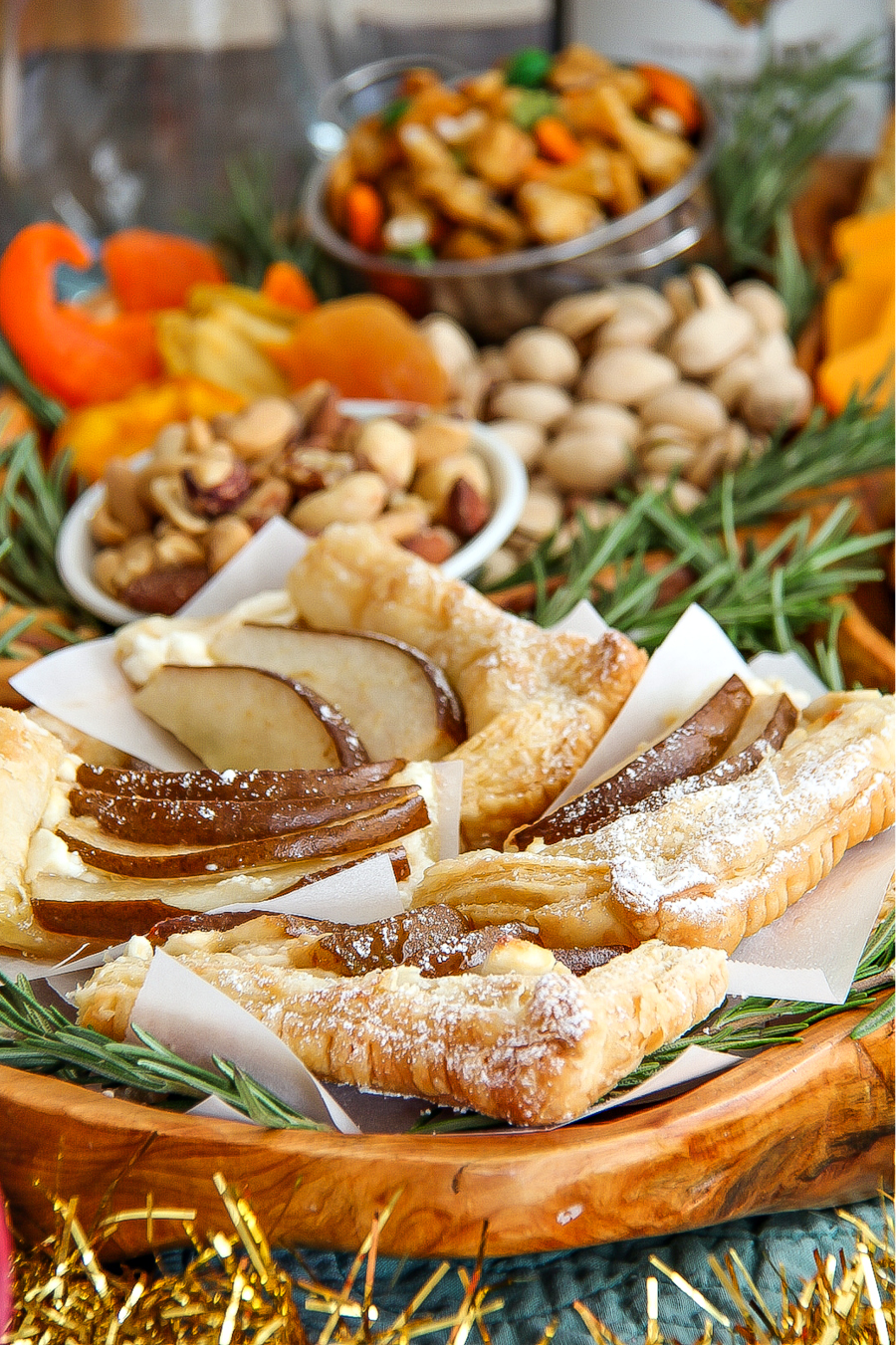 The Hickory Farms Hickory Holiday Celebration basket would be the perfect hostess gift, and the perfect addition to any holiday party with a selection of sweet and savory treats, along with wine, and fresh fruit. And speaking of that fresh fruit, you could either provide the hostess with a recipe to turn those pears into a delicious ginger and pear tart, or make it yourself, take it to the party, and then give her the recipe to make her own at a later date.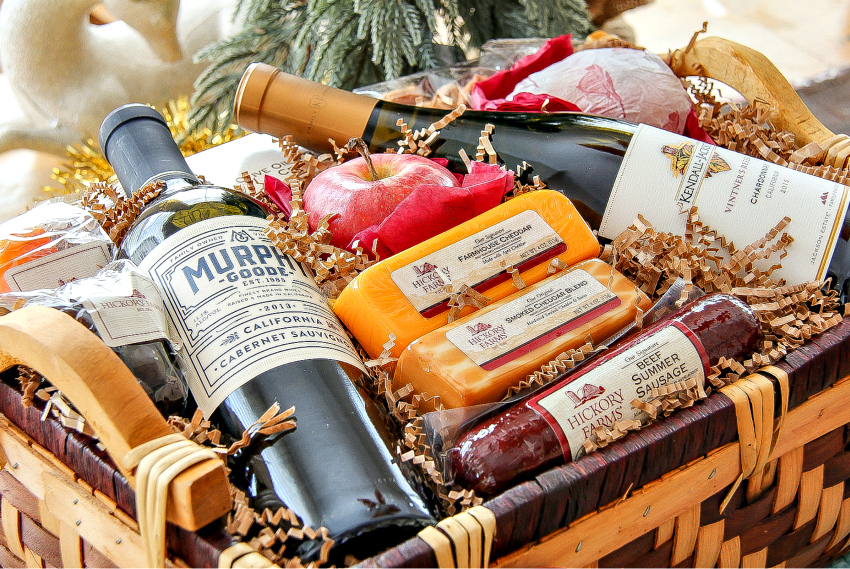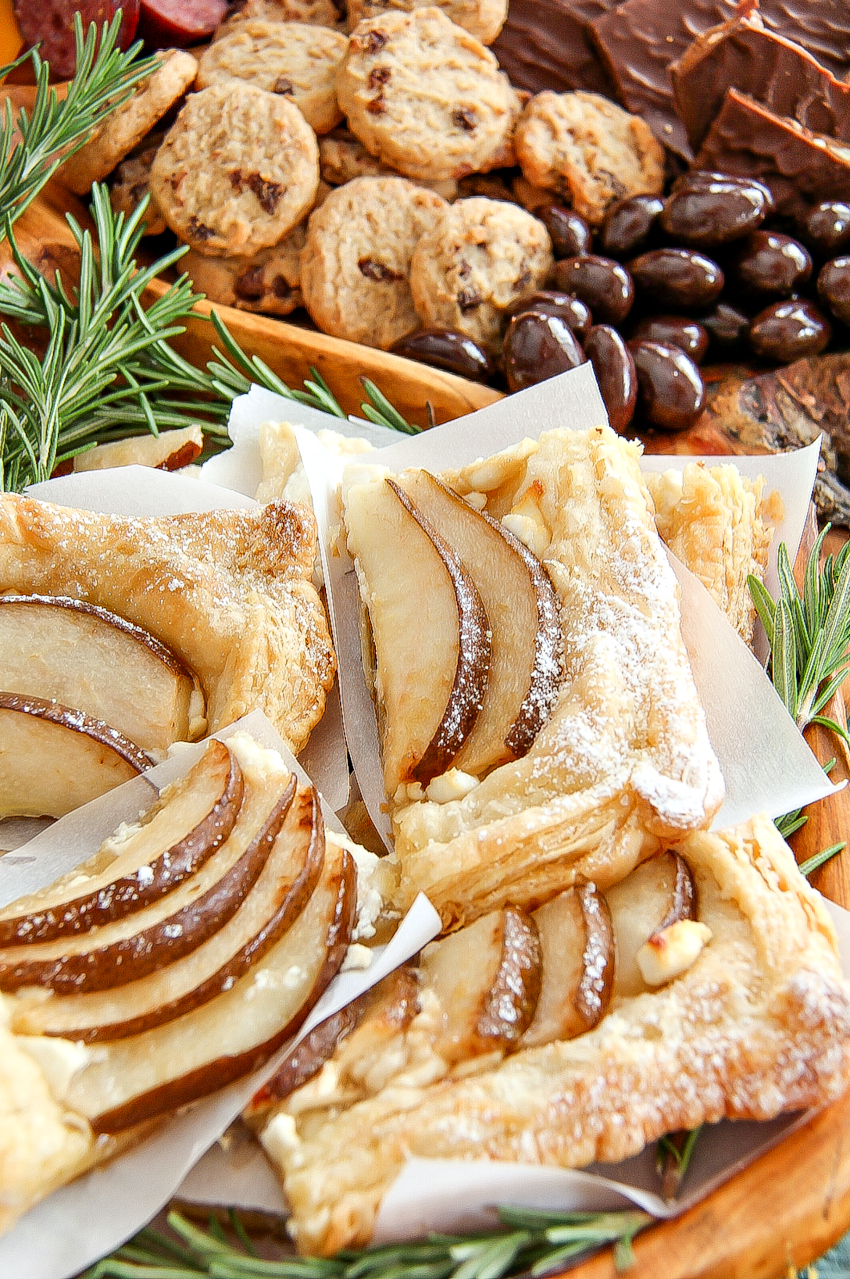 Ingredients
1 sheet frozen puff pastry (thawed)
1-2 red pears
4oz goat cheese (crumbled)
1 tbs brown sugar
2 tbs melted butter
1 tsp minced ginger
honey
confectioner's sugar
Instructions
Preheat the oven to 400F.
Line a baking tray with parchment paper, and lay the sheet of thawed puff pastry on top.  Fold over the edges and press a fork all the way around the edge of the pastry.
Sprinkle a thin layer of goat cheese over the bottom of the pastry, and then top with freshly sliced pears.
Combine the melted butter, ginger, and brown sugar in a bowl and brush the mixture over the pears.
Place into the oven for 20 minutes.
Once removed from the oven drizzle honey over the pears, and then confectioner's sugar around the outside of the tart.
Cut your ginger and pear tart into slices, and serve on small pieces of parchment paper cut into strips to make it easier for guests to eat if you are offering finger foods at your dinner party.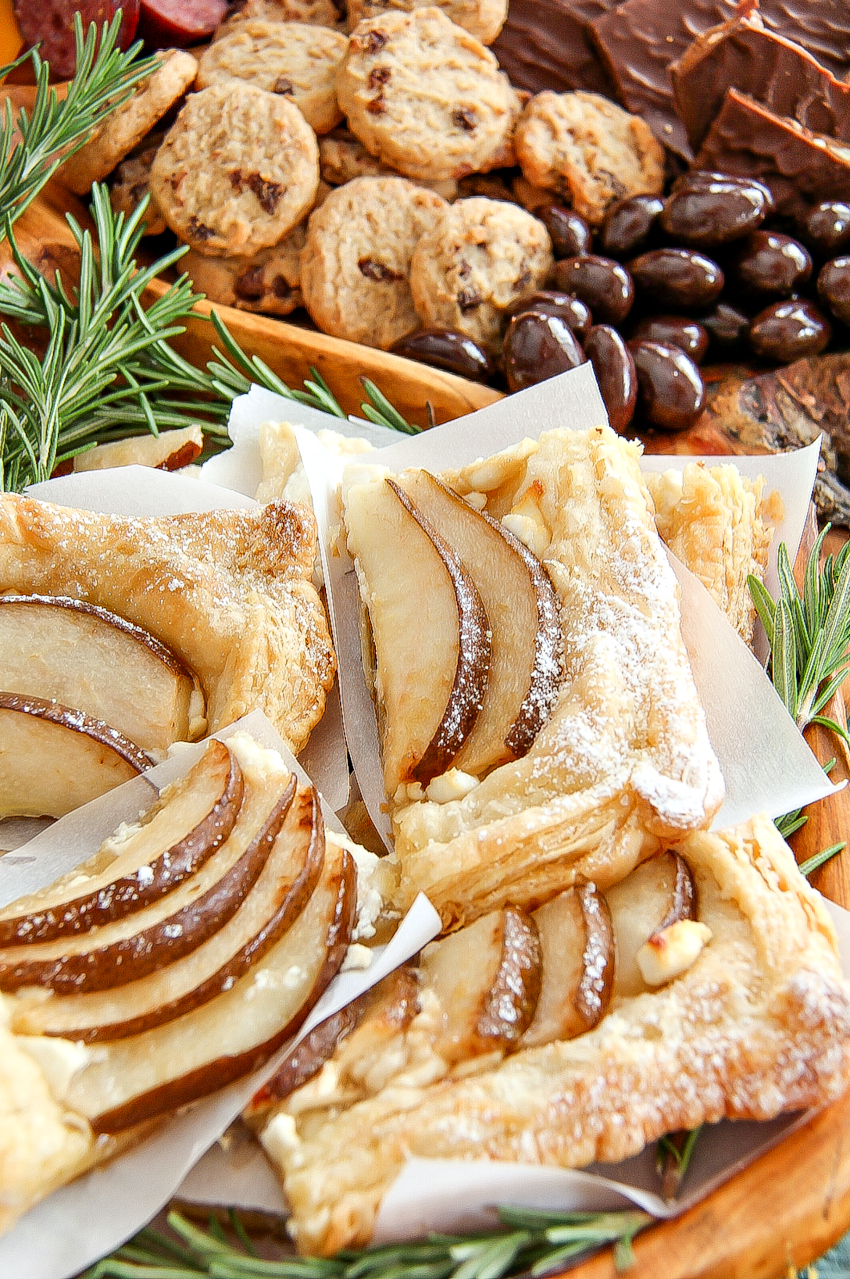 Tip: When arranging a holiday platter, add sprigs of rosemary to it. Not only with the greenery look pretty, but the smell is divine, and it will bring a festive feel to your dish.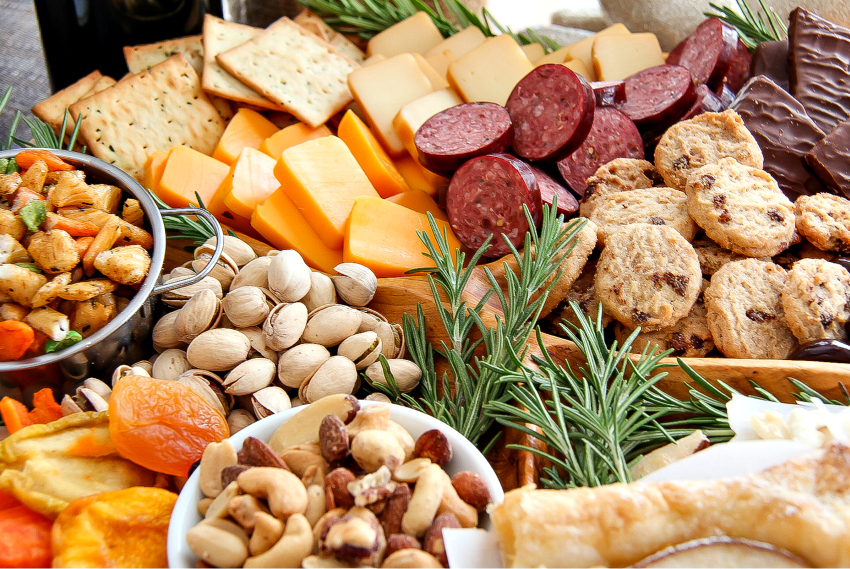 I also included a box of Tempting Toffee Bark to my holiday platter. I absolutely love toffee, and it was the perfect accompaniment to the chocolate covered nuts, mini cookies, and the ginger and pear tart.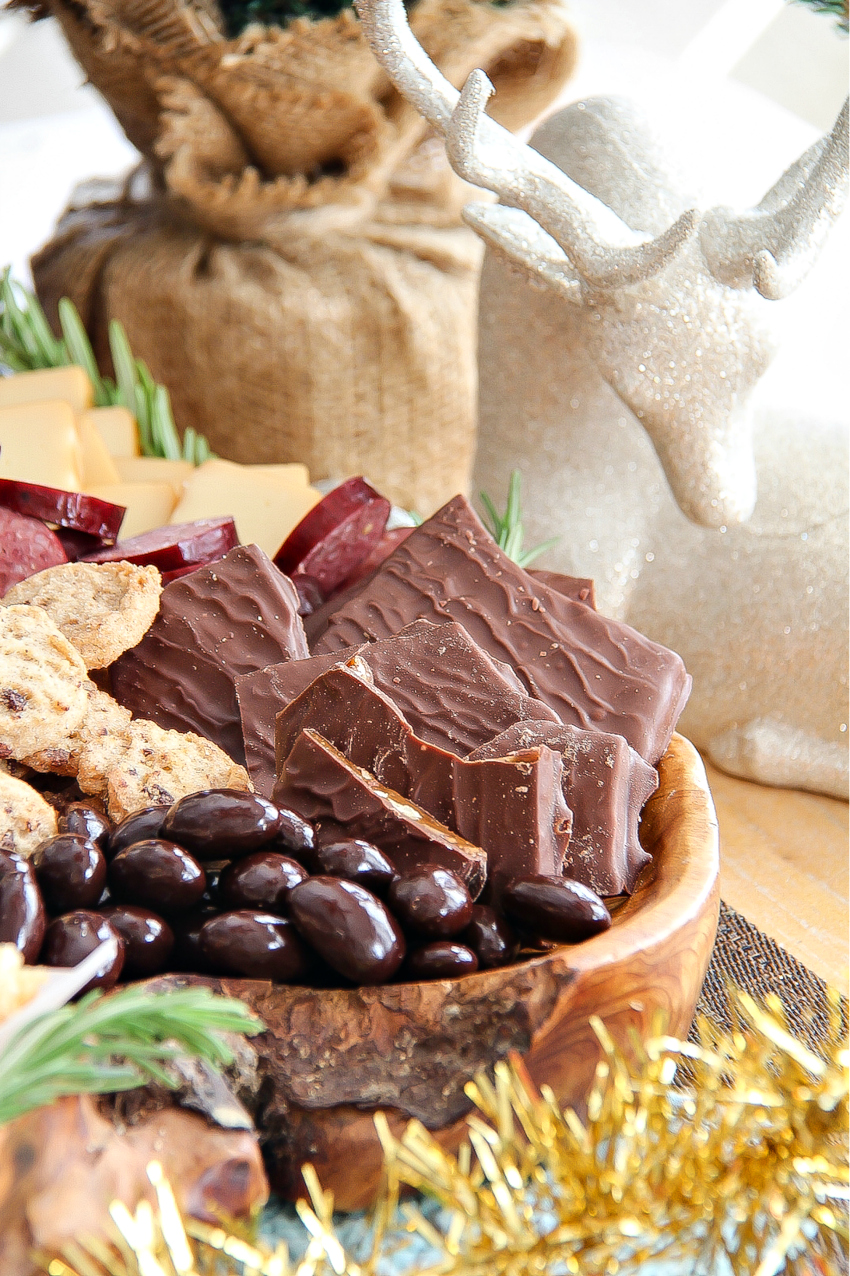 Hickory Farms has been enriching everyday gatherings and holiday celebrations with the highest quality, best tasting gourmet foods since 1951. Families around America have welcomed Hickory Farms into their homes to celebrate Christmas and holiday traditions and you should too.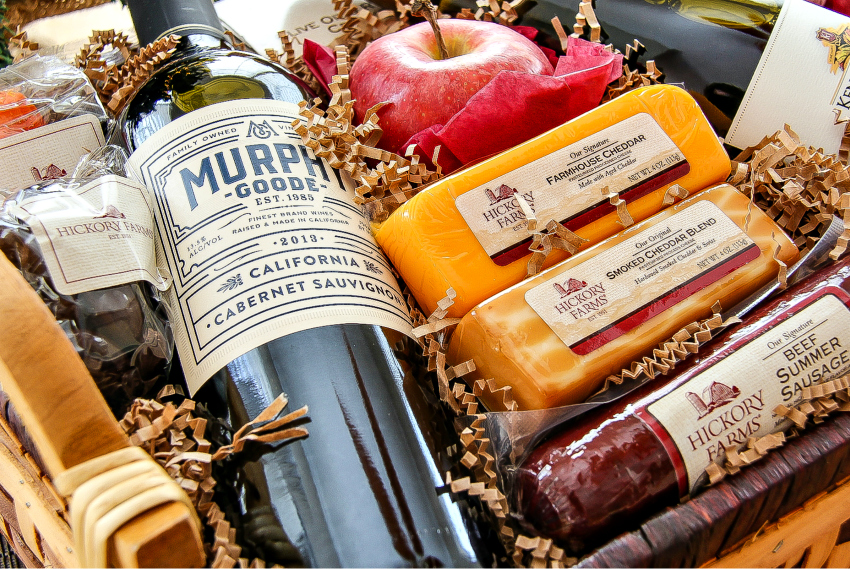 Please pin this post for later: