This cardboard red barn DIY puppet theatre will provide hours of fun for the kids to put on puppet shows for their family and friends.
Disclosure: As a project leader for Elmer's "Can You Top This" Challenge for Collective Bias, I am being compensated.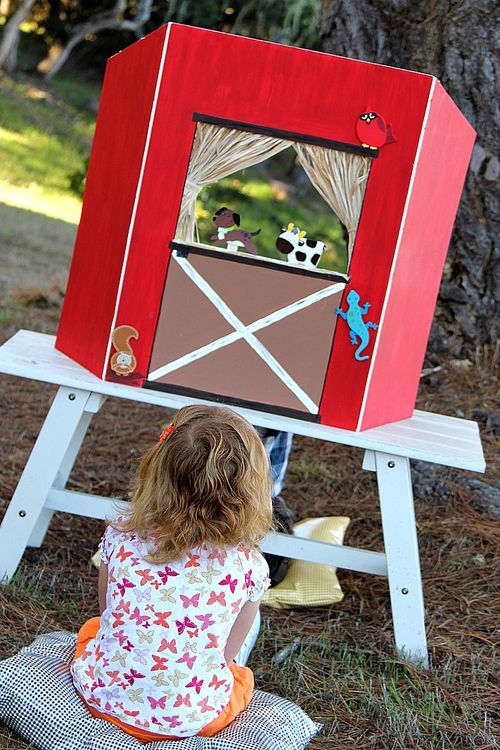 DIY red barn puppet theatre
The kids absolutely LOVE their new puppet theatre and have put on countless shows for us already.  
Supplies
Tri-fold cardboard display board
Acrylic paint – red, brown, black, and white
Box cutter
Straw or raffia
Wood animals – pre-painted preferred
Popsicle sticks
Glue
How to make a puppet theater
Using the box cutter, cut a section out of the tri-fold board to create the window for the puppets.
Glue pieces of raffia (or straw) onto the sides of the window to create curtains. 
The puppets were pre-cut and painted wood animals purchased at Michael's craft store so I just glued popsicle sticks to the back of them
Paint the tri-fold board to resemble a red barn. Once the paint has dried, add a few of the painted wood critters to the outside of the barn.
Now you are ready to put on an epic barnyard puppet show.
Tri-fold board ideas
Are you looking for crafts and ideas using Elmer's tri-fold boards? Check out these that we have made, and we have another list of ideas below that too:
Even more tri-fold board ideas
A science fair project
A book report for school
A backdrop for a nativity scene for a Holiday
A chore chart for your children
A holiday calendar
A bean bag toss game
A display board for your kid's artwork
You can purchase Elmer's tri-fold display boards at Walmart. Break them down, glue things to them, cut them, or paint them to create anything you like. There are two versions available, a cardboard tri-fold board, or a foam one.
Have you made a DIY puppet theatre? Did it have a particular theme like ours did?
Please pin this post for later: