Create a handmade puppet theater for kids using an Elmer's Tri-Fold board, this is a great rainy day project and perfect for summer break.
UPDATE:  THE #CANYOUTOP THIS ELMER'S TRI-FOLD BOARD CHALLENGE HAS ENDED AND WINNERS HAVE BEEN NOTIFIED. 
*********************
Remember the Bumble Bee Photo Station I created for the twins 4th birthday party? 
Well, it seems to have inspired an Elmer's Tri-Fold Board "Can You Top This" Challenge.
As one of 6 project leaders for this challenge I was asked to create something new using an Elmer's Tri-Fold Display Board.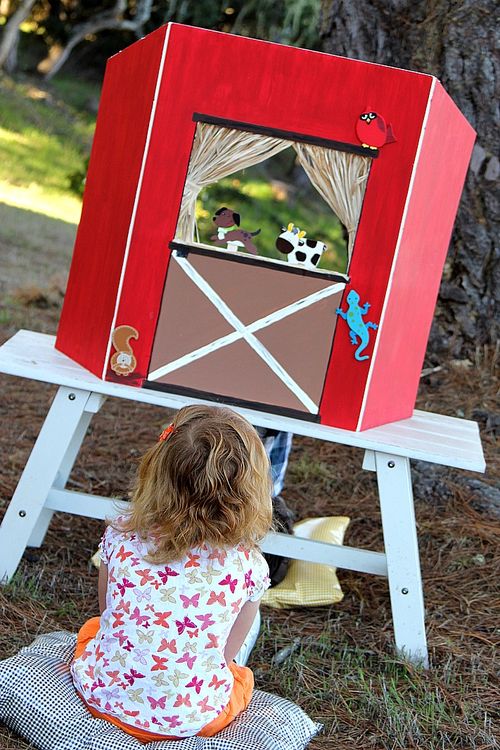 Having been on a recent Real California Milk Tour (yet to be blogged about), I guess I had cows on my mind when I came up with this idea.
The kids absolutely LOVE their new Barnyard Puppet Theatre.  
It was fairly simple to make, I cut a section out of the tri-fold board to create the window and glued pieces of raffia onto the sides to create windows.  The puppets were pre-cut and painted wood animals purchased at Michael's craft store and popsicle sticks were glued to the back of them. I then painted the tri-fold display board to resemble both a barn and puppet theater.
Onto the challenge.
My challenge to you is to come up with an Elmer's Tri-Fold Board project.  Any project.  Can't think of anything, well not to worry, here are a few things I thought of:
A science fair project
A book report for school
A backdrop for a nativity scene for the Holiday's
A chore chart for your children
A holiday calendar
A bean bag toss game
A display board for your kid's artwork
You can break down the board, you can cut it, glue things to it, paint it.  Whatever you like.  You just have to use it.  Does your child have a school project coming up?  Or do you want to make homemade gifts this year?  Perfect.  And where do you purchase these boards?  Walmart.  That's where.  And they are very reasonably priced and you have 2 options, a cardboard or foam version.  I used the foam version for both the Bumble Bee Photo Station and this project and I used the cardboard version for the Halloween Photo Station.
And why would you want to take me up on this challenge?
I'll give you two reasons.
I will be choosing 5 tri-fold project board submissions to each receive a $100 gift card to Walmart
The 5 winning designs will also be turned into a 'recipe card' and included on the Can You Top This site.
So here are the rules:
You must create a project using an Elmer's Tri-Fold Board

You need to include the instructions and materials used to create your project.

You do NOT need to have a blog to participate.  You can post your project as a public note on Facebook, or add a photo with details required on Flickr.

You must acknowledge that you are submitting your photograph to the Can You Top This challenge (with a link to either the Can You Top This site or my blog post) and use this hashtag #CanYouTopThis
That's it!
Once you have published your project on your blog, Facebook or Flickr, add a link below.
You have until December 1st at 9 pm (PST) to get your entries in.  So let's get crafting.
CAN YOU TOP THIS?
Oh and one last thing.  I mentioned that there are 6 project leaders in this challenge.  Let me introduce you to the other 5:
Sarah's Deals / Super Saving Sense / Dealusional / Confessions of an overworked mom / MamaBuzz
Disclosure: As a project leader for the Elmer's "Can You Top This" Challenge for Collective Bias, I am being compensated.