Make your own custom handmade oven-baked clay ornaments with the kids this holiday season. We'll show you how.
Disclosure: As a Good Cook Kitchen Expert I receive compensation and/or Good Cook product to facilitate reviews and giveaways.
Baked clay ornaments are easy to make and make a great holiday activity for kids.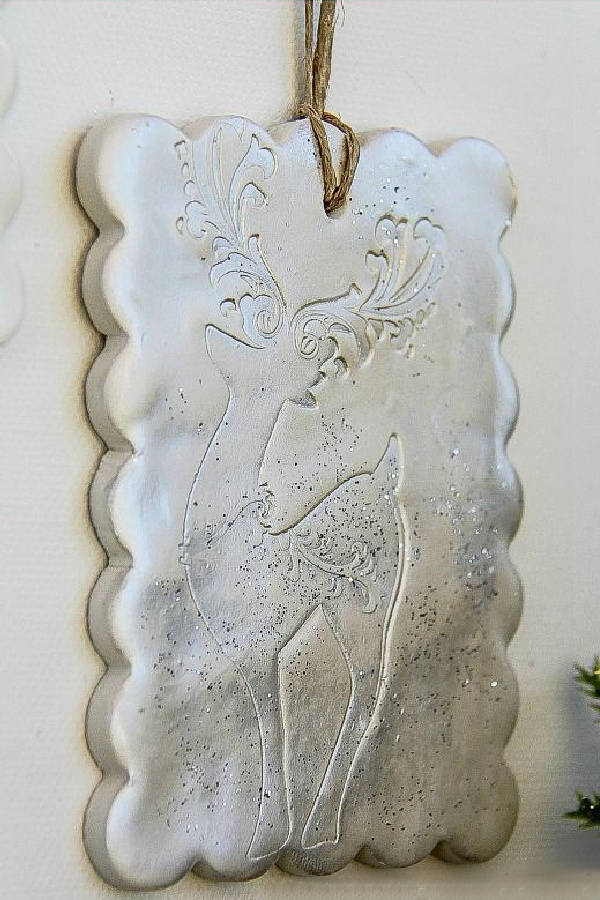 Clay ornaments
Supplies
Oven-bake clay
Good Cook Sweet Creations Cookie Cutters – I love these because they have a handle on top
Rubber stamps – holiday designs, words, letters
Glitter
Twine
To decorate: you can use anything from paint to Sharpies. I used Inka Gold Metallic Rub and a Krylon Leafing Silver Pen
Sculpey Satin Glaze (optional)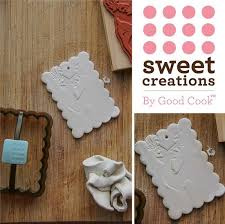 Instructions
Use a smooth rolling pin to roll out the clay to about 5mm thick (a wood rolling pin won't work, it will leave small patterns on the clay).
Cut the clay with a cookie cutter, just like you are cutting out cookies.
Stamp it with either a holiday stamp, or use letter stamps to make personalized messages, names, or words.
Using either a thick needle or the end of a paintbrush (anything that is fairly thin), poke a hole through the top of the clay.
Lay your pieces of stamped clay on a cookie sheet and bake according to the oven-bake clay package directions.
Set aside on cookie sheets to cool.
I decorated two identical stamped ornaments in different ways.
For the first one, I colored in the image using a Krylon Leafing Silver Pen. For the very fine details, particularly on the antlers, I dabbed a little of the leafing pen on a smooth surface and dipped a toothpick into it to fill in the details. Once dry I applied a layer of Sculpey Satin Glaze and then sprinkled just a tiny bit of glitter over the top before it was dry.
For the second ornament, I used a soft cloth to rub Inka Gold Metallic Rub all over the ornament, buffing it until it was shiny. I then sprinkled a little glitter over the top and set it aside to dry.
Thread twine through the hole in the top of the ornament and hang it on your tree.
More DIY Christmas ornaments
Are you looking for more homemade ornaments to make with kids this Christmas? You need to take a look at these:
Please pin this post for later: