If your daughter loves black, grey, and white with lots of natural elements then she will love these bedroom ideas for teenage girls.
My daughter wants to be an interior designer. She works so hard at school, is starting college credits next year, and is currently in an arts collaboration. She's paving her way to reach her goals.
We let her have full control over her bedroom. It's her space and she could decorate it any way she wanted. Mike is great with woodwork and building furniture so he's been behind the scenes building everything she asks for. We also wanted this to be a project she could practice her interior design skills in. I'm sure it will continue changing and developing over time, but we hope this gives your teenage girl some great ideas.
Bedroom idea teenage girl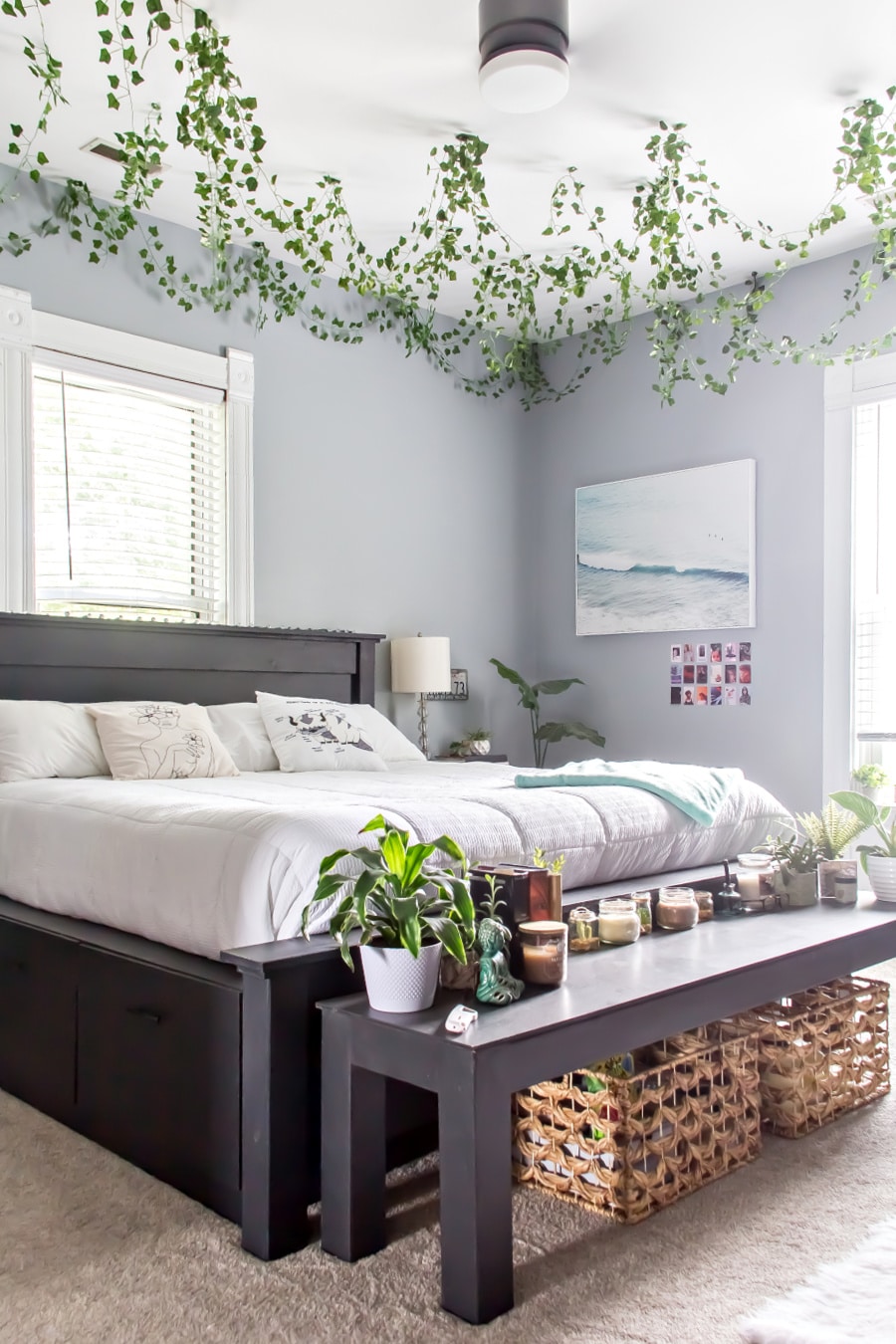 The bed and bench in the above photo were handmade by Mike. She told him what she wanted and he built it accordingly. Originally the bench was going to have a padded fur cushion on it, but after a month or so of looking for faux fur with no success she decided to keep it as is.
She loves the beach, plants, and candles so that is what she wanted the decor to be centered around. Her furniture had to be black, she chose HGTV Gray for the walls, and white for the trim and blinds.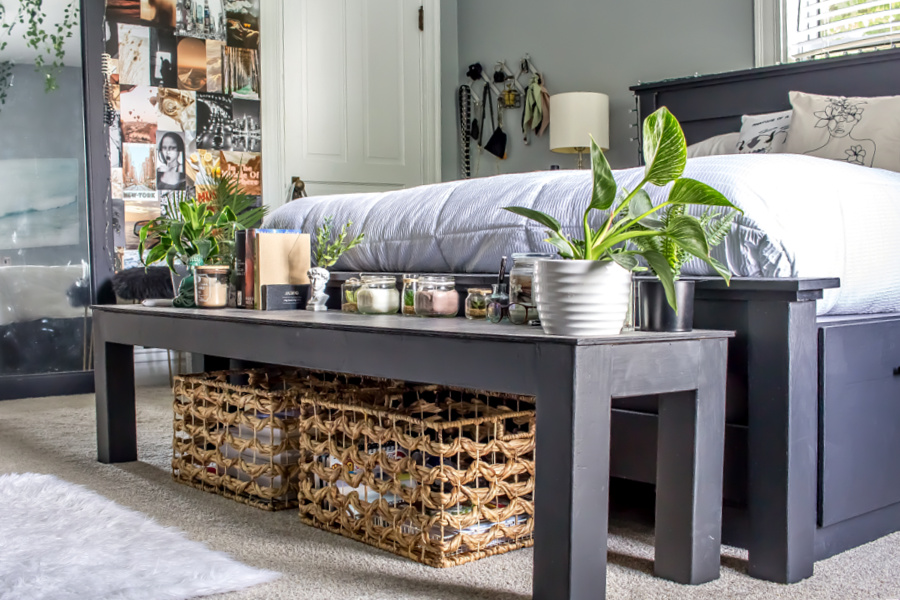 After the walls were painted and the main pieces of furniture were built, she worked on a gallery wall next. We purchased packages of gallery wall images on Etsy and I printed images as well from my Adobe stock photo account (I altered the colors of some to fit with her color scheme).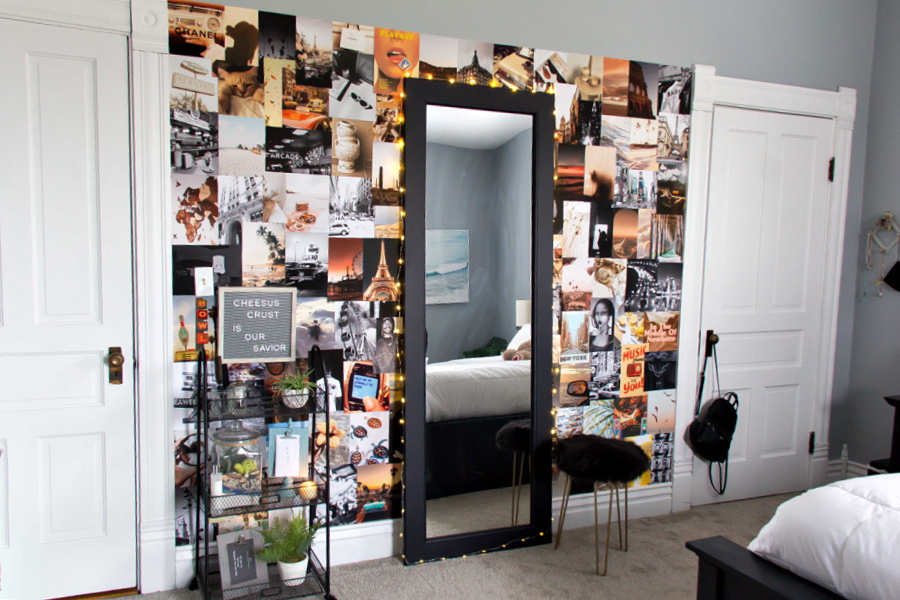 She then asked Mike to build her a standing floor mirror and she strung lights around it.
DIY standing mirror tip
They are expensive to purchase in stores. I found double sliding mirror doors at the hardware store for under $30. That's enough to make 2 floor mirrors.
The next item on her list was to remove the desk from her bedroom and have Mike build an interior design cabinet. She wanted somewhere to keep all of her mood boods, samples, and magazines that she had been collecting.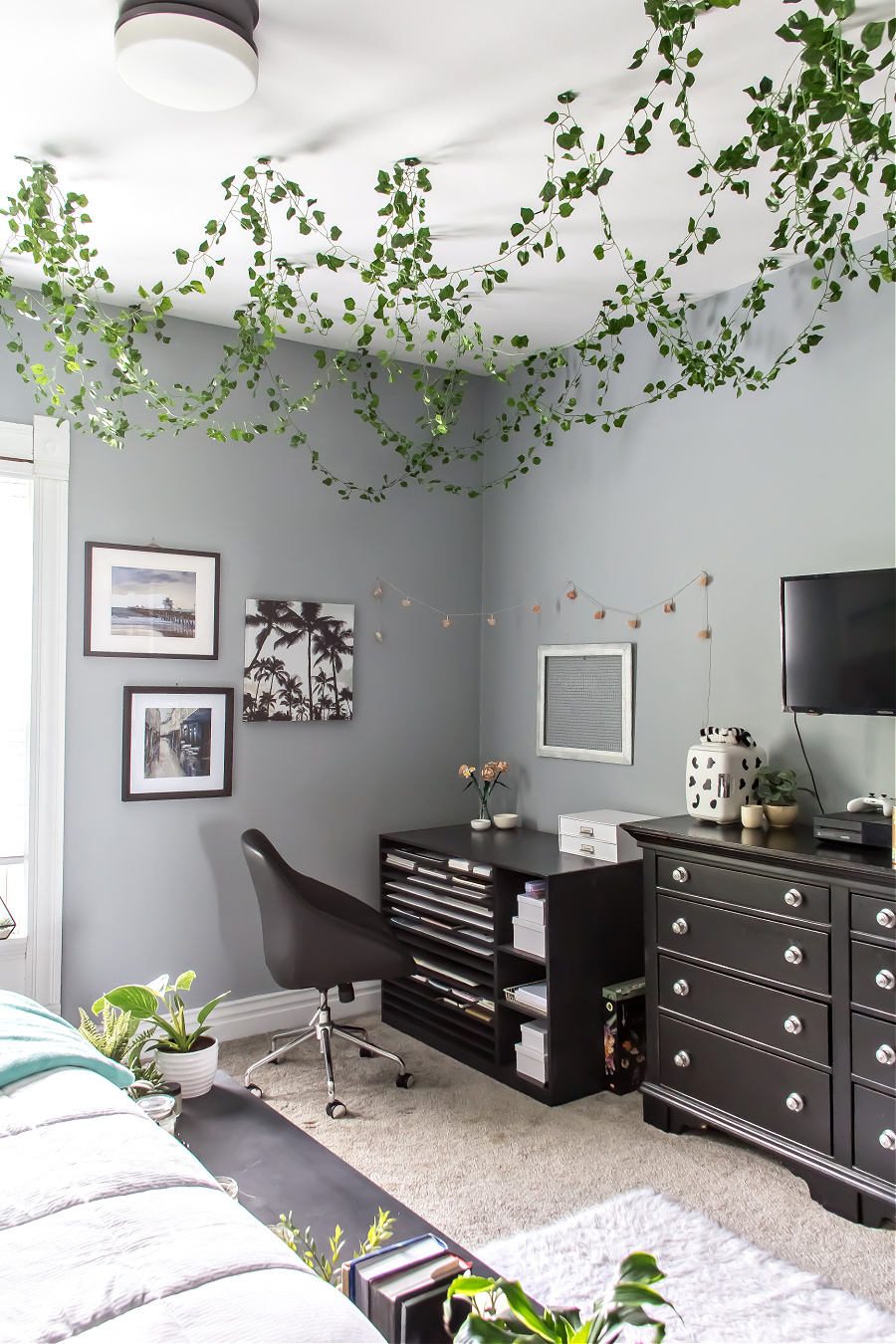 To build the cabinet, she measured everything she wanted to put inside it, sketched how it should look, and Mike built it accordingly.
Yes, that is a cow print fridge on top of her dresser, it was on her Christmas wishlist last year. A proud mum moment here, but the top photograph in the group of three on the wall is one of mine. The photo is of a storm in San Clemente over the pier. She decided it fit with the other two images we had purchased.
I'm pretty sure I picked up the wall organizer below in that fun section of Target at the front of the store years ago. It has been many different colors over the years with every change of bedroom colors and decor. This time it was painted grey. She keeps all of her accessories and jewelry organized on it.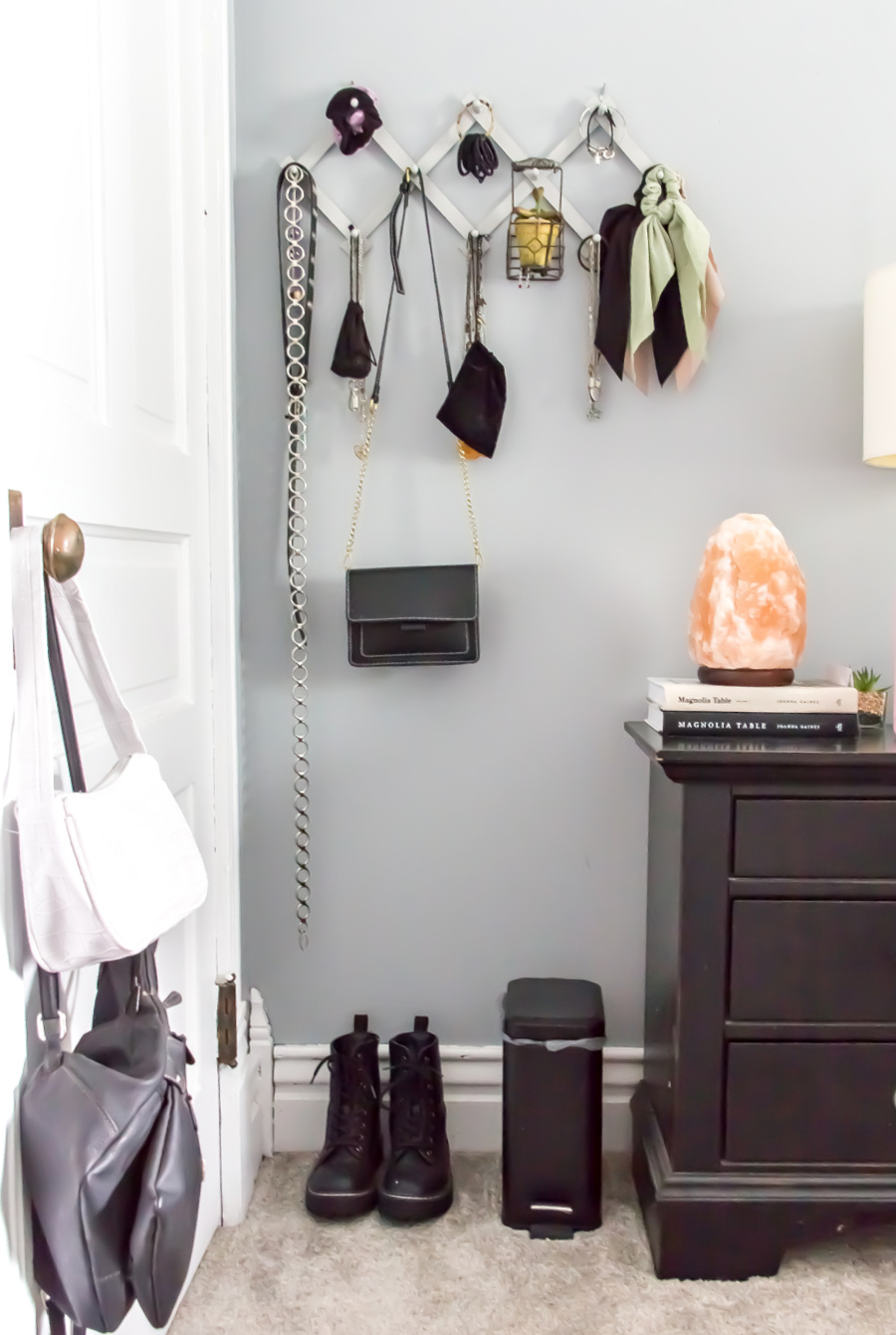 Yes, she does love the Magnolia line (and Chip and Joanna Gaines too).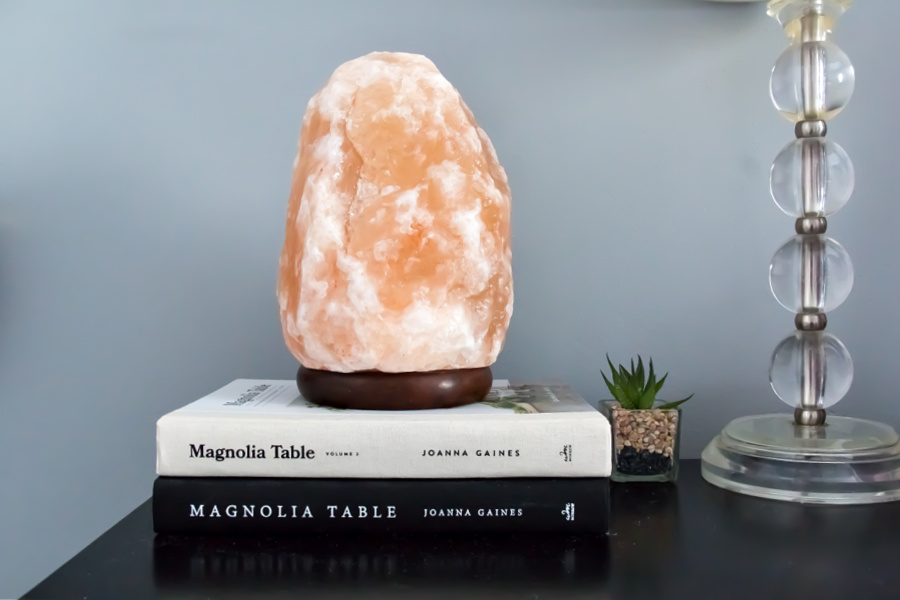 I'm sure I've mentioned her obsession with plants and candles too.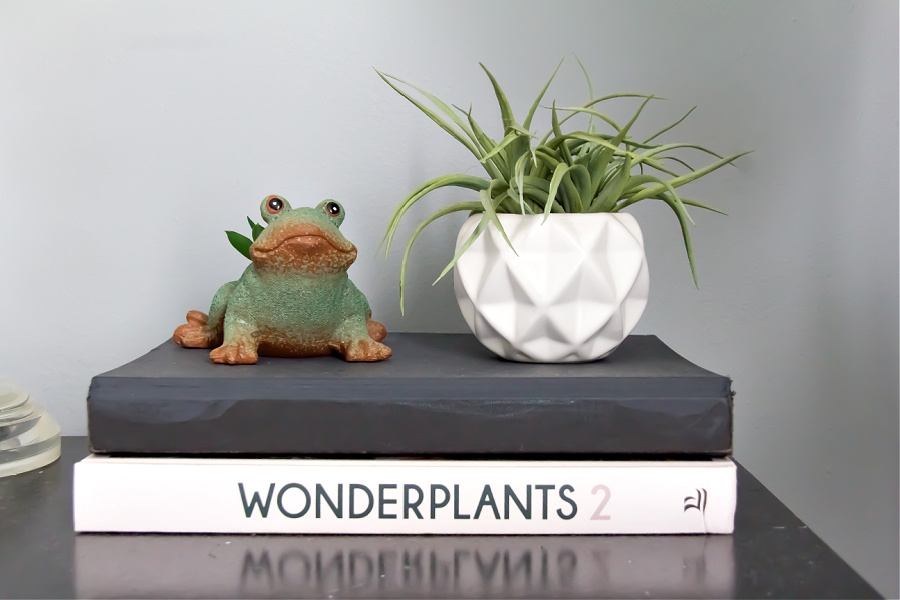 Are you looking for more kids bedroom ideas? Check out these that we've done in the past:
Please pin this post for later: