This Despicable Me Minions themed ice-cream pool party is the perfect way to cool off all summer long.
Disclosure: This post was sponsored by Universal Pictures.
The Minions have their own movie! And it will be showing in theaters on July 10. Are you ready?
Host a backyard bash this summer to celebrate. I've got tons of ideas to share with you for an ice cream pool party that kids (and adults) will love.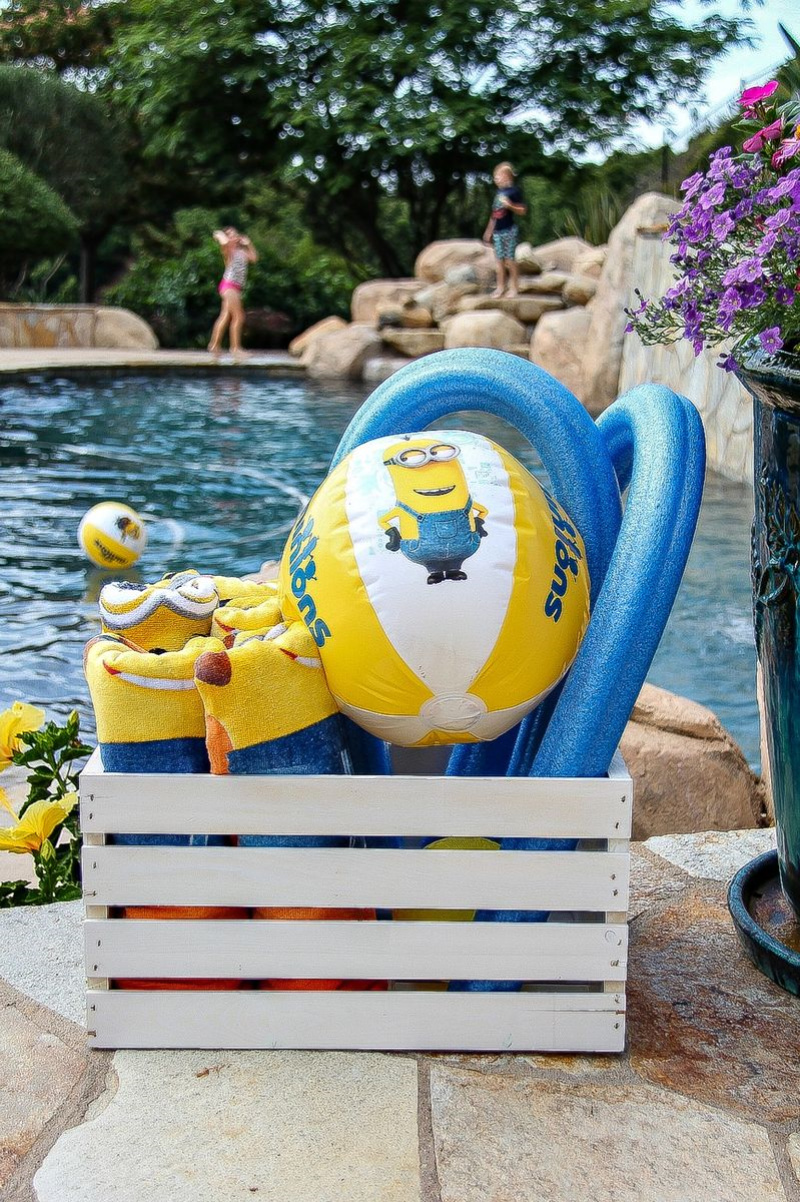 I'll share all of the party details below (including where you can purchase items) so that everything is in one place. Take a look at how easy it is to set up a fun backyard bash this summer. Warning! There are a lot of photos.
Minions Pool Party Essentials
Here are a few things you may want for your Minions pool party:
towels
beach balls
pool noodles
sunscreen
lip balm
sunglasses
A lot of these things make great party favors too. Kids can use them during the party and then take them home at the end. I'm an avid believer in saying 'no' to candy bags and giving kids something they can use.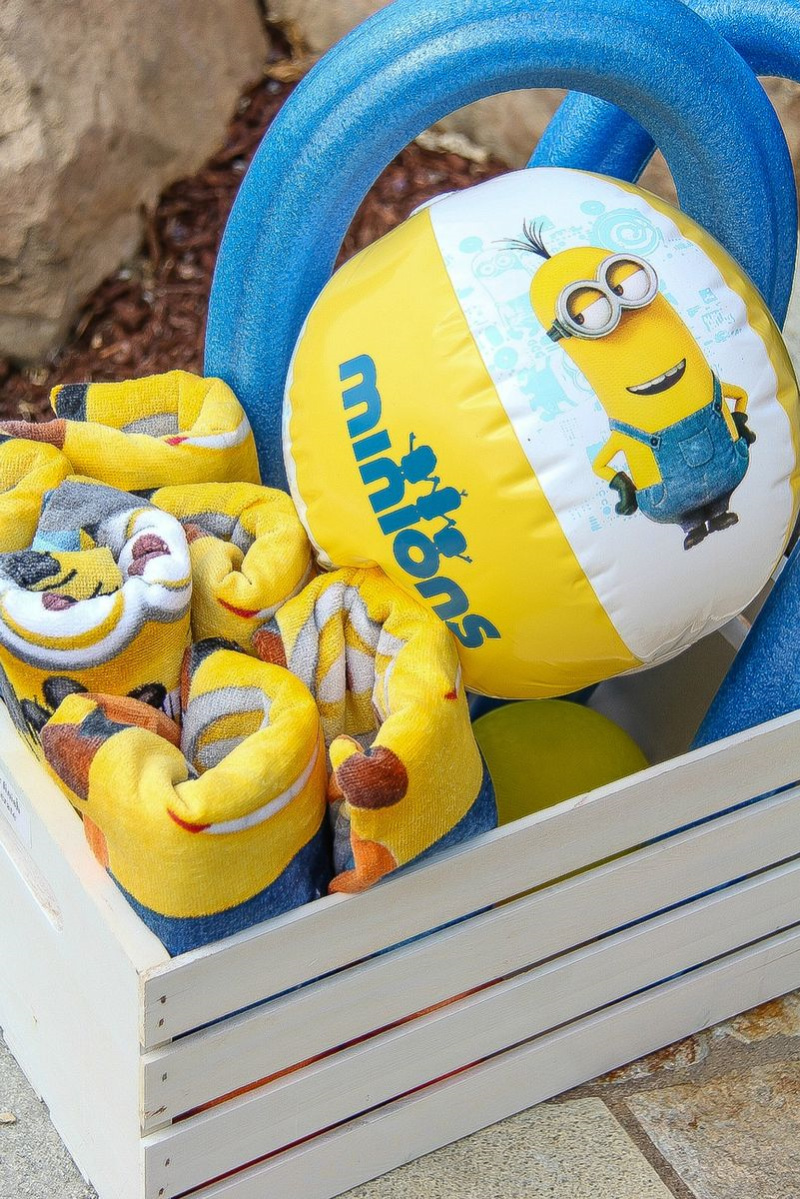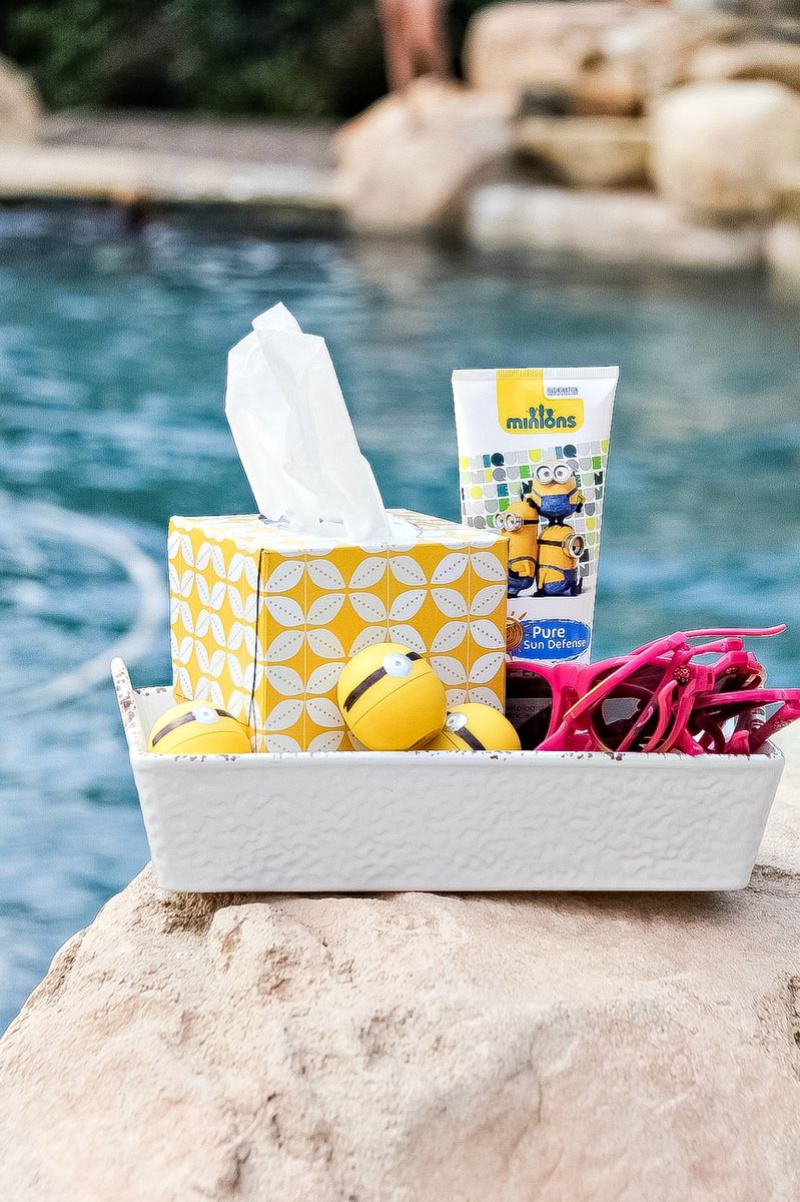 Aren't the lip balms fun? As I was wandering through Walmart I spotted these yellow EOS lip balms on the end of an aisle, so I grabbed a few along with Sharpies and paint pens and then drew a minion eye on each.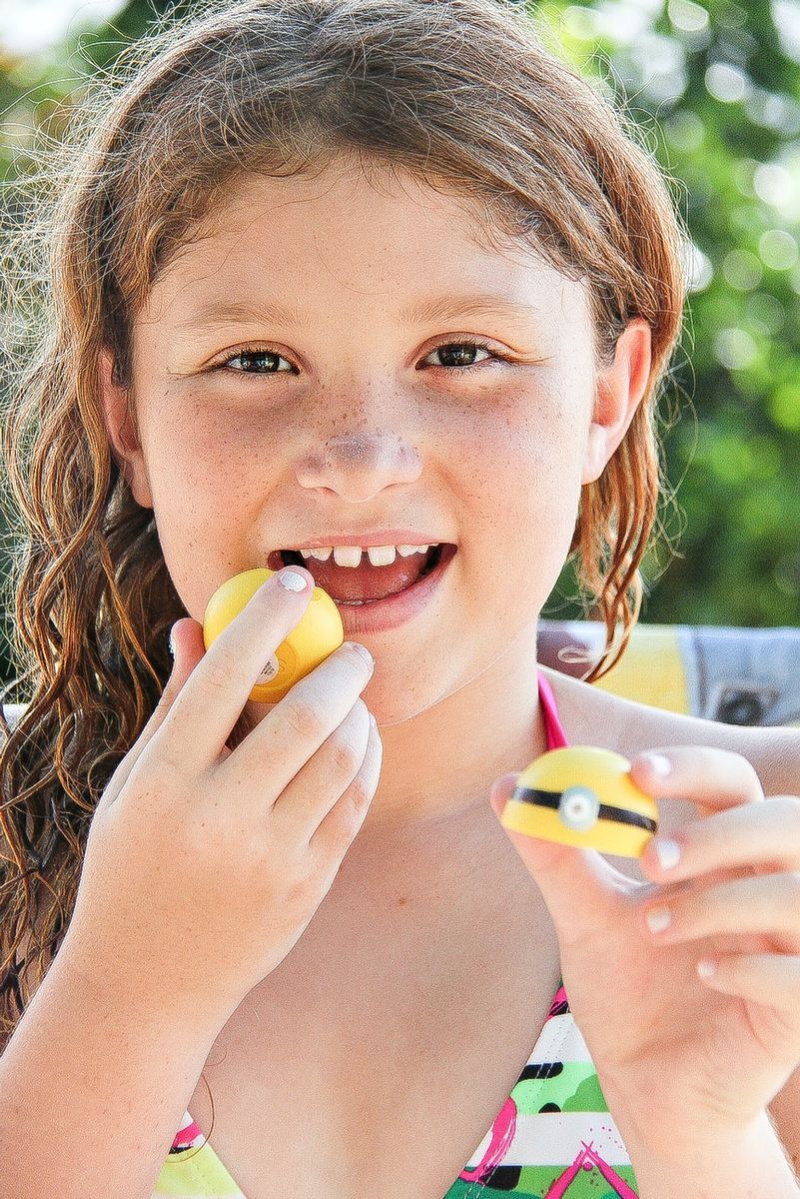 Cool shades are essential to keep the sun out of the kid's eyes.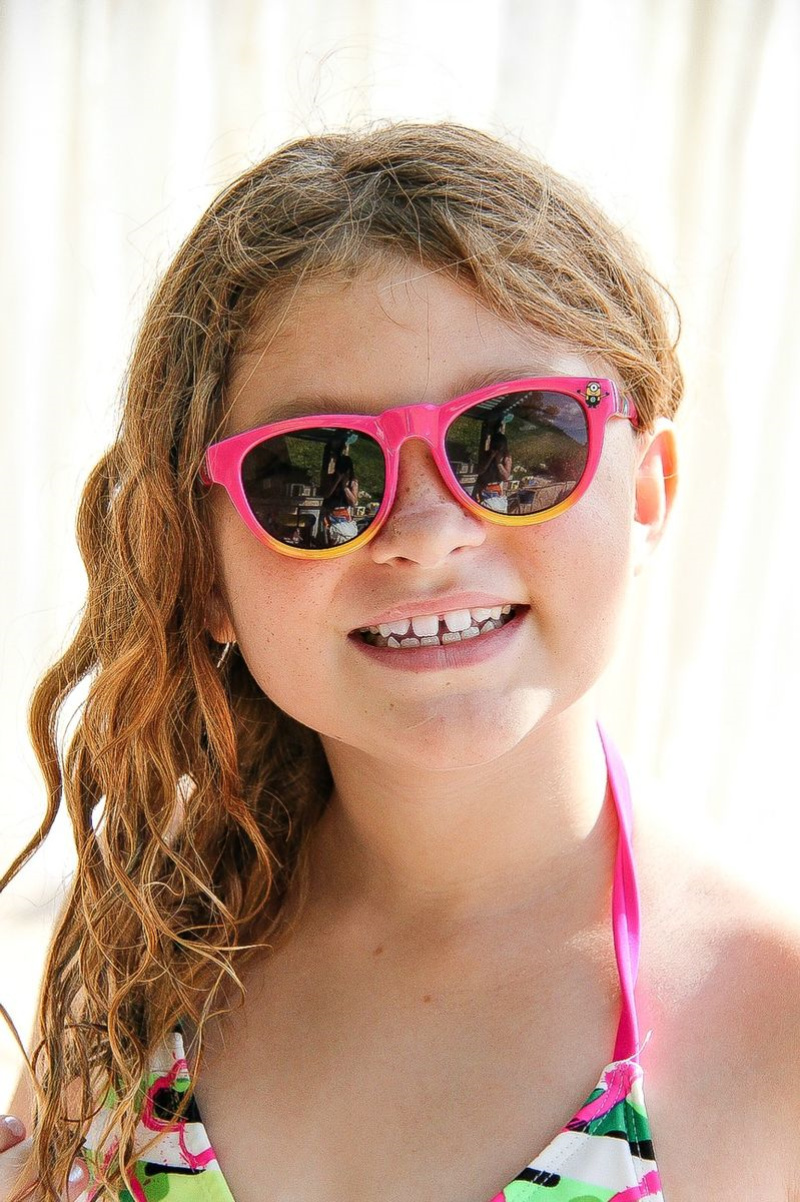 It wouldn't be a pool party without Minion races, lots of swimming, and Minions falling down a waterfall … or as we dubbed this one, Minion Falls.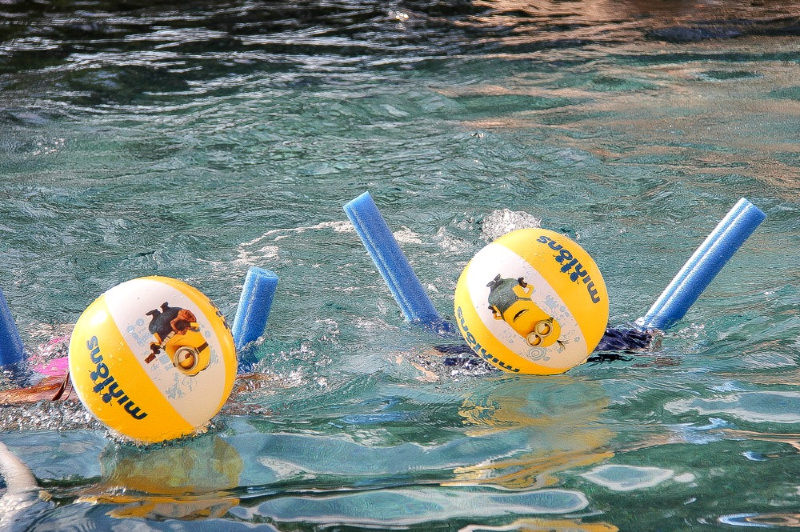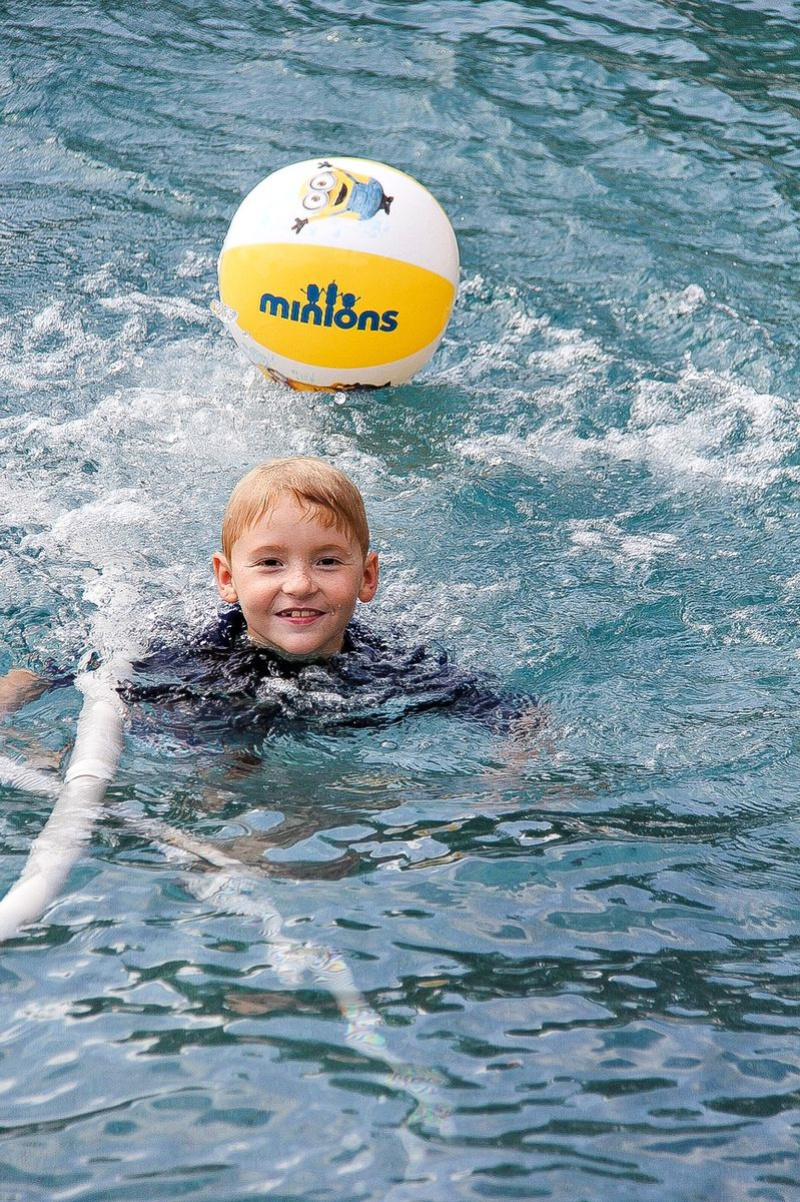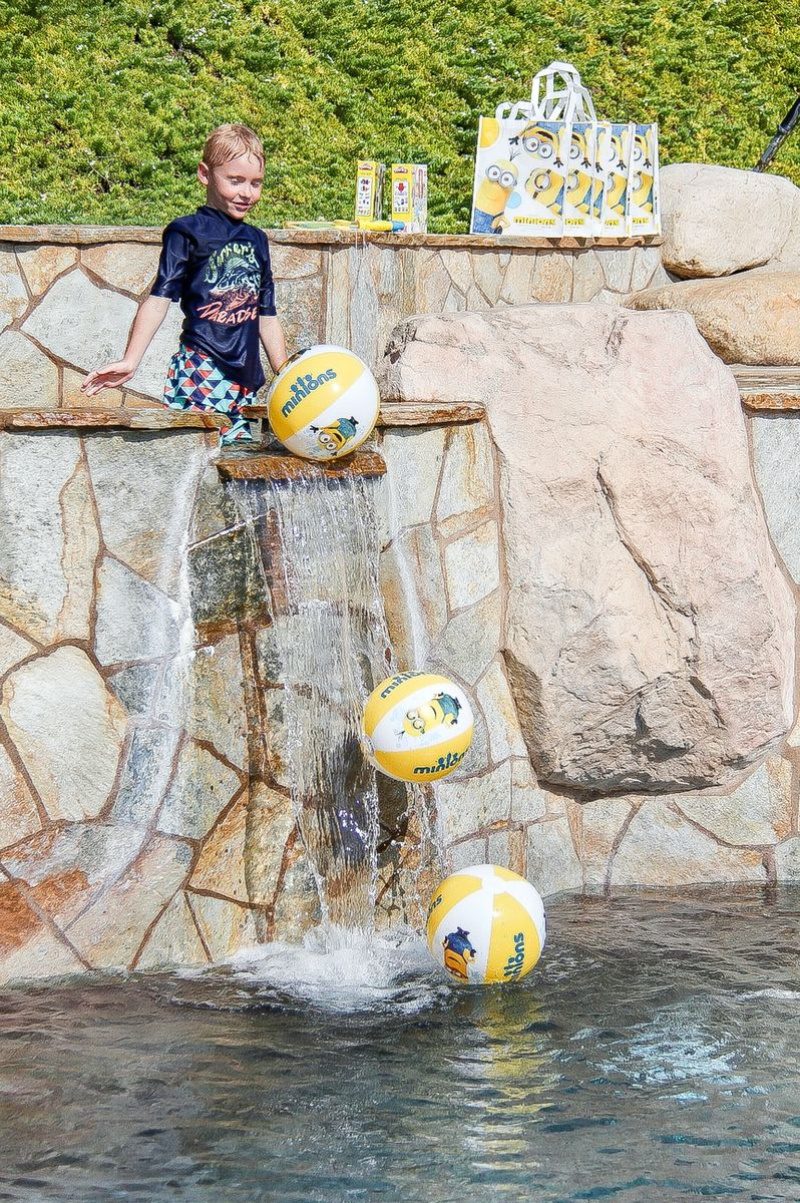 For kids who don't want to spend all of their time in the pool, it's essential to keep a few other fun activities on hand.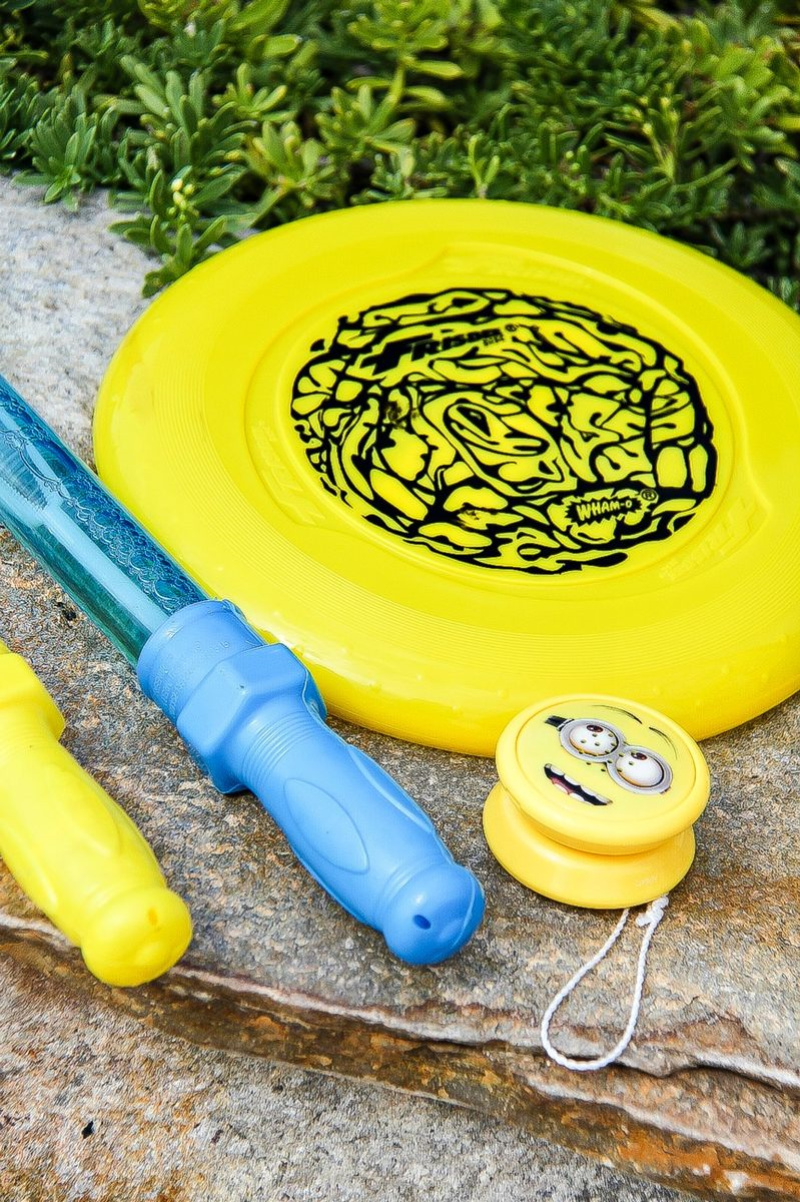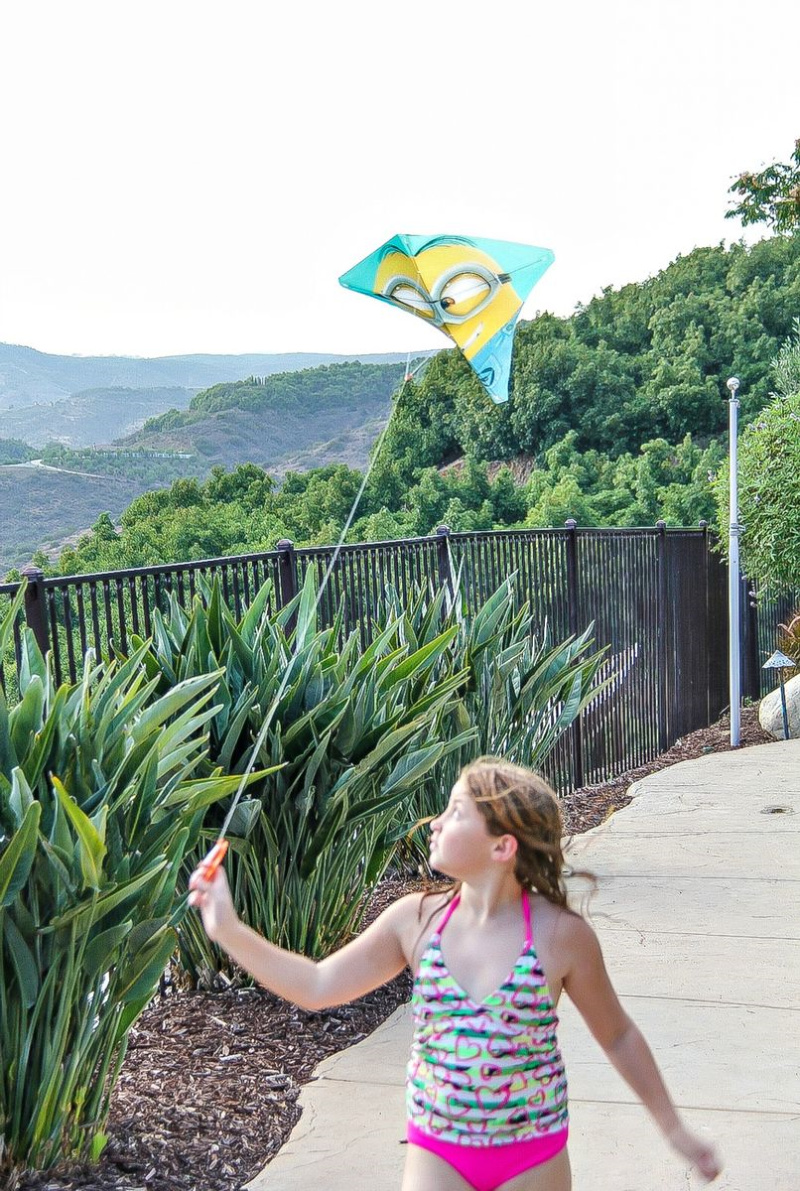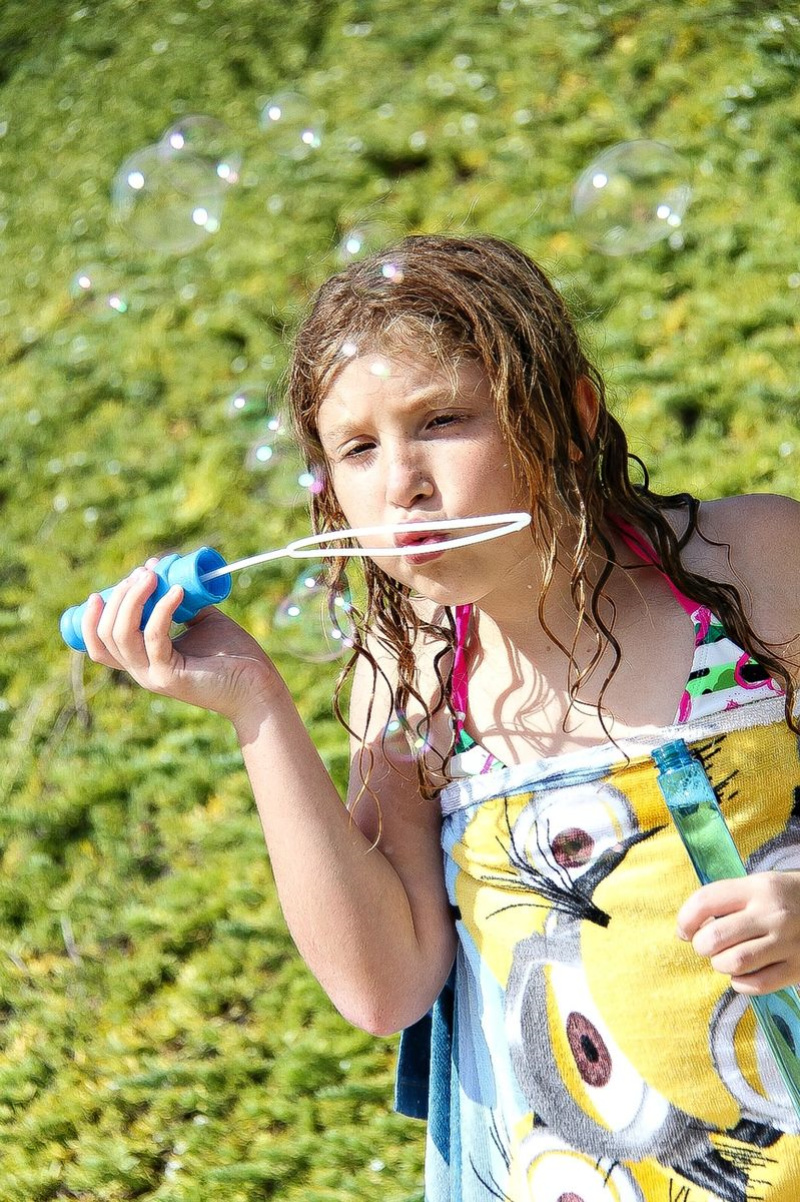 Every party needs a photo booth.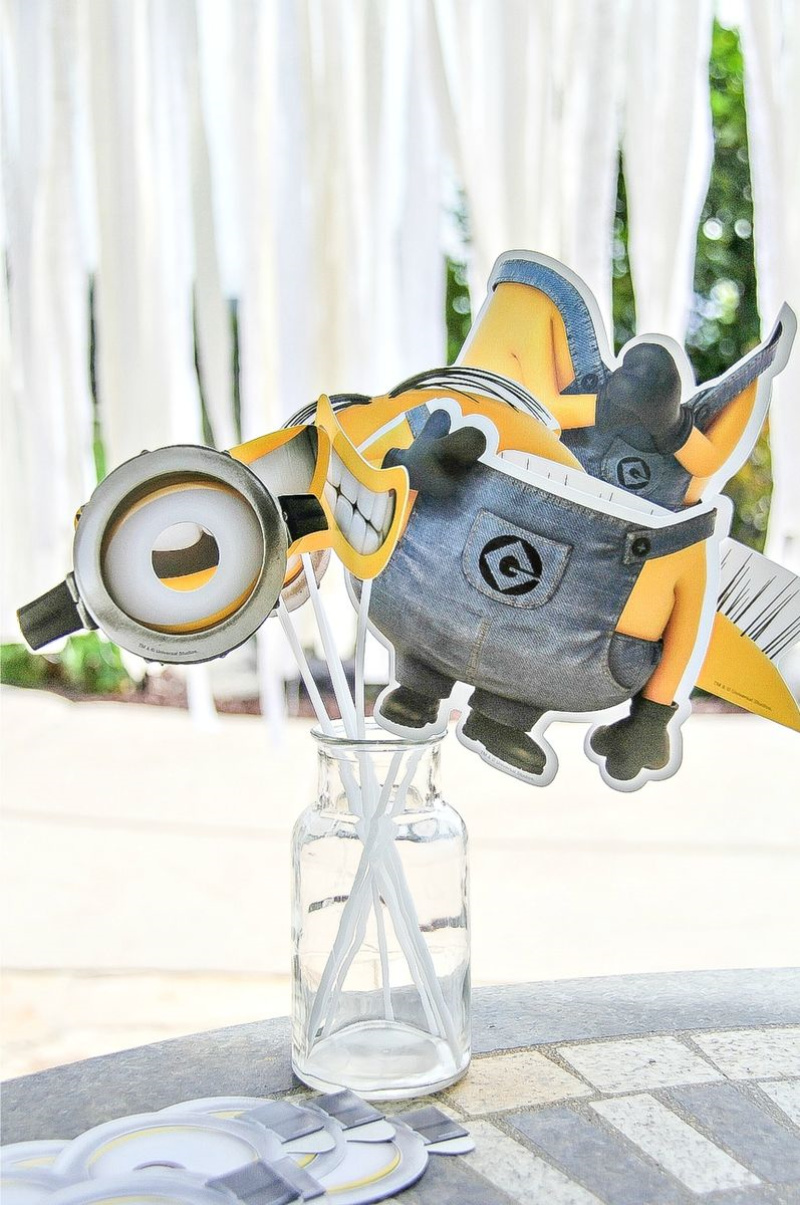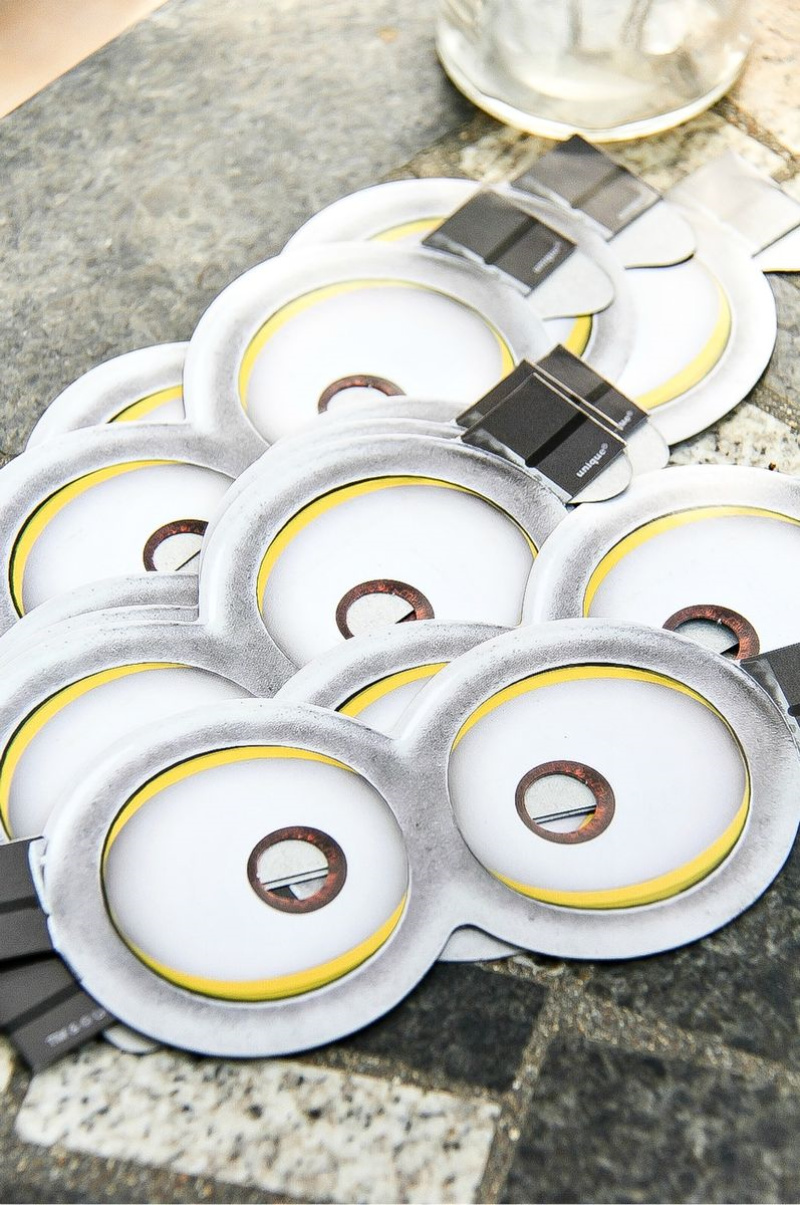 As for food, keep it simple. Kids don't want anything too heavy when they are swimming and playing, so host your party late morning or afternoon.
Minions Ice-Cream Bar
An ice cream bar is perfect, you can have everything ready to go and bring it outdoors at a moment's notice.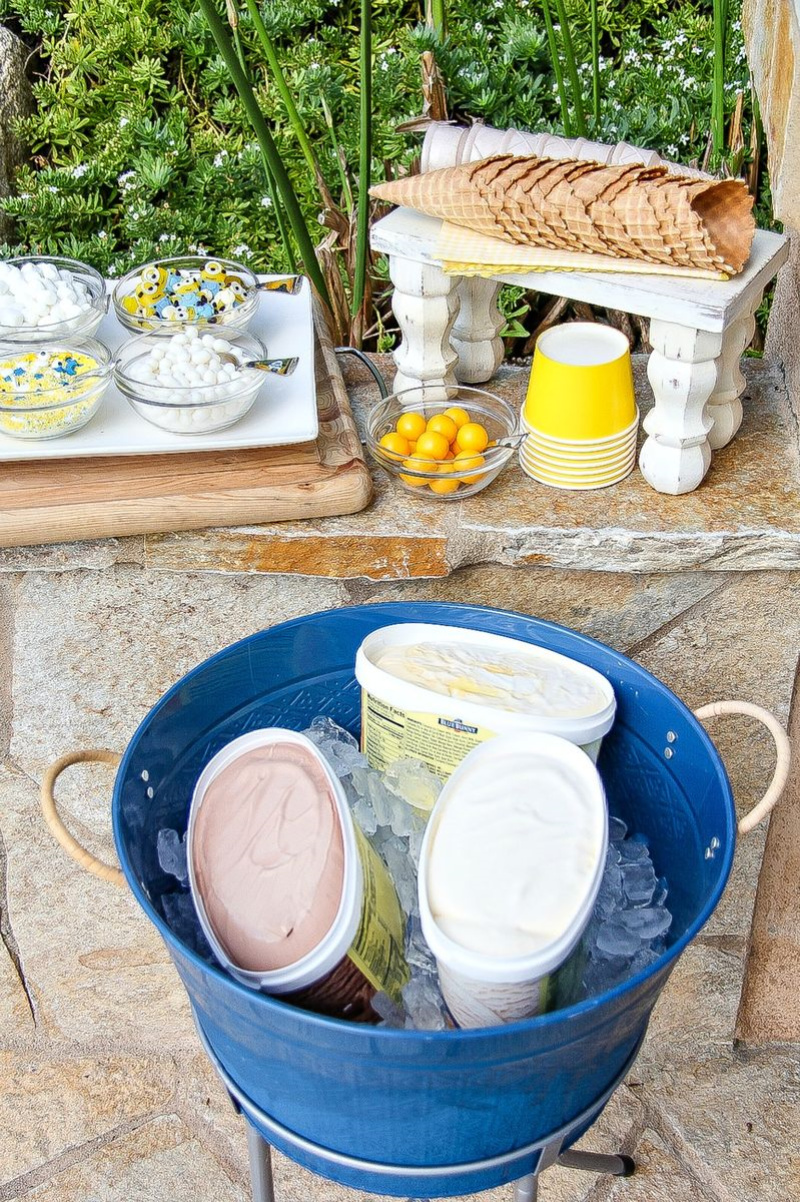 Offer a few varieties of ice cream but keep it simple. Staples such as vanilla and chocolate work best, but throw in one fun flavor too for those who might not want to add toppings. I added mango to our ice cream tub. Don't forget a variety of toppings.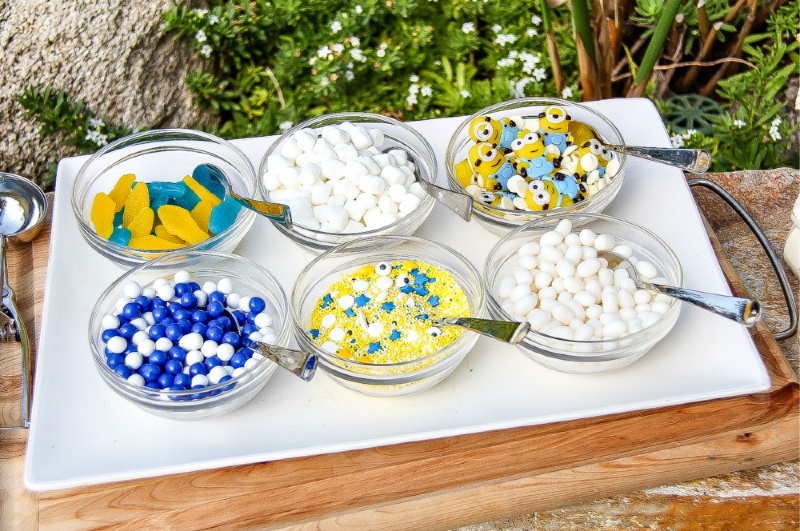 For this ice cream bar I kept it fairly simple with toppings:
mini marshmallows
jelly beans
sixlets
bubble gumballs
gummy fish
sprinkles mix (blue, white and yellow sprinkles with sprinkle stars and candy eyes)
white chocolate with Minions candy toppers.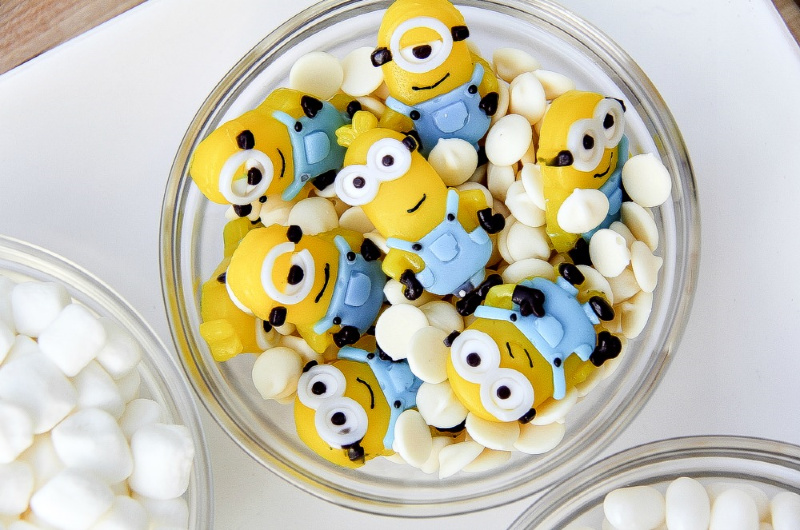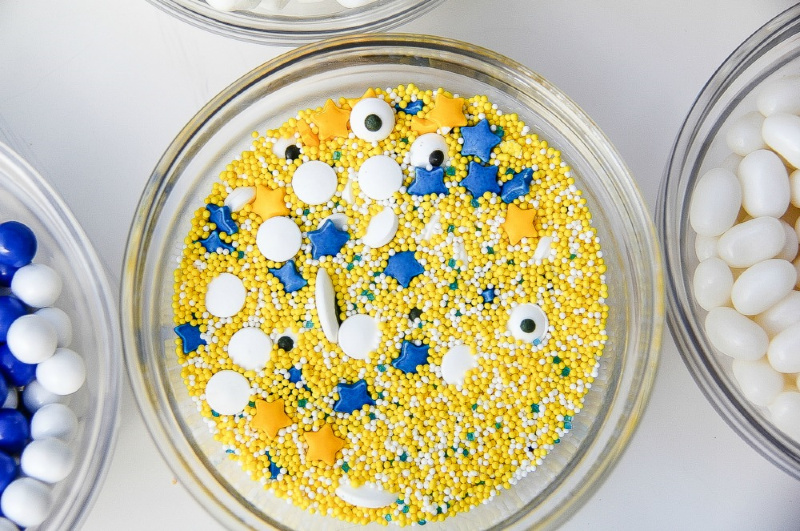 Keep your guests hydrated with plenty of water. A roll of Minions Duck Tape will have your water bottles party-ready in no time at all.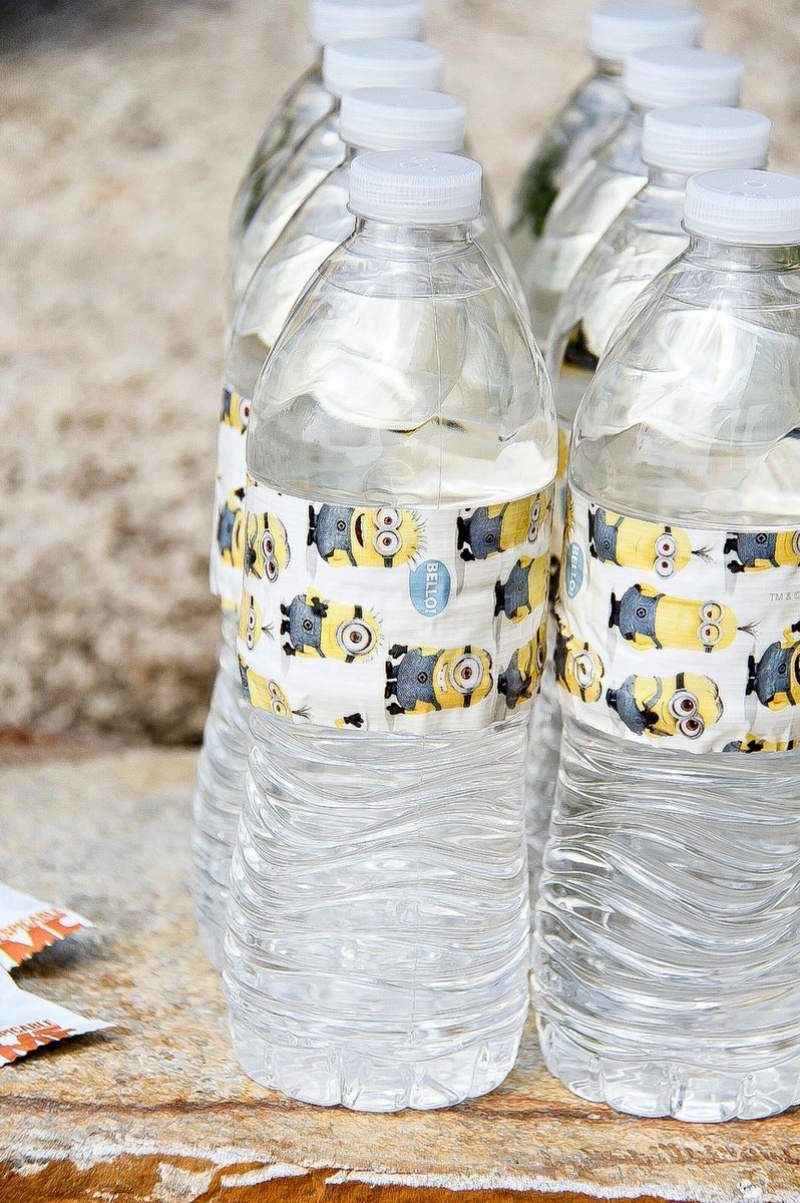 Add a couple of other snacks for guests for when the ice cream is in the freezer such as Minions Banana Twinkies and Minions jelly candies. Don't forget if you cannot find Hostess Twinkies with the Minion wrappers, you can download and print my Minion Wrappers to make your own.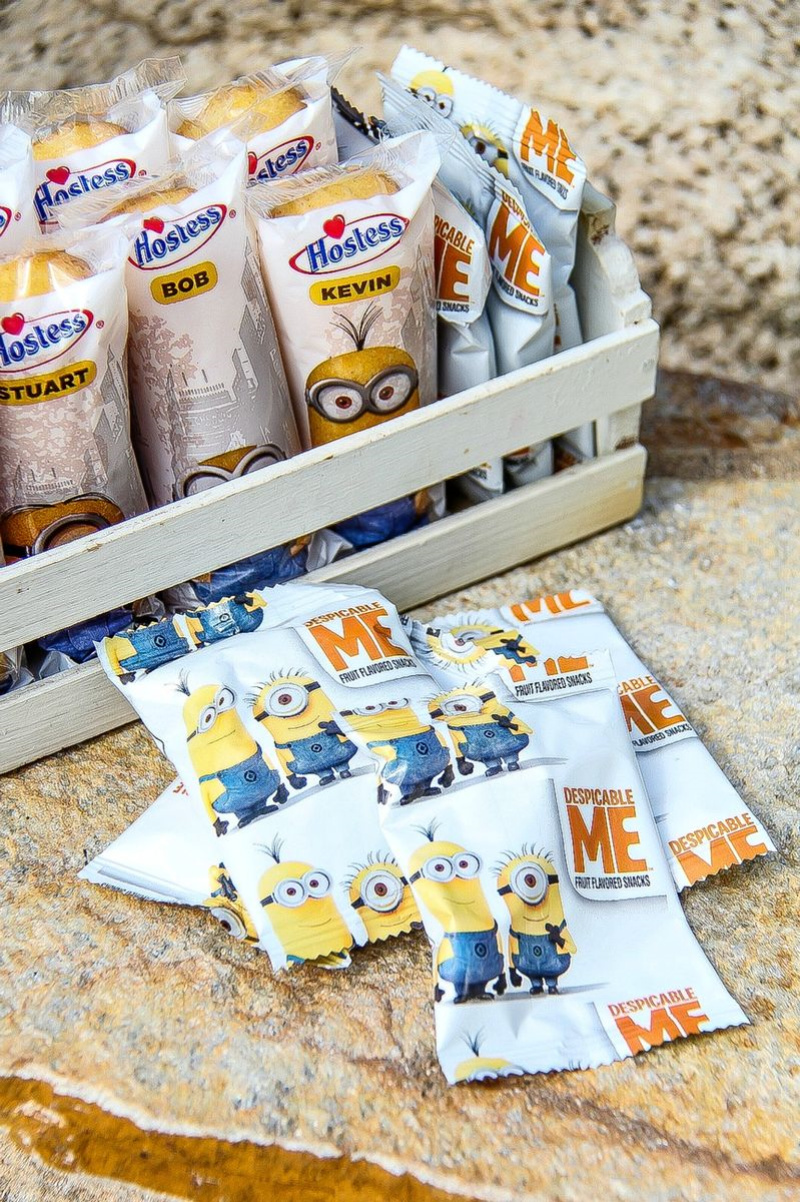 This handmade utensil caddy will keep straws, napkins, and utensils organized. You won't need a lot of utensils, but you will need spoons and ice cream scoops, along with lots of napkins. Kids love straws, so add a few of those, and a Sharpie for writing names on water bottles too.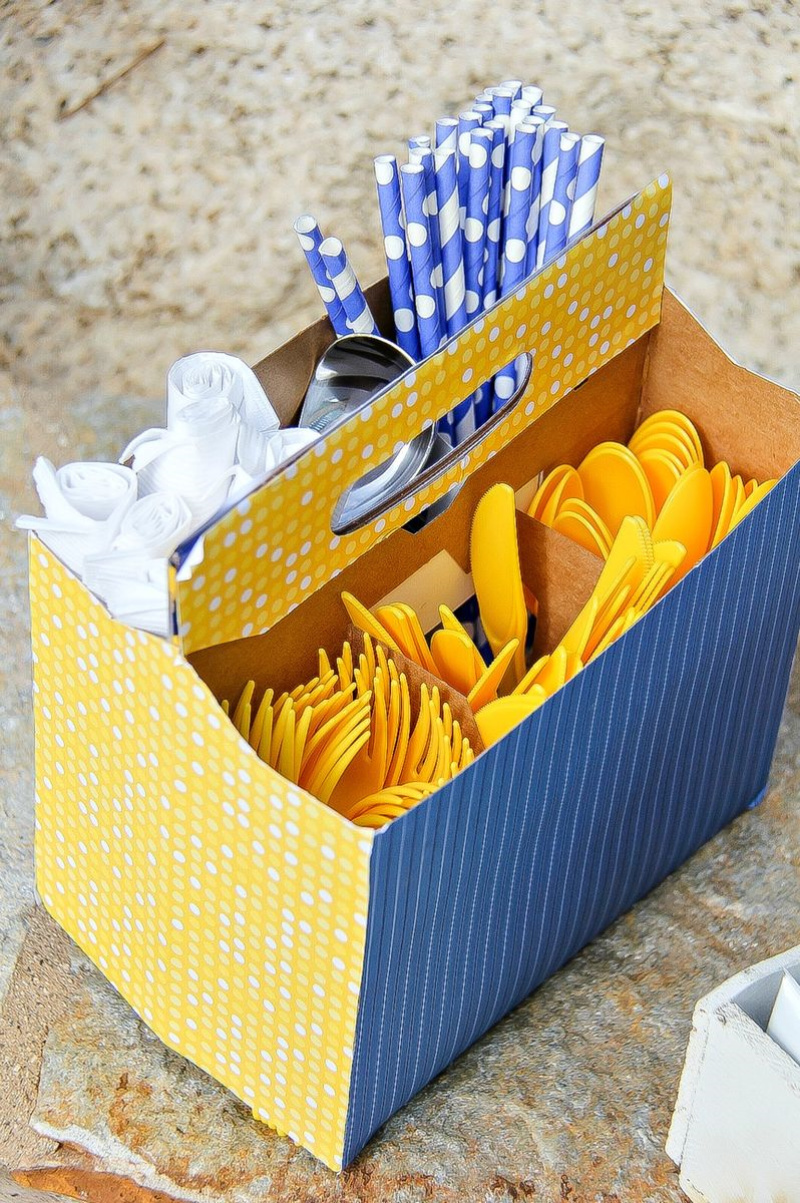 Keep the decorations simple. Chances are it might be a little windy outdoors anyway. A few pops of color here and there are perfect.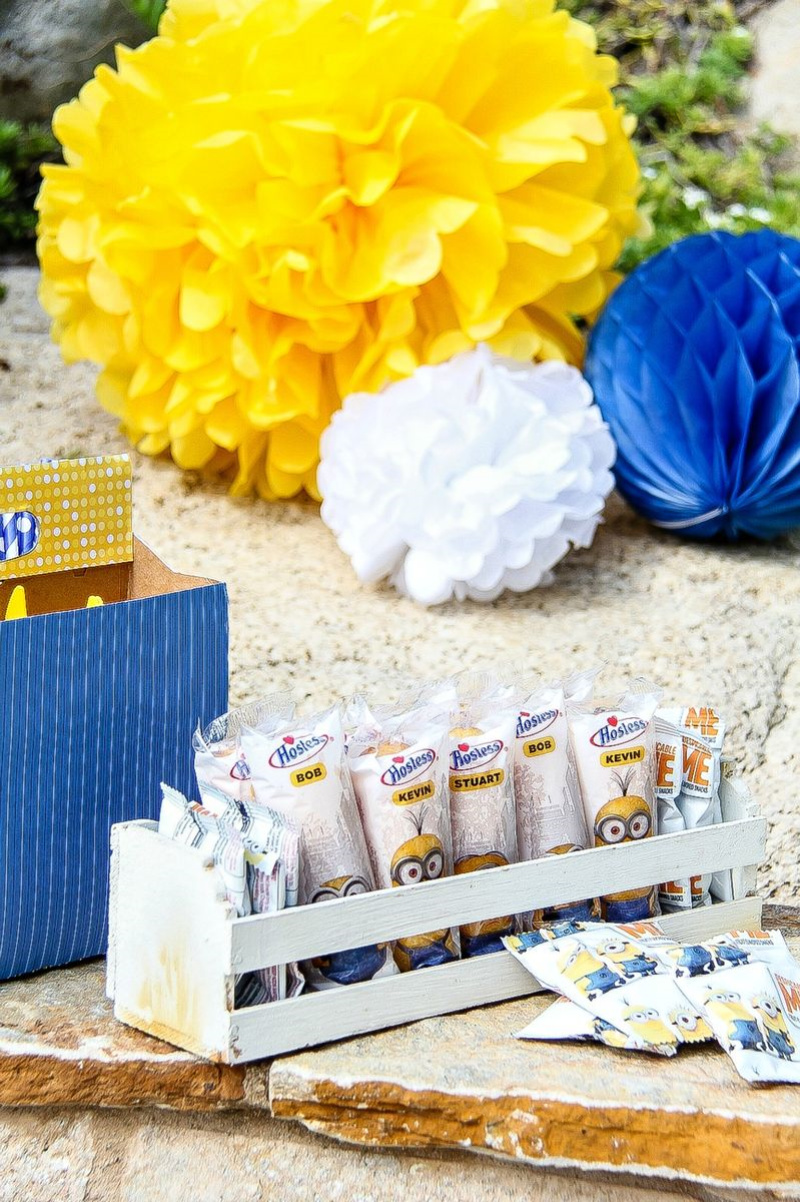 Even I got my Minion on for this party. My yellow DKNY cropped jeans paired perfectly with my Minions Havaianas, and a splash of Wet n Wild 'Teal of Fortune' color on my toenails topped it off.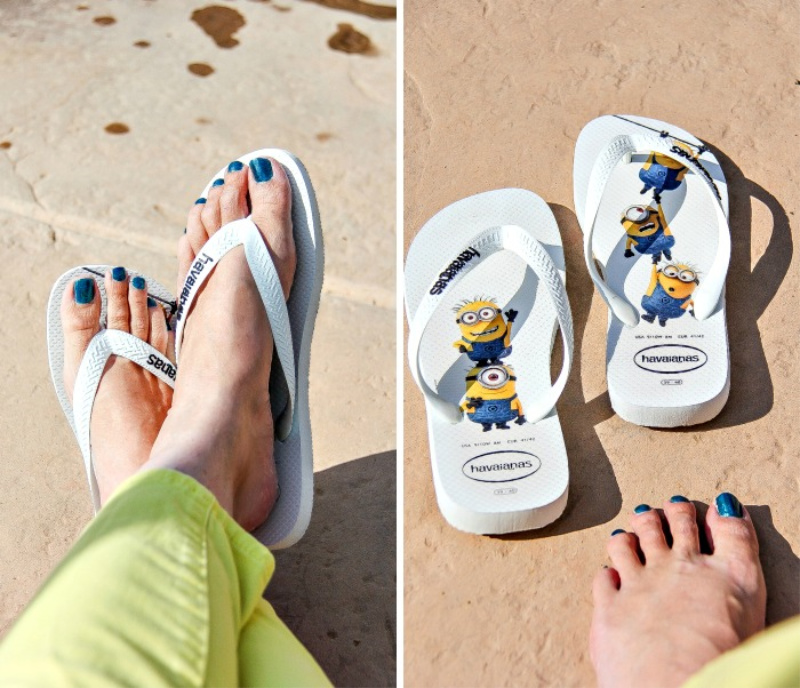 Minions Party Details
Merchandise – beach balls, towels, yo-yo: available on Amazon
Bubble wands, pool noodles, and frisbee: all $1 each from either Walmart or the Dollar Store.
Photo props: Walmart (party section)
Kite: $1 at the Dollar Store
Sunglasses: currently available on Zulily
Sunscreen: available at Walmart
Banana Twinkies, Minions candies and Minions candy toppers: Walmart
Utensil caddy: DIY project – you can find my instructions on how to make these here
Havaianas: available from Havaianas online
Looking for more Minions party ideas? Take a look at these: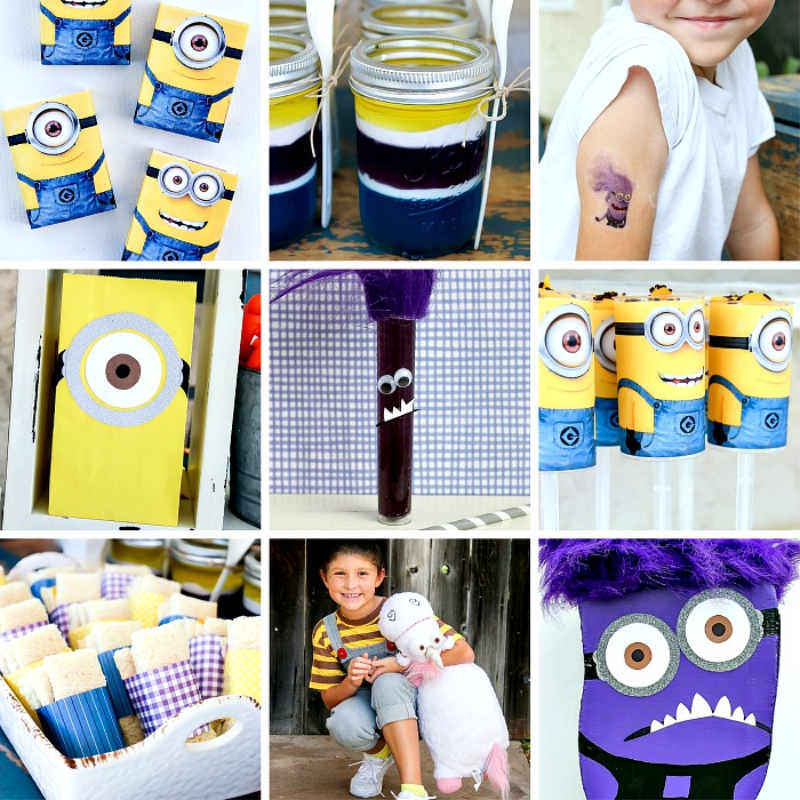 About Minions, The Movie
The story of Universal Pictures and Illumination Entertainment's Minions begins at the dawn of time. Starting as single-celled yellow organisms, Minions evolve through the ages, perpetually serving the most despicable of masters. Continuously unsuccessful at keeping these masters—from T. rex to Napoleon—the Minions find themselves without someone to serve and fall into a deep depression.
But one Minion named Kevin has a plan, and he—alongside teenage rebel Stuart and lovable little Bob—ventures out into the world to find a new evil boss for his brethren to follow.
The trio embarks upon a thrilling journey that ultimately leads them to their next potential master, Scarlet Overkill (Academy Award® winner Sandra Bullock), the world's first-ever female super-villain. They travel from frigid Antarctica to 1960s New York City, ending in mod London, where they must face their biggest challenge to date: saving all of Minionkind…from annihilation.
Featuring a soundtrack of hit music from the '60s that still permeates our culture today, Minions is produced by Illumination's Chris Meledandri and Janet Healy, and is directed by Pierre Coffin and Kyle Balda. Brian Lynch has written the screenplay for the 3D-CG comedy adventure, and Chris Renaud serves as executive producer of the film.
Please pin this post for later: