If your kids have ever wanted to try origami, then we have a really easy tutorial to get them started to make origami whales.
Marisol has become a little obsessed with making origami whales. I don't even know how many we currently have all over the house, so she helped me put together a tutorial for your kids.
Note: This project was originally created for Rusty and Rosy, however that website has been taken offline so I moved the tutorial over here.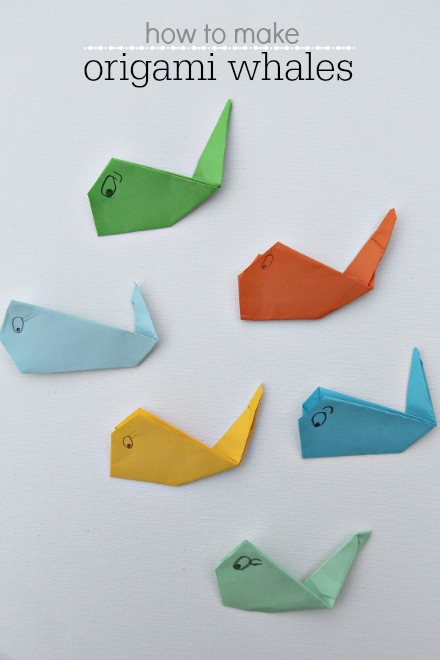 Origami is the Japanese art of folding paper, most often into shapes, animals, birds, and people.
What you need
Square pieces of paper. That's it!
Optional: googly eye or a pencil to draw an eye.
Instructions
Follow the images below to create your own paper whale.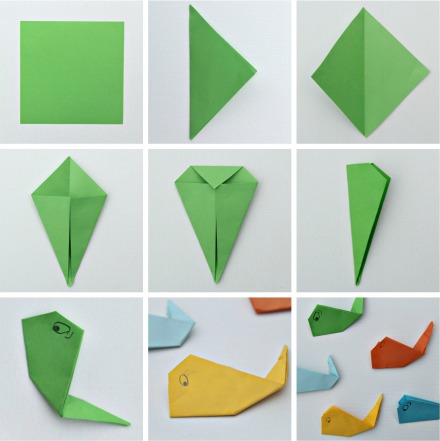 Origami books for kids
Origami Kids: 32 Projects Designed by and for Kids, by JC Nolan
Origami Games: Hands-on Fun for Kids, by Joel Stern
Origami on the Go: 40 Paper-Folding Projects for Kids Who Love to Travel, by Margaret Van Sicklen
Origami Activities for Children, by Chiyo Araki
Origami Dinosaurs for Beginners, by John Montroll
There is also a great kit by Creativity for Kids called Awesome Origami, that contains step-by-step instructions for making origami animals and other shapes along with 100 papers for making them.
Benefits of origami for kids
Following instructions
Multi-cultural awareness
Hand-eye co-ordination
Patience
Creativity
Have your kids tried their hand at origami?
Please pin this post for later: