Re-purpose a typeset drawer and transform it into a DIY wall jewelry organizer to keep all of your favorite pieces visible and organized.
Disclosure: I received an Elmer's Spring DIY kit and compensation to purchase other products needed for this project.
UPDATE PART 2: My Jewelry Organizer won the Elmer's Spring Creation Contest. I'm absolutely thrilled.  Aside from receiving a visa gift card for winning, I also had the privilege of drawing 3 more winners from the comments via random.org to each receive an Elmer's DIY kit.
Remember when I made the jewelry organizer for Marisol's bedroom? I recently received an email from Elmer's reminding me about it being that time of the year for spring cleaning, organizing, and makeovers. They wanted to challenge me to create something either on my own or using their Spring Creation Guide as part of an Elmer's Spring Creation Contest. The only stipulation being that I had to use their newly improved Glue-All.
I'm always up for a good challenge, especially when it comes to DIY projects so I happily accepted and set to work making this: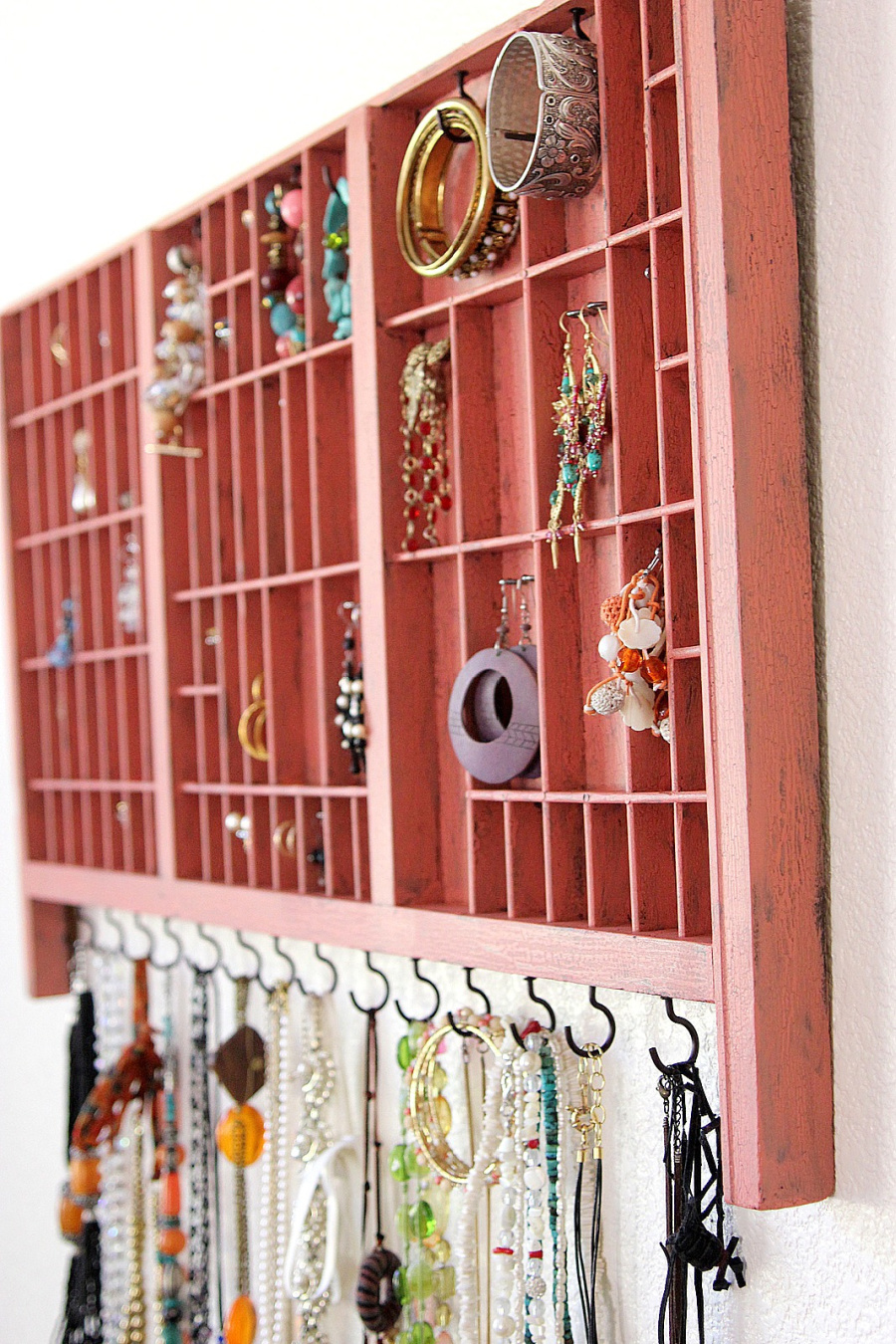 I didn't have a pretty jewelry organizer like my daughter, instead, my jewelry looked a little like this: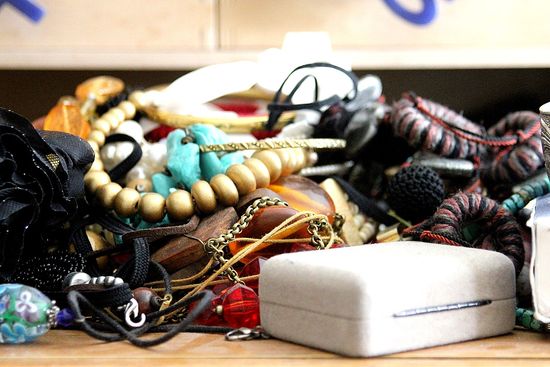 Yes, I'm hiding my head in shame. Terrible isn't it.
DIY wall jewelry organizer
Supplies
Printer's typeset drawer
Elmer's Glue-All
Wood sealer
Paint (in 2 colors) and a paintbrush
Crackle
Varnish
Hooks, eye-screws, and small decorative holders
Instructions
In my head, I knew how I wanted to organize it, but it was a matter of finding the right supplies. I briefly considered picking up a few drawer organizers that I had seen at my local craft store and sticking them together, but the thought of spending over $20 per organizer was not going to be a cost-effective way to tackle this so I decided to hit up my local antique mall to see what I could find. Tucked away in a corner, I found this fabulous typeset drawer for only $15.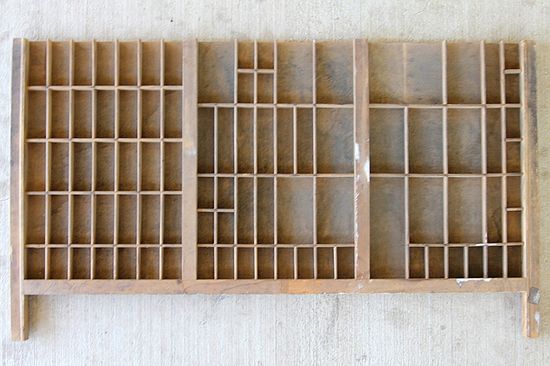 It obviously needed a lot of work. The first order of business was to break out that Glue-All and set to work making repairs to the cracks and sections that needed to be stuck down again.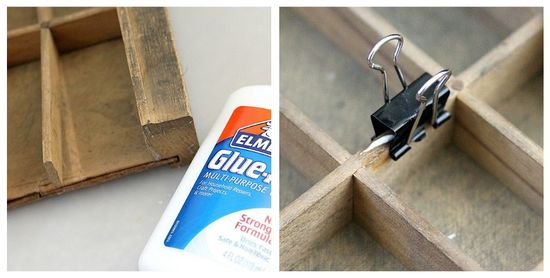 Next up was to cut a piece of wood using my X-Acto knife to the length of the tray to attach to the top with Glue-All, I also reinforced it with a couple of nails.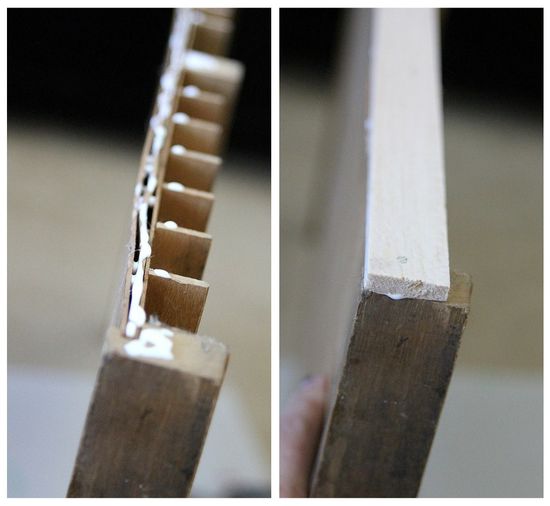 Crackle effect paint
Now we are onto the fun part. I wanted to keep with the antique feel of this typeset drawer so thought I would try my hand at creating a cracked finish. I've never done this before, but it was actually much easier than I thought, albeit a little time-consuming.
Step 1: Apply a sealer to the wood. Set aside to dry.
Step 2: Apply your first color – I used walnut. Again, let it dry.
Step 3: Apply the crackle. Don't dry completely, but allow it to dry enough that it becomes tacky.
Step 4: Apply a second color of paint – I used coral. Within minutes you will see the cracks starting to appear. By the time the paint is dry, it looks fabulous.
Step 5: Apply a varnish.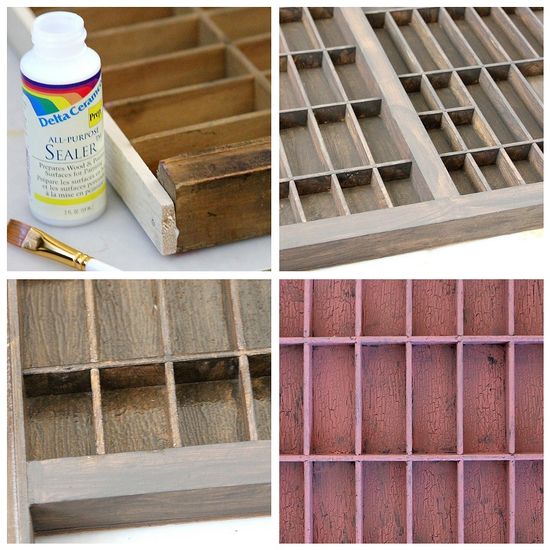 The final step is to attach hooks, rings, and eye-screws to hang your jewelry. I found most of these at the craft store.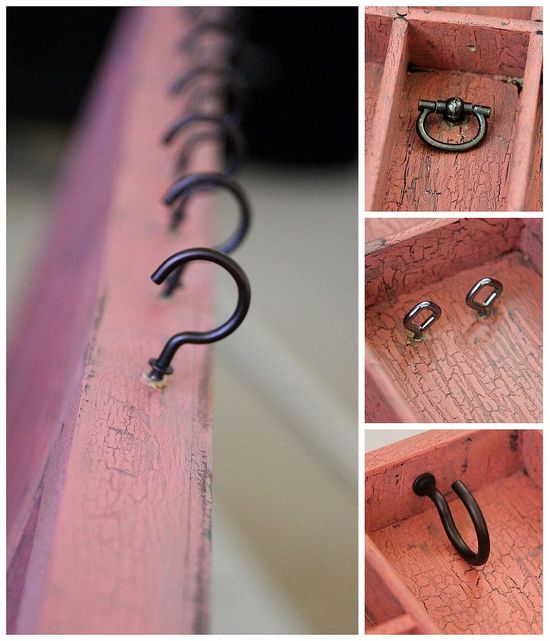 Now you have a beautiful space to hang all of your jewelry.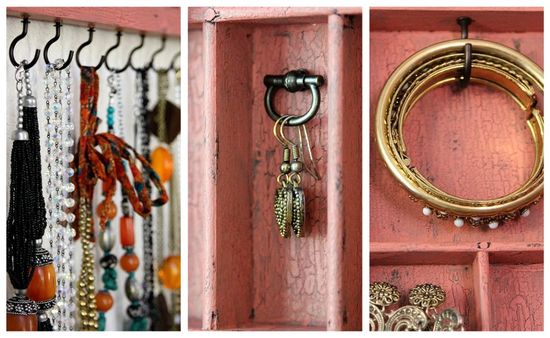 DIY jewelry organizers
You can see how I organized my large bangles too with a DIY bangle holder.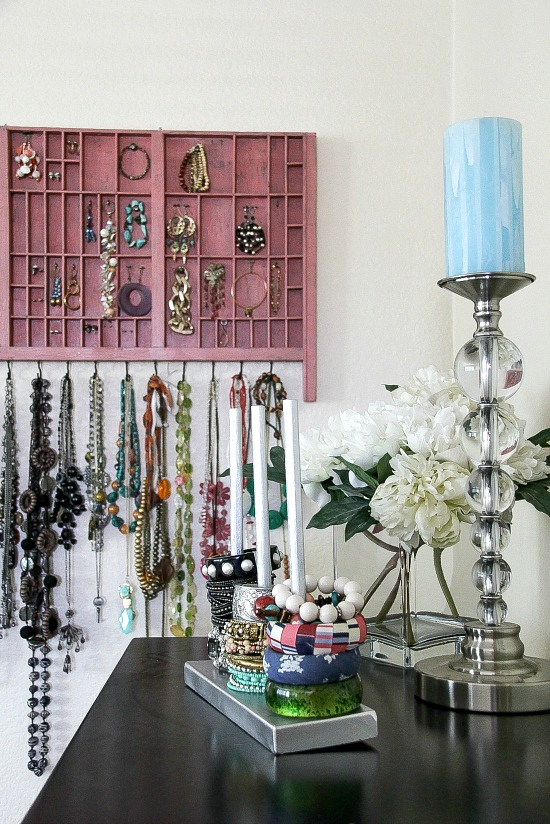 Please pin this post for later: