Celebrate Penguin Awareness Day with the kids with these fun activities, crafts, books, costumes, movies, and fun food ideas.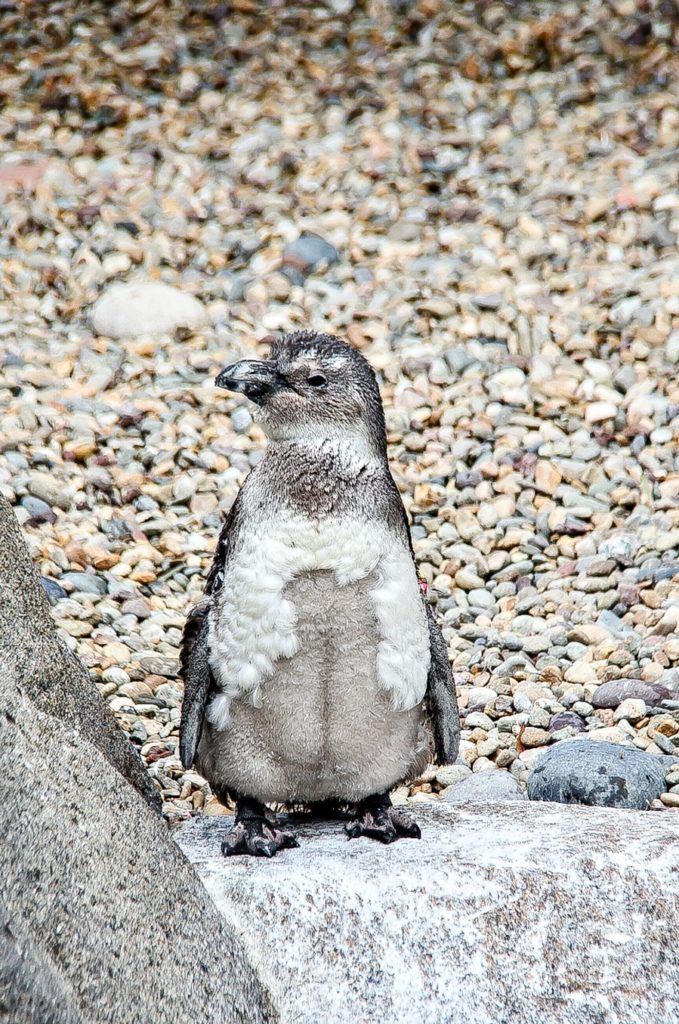 Note: This post was originally created for the website Rusty and Rosy, however, that website is now offline. I have moved all of my content over here.
Did you know that Penguin Awareness Day is on January 20? Encourage your kids to learn more about penguins and have some penguin fun on this special day with all of these fun ideas.
Penguin activities for Penguin Awareness Day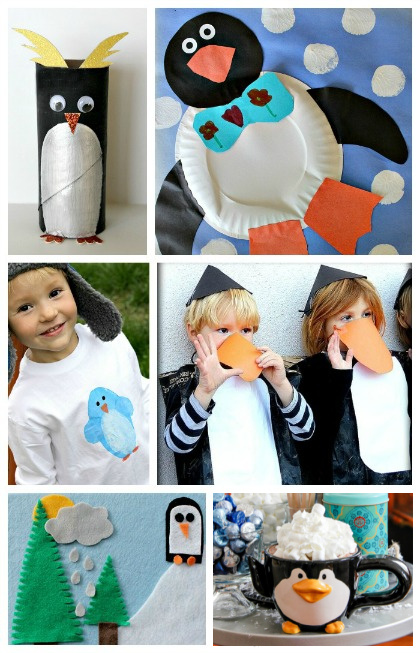 Macaroni penguin paper roll craft
Supplies
Paper rolls
Black and white paint
Card stock – yellow and orange
Googly eyes
Glue
Paintbrush and scissors
Instructions
Begin by painting the paper roll with black paint. While it is drying, sketch the feet, beak, and crest onto yellow and orange card stock and cut them out.
Paint the white section of the belly with two coats of paint, allowing each to dry.
Glue the beak, eyes, crest, and feet onto your paper roll penguin.
Paper plate penguins
My kids made these at school last year.
Supplies
Paper plate
Card stock – black, white, orange, and another color of choice
Glue and scissors
Instructions
Sketch the flippers, head, beak, feet, eyes, and bow tie onto card stock and cut out. Attach pieces to the paper plate with glue.
Stamped penguin shirt
You can find a tutorial for this fun potato-stamped penguin shirt here.
Penguin costumes
These fun handmade penguin costumes were made by my twins in preschool. 
5. Winter Felt Board and Felt Penguin
Visit my post to grab the tutorial to make winter felt boards and this adorable little felt penguin.
Penguin books
Here are 10 books all about penguins that kids will love.
National Geographic Readers: Penguins by Anne Schreiber
The Emperor's Egg by Martin Jenkins
A Penguin Story by Antoinette Portis
If You Were a Penguin by Florence Minor
Antarctic Antics: A Book of Penguin Poems by Judy Sierra
Penguins, Penguins, Everywhere! by Bob Barner
Mr. Popper's Penguins by Richard Atwater
365 Penguins by Jean-Luc Fromental
And Tango Makes Three by Justin Richardson
I Wonder Why Penguins Don't Fly: And Other Questions About Polar Lands by Pat Jenkins
Penguin movies
Watch one of these fun movies with the kids that are all about penguins. We have lots of fun winter movie night ideas including a hot chocolate bar with penguin mugs.
The March of the Penguins
Happy Feet
The Penguins of Madagascar
Mr. Popper's Penguins
Surf's Up
Even more penguin activities
Dress like a penguin: Wear black and white, orange shoes and a bow tie.
Send a penguin card to a friend. Make a thumbprint penguin, or draw a penguin on card stock.
Visit penguins. Two years ago we had the wonderful opportunity to view penguins in their natural habitat at Philip Island in Australia. At sunset, we observed fairy penguins swim unto shore and waddle up the sand to their burrows. It was an amazing experience. If you do not live close enough to watch penguins in their natural environment, visit a local aquarium or zoo. You can check our experience at Breakfast with the Penguins at the San Diego Zoo.
Make a donation. Donate money, or adopt a penguin through rescue and research organizations such as The Penguin Foundation or Defender's of Wildlife Adopt a Penguin program.
Have a penguin race. Place a large plastic egg (the kind you fill for Easter) on your kids feet and see who can waddle to the finish line first without cracking the egg open.
Have a penguin lunch. Make this adorable penguin lunch for the kids while they are learning all about penguins.
These activities would also be perfect for celebrating National Penguin Day too which is on April 25th and coincides with the migration of penguins.
How will you celebrate Penguin Awareness Day?