When going on a road trip with kids snacks are very important. Here are the best tips you will need including non gmo and gluten-free snack ideas kids will love and how to pack them.
We are hitting the road on Monday for our cross-country road trip. And being the over-organizer that I am (who likes to be prepared for every scenario), this trip has taken a couple of  months of planning. There have been countless hours mapping out stops along our route, things to keep the kids occupied in the car,  and fun activities at our destination; fishing, boating, kayaking, exploring caves, boat races on the creek, and going to a moonlight theater. This is the longest road trip I've taken with them. Mike and I will be splitting the driving over 4 days to Kentucky where we'll be spending our time between his house, a cabin on the lake, and camping, before I make the solo drive back to California in 3 days right in time for middle school registration.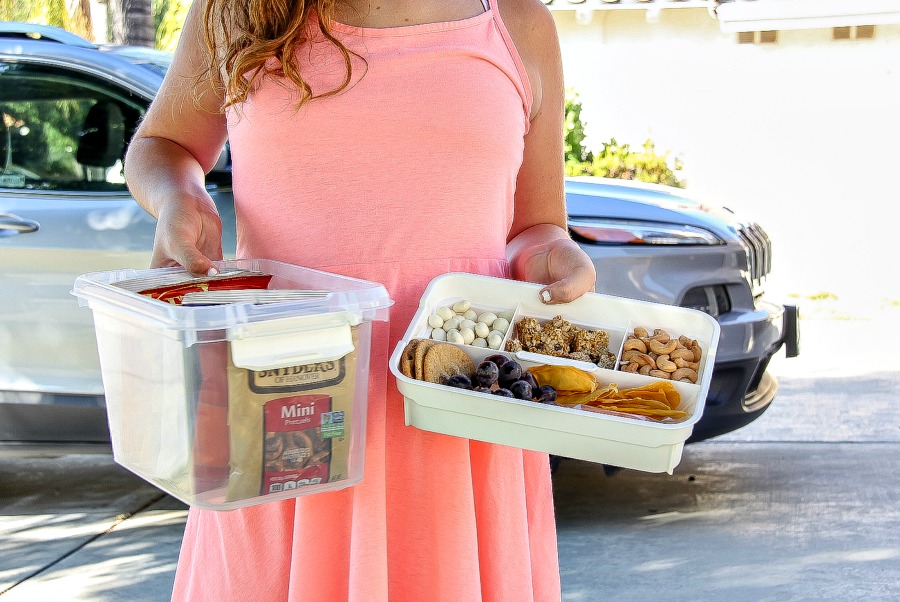 It never stops amazing me how long it takes to plan a trip, and then how quickly the time goes when you are actually on that vacation. In the blink of an eye it's over, but hopefully we've created memories that will last a lifetime.
I've already shared our summer bucket list, and our road trip 'fun' bags, but it's time to share road trip snacks too. One of the most important parts of any road trip with kids because the last thing you want to hear are the words 'I'm hungry' ever 15 minutes, along with 'are we there yet'. So, we are packing up individual travel totes filled with snacks for them that will stay in the back seat and they can help themselves. We are doing individual totes not just because I don't want to hear fighting over who took the last of the 'favorite' snacks, but because Flynn is gluten-free so it just makes sense to have everything separated so he knows exactly what he can and cannot have.
I started off with these great 6.2 qt clear plastic containers with a pull out tray (they are only $5 at Michael's this week – they were on sale for 50% off, but if you get them after the sale, just download a coupon for 40% off).  They are the perfect size for the kids to either put in the middle seat between them, or on the floor near their feet still giving them plenty of room to move around.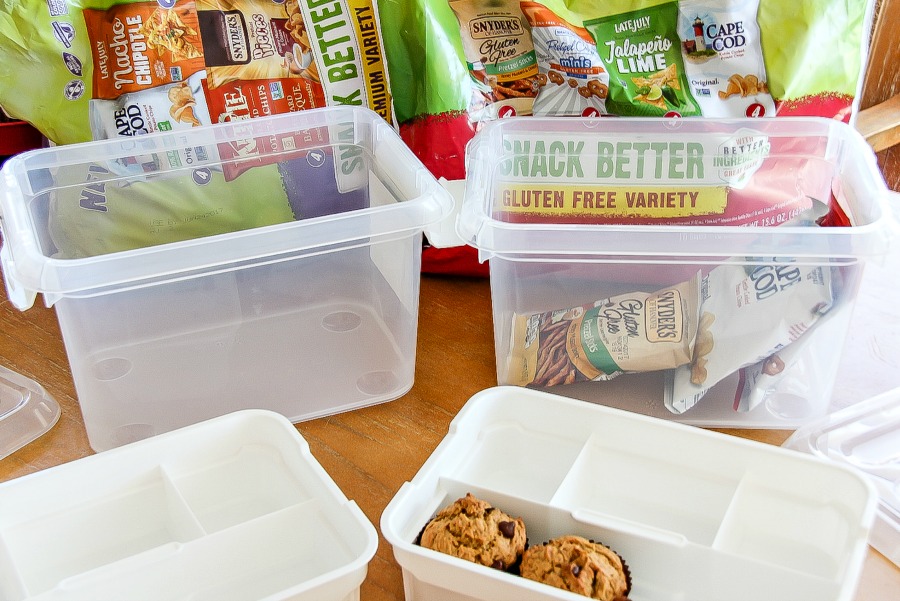 The bottom section fits 7 bags of Snyder's-Lance snack bags in the kids favorite flavors. There are 4 Snyder's-Lance packs to choose from (available online and in-store at major retailers) and each features a flavorful variety of snacks from five Snyder's-Lance family of brands that both kids and adults will love; there's something for everyone.  Brands included within each of the variety packs: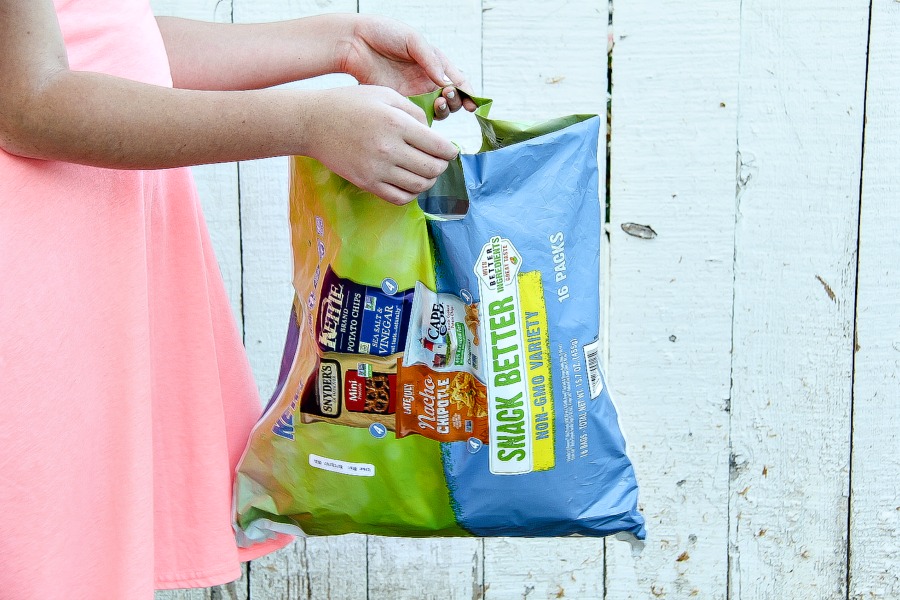 Non-GMO Variety

Cape Cod® 40% Reduced Fat Original Potato Chips
Late July® Nacho Chipotle Tortilla Chips
Snyder's of Hanover® Mini Pretzels and
Kettle Brand® Sea Salt & Vinegar Potato Chips

Gluten Free Variety

Snyder's of Hanover® Gluten-Free Honey Mustard & Onion Pretzel Sticks
Snack Factory® Minis Gluten Free Original Pretzel Crisps®
Late July® Jalapeno Lime Tortilla Chips
Cape Cod® Original Potato Chips

Premium Variety

Snyder's of Hanover® Honey Mustard & Onion Pretzel Pieces
Kettle Brand® Backyard Barbeque® Potato Chips
Cape Cod® 40% Reduced Fat Original Potato Chips
Late July® Nacho Chipotle Tortilla Chips

Small Batch Kettle Chip Variety

Kettle Brand® Jalapeno Potato Chips
Cape Cod® Original Potato Chips
Kettle Brand® Backyard Barbeque Potato Chips
Cape Cod® Sea Salt & Vinegar Potato Chips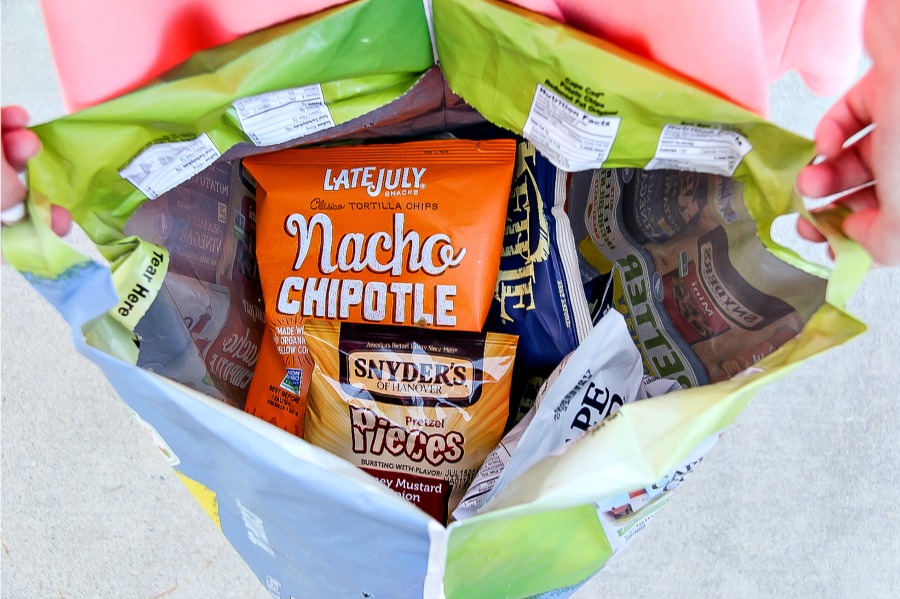 Once the bottom of each tote was filled, I then popped some of their favorite snacks such as dried fruit, nuts, granola bars, fresh fruit, and homemade baked goods into the pull-out compartment tray.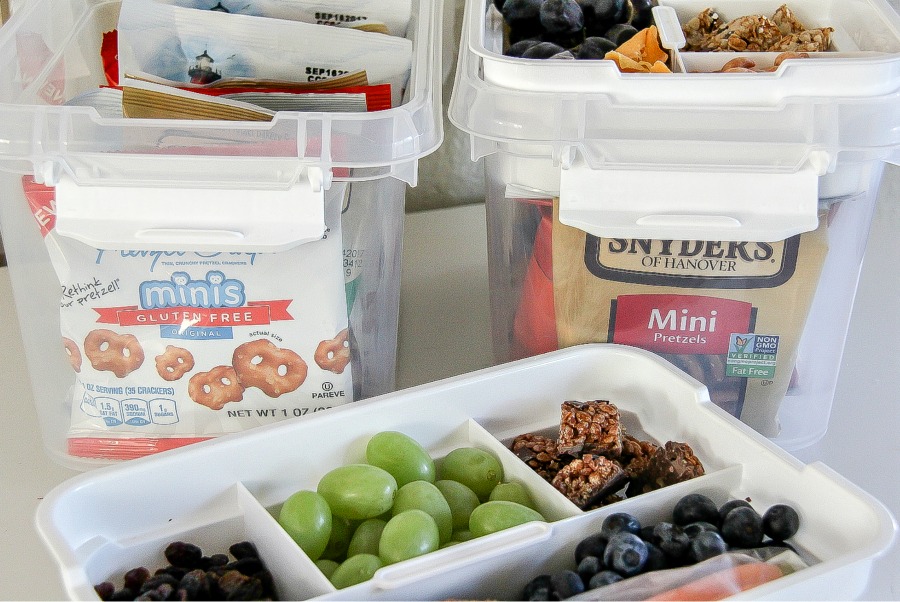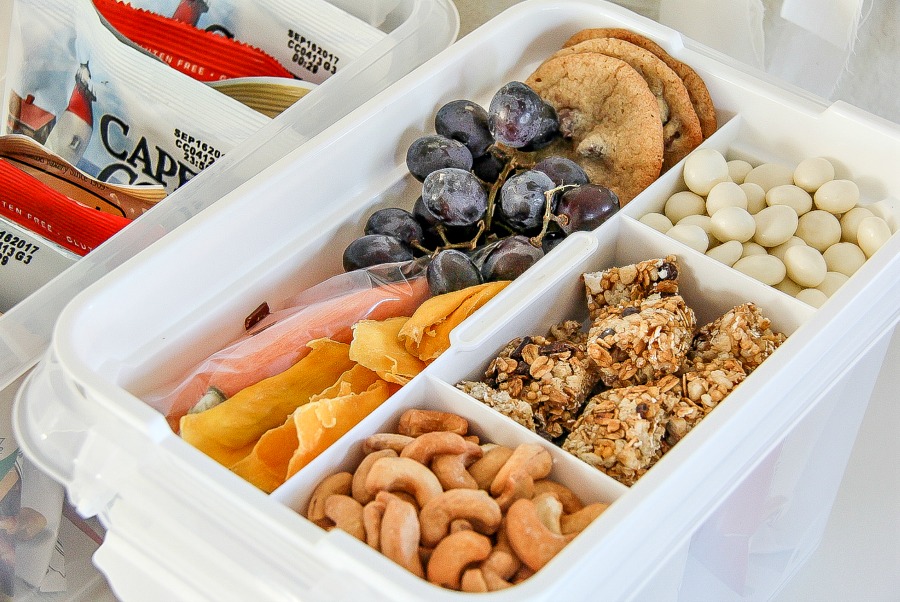 These totes make it so easy to keep snack separated.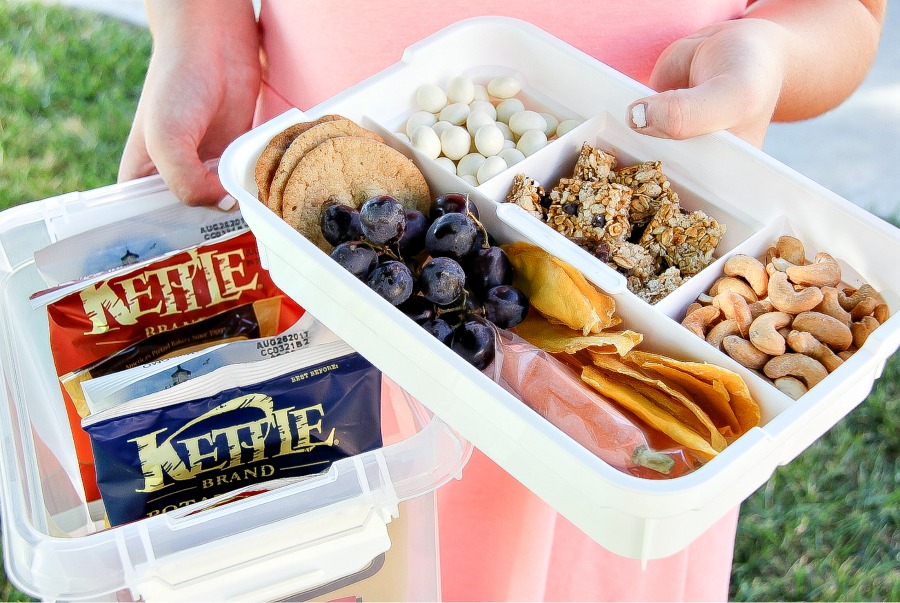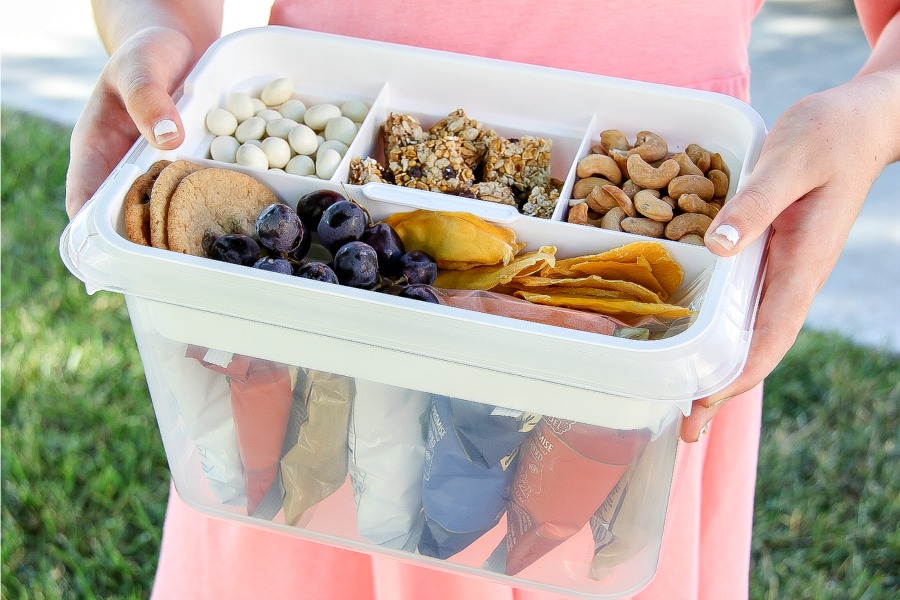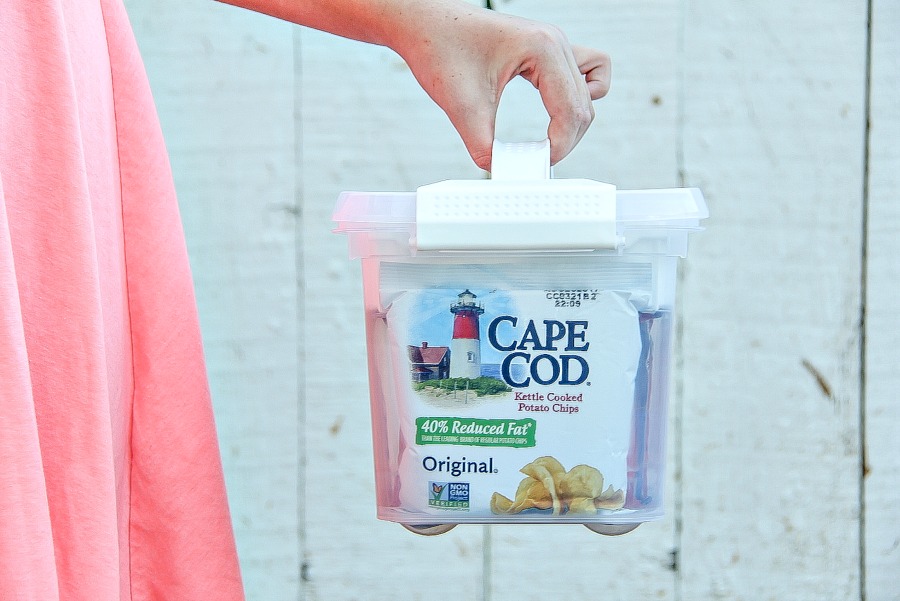 I've rounded up a few tips for packing snacks that are sure to cut down on the mess that's bound to be created when snacking on the road. Always keep in mind how long you'll be stopping for, how often, and how long you'll be on the road between stops. Can you keep food cold? Will you be stopping for long periods of time where the car will heat up? So, here are the things I like to avoid when packing road trip snacks:
Nothing with liquid – no yogurt, and no fruit cups with syrup.
Nothing that needs to be refrigerated.
Avoid anything that could potentially be sticky such as citrus
Avoid anything with pips or that needs to be peeled – stone fruits, cherries, clementines, because where do you think most of that will end up?
Pin this post for later: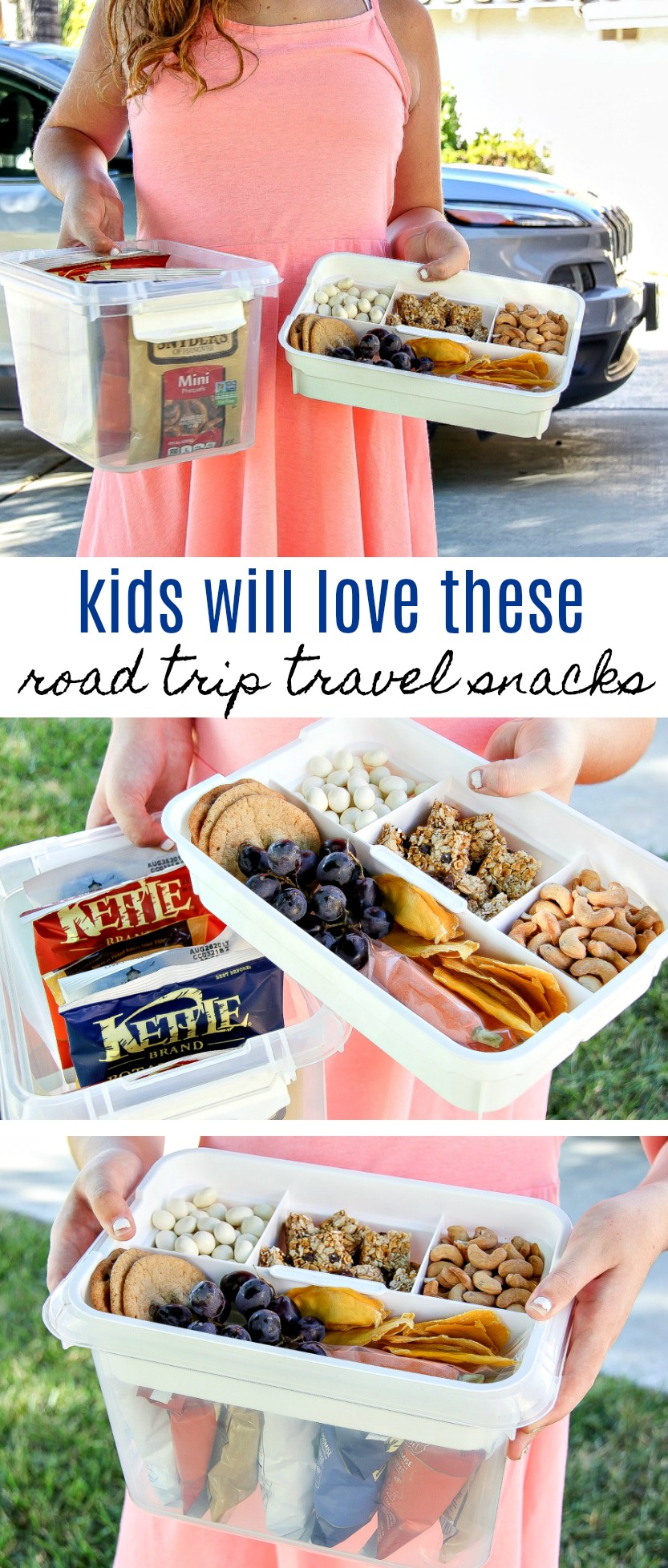 Save
I was selected for this opportunity as a member of CLEVER and the content and opinions expressed here are all my own.
Save
Save
Save
Save
Save
Save
Save
Save