These Very Hungry Caterpillar crafts are perfect for preschool, pre-k, kindergarten, and first-grade students.
The Very Hungry Caterpillar by award-winning Eric Carle inspires crafts, activities, and parties everywhere. With the bright vibrant colors, beautiful artwork, and captivating story, it's no wonder kids of all ages love this book.
Very Hungry Caterpillar crafts
Hungry Caterpillar bookmark
The age of five seems to be a great time to introduce bookmarks. The kids are learning to read in kindergarten and I have noticed that if they don't finish reading a book before bed, they are looking for something to mark their spot. So, we made bookmarks inspired by The Very Hungry Caterpillar.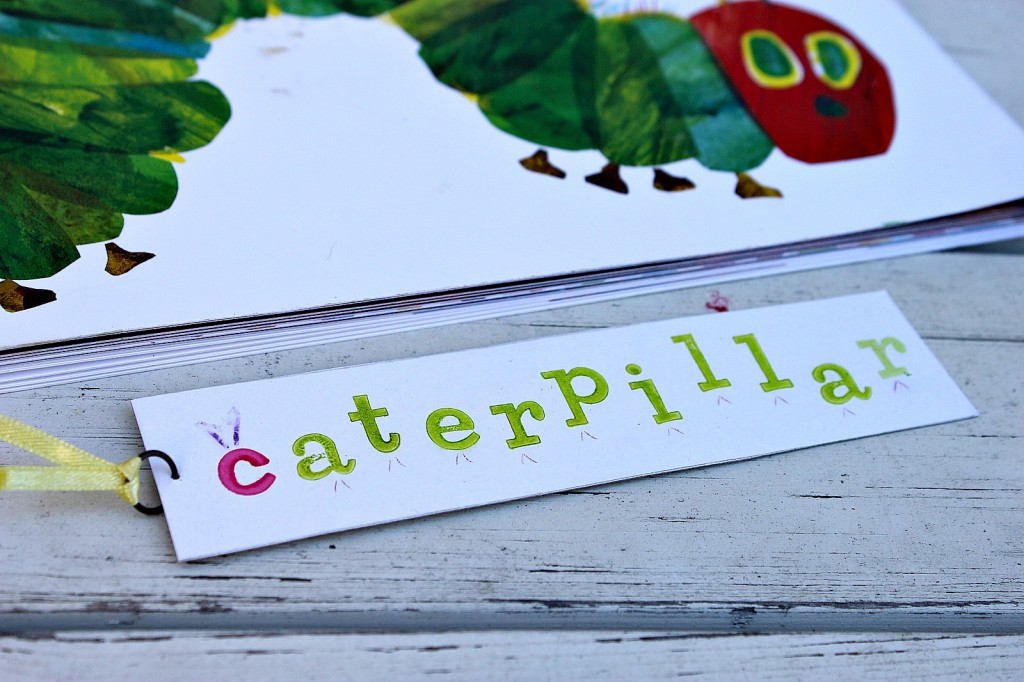 I decided this would be a great learning activity too. Instead of having the kids just draw a picture of the caterpillar and color it in, we would stamp the letters to spell out 'caterpillar'. Not only was this activity teaching them how to spell the word, but also taught them letter and color recognition as they matched the colors to make the caterpillar. The wonderful thing about having the kids stamp this is that it's a wiggly caterpillar, the letters didn't need to be stamped right next to one another; instead the curvier, the better. We later added feelers and little feet to each letter and then I attached a jump ring and a little ribbon to the bookmarks.
Note: We cut up an old cardboard box to make this project, which is also a great way to teach the kids about reusing and re-purposing materials you have around the house.
After finishing our caterpillar bookmarks, the kids wanted to keep crafting, so we made caterpillars using an egg carton.
Hungry Caterpillar egg carton craft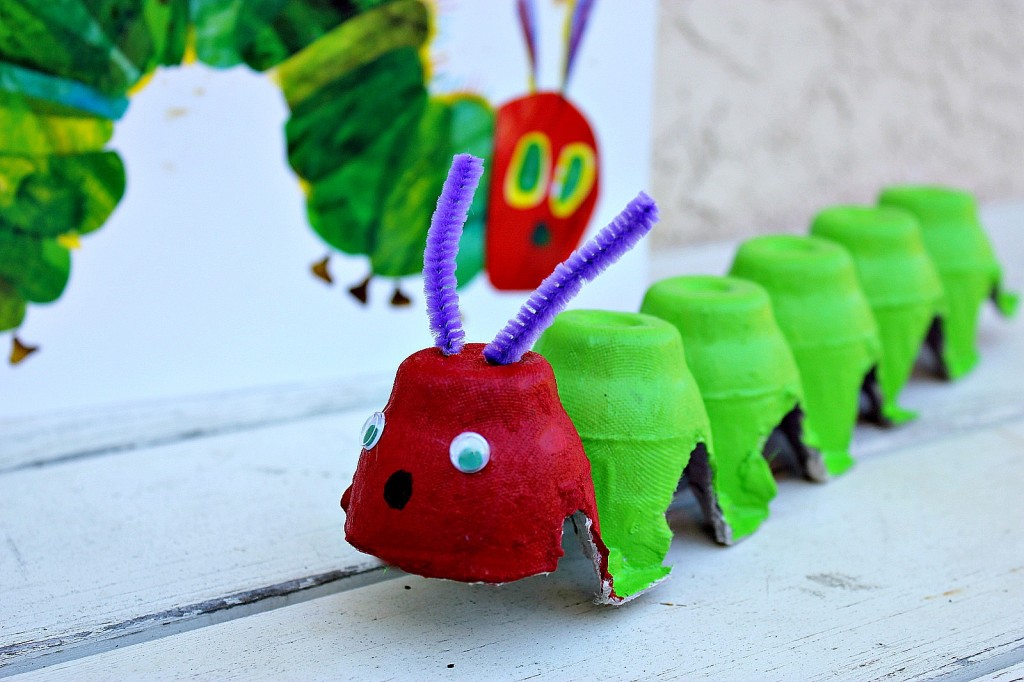 These caterpillars are a fun project for kids and simple to make. Just cut out one row of an egg carton. Have the kids paint the egg cups. Attach googly eyes and use a black marker for making the mouth. Poke two holes in the top with a needle, and thread a purple pipe cleaner down one hole and back up through the second hole.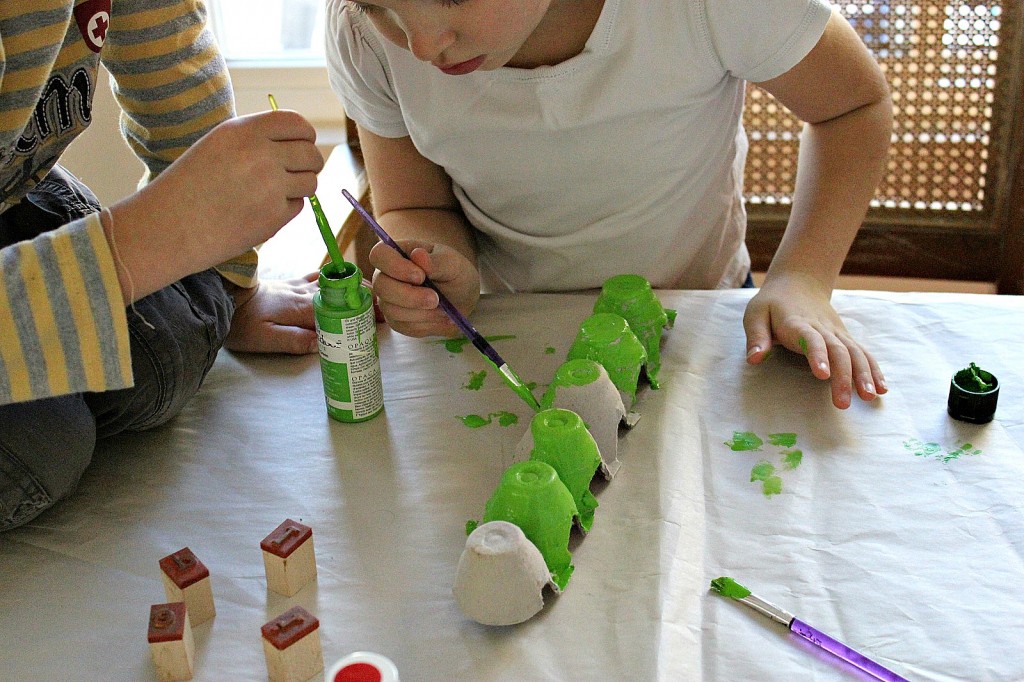 The kids made a similar egg carton caterpillar when they were younger too.
Mixed media hungry caterpillar craft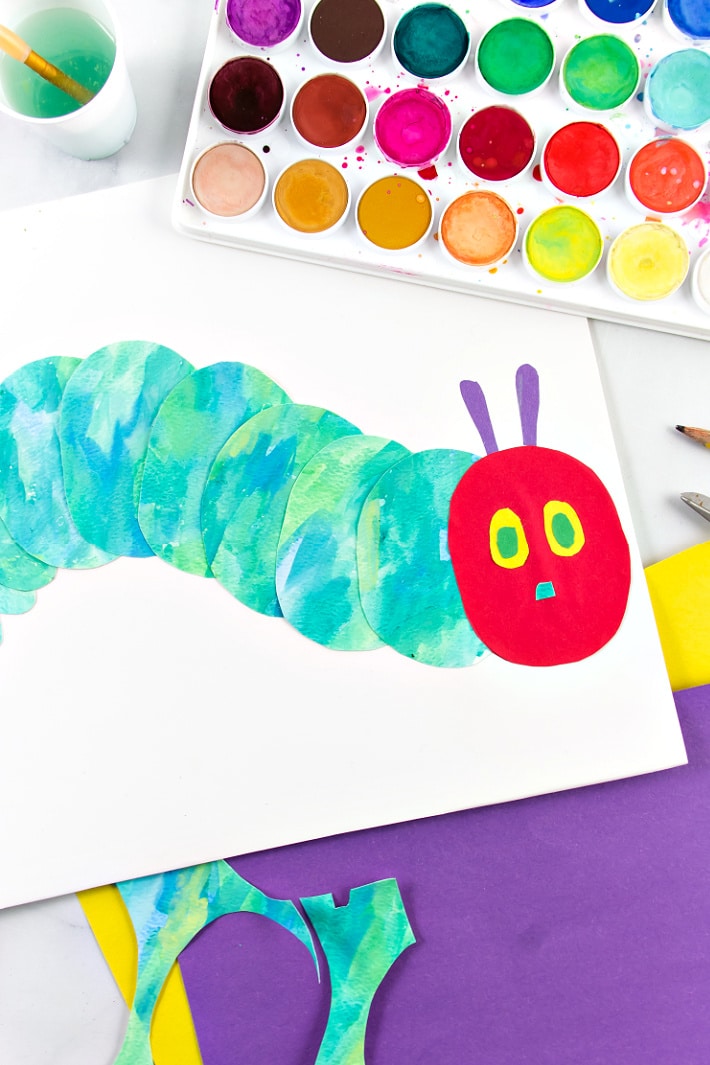 This Very Hungry Caterpillar mixed media craft is great for kids of all ages. They will love the combination of watercolor painting and cutting and pasting with construction paper. I've got the full tutorial over at Kids Activities.
More caterpillar activities
Have them cut out images from grocery store ads or magazines and create a chart of the days and types of foods that the caterpillar ate.
Study the life-cycle of caterpillars. If you need ideas, the kids and I did this recently and celebrated with a fun party on the day we released our butterflies.
Take them on a nature walk with cameras (or a sketch pad and pencils) in hand so they can photograph (or sketch) caterpillars in their natural habitat.
Make these yummy Very Hungry Caterpillar fruit skewers with grapes.
Have them create a beautiful collage just like Eric Carle's by painting paper with watercolors, then cut the papers out and layer them to make a caterpillar.
Make cork stamp caterpillars.
Please pin this post for later: