These healthy and delicious Very Hungry Caterpillar fruit skewers are perfect for storytime, parties, and after-school snacks for kids.
Very Hungry Caterpillar fruit skewers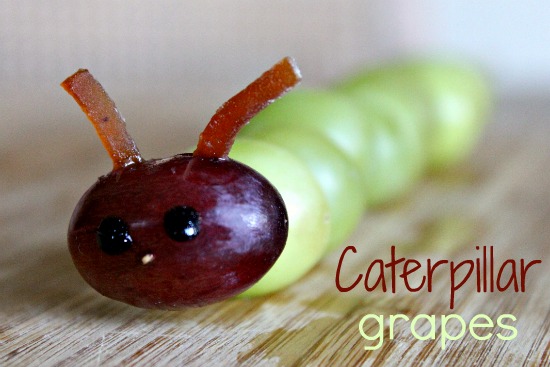 What you need
Wooden skewers
Green grapes
Red grapes
Black Wilton icing in a tube
Plum Kids Organic Fruit Shredz
Edible candy eyes (optional)
Instructions
Thread the green grapes onto the skewer first, and then one red one. Using a sharp knife, make a cross (a horizontal and vertical slit) on each side of the red grape. Slice one of the fruit Shredz in half and insert it into the slit. Using the black Wilton icing, carefully pipe on two eyes. Alternatively, you can attach two edible candy eyes to your caterpillar using the frosting.
Kids will love the opportunity to get into the kitchen and help you make this adorable snack.
These yummy and healthy Very Hungry Caterpillar snacks pair perfectly with storytime and our fun hungry caterpillar craft projects too.
More Very Hungry Caterpillar fun:
Are you looking for more fun ideas inspired by The Very Hungry Caterpillar? Take a look at these: