Your kids will love wearing this easy superhero costume to trick or treat this Halloween. It's perfect for a superhero party too.
Flynn wanted to be a superhero for Halloween. He wanted to be Spiderman, however, my lack of skills and time available was not quite going to fit in with that plan. We had a look at superhero costumes online and he decided he just wanted a cape and mask instead.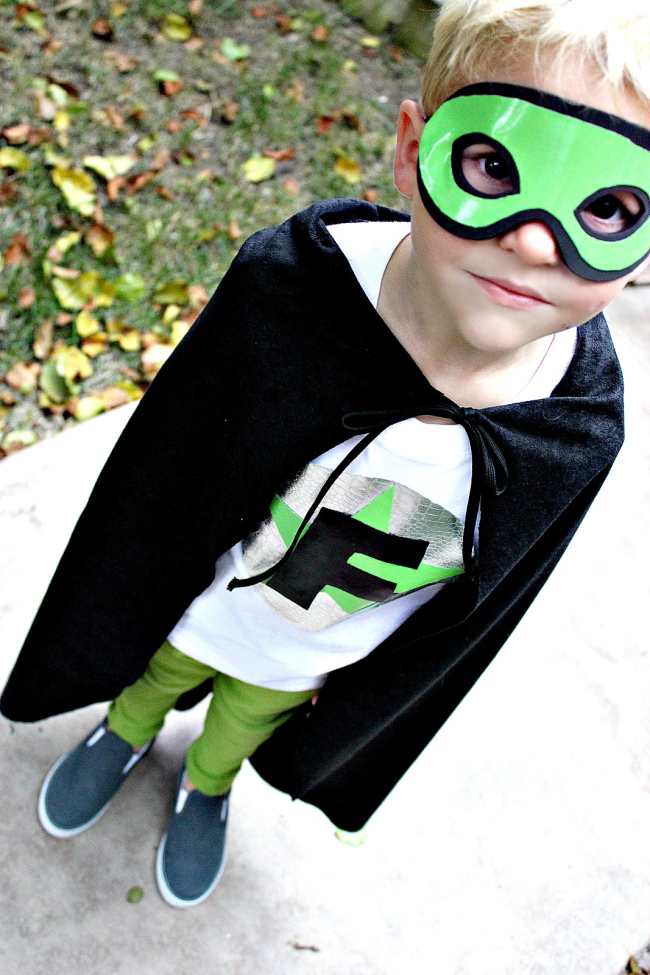 Easy superhero costume
Supplies
Leggings (I found these thick green ones at Gymboree)
Plain t-shirt
Plain shoes
Pleather in black, green and silver croc
Solid Alova Caviar fabric (it looks a little like suede) – or any fabric that doesn't fray and will hang
Black foam mask
Black lanyard cord
Strong fabric glue
Needle and black thread
Instructions
You can make the logo using PicMonkey or Canva and then print it out to use as a template. Place the template on the pleather and cut two identical logos, and then glue your logos together.

Measure the length of the cape by having the child turn around and use a measuring tape to get the desired length. Place the fabric for the cap on the ground and cut it into the shape of a cape. Fold over the top edge of the cap and stitch it in place leaving the ends open to thread the lanyard cord through. Glue the logo to the back of the cape and set it aside to dry.
Glue the second logo to the front of the t-shirt.
Using the black foam mask as a guide, trace around it on paper and then reduce the size by at least 5mm all around. Use that as a template to cut out the green pleather piece, and then glue it over the top of the black foam mask.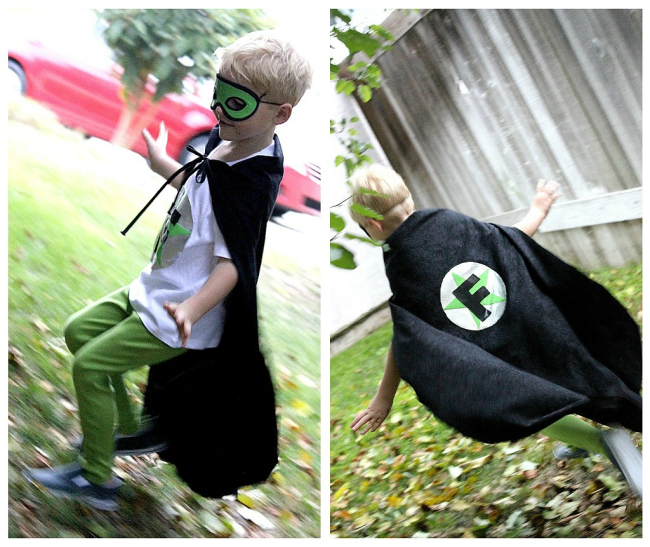 If you are looking for another easy superhero costume idea, we also have a tutorial to make your own fleece superhero costume too.
Please pin this post for later: