How to turn your child into their very own superhero this Halloween with a 'super' handmade costume.
Flynn wanted to be a superhero for Halloween. Specifically Spiderman, however, my skills (or lack thereof) and time available were not quite going to fit in with that plan, so when we had a look at superhero costumes on-line he decided he wanted to have a cape and mask instead. Perfect! I asked him if he would like to be Super Flynn and he was beyond excited.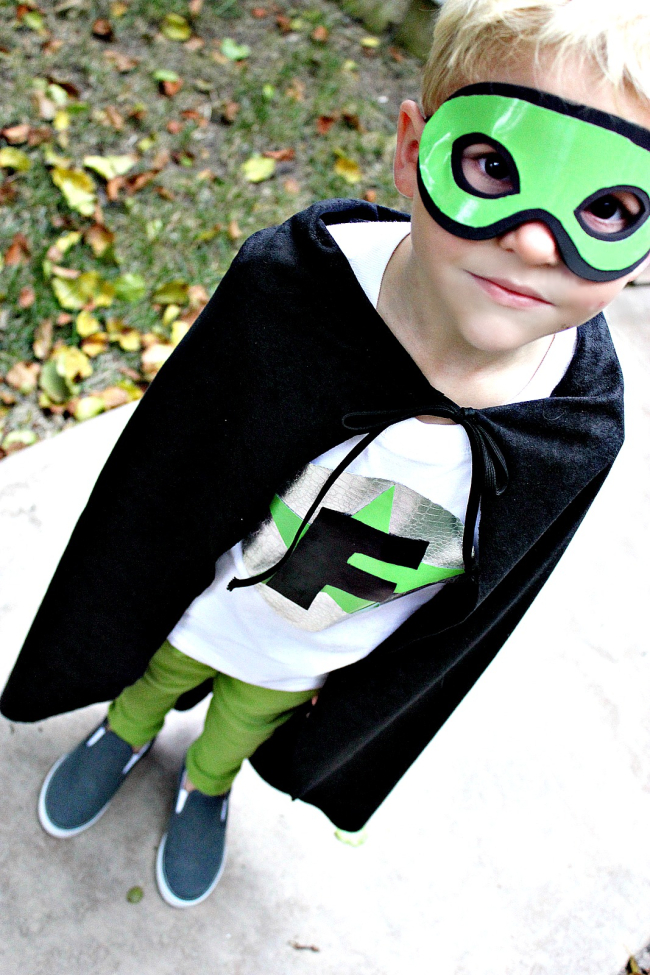 What you need to make this costume:
Leggings (I found these thick green ones at Gymboree)
Plain t-shirt
Plain shoes
Pleather in black, green and silver croc
Solid Alova Caviar fabric (it looks a little like suede) – this is for the cape
Black foam mask
Black lanyard cord
Strong fabric glue
Needle and black thread
To make:
To make the logo on the front of the shirt and back of the cape I began by creating the logo in a word document on the computer, sized it on there and printed it to use as a template.  I then cut out two identical pieces from the pleather and glued it all together.

The cape is very simple.  I lay the fabric on the ground and started cutting until it looked like the shape of a cape.  I made sure it wasn't too long, folded over the top edge, with the lanyard cord threaded through and stitched it in place.  No hemming required.  I then glued the logo to the back of it.
The second logo was glued to the front of the t-shirt.
Lastly, the mask.  I had purchased a black mask with a cord that came in a packet with an orange mask as well.  I cut the eyes on the orange mask so they were wider and then trimmed the outside of the mask too and lay it over the top of the black mask.  Once I was happy with how it looked, I used the newly cut orange mask as a template on the green pleather.  Once the pleather was cut into shape, it was glued on too.
And there you have it, a simple superhero costume.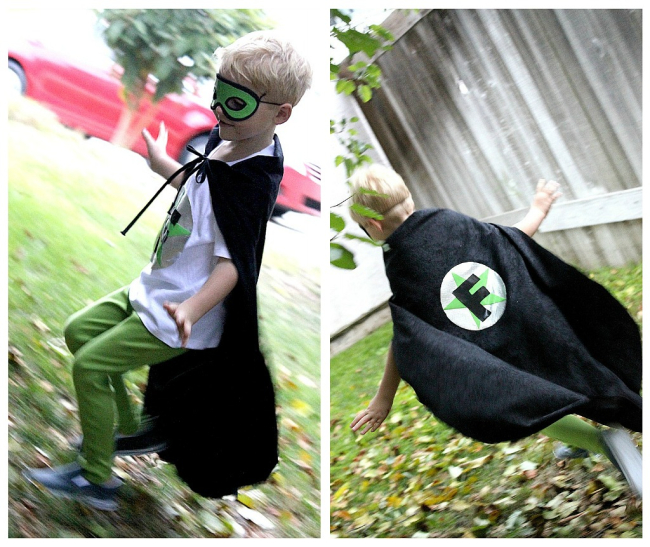 Please pin this post for later: