This lemon chicken recipe that uses lemon curd is quick, delicious, and kid-approved. It's perfect for family dinner and entertaining.
Miss M put in a request for lemon chicken one night for dinner. It's one of her favorite take-out dishes, but it does come in second to orange chicken. I had made lemon chicken once before for her and although she loved it, I wasn't overly happy with how it turned out. I went back and tweaked the recipe a little and this one is delicious.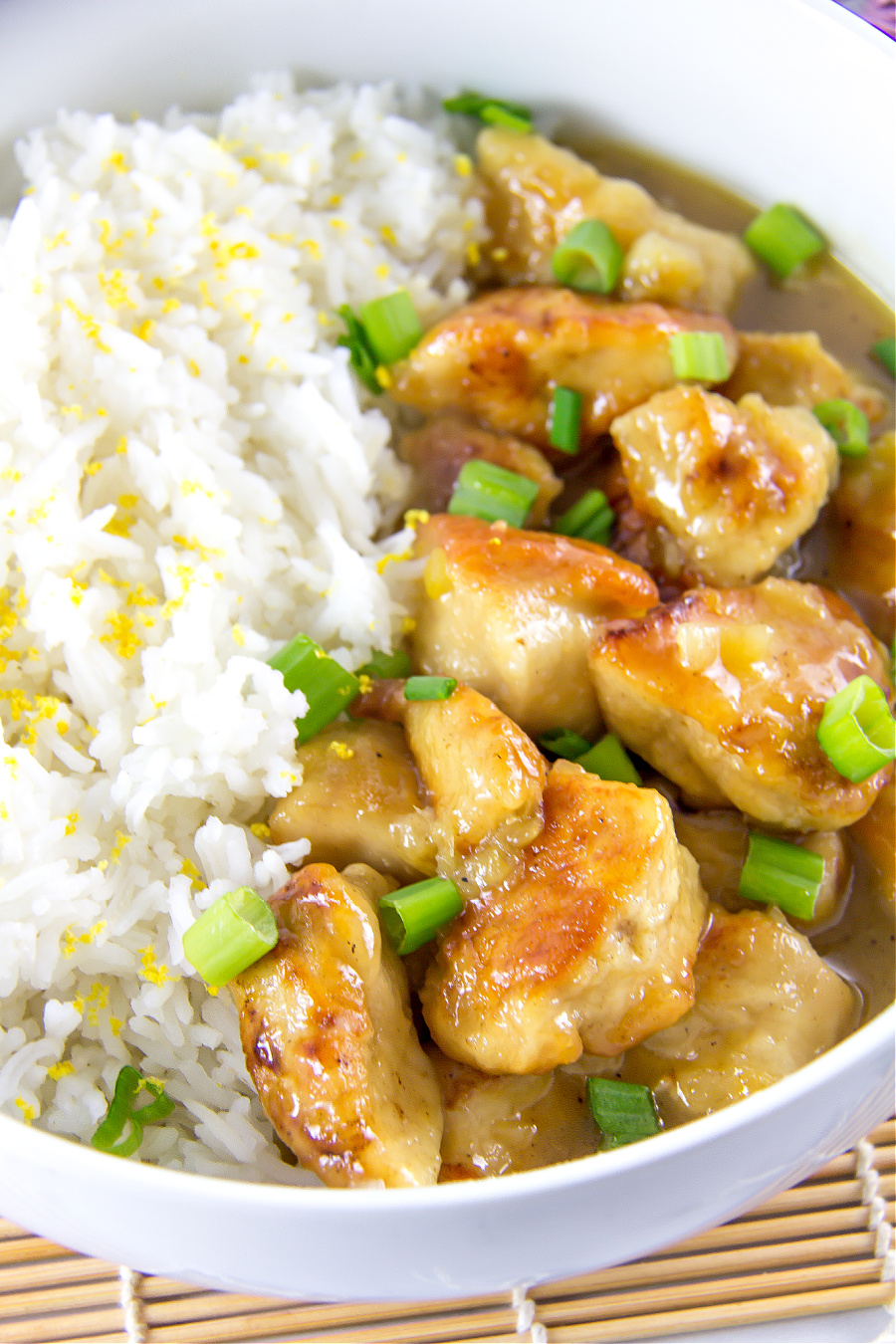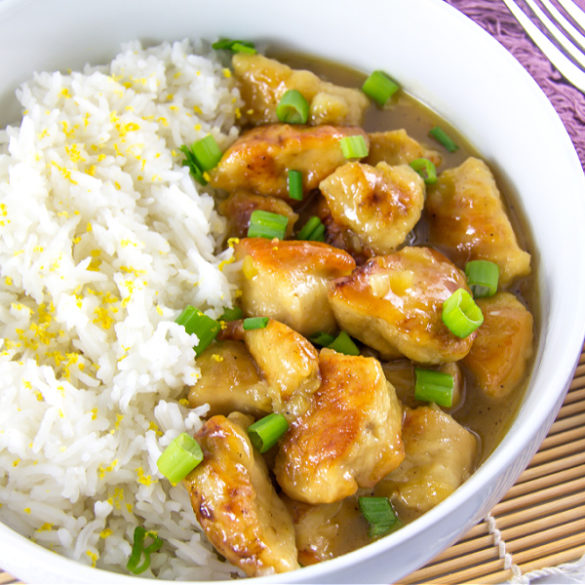 Ingredients
4 chicken breasts
1 jar of lemon curd
3 green onions
1 tsp freshly grated ginger
1 tsp chopped garlic
1/4 cup chicken broth
1/3 cup (approx) plain flour - use gluten-free if needed
2 tbs olive oil
zest from one lemon
pinch of salt & pepper
Instructions
Cut the chicken into 1-inch pieces and coat each piece with flour.
Add 1 tablespoon of olive oil to a large pan or wok and stir fry the chicken until it's browned. Transfer the chicken to a plate. Clean out your pan.
Add the second tablespoon of olive oil to the pan along with the ginger, garlic, and diced white section from the green onion. Stir fry until the onion is softened. Turn the heat down to about medium and add the chicken broth slowly and stir constantly. Gradually add the lemon curd one spoon at a time, stirring frequently until it's combined and the liquid is now slightly thick, but smooth.
Return the chicken to the pan along with a pinch of salt and pepper and lemon zest. Turn the heat down to low, cover, and simmer for about 15 minutes.
Garnish with the green part from the onions.
Serving suggestion: Serve your lemon chicken with steamed rice and vegetables.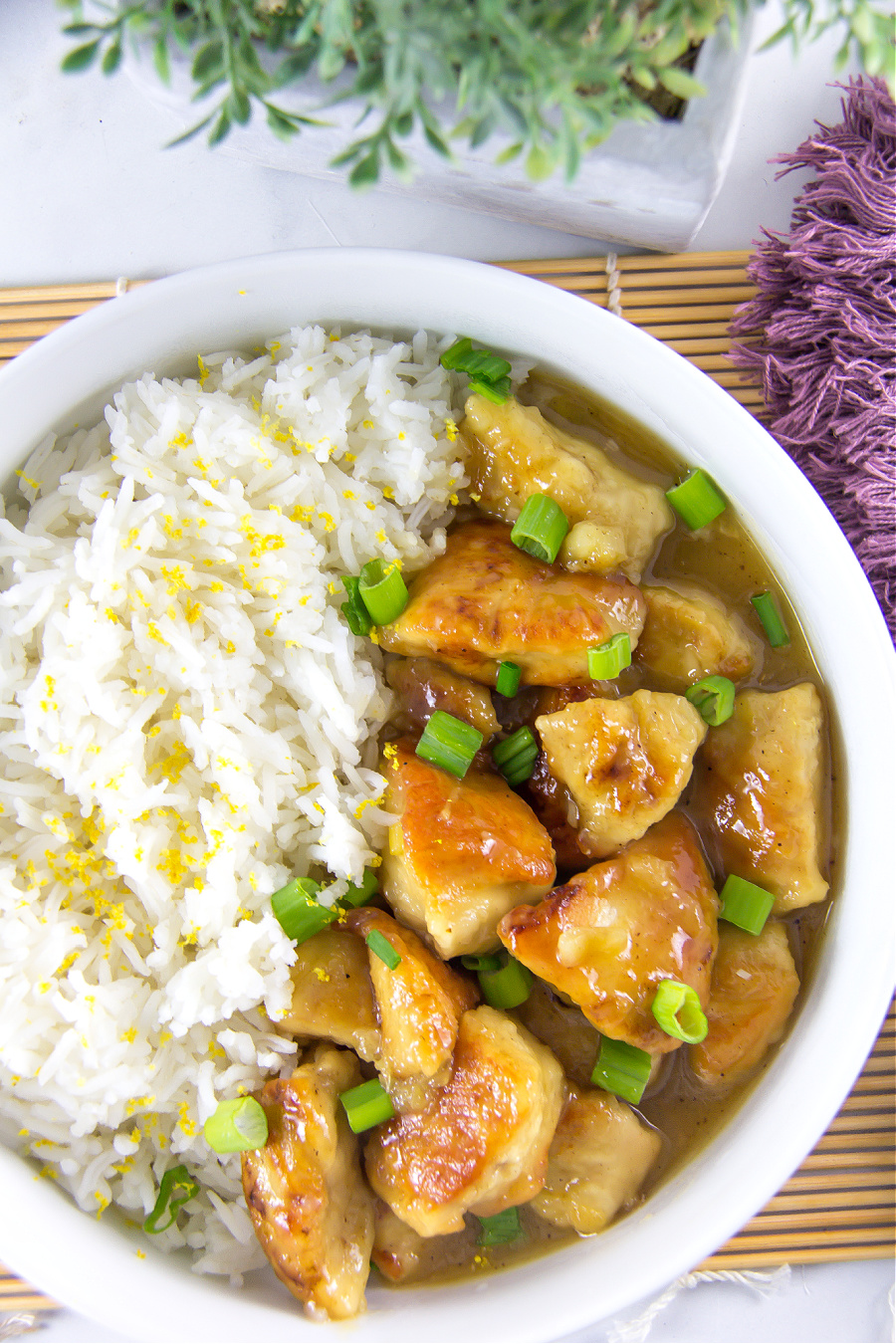 Looking for more delicious meal ideas that you could pair with this lemon chicken recipe for entertaining at home? Try these: