Entertaining guests at the last minute doesn't have to be difficult. Keep a few staples on hand to make fried rice and homemade egg drop soup in under 15-minutes.
Disclosure: This post was sponsored by Ling Ling, all opinions expressed in my post are my own.
We have a lot of people coming and going at our home, whether it's the oldest kid having his friends over to stay for a weekend to work on cars, the youngest two having play dates after school and sleepovers on weekends, or their parents and neighbors popping by. These sometimes result in last-minute dinners when we have realized we've chatted so long that it's now dark outside and too late for our friends to go home and make dinner. And to be perfectly honest, I don't mind a single bit, I love that my kids have such good friends and that I've been able to become friends with their parents, and when you work from home all day there's almost no interaction with adults and the dog tends to just fall asleep during my conversations with him.
So, I like to have a few staple items on hand just in case. Because even if I've already started making dinner throughout the day, I can always add last-minute items to the menu to feed more people.
Like one night when we had a house full of kids and they decided they wanted to stay for dinner but I wasn't sure I'd have enough cashew chicken and brown rice to feed everyone that I'd made earlier in the day, so I popped a couple of bags of Ling Ling Bibimbap Beef Fried Rice into a skillet and then whipped up a big pot of egg drop soup on the stove. Because, if nothing else, I almost always have the ingredients to make this on hand.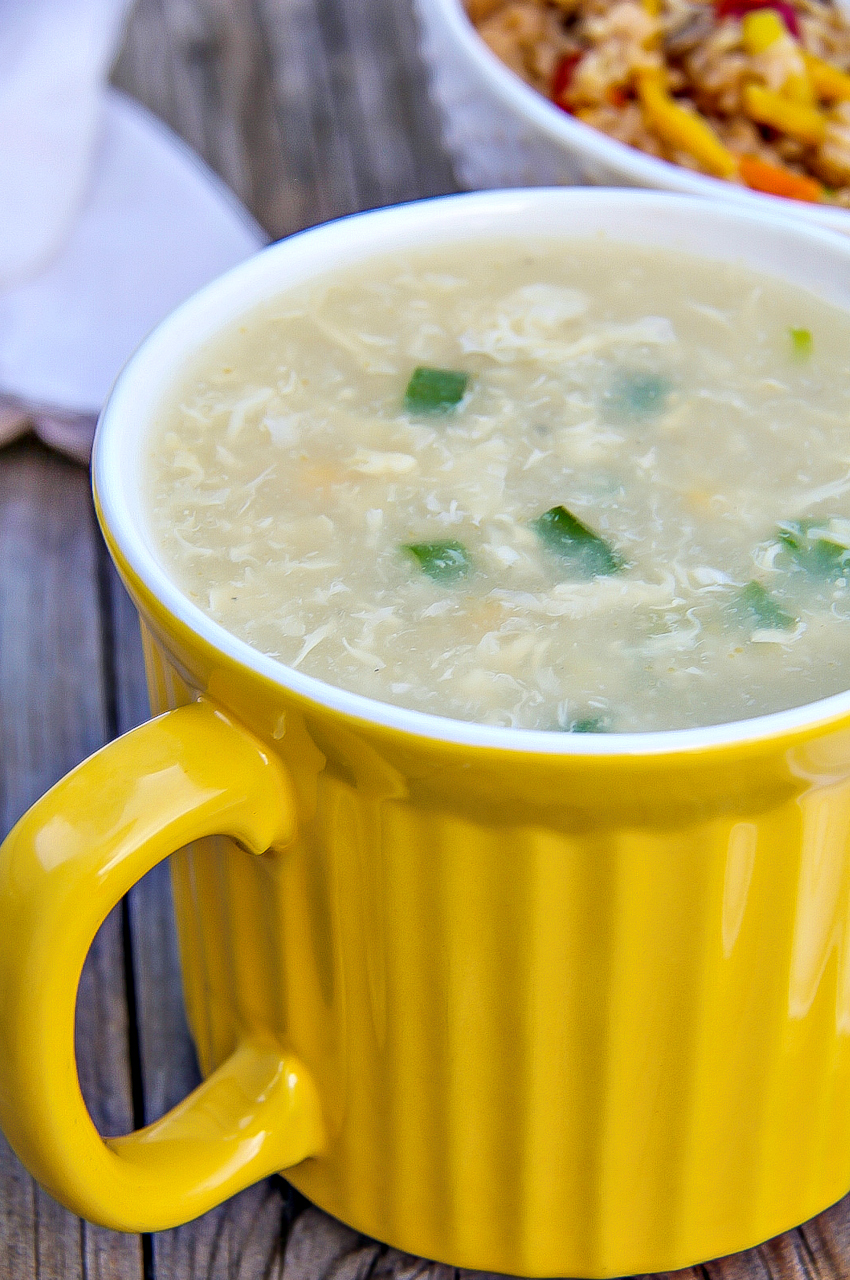 And thankfully one of the kids told me that egg drop soup was her favorite dish, and I already knew she loved fried rice from a recent sleepover.
I've always wanted to have that open house philosophy, especially for the kids. I want them to feel like this is a place their friends feel comfortable staying for dinner, having sleepovers, and just popping over to hang out for a while. My oldest son (who is 21) has always felt comfortable having his friends pop over, or stay for a weekend. His friends call me mum, and there's nothing better than a house full of happiness. But I grew up the same way. My parents were friends with my friend's parents and so we would all get together often, and there were always sleepovers, parties, and weekend barbecues together. Even to this day, I'm still friends with one of my best friends from elementary school, and my mum is still friends with her mum too.
But, back to this quick and easy dinner I put together the other night.
Here's the recipe for the soup, which only takes about 15 minutes to make and serves at least 6 people (depending on serving sizes).
Egg Drop Soup Recipe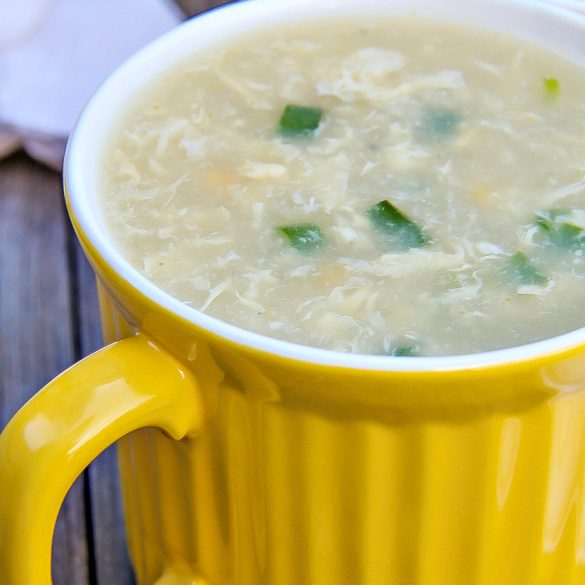 Ingredients
4 cups chicken broth (with a little reserved to mix with the corn starch)
1 tsp minced ginger
3 green onions - white and green parts sliced and separated
pinch of salt and pepper
1/2 cup can corn kernels (not frozen - if you have frozen add them with the broth)
4 tsp corn starch
4 large eggs - beaten
2 tsp sesame oil
Instructions
Place ginger, chicken broth, salt & pepper, and whites of onion into a large pot and bring to the boil.
Reduce heat to a simmer.
Combine the corn starch with the remaining chicken broth and mix well into the soup to thicken it a little - you can add more or less depending on how thick you like it, I personally don't like it very thick.
Add the corn kernels and sesame oil and stir a little to combine.
Holding a fork over your pot slowly add the eggs through the fork into the pot working in a circular motion around the pot to separate them. The eggs will cook as soon as they hit the water but if you have larger pieces you can break those up once you've finished.
Garnish with the green part of the onions, and serve.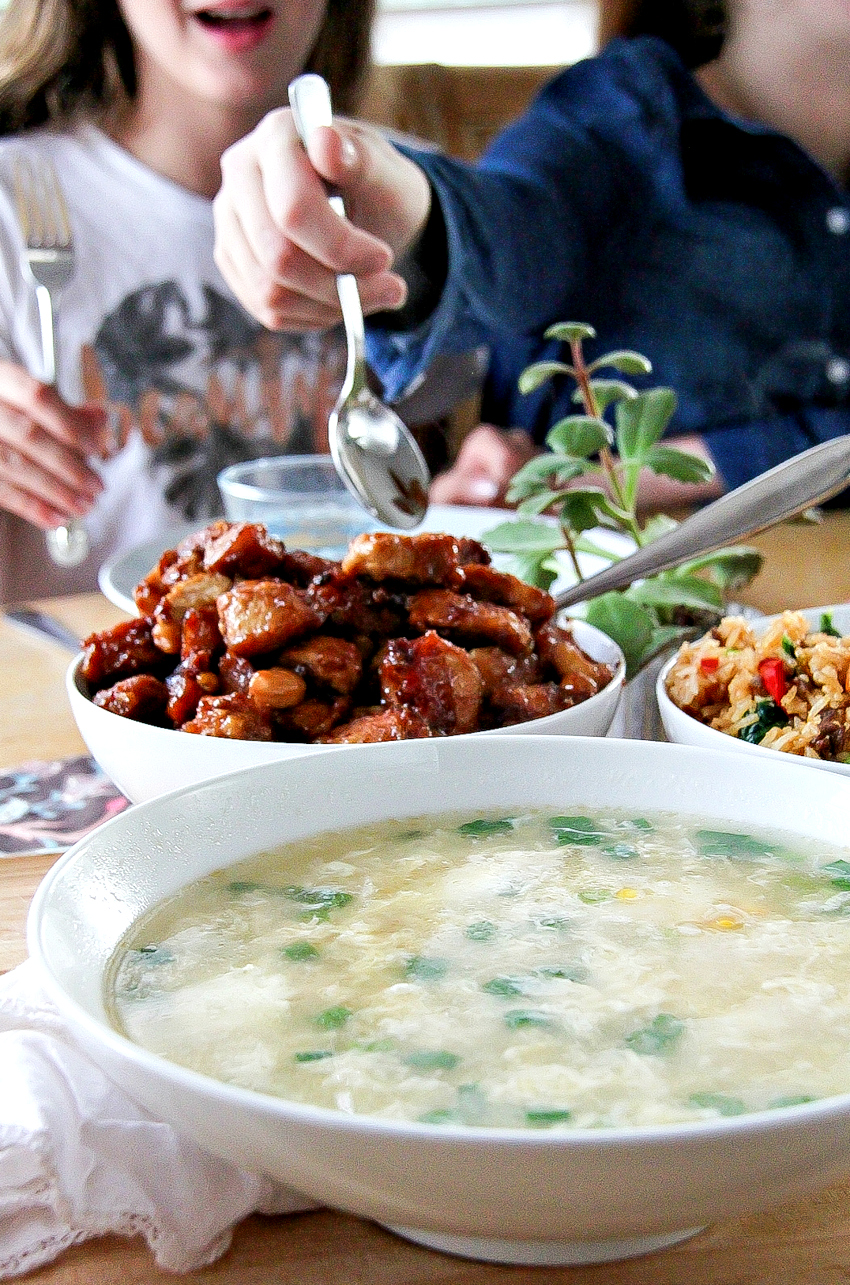 Some may just want the soup, and others may want to have it as an appetizer, either way, it's delicious.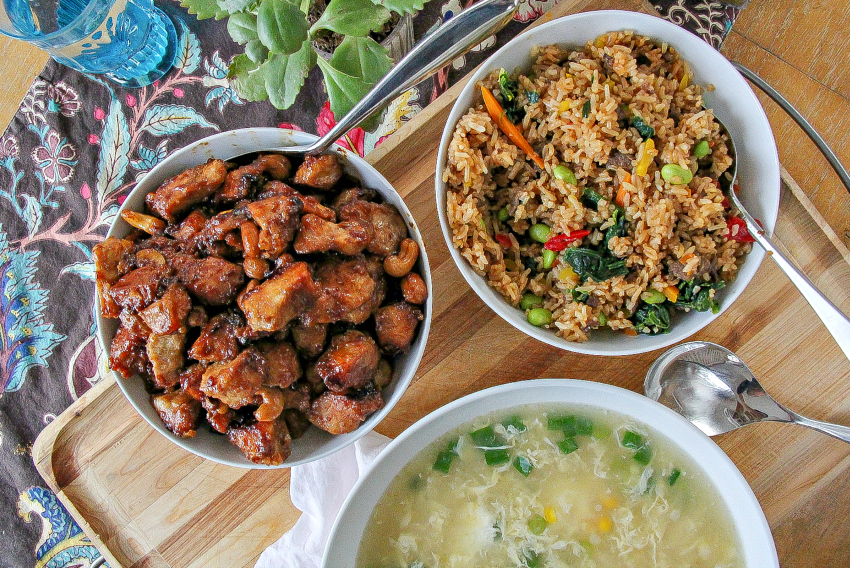 And I love the convenience of the Ling Ling Fried Rice as an accompaniment. It only takes about 10 minutes to heat in a skillet, and even less time if you pop it into the microwave so it's perfect for last-minute entertaining.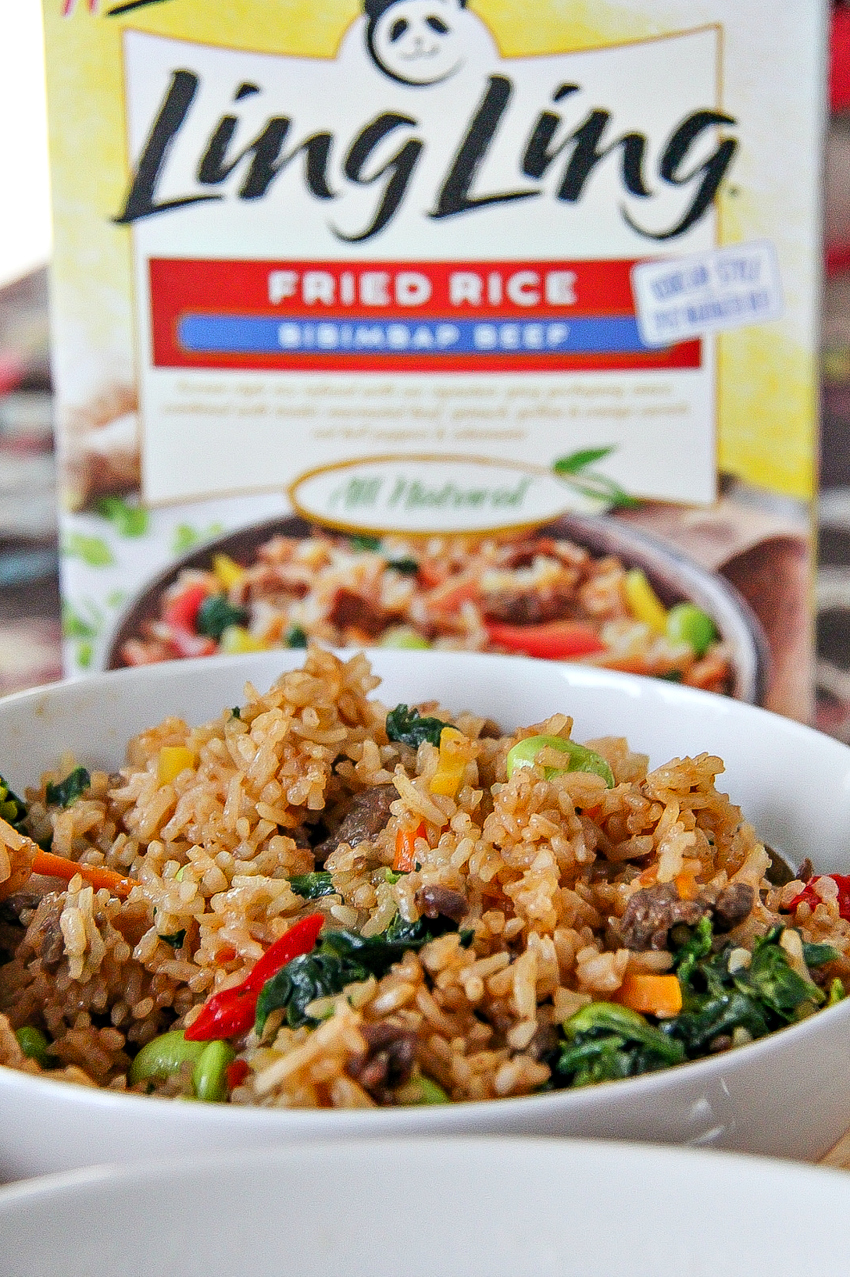 And it comes in 5 delicious flavors too:
Yakitori Chicken
Yakiniku Beef
Thai-Style Chicken
Chinese-Style Vegetable
Bibimbap Beef
Want to try Ling Ling? Here's a coupon for $2 off a box of Ling Ling Fried Rice, Noodles or Dumplings. You can find the Ling Ling products at your local Walmart store in the freezer section. At my store, they are split into two places with the noodles being with the ready-made meals, and the fried rice and dumplings being on the other side of the aisle closer to the pizzas. Click here to find a store in your area.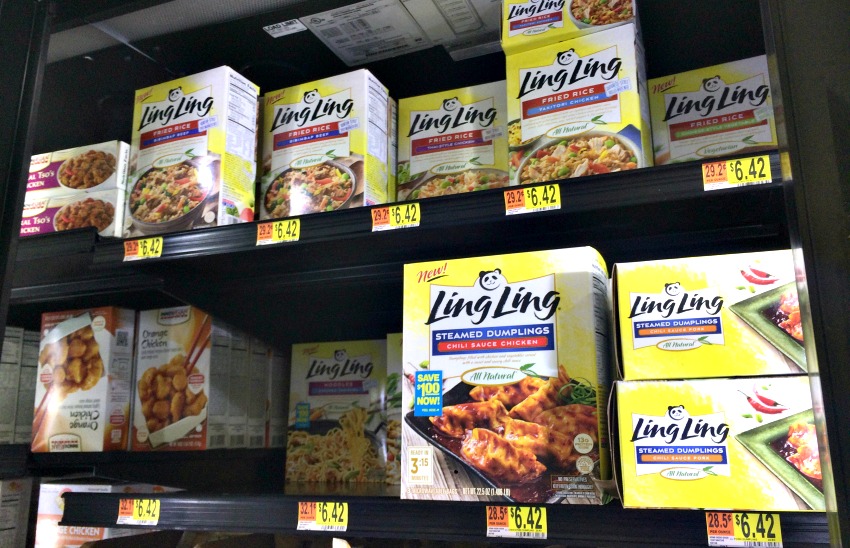 Don't forget to try their newest Asian Entrees, Ling Ling Noodles and Dumplings too – also based on authentic Asian inspired recipes from across the region
Two Noodle varieties: Chicken Yakisoba, Drunken Noodles with Chicken
Two Dumpling varieties: Chicken Dumplings in Chili Sauce and Pork Dumplings in Chili Sauce
Plus, enter to win 1 of 10 $100 Walmart Gift Cards and you can pick up a couple of boxes to try.
*UPDATE: THIS GIVEAWAY HAS ENDED
I-C will randomly select winners from all program entries and will facilitate fulfillment of the winning prizes (10)
Please pin this post for later: