This easy lemon chicken risotto is perfect for weeknight dinners. It has just a hint of lemon and is made using leftover rotisserie chicken.
I love that my daughter is finally becoming more adventurous with food. For years she has hated different foods touching on her plate. If it's mixed or touching then it's pushed aside. So there was absolutely no way she would eat some of my favorite things such as fried rice, mixed salads, or risotto. I still haven't been able to get her to eat fried rice, but she loves Asian chicken salad now and is finally eating risotto.
This lemon chicken risotto has the faintest hint of lemon but is quick and easy to make, and perfect for weeknight dinners. Plus, it's the perfect way to use rotisserie chicken or leftover chicken that you've cooked the night before.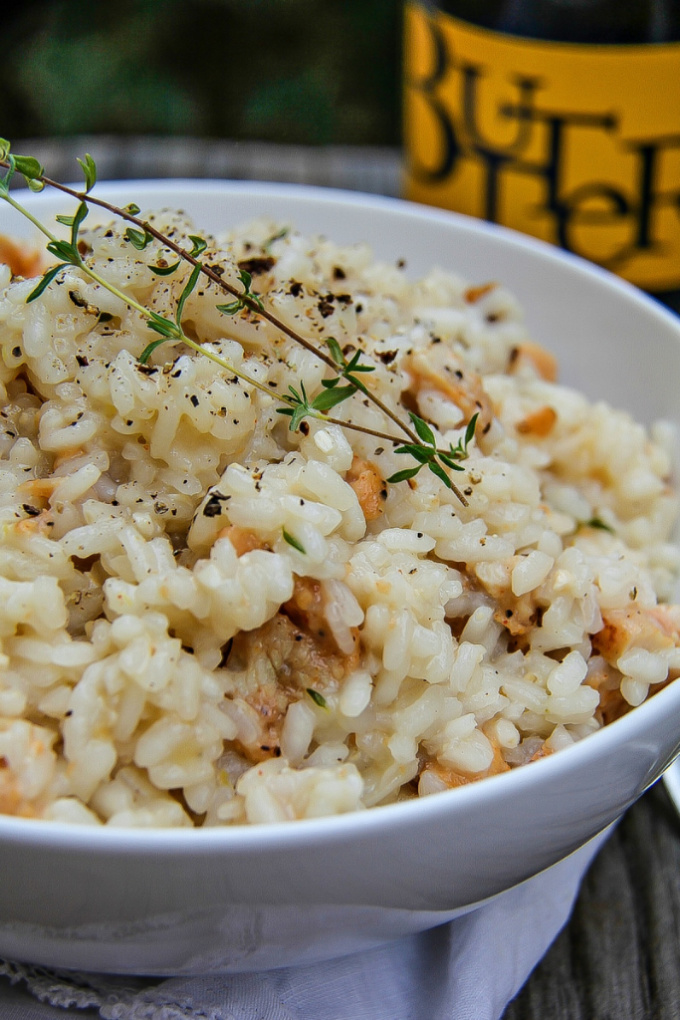 Lemon chicken risotto recipe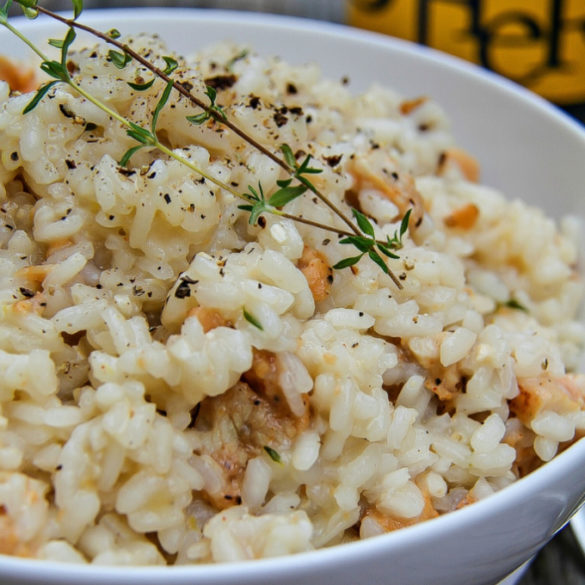 Ingredients
2 cups arborio rice
5 cups chicken broth
1 tbs lemon juice
1 tsp lemon zest chicken - leftovers are perfect for this, or a rotisserie chicken
1 shallot
1 tbs crushed garlic
1 tbs unsalted butter
1/4 cup Parmesan cheese
1 cup dry white wine
2 tsp fresh thyme
pinch of salt and pepper
Instructions
Melt butter in a large pan. Once melted and hot add the rice. Stir until translucent (just a few minutes).
Add the garlic and shallots and continue to stir for another couple of minutes.
Add the white wine and cook until absorbed, stirring occasionally.
Begin adding the chicken broth (1 cup at a time) not adding the next cup until the first cup is completely absorbed. Don't forget to stir occasionally.
Add the chicken, lemon juice, lemon zest, thyme, salt and pepper, and cheese.
Continue stirring occasionally until chicken is heated through and cheese is melted.
More recipes with chicken
Are you looking for more delicious recipes with chicken to add to your meal plan? Make sure to include all of these:
Please pin this recipe for later