I absolutely adore all of the fun birthday and holiday banners I've seen floating around the internet.  Shouldn't every day be a celebration though?
I decided to make a banner for the kids play room.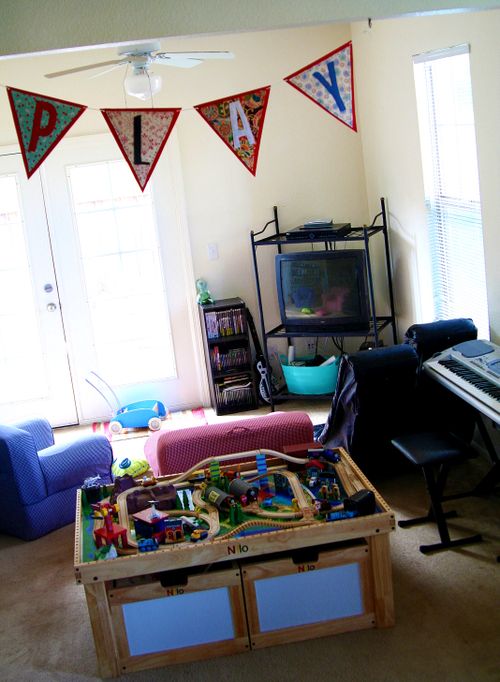 This banner is very simple to make, but seeing as it was all hand-stitched it took a lot of time too. Thank goodness for DVR'd movies.
What you will need:
Felt board
Felt
Patterned fabric
Patterned-edge and straight scissors
Fabric marker
Embroidery thread and needle
Hooks
Rope
To make:
Cut large triangles out of the felt board (the board is much larger and more stiff than the regular felt sheets you can purchase).
I used a simple word document to make the letters the size I wanted, printed them and cut them out to make the stencils.
Lay the stencil on felt and very carefully draw around it using a fabric marker. Cut it out.
Wash, dry and iron your fabric.  Using jagged-edge scissors cut a triangle a little smaller than the one you cut using the felt board.
Hand stitch the fabric to the felt board and the felt letters on top of that.
The banner I made is double-sided so once each individual triangle was finished I stitched a triangle to the back of it – just make sure you don't stitch a 'P' to a 'P' or the reverse side will be backwards.
Use a hole punch to make holes in the top corners of each triangle.  Thread the rope through and attach them to the hooks.