This hash brown and egg breakfast bake is the perfect way to start your day. A larger casserole dish and doubling ingredients will feed even more.
Disclosure: This is a sponsored post for MODE Media.
Sometimes it's nice to enjoy a special brunch for two. I don't have to worry about what the kids will or won't eat and I can include everything I love. This breakfast bake with hash browns, egg, asparagus, and bacon is just what you need to start your day off right.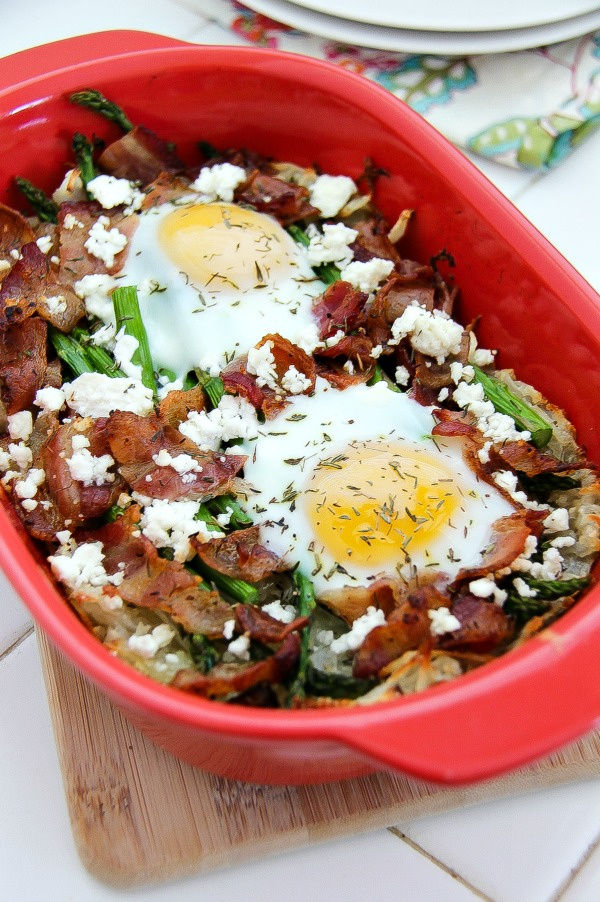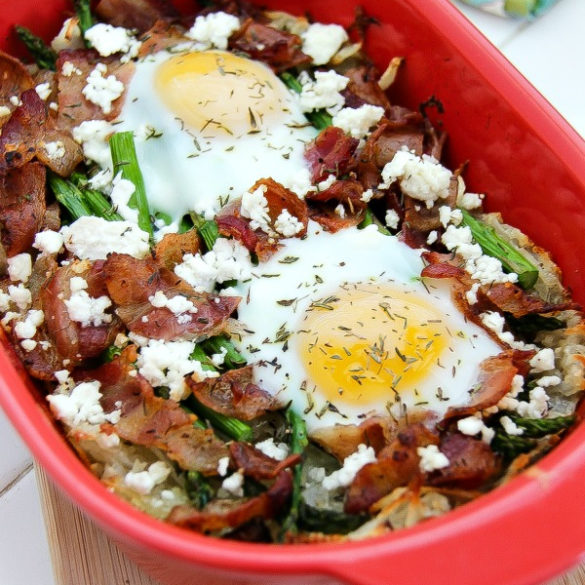 Ingredients
1 large baking potato
1/2 yellow onion
4 rashes bacon
2 eggs
10 asparagus stalks
1/2 cup feta cheese (crumbled)
1/4 cup parmesan cheese
1 tsp garlic powder
1 tsp dried thyme
pinch of salt and pepper
PAM cooking spray
Instructions
Preheat the oven to 400F.
Spray a small baking dish with PAM non-stick cooking spray.
Peel and grate the potato in a bowl.
Chop the onions and add those too.
Toss in the parmesan cheese, garlic powder, salt, and pepper.
Lightly combine, and then pour into the baking dish pressing down lightly and ensuring the bottom of the dish is covered.
Lay the asparagus over the top and bake for 15 minutes.
While your dish is baking cook your bacon, set aside to cool a little and then roughly chop.
Remove your dish from the oven. Sprinkle bacon and feta cheese over the top leaving two small wells.
Crack the eggs into each of the wells. Add thyme over the top of the eggs and put your baking dish back into the oven for 10 minutes.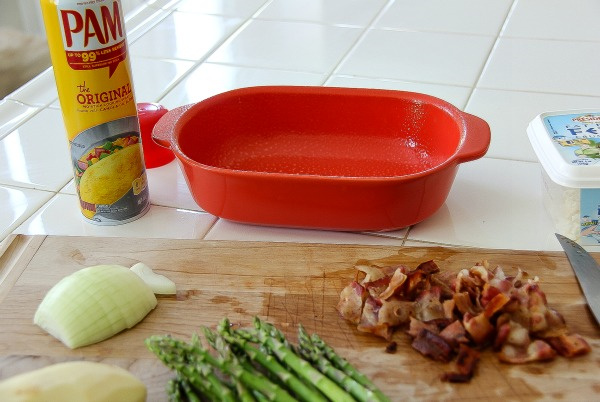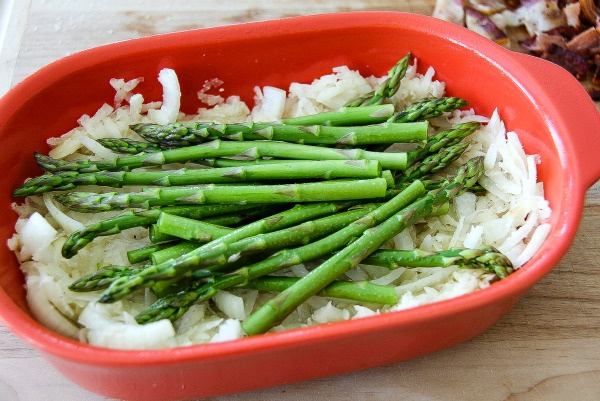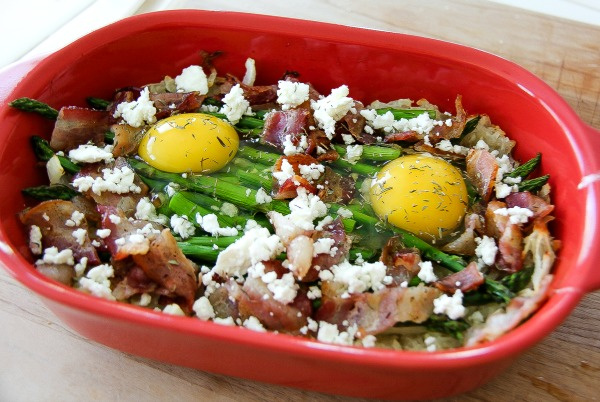 About PAM sprays
Did you know that PAM offers a variety of non-stick sprays depending on your needs?
PAM Coconut Oil: PAM® Coconut Oil It's a gluten-free alternative to traditional coconut oil that you can feel good about. PAM Coconut Oil Spray has zero calories and zero grams of fat per serving.
PAM Olive Oil: This tasty and low-fat alternative to traditional olive oil adds a touch of flavor to your dishes. So you can show your family your heart's in the right place—by caring for theirs.
PAM Grill: Specially formulated for no-stick performance at higher temperatures, PAM® Grilling cooking spray helps make all your grilled foods—and your family's backyard barbeque—simply turn out better.
PAM Baking: Using margarine and flour can leave residue on your cookware after just one use. PAM® Baking is made with real flour to coat every nook of your cookware.
Leaving up to *99% less residue, PAM is your ally in the kitchen and allows you to save time during prep and clean up.
* vs. leading cooking sprays (except olive oil), after spraying on glass bakeware, baking at 400°F for 30 min, cooling, and then washing in standard home dishwasher with detergent and repeating 4 times
Please pin this post for later: