This DIY Halloween photo booth frame can be put out on your front porch for trick-or-treaters or added to a party photo booth for kids.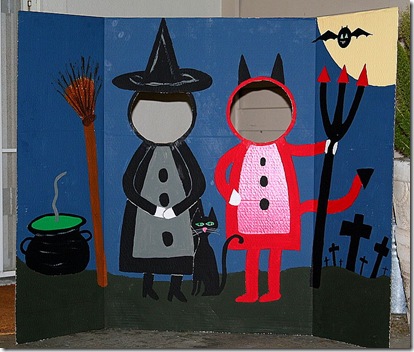 Halloween photo booth frame
I whipped this up in a couple of hours today for a BooFest with friends that we attended this afternoon.
Supplies
Tri-fold display board – the larger the better
Paint
Paint brushes
Box cutter
Tip: You can purchase the tri-fold display board from Michael's craft store for $4.99. It's the perfect height for a toddler party. Don't forget your 40% off coupon to make it even cheaper.
Instructions
Paint a Halloween scene (that wouldn't be scary for little ones). Set it aside to dry.
Cut out holes for faces to poke through using a box cutter.
Tip – Poke 2 holes at either end of the middle section at the top, and use string to hang it from the eaves or a tree branch. It will stop it from toppling over if little ones push on it from behind. Alternatively, use a heavy board, cut 4 rectangles, and then a slit in the center of each. Put these underneath the frame to create a base. You will need 2 in the front and one on each side.
Here are a couple of photographs taken at the BooFest.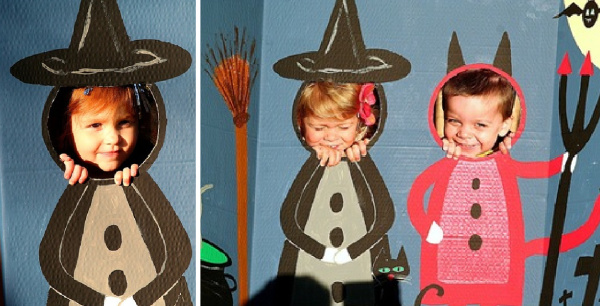 Our Halloween photo booth frame is now by our front door for the neighborhood kids and trick or treaters to enjoy.
Are you looking for more fun Halloween crafts to make this year? Take a look at these:
Please pin this post for later: