These loaded fries recipes are simple to make and so yummy you won't want to share them, but we give you tips for individual servings anyway.
Loaded fries recipes
Loaded fries are the perfect way to use leftovers from the night before. We always have a bag of frozen fries, or potatoes to make our own fries so we can whip up quick and easy meals. All of the loaded fries recipes that we make are also gluten-free so that the gluten-free kid in our house can enjoy them too.
Serving tips:
Keep toppings warm and separated for parties and picky eaters so that they can add their own.
Leave fries on a tray in the oven to stay warm until ready to serve.
Don't forget to add fresh options such as tomato, homemade salsa, lime wedges, green onions, or fresh herbs.
Baskets with parchment paper reduce the number of dishes you will need to wash
Bacon sloppy joe loaded fries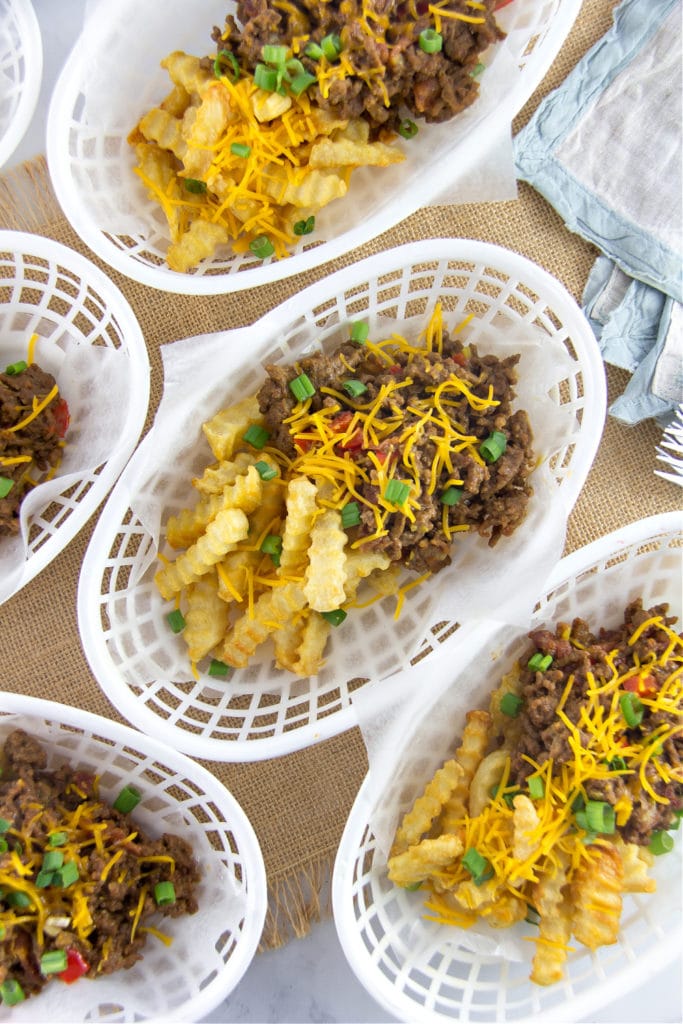 These bacon sloppy joe loaded fries are served in individual baskets. Everyone can make their own basket, making these perfect for parties or picky eaters who might not want all of the toppings offered. In fact, all of the recipes we are sharing here can be served the same way.
Quick and easy carne asada fries in 30-minutes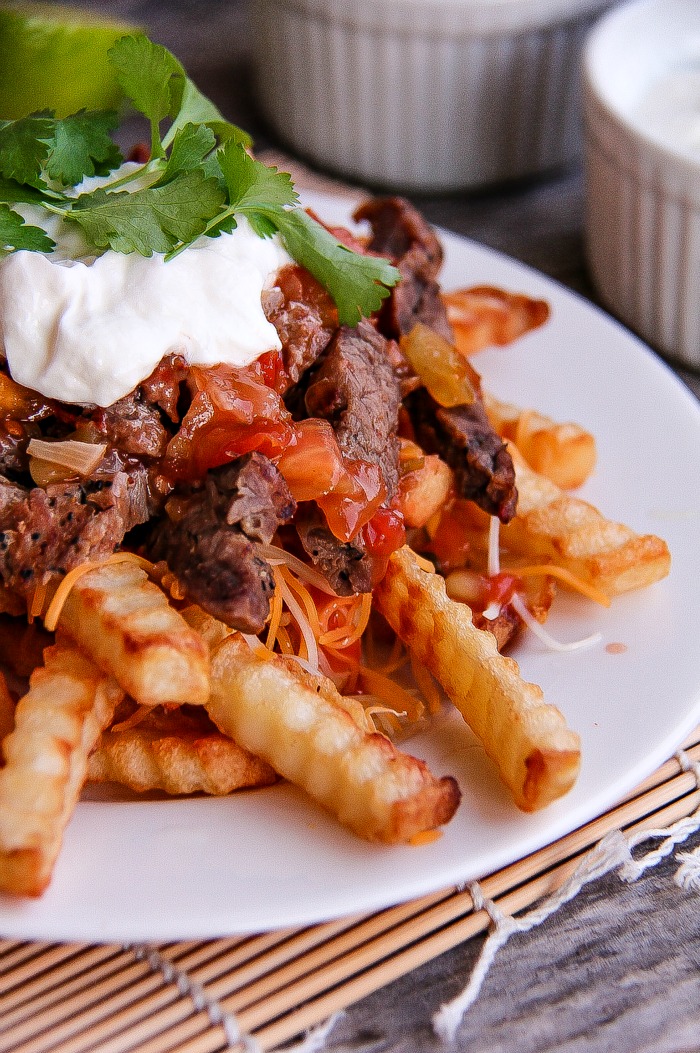 These semi-homemade carne asada fries can be made in 30-minutes and are perfect for a last-minute meal idea. You've got weekends chilling in front of sports or movies, or busy sports nights covered.
Loaded bacon rosemary fries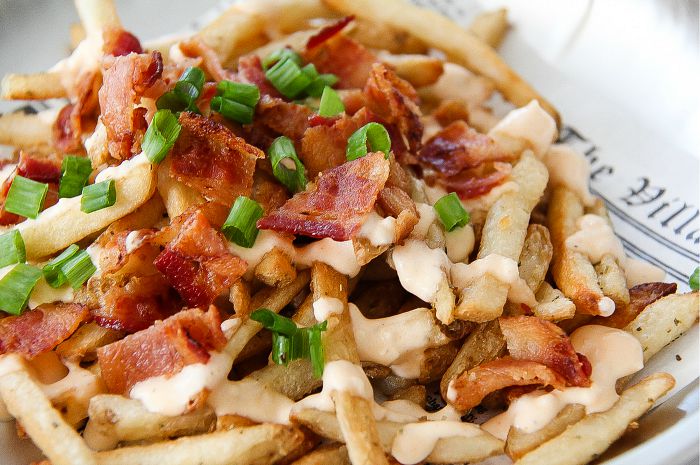 Everything is better with bacon and these loaded bacon rosemary fries are the perfect quick and easy cheat day meal. Personally, I love them for lunch with a glass of white wine.
Loaded carne asada fries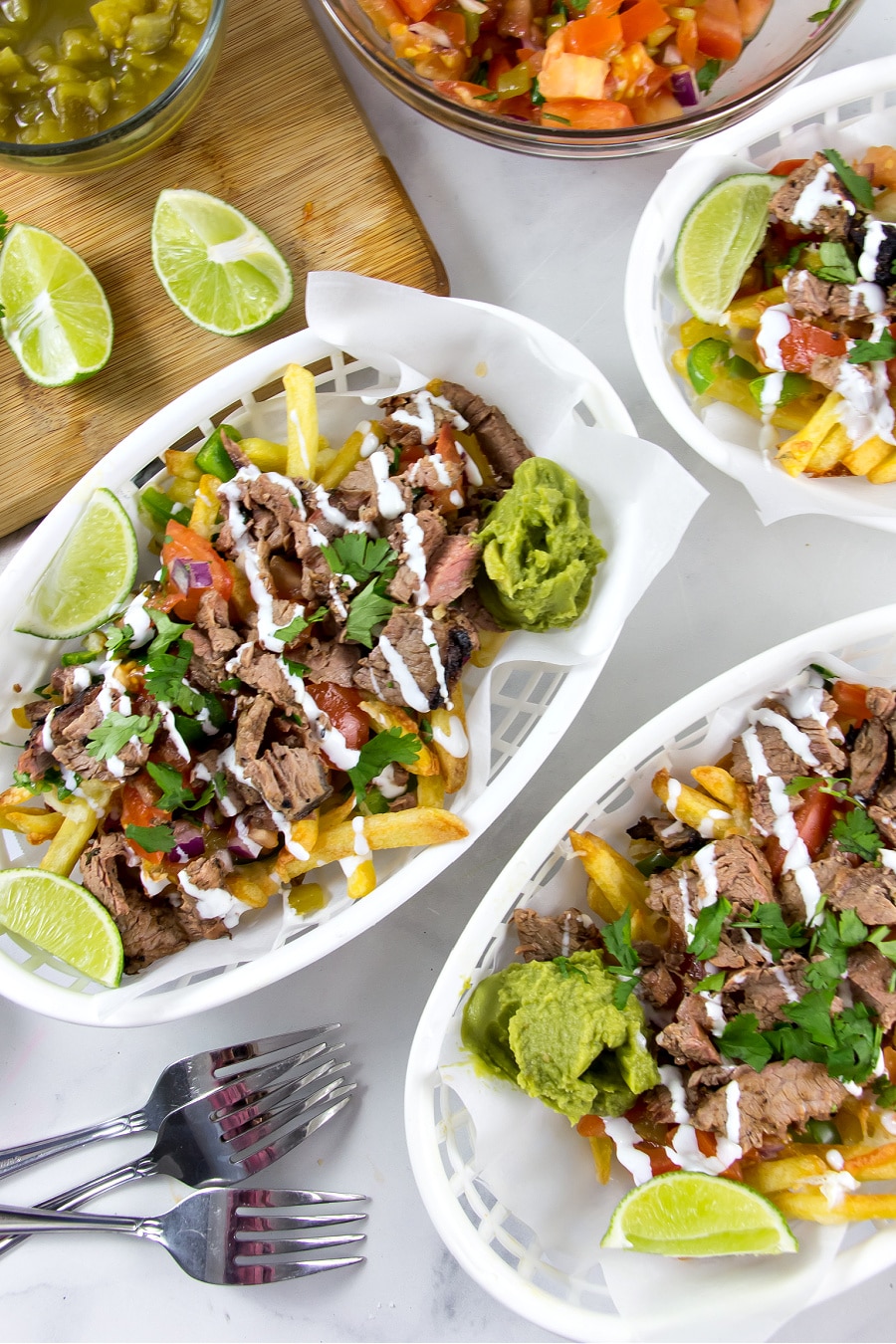 Just like the sloppy joes fries above these yummy loaded carne asada fries are served in individual baskets. These are inspired by my favorite California burrito. You can find my recipes at Make and Takes.
What can you add to French fries?
Here are some delicious ideas for your loaded fries:
Poutine – cheese curds and gravy
Pulled pork with barbecue sauce
Use sweet potato fries instead of French fries
Hamburger meat (and toppings)
Pizza toppings
Taco toppings
Philly Cheesesteak
Buffalo chicken with ranch
What are your favorite toppings for loaded fries?
More recipes with fries and potatoes
Are you looking for more delicious loaded recipes or ways to use fries in your recipes? Take a look at these:
Please pin this post for later: