The gifting of apples to teachers dates back to the 1700s. Show appreciation for your favorite teachers with this apple bag and gift tag.
The kids are celebrating Teacher Appreciation Week at school this week. Just like last year, they are celebrating with the word TEACH. So throughout this week, I'll be sharing what we gave to the teacher each day.
Today is 'T' for Thank you. We decided on a simple burlap bag filled with apples for today's gift.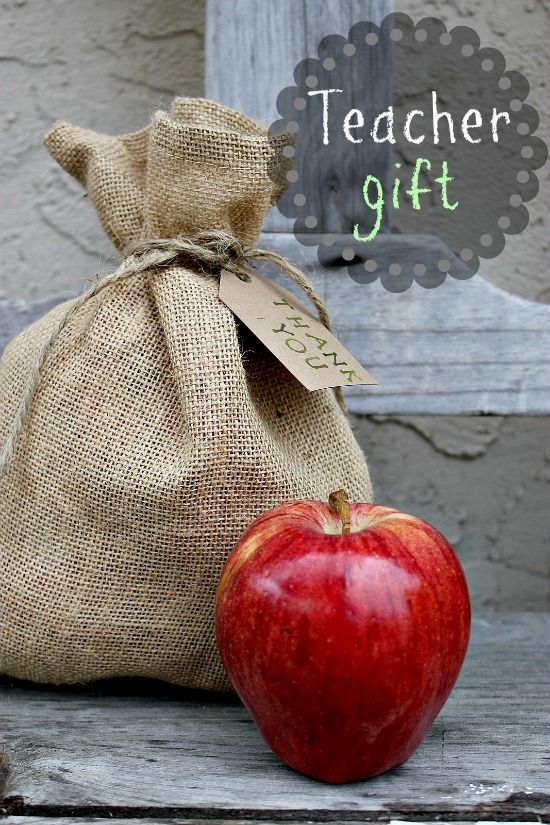 We wrapped cord around it and stamped the words 'We got the pick of the bunch' on one side and 'Thank you' on the other side.
Stamping is a great activity for kids. Not only does it help them with spelling out words, but also with letter recognition and keeping the letters lined up and words spaced appropriately.
Where did giving an apple to the teacher come from?
The Children's Museum has done some research on this topic courtesy of the Smithsonian magazine, PBS, and Gourmet. Apparently, the gifting of apples began in the 1700s as payment by poor families for their children's education. There are also stories about Eve eating the 'forbidden fruit' from the Tree of Knowledge..
In case you've missed our other posts, each day of the week gifts for our teachers spelled out the word TEACH. We used 'teach' for teacher appreciation gifts previously too. Here are our ideas for this year: