This apple-themed gift for teachers is the perfect way to hide gift cards, small trinkets, and treats for your favorite teacher.
I'm feeling a little like Sesame Street this week, with each day of teacher appreciation week being celebrated by a different letter of the alphabet.
Today's letter is 'A' for apple. So, I made an apple-shaped gift cardholder.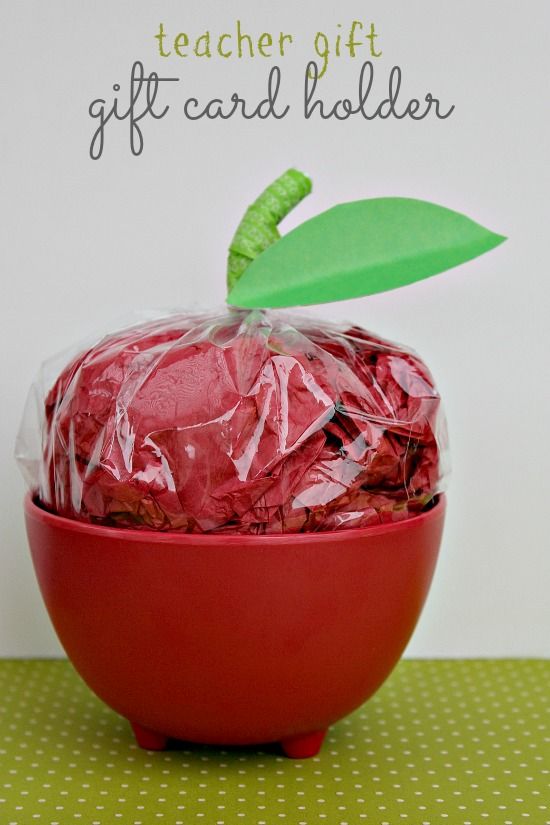 Supplies
Red bowl (small)
Clear party favor bag
Green Washi tape (or another green tape)
Green cardstock
Glue
Red tissue paper
Gift card and other small gifts
Instructions
These were simple to make. Simple place a gift card and other small gifts into the clear party favor bag, and then stuff red tissue paper all around it until it fills out into a circle shape.
Using the green tape, seal the bag and make a stem for the apple. Cut a leaf shape from green cardstock, fold it in half to make a crease, and attach it to the taped stem with glue.
Place the bag into the red bowl and you are done.
Here are some ideas of what you can include in this apple gift:
Gift card
Movie tickets
Candy
An apple
Small knick-knacks (if your teacher has a favorite character, movie, or animal)
In case you've missed our previous posts, each day of the week gifts for our teachers spelled out the word TEACH. We used 'teach' for teacher appreciation gifts previously too. Here are our ideas for this year: