Whether it's Teacher Appreciation Week or you are going back to school, this school supplies cake will be welcomed by everyone.
Today's Teacher Appreciation Week letter is 'C'. It was suggested that this be for candy or chocolate. Personally, I avoid giving candy or chocolate as they may have allergies, or simply might not like sugary treats.
Instead, I opted to go sugar-free with our gift today and made a classroom supplies cake.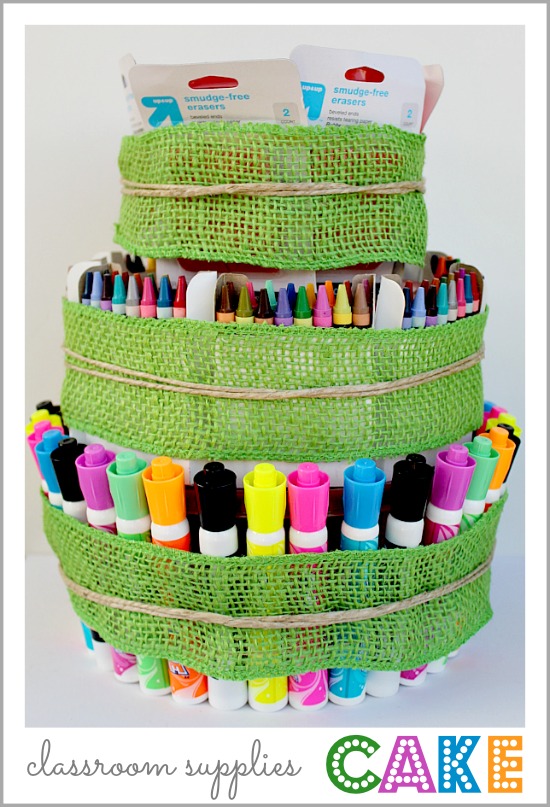 Supplies
Ask your kids which items they use most in class and which ones they think the teacher is running low on. 
Storage containers in assorted sizes
Classroom supplies – for example, pencils, markers, erasers, sharpeners, crayons
Ribbon or twine
Elastic bands
Double-sided (optional)
Instructions
The inside of the cake is three storage containers stacked on top of each other in assorted sizes.
For the top container tie an elastic band around the container. Place packages of erasers between the elastic band and the container to hold them in place. The middle section was put together the same way, only we used crayon packets. You can also fill your containers with even more supplies.
The bottom layer was a little trickier because the elastic bands kept slipping and then dry erase markers would fly around the room like little rockets. The best way I found to do this was to wrap a piece of removable double-sided tape around the center of the container and place the elastic band on it, this stopped it from slipping. I was then able to pull the elastic band off the tape as I slipped the dry erase markers behind it one-by-one. 
Around each cake layer, I wrapped green burlap ribbon and then hemp cord to tie everything together tightly.
To transport the cake into school I placed it on a cardboard cake circle.
Note: If you are a teacher reading this post, please add any items you would love included in a classroom supplies cake in the comments below to give parents even more ideas.
In case you've missed our previous posts, each day of the week gifts for our teachers spelled out the word TEACH. We used 'teach' for teacher appreciation gifts previously too. Here are our ideas for this year: