This handmade teddy bear ears headband is not only the perfect addition to a bear costume, but also makes a great favor for a teddy bear tea.
The twins' birthday party was a week ago.  It was a teddy bear picnic theme, which I think is such a fun, casual theme for a party.
Instead of supplying party hats for the guests, I handmade teddy bear ears for everyone to wear and take home. Actually, they got to choose between teddy bear ears and bumblebee headbands.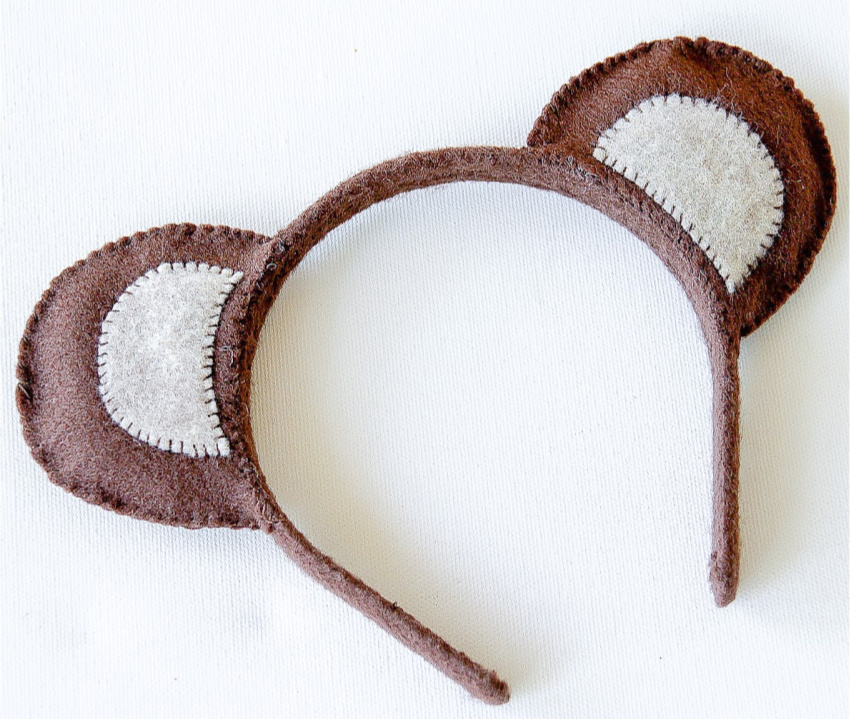 Bear ears headband
Supplies
Felt in tan and brown
Plain headband
Sewing needle
Embroidery thread
Stuffing
Scissors
I purchased the plain white headbands from Amazon. They are $17 for 50. I found this to be the most cost-effective way to do a large number of these, plus I have a lot of headbands left over for future craft projects.
Instructions
Cut out the pieces of felt required:
1 long strip to make a sleeve for the headband – measure the width of the headband, double it and add an extra 5mm for stitching. Measure the length and do the same.
the large part of the ear – Cut a piece of paper to the correct shape and use that as a template. You will need 4 ear pieces per headband.
the small inner section of the ear – as above, but you will only need 2 per headband.
Stitch the long sides of the sleeve together using an over-edge stitch (using the sewing machine or by hand). Pull the sleeve over the headband, fold the ends over and stitch by hand.
Stitch the inner ear to the outer ear and then stitch the back and front of each ear together. Use a couple of strands of embroidery thread.
Put a small amount of stuffing in each ear. This is to help the ears stand up and fill them out a little so they don't flop over when stitched to the headband.
Stitch each ear to the sides of the headband. Stitch as close to the edge of the headband as you can. If you stitch the back and front of the headbands close together the ear will most likely flop.
These would also make a great Halloween gift for your child to hand out to their classmates at school, or as party hats, which is what we did.
Please pin this post for later: