Me: "Marisol can I have a kiss please"
Marisol: "a kiss for a craft project"
Yes, that's right I was being blackmailed by a 3 year old. 
Thankfully grandma in Australia came to the rescue and sent a special Easter parcel to the kids.  Inside was another Figtree Hollow Crafts and Homewares kit.  This time it contained some "Monstrous Fun".  So I popped out to Best Buy and picked up the Monsters Inc. DVD and we spent 3 days on and off (in between trips to the park because the weather was so fabulous this week) working on this special project.
The kit came with everything the kids needed to make these puppets: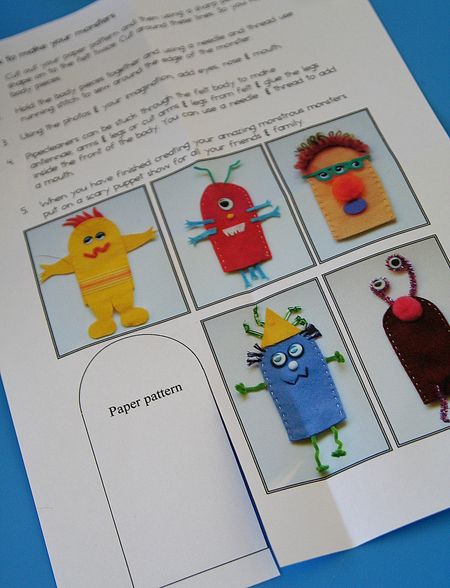 Unfortunately though my kids are only 3 so these particular puppets were a little too hard for them to replicate so I delved into my stash of bits and pieces and put together a little pile of wool scraps, felt pieces (which I cut up to make hats, boots, hair etc) and more googly eyes and then let the kids decide how they wanted their puppets to look.  While they crafted they watched Monsters Inc for inspiration and occasionally told me that they wanted their monster to look like one they had seen in the movie so I cut out a few more bits and pieces along the way.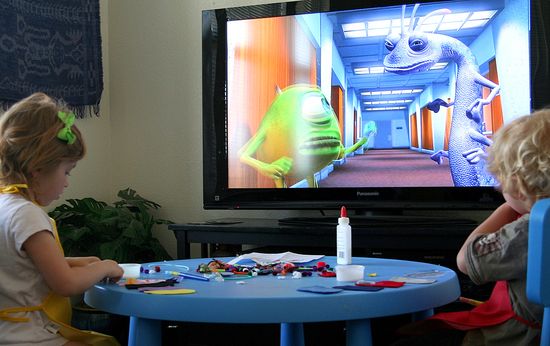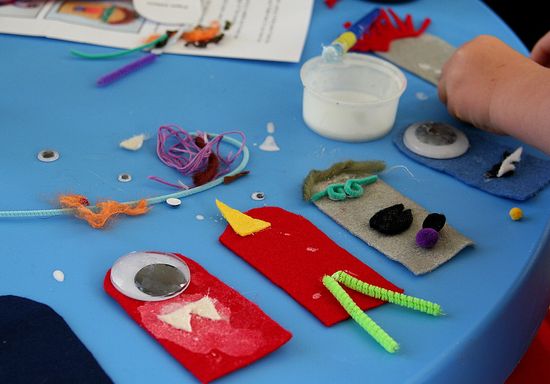 Their finished creations:
Of course I had to take over from this point to stitch the puppets together.
MARISOL'S PUPPETS: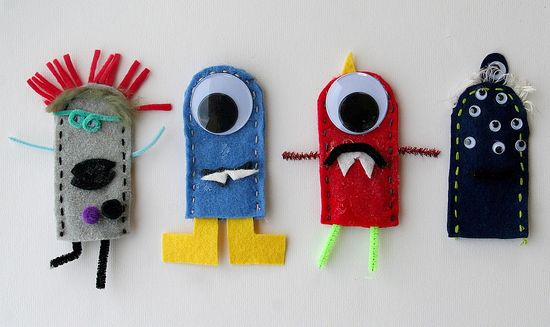 And what should one do once they've made such adorable little monster puppets?  One must put on a puppet show.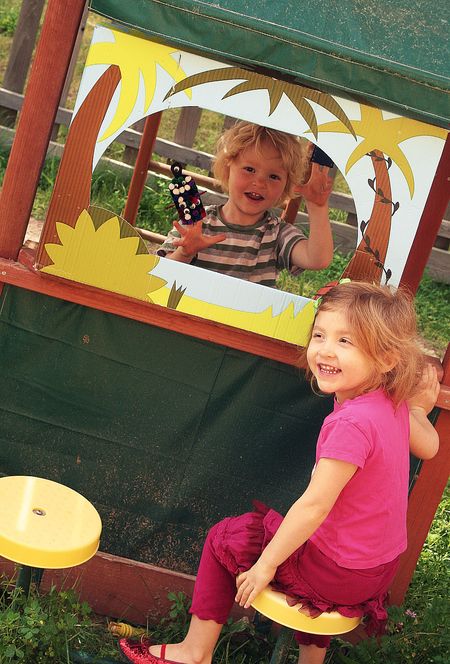 We have had this little cardboard puppet theater for a couple of years (thank you Shannon).  It's from Ikea.  The kids hadn't used it often.  I think they had forgotten it was there, hiding amongst their toys.  So we set it up on their lemonade stand outside (which apparently needs to be cleaned – see things aren't perfect around here).  They practiced singing their favorite songs with their puppets and they plan on putting on a show for daddy when he gets home.  Shhh, it's going to be a surprise.
By the way, I got my kiss.
This is a great idea to save for a monster themed birthday party or for a Halloween party.  
Here is a Figtree Hollow Crafts and Homewares kit we have done previously: Mask-arade Kit