Kids are going to love making a popsicle stick bird feeder for the garden. We show you how to host a craft party for kids at home too.
Disclosure: This project has been compensated as part of a craft recipe project using Elmer's #collectivebias #xtremeschoolglue #gluenglitter
I was recently asked to host an Elmer's X-TREME craft party at my house. My mission, was to build birdhouses using wood, and after I accepted my mission, I was advised that a mystery product also needed to be used, and I could choose glitter or buttons.
Pre-party I attempted to build a birdhouse for the first time out of popsicle sticks and an hour later still not being finished I realized that this plan had disaster written all over it.  After all, I had invited four and five-year-old children over. Short attention spans coupled with fiddly work was not going to be a good mix for them. So a quick revision of my plan and 30-minutes later and I made a popsicle stick bird feeder instead.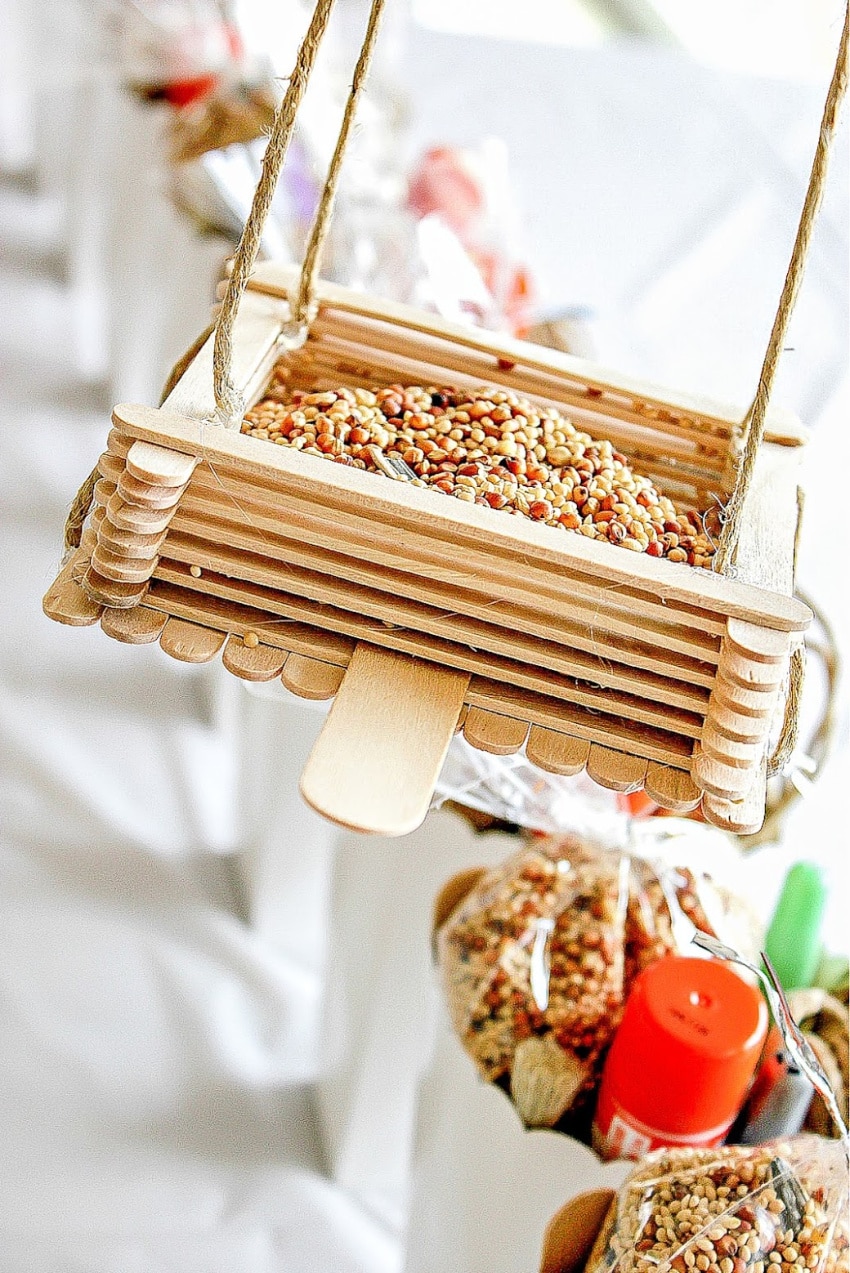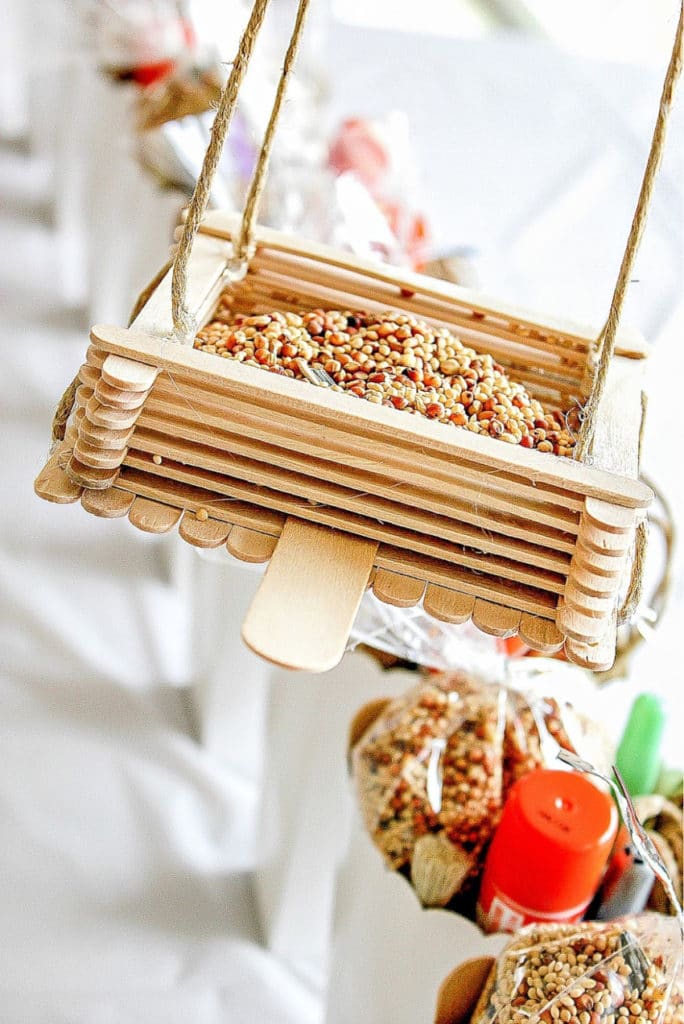 So once our plan was in place, Marisol and I hit the ground running for craft supplies and food for our party.
Make a popsicle stick bird feeder
After lunch and playing outside, we settled indoors to do the craft project. We extended our dining room table and placed a plastic tablecloth down to protect it. I hung the bird feeder that I had previously made from the light above the table, and then lined up lots of craft kit boxes for the kids that contained all of the supplies they would need to make their project.
Supplies
50 popsicle sticks
1 large craft stick (tongue depressor)
1 bag of bird seed
Outdoor paint
2 long pieces of hemp cord to hang their bird feeder
Elmer's X-TREME glue
2 glitter glue sticks
Instructions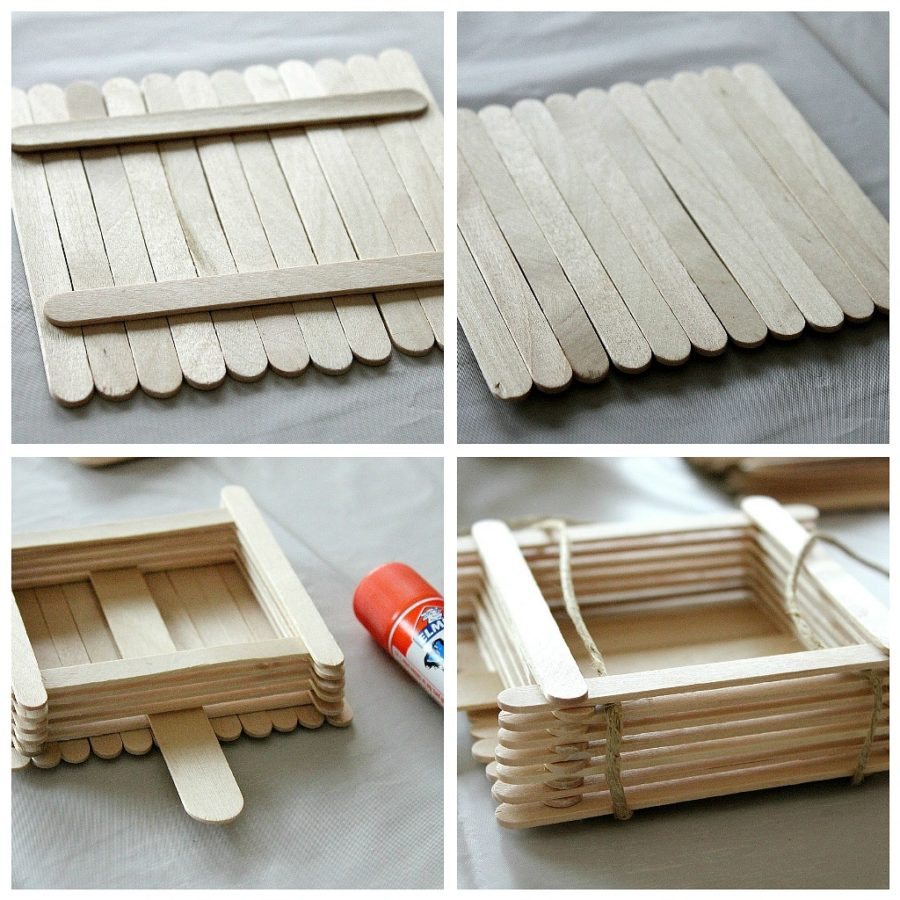 Line up 12 popsicle sticks. Glue 2 sticks across them. Turn it over.
Do a second row of popsicle sticks going in the opposite direction to strengthen the base (I actually did this at the end because it was a last minute decision, but doing it at the beginning will give it more support as you build).
Alternate popsicle sticks around the frame once.
Glue down to the tongue depressor.
Continue alternating popsicle sticks around the outside until you have 6 rows, gluing each popsicle stick down as you go.  Set aside to dry.
Let the kids paint their bird feeder, and set aside to dry.
Parents: using a hot glue gun, attach the hemp cord to the underside of the bird feeder.
Thread the cord underneath the top round of popsicle sticks (as shown above) and again, glue using a hot glue gun.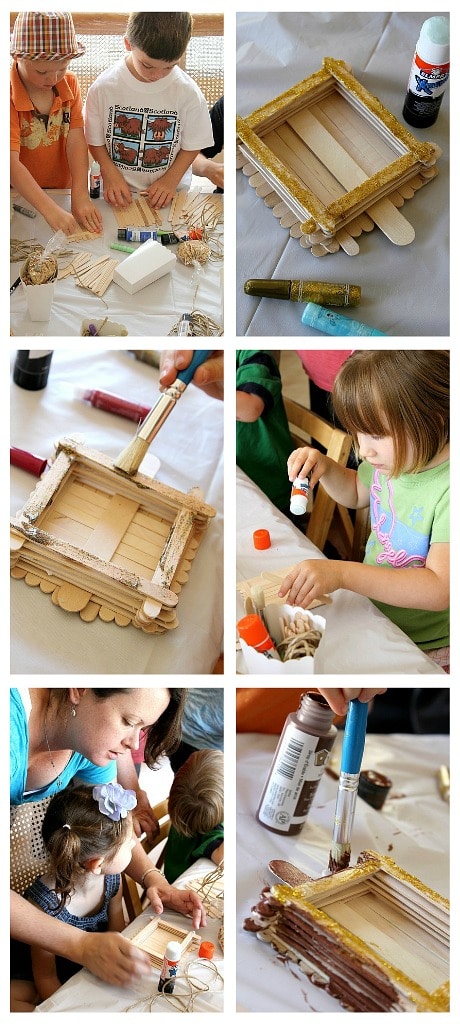 The kids took their bird feeders home to paint them and fill them with seed. Marisol and Flynn finished theirs after the party but they are yet to be hung outside. First I need to track down that outdoor varnish.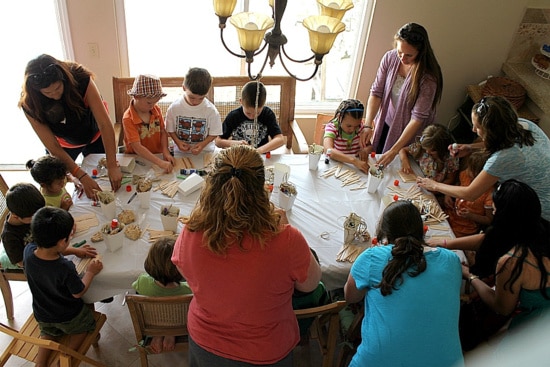 Craft party food
We decided to use the orange, white, and blue Elmer's color scheme for the food.
Peach Parfaits: 1 large tub of vanilla yogurt mixed with 1 tub of cool whip, alternate in a cup with peaches and top with granola.
Jelly Oranges: Cook jelly according to the package directions. Slice an orange in half and remove the inside. Fill with the jelly liquid. Refrigerate until set. Take a sharp knife and slice through the center again.
Cupcakes: Mini chocolate cupcakes with orange and blue icing piped on.
Blueberry muffins
Sandwiches: Cheese (cut with cookie cutters) for the kids, and roast beef, cheese and mango chutney for the adults.
Jars filled with clementines, goldfish, Sun Chips, and blueberries (I put re-useable ice-cubes under the blueberries to keep them cold).
Beverages: Orange juice, mango juice, a pitcher of iced water with orange slices, and mimosa's for the mums.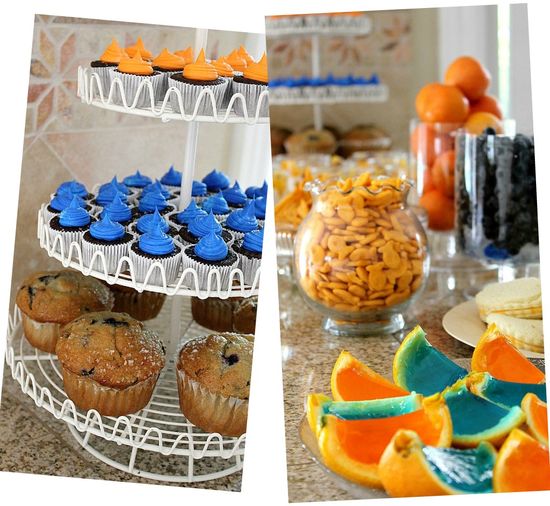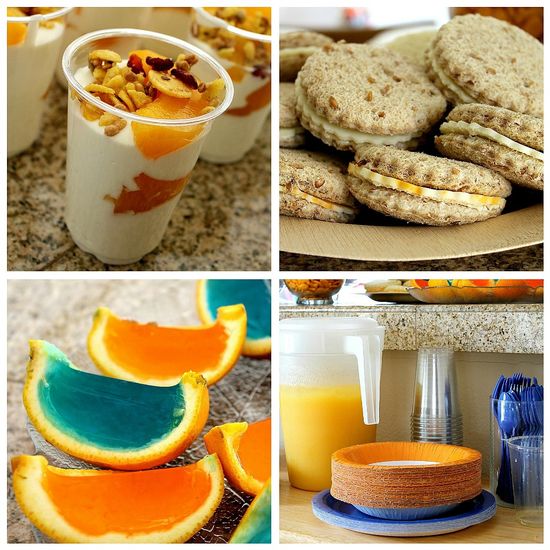 Are you looking for more fun nature craft ideas for birds? Take a look at these:
Please pin this post for later: