If you love pizza, then you will love this delicious spring pita bread pizza topped with prosciutto, mozzarella, and peas.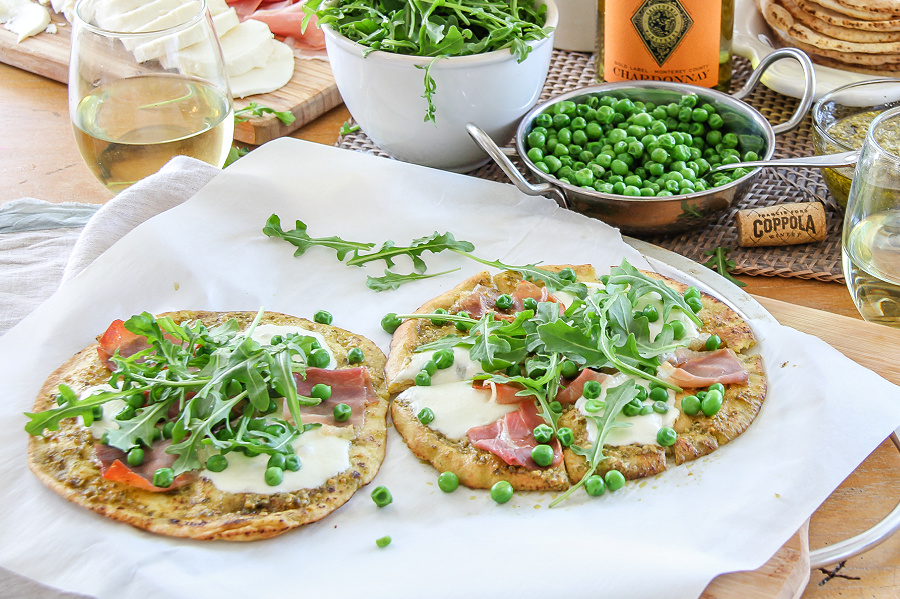 Once the spring weather arrives we love to eat outdoors. There's always a soft breeze blowing, the weather is warmer, and the evenings are so peaceful and quiet. This pea and prosciutto pizza is perfect to enjoy outdoors paired with a glass of white wine.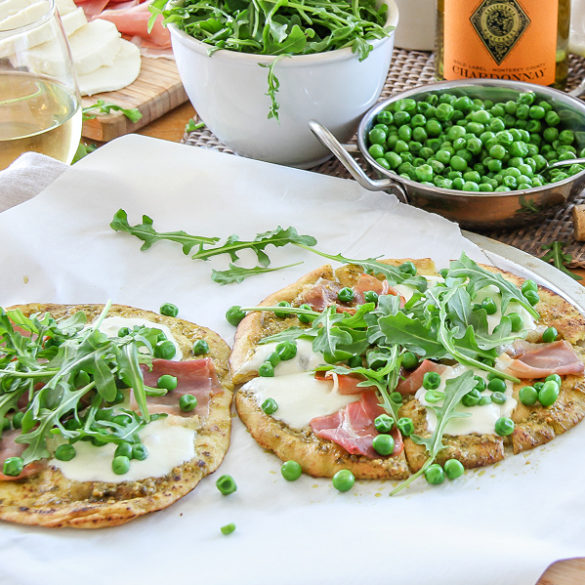 Ingredients
Pita or Naan bread
Pesto
Mozzarella
Prosciutto
Peas
Arugula
Instructions
Preheat the oven to 400F
Cook your peas - you can keep them warm or cold for this pizza depending on how you like them.
Spread pesto over the naan bread and top with slices of mozzarella and prosciutto.
Bake for 8-10 minutes.
Top with fresh peas and arugula
Note: This spring pizza was originally shared on Instagram for a Francis Ford Coppola Instagram campaign.
Spring pizza topping ideas
Asparagus
Peas
Arugula
Prosciutto
Chicken
Mozzarella
Goat cheese
Artichoke
Seafood – such as salmon or shrimp
Morels
Spinach
Pizza crust alternatives
We used pita bread for our spring pizza, but here are some other ideas too.
Naan bread
Pre-made pizza crust
Homemade pizza crust
English muffins
Cauliflower pizza crust
Lavash bread
Bagels
Pita bread
Even more pizzas you will love
Looking for even more ideas for topping your pizza? Check out these:
What are your favorite pizza toppings and bases?
Please pin this post for later: