Make this simple butterfly clothespin craft with kids this spring. They will look beautiful attached to a wall or window with removal tape.
Disclosure: I'm required to disclose a relationship between my site and Blueprint Social. This could include Blueprint Social providing me w/content, product, access, or other forms of payment.
I'm very quickly becoming a huge fan of ConsumerCrafts.com, and it's not just because they send me craft supplies, although I do really like that.
This past week I received a fabulous surprise on my doorstep from them, a box containing all kinds of craft goodies.
I couldn't resist delving straight into the box and making something special for Miss M who has been sick the past couple of days.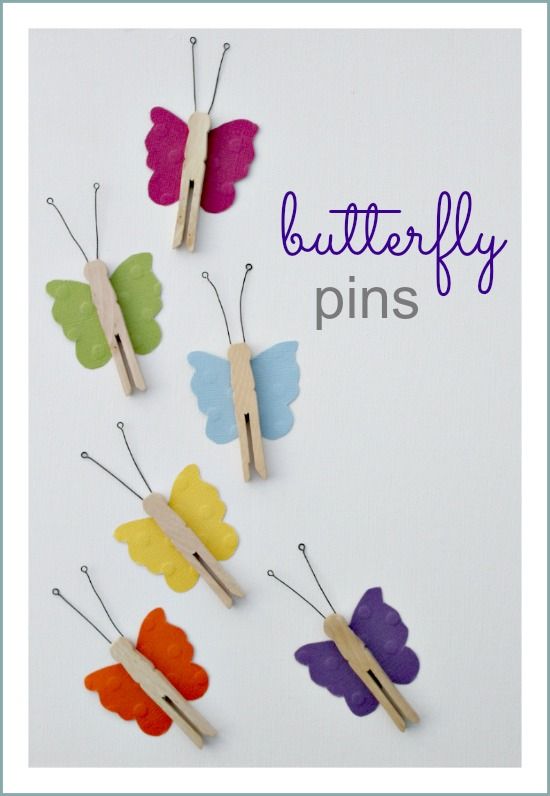 She absolutely loved these little butterflies. The entire project took no more than 30 minutes, and to see her smile, it was worth every second.
Supplies
Wood Flat Pins 2.5″
Tillie Dot Spotted 6×6″ Card Stock
2″ Black Finish Eye Pins
Glue Gun
Instructions to make a butterfly clothespin
I used the kids Play-Doh butterfly cutter, tracing around it on the back of the card stock with a pencil.  I then cut it out and attached it to the wood pin using hot glue. Before the glue hardened, I slotted the eye pins into the back between the butterfly wings and wood pin.
Wouldn't they make a lovely spring break activity or a fun craft project for a garden party?
More butterfly ideas for kids