Whether you are after a vintage eclectic look, shabby chic, or prefer the farmhouse style, we've got tips for bringing your favorite style into your home.
Disclosure: This is a sponsored conversation written by me on behalf of Sauder Woodworking. The opinions and text are mine.
It's no secret that I have a very eclectic taste when it comes to decorating my home. I tend to pull items from a variety of styles and bring them together to make our house fun and colorful. I prefer a space that feels like 'home', not a staged showroom. From my experience, I've found the kids prefer it too. No matter how much they love the look of a showroom, they don't feel comfortable bringing friends into a space that always looks staged. They prefer being able to hang out in an environment where everyone isn't paranoid about moving a cushion or spilling something.
Trash to treasure home decor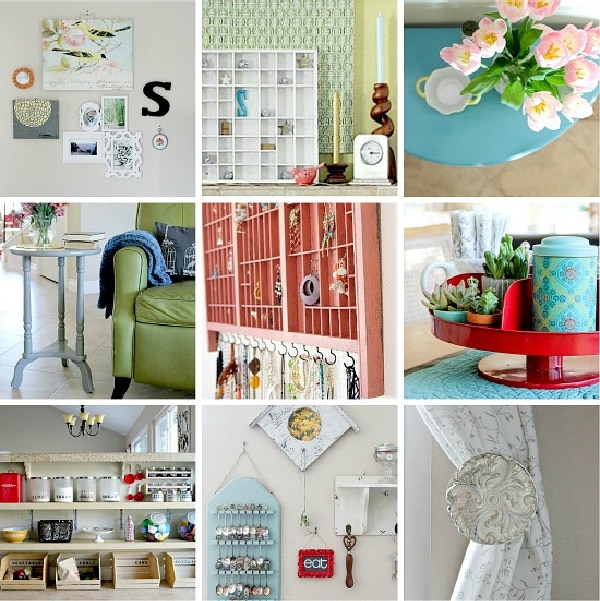 I've shared a lot of my trash to treasure projects here on my blog. Bringing new life to discarded pieces and pairing them with new decor makes me happy. It not only reduces waste, but teaches the kids how to be money-conscious, restore items, and think outside the box. Pairing those items with decor that has been passed through my family makes me happier. Wood is also a must-have, whether painted, stained, or raw. I wouldn't be a good woodcarver's daughter if I didn't have wood pieces in my home.
My downtime is spent visiting local thrift, architectural salvage, and re-sale stores. I'm not much of a trinket person, but I'm drawn to items that are functional and can be used for storage.
That's not to say that I don't love new pieces too, because I do. I just prefer to pair them with an item that was handmade or has a little history behind it.
Vintage eclectic furniture from Sauder
When I saw the catalog of vintage eclectic pieces from Sauder I absolutely loved their furniture items.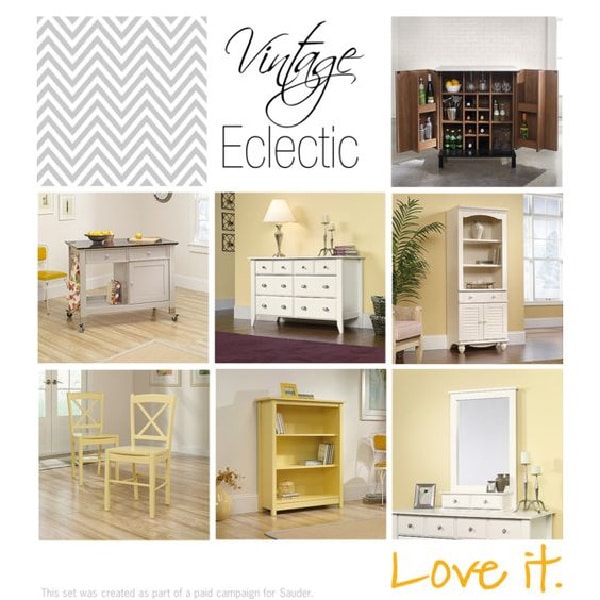 The melon yellow bookcase would be a perfect addition to a reading nook for the kid's playroom. I would love to see that soft white dresser and mirror in my own bedroom, paired with the curtains and curtain holdbacks I already have. The walnut finish cubby storage cabinet would be perfect for home entertaining too, both indoors or outdoors.
About Sauder Woodworking Co.
Sauder Woodworking Co. is North America's leading producer of ready-to-assemble furniture and the nation's fifth-largest residential furniture manufacturer. An authentic American original, Sauder manufactures 90 percent of its furniture in Archbold, Ohio—right where the company started in 1934. It is a privately held, third-generation, family-run business.
Many Sauder® products are manufactured with engineered wood, which comprises a composite of high-quality trimmings and post-milling leftovers. This makes Sauder an environmentally conscious company.
They convert residual sawdust into electricity with their very own cogeneration plant. Any remaining wood waste provides a variety of sustainable uses, such as animal bedding.
Sauder products and packaging are made from up to 97 percent recycled material. Their domestic facilities are licensed fabricators of panels certified by Composite Panel Association (CPA).
See more of my work with Sauder here:
Please pin this post for later: