I've become a little obsessed with wall collages.  When visitors come into my home I don't want them to feel like they have walked into a history of our family, with photographs of the kids, our wedding, and everywhere we have been on display.  So, I don't have a lot of family photos sitting on mantels, or hanging on the walls.  I like to have a few of my favorite shots up, but I prefer to mix them in with art, photographs I've taken, and other more creative items instead.  I currently have 3 wall collages I'm working on and this is just one of them.  It is in our living room, and on the left hand wall is our fireplace and mantel.  I get to look at this every day.  It makes me happy.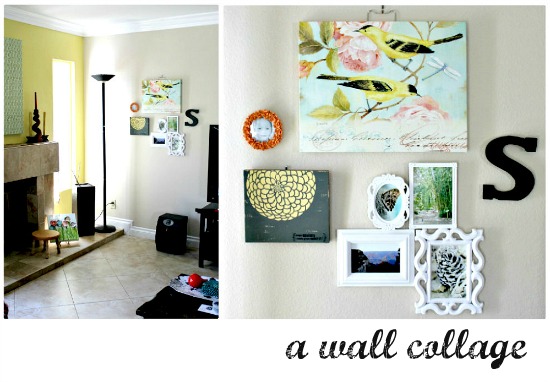 I want to share where I got some of the pieces to make this one.
Black letter 'S' – (for Staab of course) I picked up in the clearance section of Marshall's for just a couple of dollars.
Bird print – I found for under $20 in the clearance section of Target.  I have a thing for birds, just ask my husband.
Small orange flower frame – This was actually a pale blue frame that was given to me when Flynn was born.  Pale blue is not one of my colors, and not a color that I use in the house, but for sentimental reasons I had hung onto it all of these years.  I decided to give it a makeover with a splash of Glidden Sunbaked Orange paint.
White collage frame – Again, this was another Target find that was on clearance, it was around $20 I think.  I love the variety of frames on this one.
Grey and yellow flower print – Remember when I went to the Elevate Conference and we did a little art project on a piece of wood?  Well I turned over the piece of wood and using the stencil we had been given decided to make a new print using colors that would match better with this wall collage.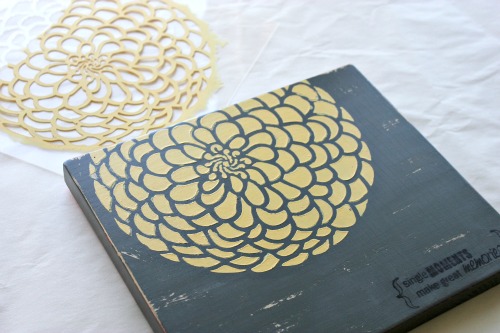 I began by painting the board in grey.  Once dry I lay a portion of the stencil over the top and painted that with 2 coats of yellow.  Again, I set it aside to dry, then using a small piece of sandpaper I gave the print a worn look.  I decided it needed a little something more though so waded through my tub of stamps and found a lovely quote that I stamped onto the bottom corner.  I finished off the print with an acrylic spray finish.
I'm sure I will add a few more items to this over time.  Maybe a small clock, a wall decal, or an embroidery hoop with a something lovely hand-stitched inside.
I'll have to share the other wall collages I'm working on too.