This kid-approved homemade gluten-free honey oat bread requires no yeast, no kneading, and is baked in under an hour.
Disclosure: Thank you Bob's Red Mill for sponsoring this post! Check out their full line of oat products at BobsRedMill.com.
The kids have been back to school for a couple of weeks. We are still trying to get back into the swing of things after summer vacation. Morning routines are tough to get back on track again. I've been working on having quick and easy breakfast ideas for the kids that are ready to go. Foods they can heat, toast, pour or spread without my help.
My kids prefer a little variety day-to-day. They don't want the same yogurt, cereal, or fruit for breakfast. On the weekends I make a big batch of pancakes that I freeze and they re-heat. I've also been making a lot of muffins and bread. Marisol loves citrus flavors and banana loaves, so I made this gluten-free honey oat bread for Flynn.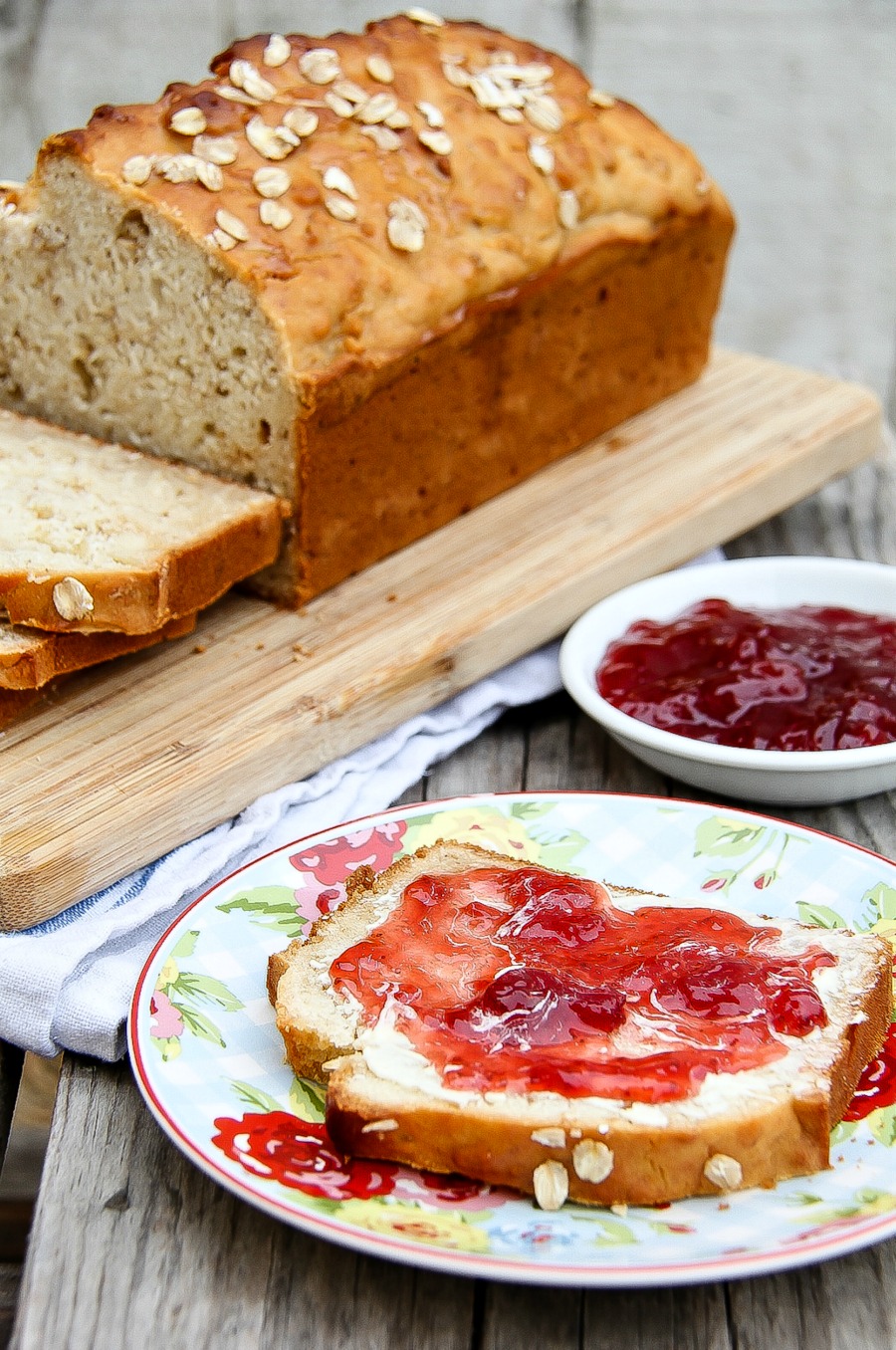 The best part about this bread (besides being delicious with a little jam on top), is there is no yeast, no kneading, and is ready in under an hour. 
We have a friend who drops off a dozen eggs from her chicken coop when she drops off her daughter before school. There's nothing that I love more than fresh eggs in the morning. Paired with freshly baked bread and a side of tomatoes, mushrooms, asparagus, and potatoes, I can't think of a better way to start the day.
How to make gluten-free honey oat bread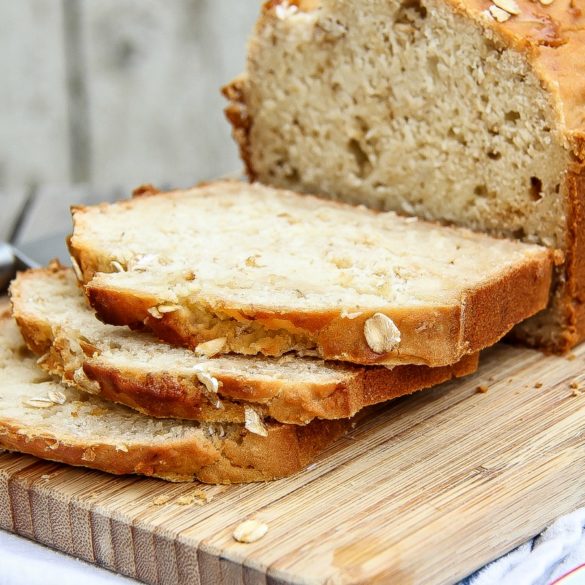 Ingredients
2 cups plain gluten-free flour
1 cup Bob's Red Mill gluten-free old-fashioned rolled oats (plus extra for topping)
2 tsp baking powder
1/2 tsp baking soda
1 tsp salt
12oz plain yogurt (2 small 6oz tubs)
1 large egg
1/4 cup coconut oil
1/4 cup honey (plus extra for brushing over the top)
3/4 cup reduced-fat milk
Instructions
Preheat the oven to 375F.
Spray a loaf pan with non-stick baking spray, and I always line the bottom with parchment paper too.
In a large bowl whisk together the flour, baking powder, baking soda, and salt.
In a separate medium-sized bowl whisk the egg, then add in the oats, yogurt, oil, and honey, and then gently stir through the milk.
Make a well in the center of the dry ingredients and add the wet ingredients, and gently stir together with a wooden spoon until combined, but don't over mix.
Pour the bread mixture into the pan and bake for approximately 45 minutes. I started checking it at 30 minutes, and it ended up taking right on 45 minutes, but I'm always paranoid about over-cooking or burning baked goods. It's ready when you pop a wood skewer in and it comes out clean.
Set the bread aside to cool on a wire rack and then brush it with honey and top with the extra oats.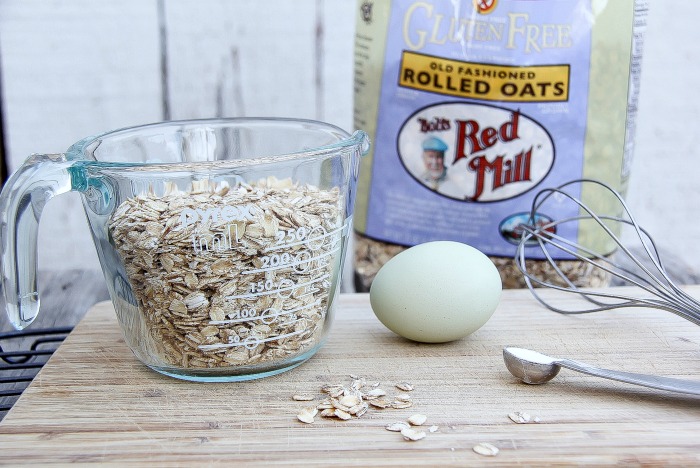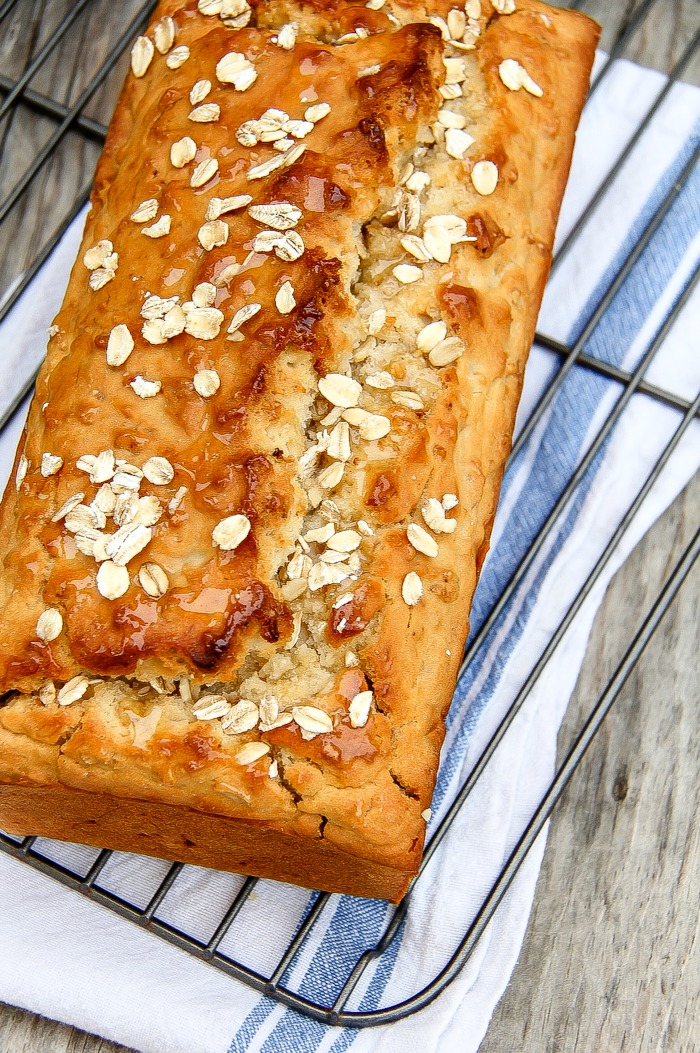 All Bob's Red Mill oats are kiln roasted to give them the wholesome flavor you come to expect from our oats. Gluten-Free Oats are sourced gluten-free, packaged in Bob's Red Mill's 100% gluten-free facility and tested every step of the way to ensure their gluten-free status.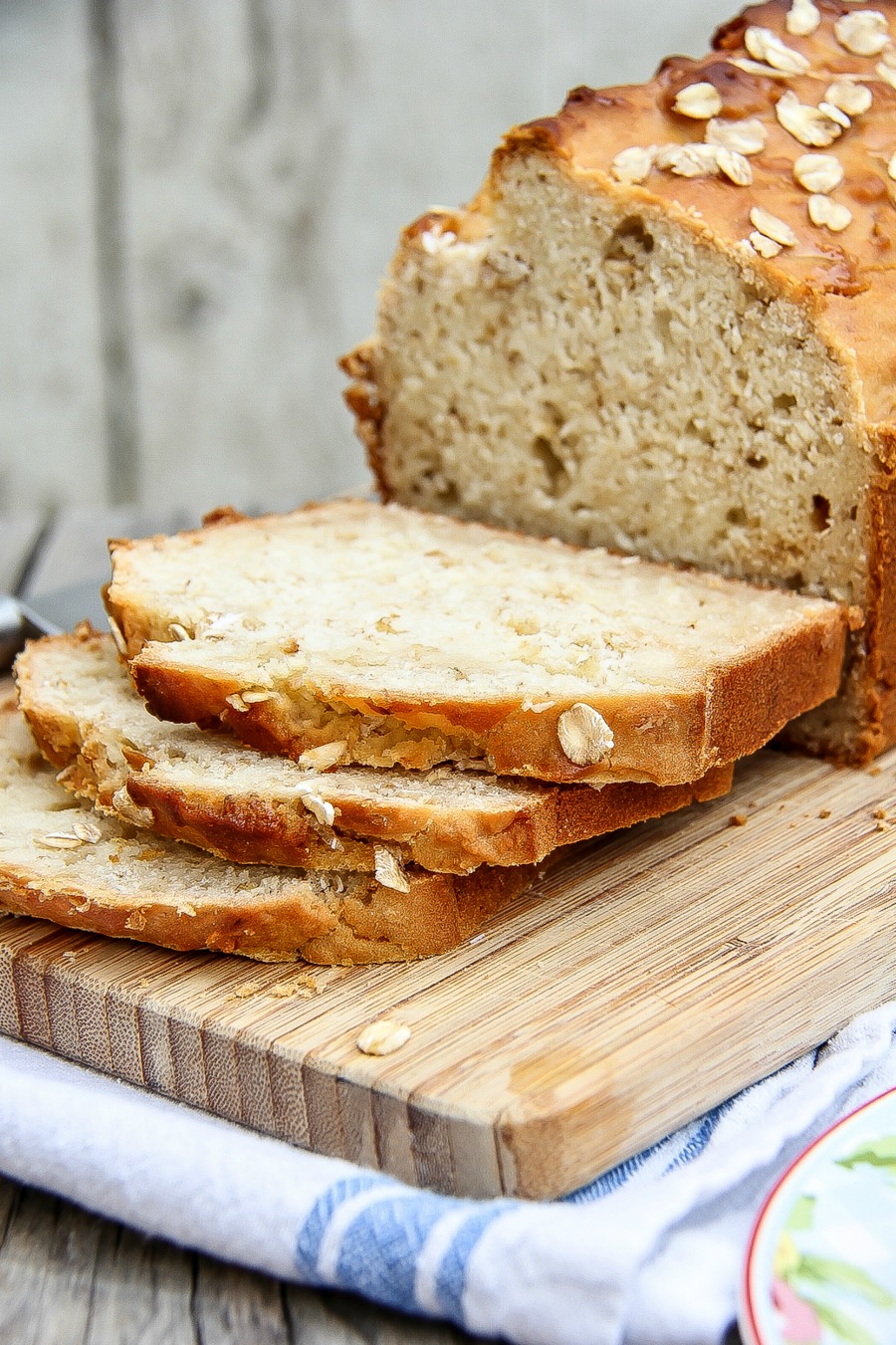 Download a coupon for $1.00 off Bob's Red Mill products here.