Whether you are hosting a movie night or a birthday party, you are going to love these simple food and drink ideas inspired by The Smurfs.
I have loved The Smurfs since I was a little girl and so I was thrilled when they announced The Smurfs 2 movie release.
The kids had heard of The Smurfs but had never watched it before. When I mentioned the new movie, they of course wanted to see it. I didn't want them to see the new one until they'd seen the first movie.
I set aside a few hours last weekend, whipped up fun treats, and we watched the first movie before heading to the movie theater to see The Smurfs 2.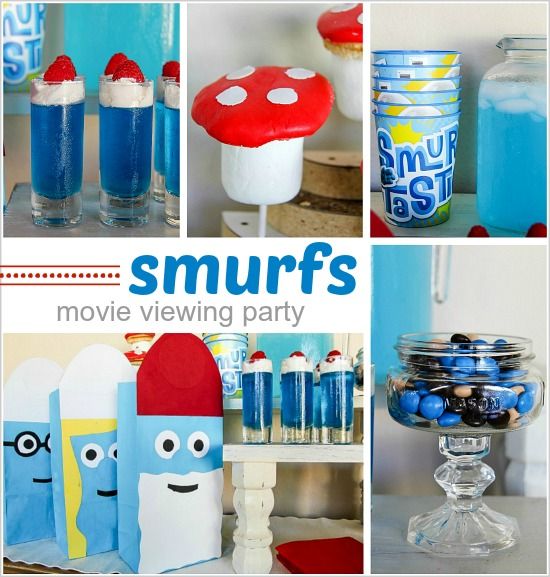 Smurf movie party treats
Smurf Jelly – blue jelly in tasting glasses, topped with whipped cream and a raspberry
Toadstool Treats – large marshmallows on a lollipop stick with the top of a vanilla cupcake covered in a thin layer of red marshmallow fondant and white edible decorating paper.
Blue Drinks – blue Gatorade or Fruit Punch work perfectly for this. 
Smurf Popcorn Bags – I decorated plain blue paper bags to look like Papa Smurf, Smurfette, and Brainy Smurf and then filled them with popcorn.
Almond Joy Candy Pieces – I think these are fairly self-explanatory, and delicious too. 
The kids now love The Smurfs and loved both movies..
I'm now trying to convince them to dress up as The Smurfs characters for Halloween.
Please pin this post for later: