You may think that you cannot decorate cakes, but you CAN!  Cake decorating doesn't have to be elaborate to be beautiful.  Sometimes simplicity is key.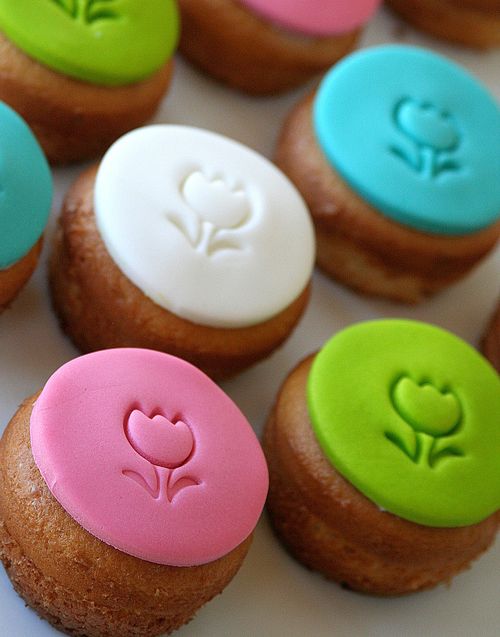 Anybody can make these cakes.
What you will need:
Cupcakes

Fondant

Buttercream icing

Decorative fondant punch (or alternatively a clean rubber stamp)

Round cut-outs (alternatively, use a glass or cookie cutter, compare the size with the cupcake first)
To make:
Step 1: Color your fondant with assorted icing colors.  I know that some people do not like the taste of fondant (my husband and teenager don't), so here is a tip I came across a while ago to make chocolate fondant.  The recipe I linked to is a tip for making chocolate fondant using candy melts to darken the fondant before adding a dye such as brown or black.  Now, I haven't tried this yet, however, if you are making fondant in other colors (green, yellow, pink, blue etc), I would switch the dark cocoa candy melts for white ones. 
Step 2: Roll out your fondant to about 5mm thick. Fondant dries out very quickly, so whatever you aren't using, keep it covered.
Step 3: Cut out the round shape
Step 4: Gently stamp the fondant cut-out
Step 5:  Use a small amount of buttercream frosting to attach the cupcake topper to the cupcake. 
You could make these for any kind of party, the possibilities are endless. 
Also, if you are looking for a fun idea to keep your kids occupied, cut out circles of fondant and arm your kids with some stamps.  Let them stamp their own fondant cupcake toppers.
As seen on:
Muffin Tin Mom