In just 30-minutes you can have a delicious meal of homemade fish and chips with coleslaw ready for your family. 
Disclosure: I created this recipe using Bumble Bee SuperFresh® as part of a sponsored series with Socialstars. All content and opinions are my own. #bbsuperfreshfan
One of my favorite take-out dishes, when I lived in Australia, was fish and chips. It would come wrapped in newspaper and we'd take it to the beach and enjoy while the sun was setting and the kids were playing.
I haven't found a really great fish and chip shop since moving here. Plus, now that the little man is gluten-free it has become more difficult to get take-out or eat out while I'm still learning what he can and can't eat. So I've been cooking a lot more at home and trying to make gluten-free versions of a few favorites.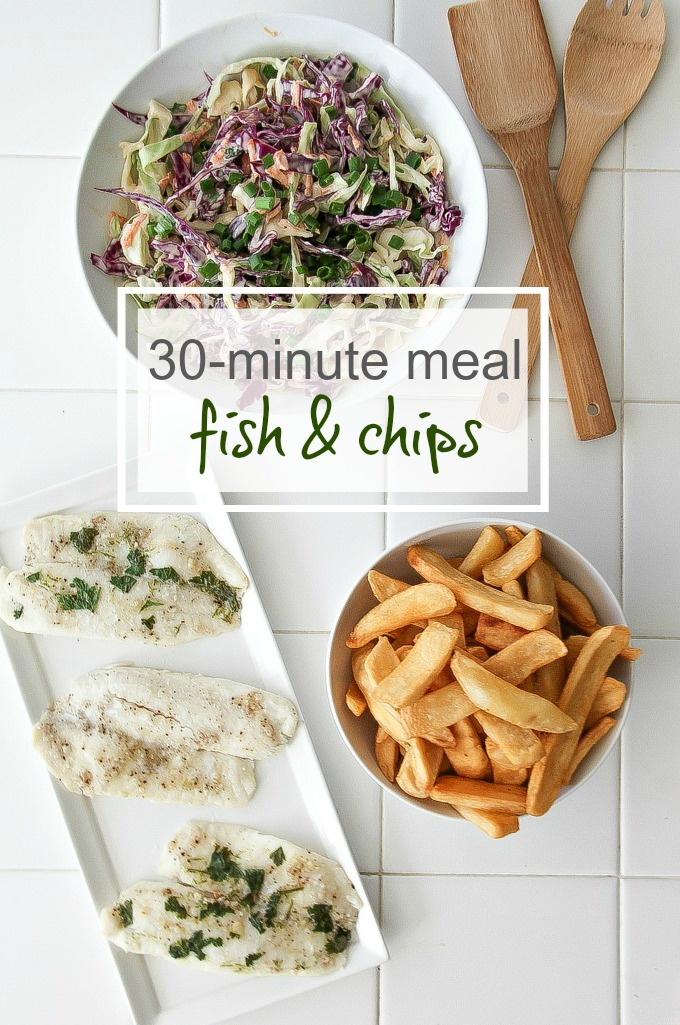 This 30-minute meal is perfect for busy weeknights when you are helping with homework and shuttling kids around to various activities.
My kids are a little picky but getting better since I made a new rule of trying one new thing every single day. I don't expect them to like everything, but they at least have to try it. Sometimes I like to make a more grown-up version of a meal for us too but I keep the kids' food a little blander.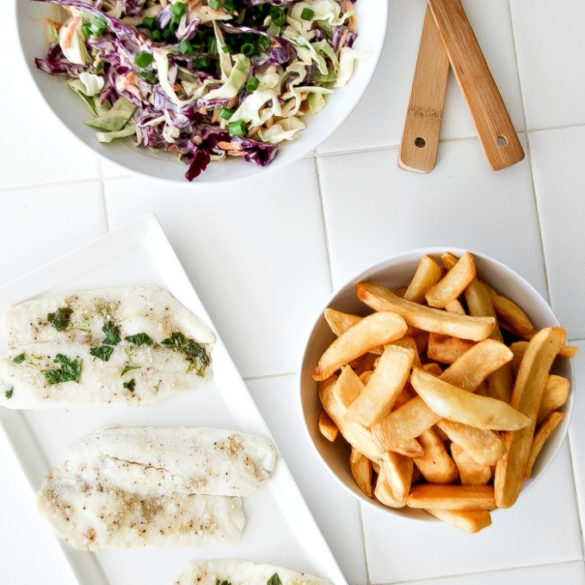 Ingredients
Bumble Bee SuperFresh® Tilapia with Garlic & Extra Virgin Olive Oil
Frozen potato wedges
2 cups purple cabbage (shredded)
2 cups green cabbage (shredded)
1 carrot (grated)
1 green onion (chopped)
1/2 cup + 2tbs cilantro (chopped)
1 cup mayonnaise
2 tbs Dijon mustard
1 tbs champagne vinegar
1 tbs white granulated sugar
2 tbs white wine
1/2 tsp crushed ginger
1/2 lime - zest and juice
salt and pepper
Instructions
Preheat the oven to 400F.
Once the oven is heated, pop your potato wedges onto a baking sheet and into the oven; they'll take about 5-10 minutes longer than the tilapia, depending on how crispy you like your wedges. 
In a small bowl whisk together the white wine, 2 tbs cilantro, lime zest, lime juice, ginger, and a pinch of pepper.
Brush each of our tilapia generously with the cilantro and lime marinade, and then wrap them and placed them into a shallow baking dish.
The tilapia takes 20 minutes to cook in the oven. 
Combine the purple and green shredded cabbage, carrot, and 1/2 cup cilantro in a bowl. 
In a separate measuring cup whisk together the mayonnaise, champagne vinegar, mustard, sugar, and a pinch of salt and pepper.
Pour over the cabbage mixture and toss until completely combined. Top with green onions.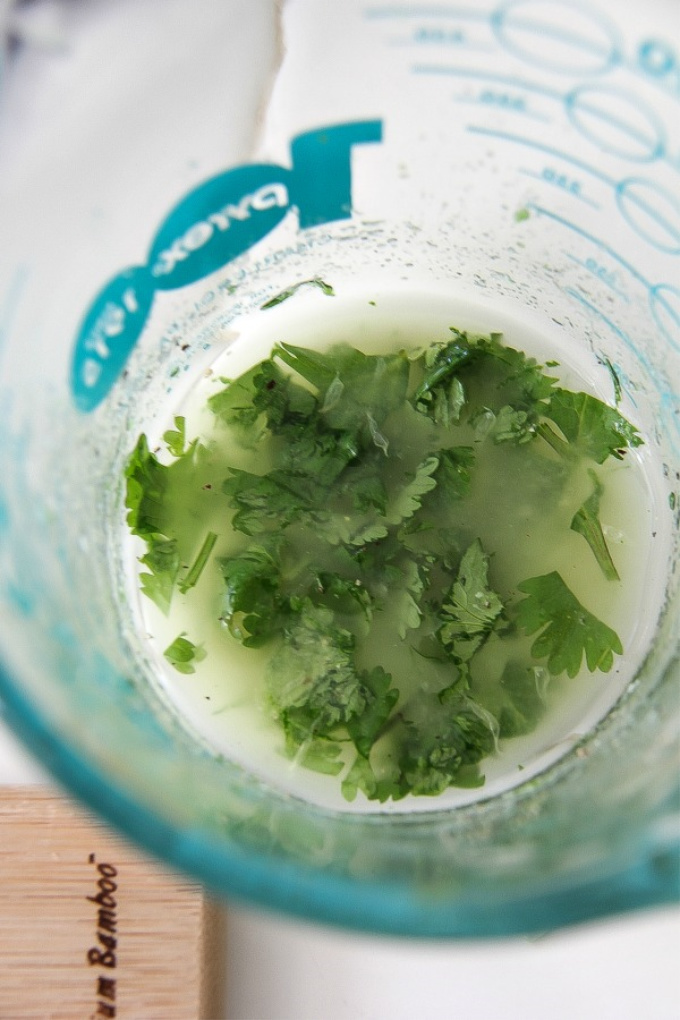 This is where I did a child-friendly and grown-up version of the tilapia. The tilapia already comes with garlic and olive oil, so this was perfect as-is for the kids. I simply followed the directions on the packet to wrap the frozen tilapia and placed them in a shallow dish.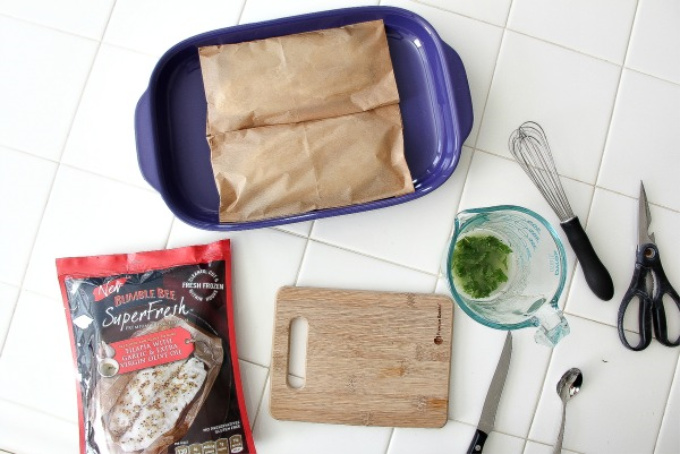 For ours, though I had decided to give it a little something extra so brushed each of our tilapia generously with the cilantro and lime mix, and then wrapped them and placed them into a shallow baking dish.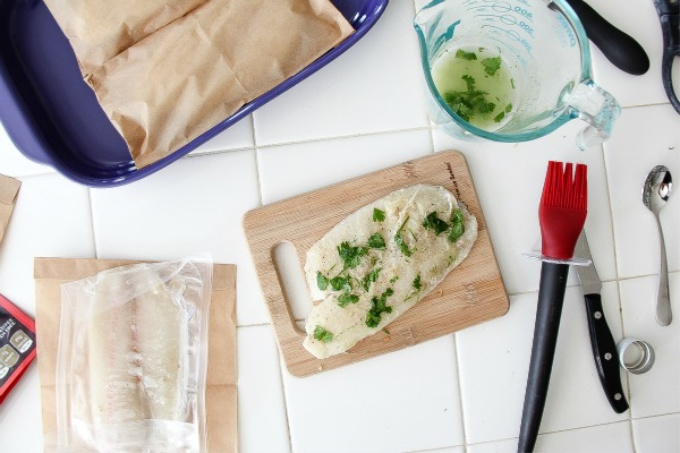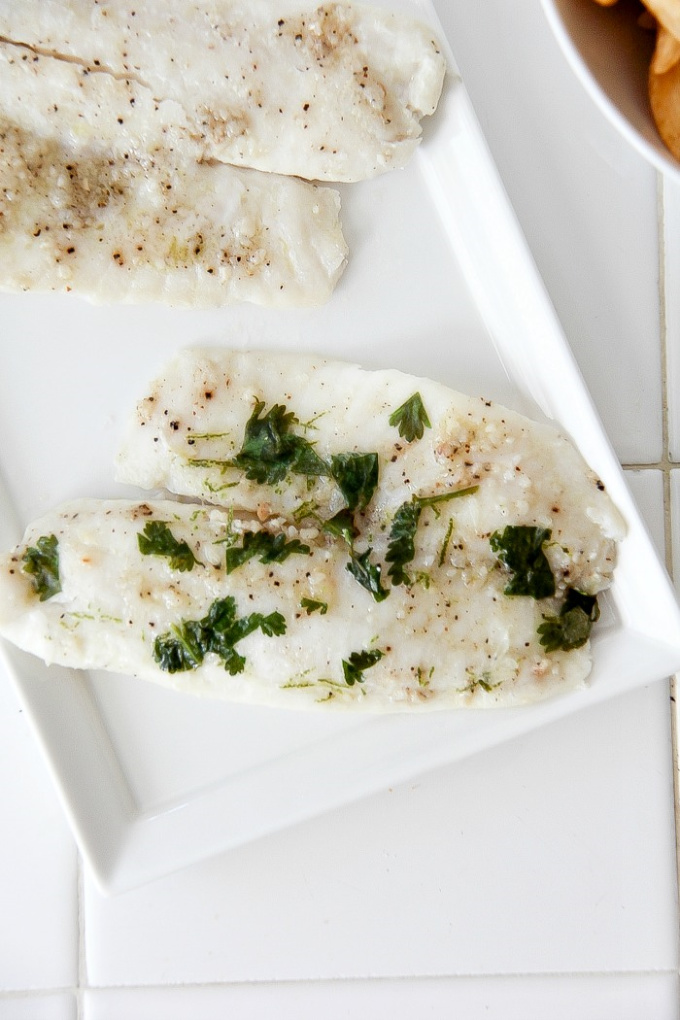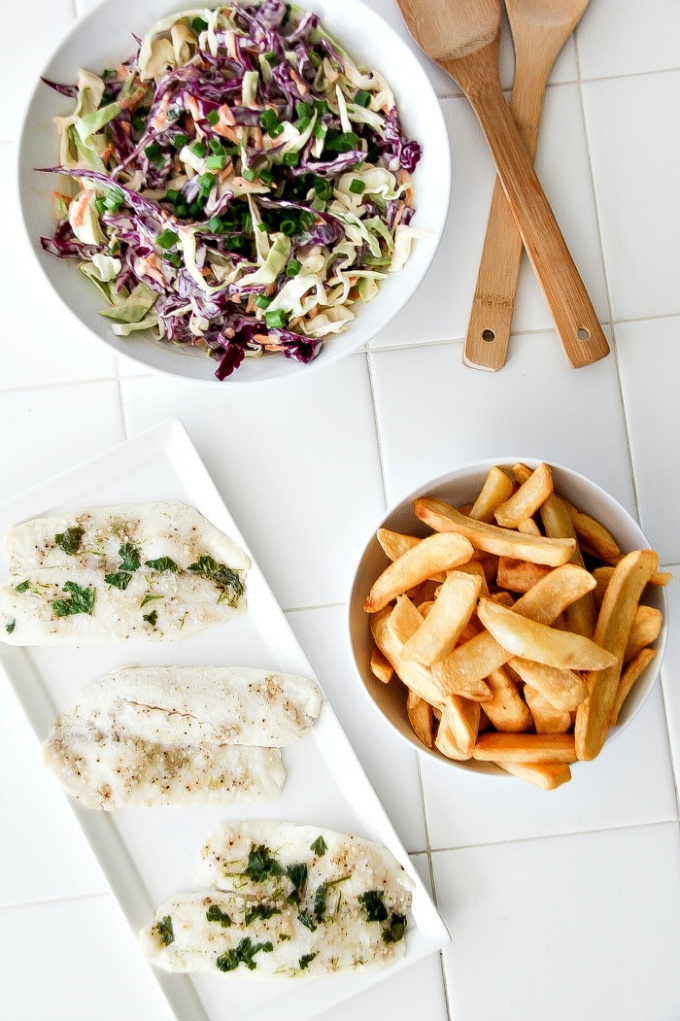 About Bumble Bee SuperFresh® Frozen Seafood
The product line features 7 flavors that are chef prepped with natural ingredients,
gluten-free and no preservatives ever!
You won't find any heavy-handed sauces, coatings, flavorings or preservatives because
Bumble Bee SuperFresh® starts with the choicest fish which is cleaned, cut and fresh
frozen within hours of harvest. It stays frozen until you put it in your oven or skillet.
Just perfect seafood every time.
All go from freezer to table in 20 minutes or less and include everything needed to
prepare flawless seafood including a parchment paper baking pouch for the tilapia and
salmon, and seasoned butter medallions for the shrimp and scallops.
Please pin this post for later: