The best gift ideas you can send to your favorite college guy including care package ideas, holiday gifts, and moving gifts.
Disclosure: I was asked to participate in the #HolidayPower, sponsored by Schneider Electric. Although I have been compensated, all opinions are my own.
Jayden moved out of home over the summer. I was heartbroken, but he had always told me that when he started college he wanted to move out, and so he moved in with one of his best friends.
This is something that we simply don't do in Australia. I don't know anybody who left home to live in a dorm, or with friends. You simply lived at home and commuted to the closest University that offered the classes you were interested in. I'm probably showing my age right now, aren't I, or maybe this was just where I grew up?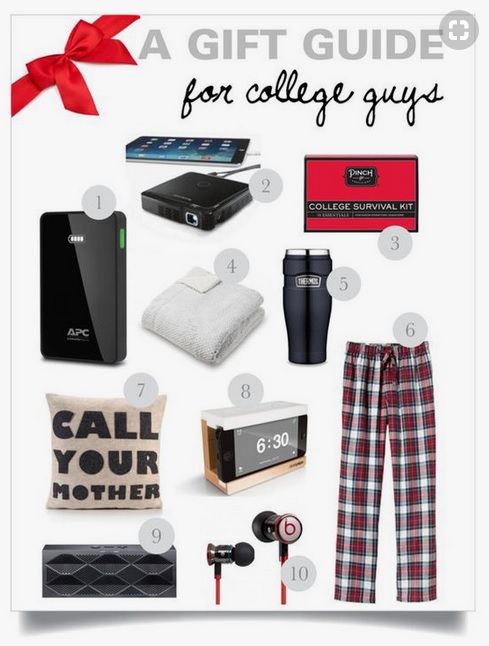 It's his birthday next week (he'll be turning 19), and Christmas is just around the corner, so it's important for me to come up with gift ideas that he'll love but that are also functional now that he's living away from home and a full-time college student. 
Gift ideas
Here are some things I think he would love … okay, maybe the cushion is just something I would love.
APC Mobile Power Pack: it's the perfect back up for his cell phone when the battery gets low, whether he's at home, at college, studying off-campus, or out with friends.
Brookstone HDMI Pocket Projector: Screen videos on the go with friends and with the APC Mobile Power Pack, the charge on a cell phone would last a lot longer.
College Survival Kit: This handy little kit contains items including a thermometer, first aid kit, earplugs, adhesive, and mending kit.
Ultra Plush Blanket: Who doesn't love to curl up underneath a plush blanket?
Thermos Stainless Travel Tumbler: You can never have enough coffee when you've been studying all night.
Flannel PJ Pants: A pair of comfy pajama pants when studying.
Call Your Mother Cushion: Sometimes they just need a little reminder.
iPhone Alarm Clock Dock: No more cell phones getting lost under the covers or falling on the floor in the middle of the night.
Mini Jambox: For rocking out to tunes while studying. Plus, it charges using a USB Port so it can be plugged into the APC Mobile Power Pack.
Monster Beats By Dr. Dre Earphones: A smaller set of headphones for listening to music while studying off-campus, or exercising.
He's a bit of a tech kid, he's always on his phone or laptop. It's how he stays connected, and also how he studies at a local coffee shop, book store, or cafe. The first thing I bought him when he moved out was a new laptop so he could study. He uses his phone for almost everything else though, whether it's staying connected with me, chatting to friends, an alarm clock, or GPS. Plus he takes photos and videos, plays games, and watches Netflix between classes on it.
He only lives an hour and a half from us, and often comes to stay for a few days at a time. Which is just fine by me and his sister loves it when he visits, she misses him so much. The look on her face when she knows he'll be visiting is priceless. She sends him little videos if she hasn't seen him for a while telling him to come and stay because she misses him. It's adorable how much closer they are now that he's moved out.
When he's not with us though I constantly worry. Is he eating properly? Did he wake up to his alarm in the morning (did he remember to even set it) and get to college on time? What if his car breaks down, did he charge his phone?
I feel like I'm missing out on so much now that I can't just walk into his bedroom to see how his day was. So, I find myself texting or calling daily just to catch up, see what he's been doing, or help him out with a problem. If I don't hear back from him though panic sets in, of course. He usually responds once he gets the 'are you still alive' text because he knows better than to keep me hanging then.
I was thrilled when I was sent an APC Mobile Power Pack. My plan was to surprise him with it, but he came to stay for a few days earlier in the week and I'd left it on the counter. The day he left I found the empty packaging next to his bed. He has been taking it everywhere apparently. It's the perfect size to keep in his jeans pocket, which is great for him because he's the kid who rocks up to college with no backpack and if it doesn't fit in his pockets, he's not taking it. He said that this one item has saved him so many times when his battery has been low and he's forgotten to charge his phone during the night.
About the APC Mobile Power Pack
Efficient charging: Extends the Mobile Power Pack's battery life by automatically shutting down when the connected devices have completely charged.
LED battery charge indicator: Push-button activated LED display provides battery charge status.
Mobile device compatibility: Mobile power packs recharge all devices that connect to power using a USB cable, including your mobile phone, tablet, audio player, handheld gaming console, and e-reader.
Thankfully he doesn't read my blog, so he won't have any idea about any of the other gifts I am thinking about getting for him.