Spending a day in Palm Springs? Start with breakfast at Cottonwood Springs, followed by hiking, and a trip on the Palm Springs Aerial Tramway.
Disclosure: We were provided with two nights accommodation at The Westin Mission Hills Golf Resort & Spa and dinner at Pinzimini.
It's time for day 2 of our fabulous mini road trip to the Palm Springs area. You can read about day 1 here. Updated to add here is our day 3 update too.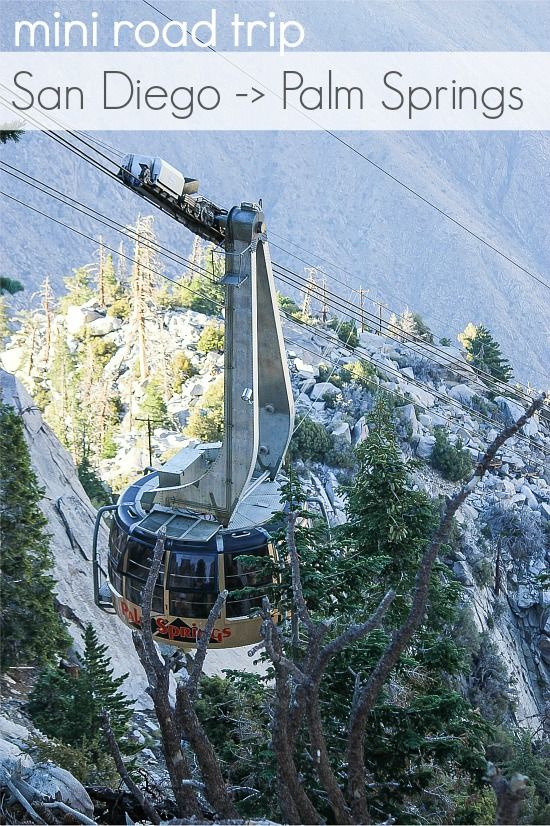 We decided to get an early start on day 2 to beat the heat. Once we were up and dressed, we headed to the Mission Hills Market & Cafe which is located at The Westin Mission Hills Golf Resort & Spa.  It opens at 6 am, but we didn't get there quite that early, more like 8 am. We picked up a few fresh bakery items, coffee, and drinks for the kids and made our way to Joshua Tree National Park for a breakfast picnic and hike at Cottonwood Springs.
Cottonwood Springs Visitor Center
It took about 50 minutes to drive to the Visitor Center at Cottonwood Springs. There we picked up our free (military) annual National Park Pass and went over a map with the staff to find kid-friendly hiking trails.
On our way to the hiking trail we stopped at the Cottonwood Campground, which was completely deserted. We enjoyed our picnic breakfast in the quiet listening to birds chirping nearby. There were a lot of black-tailed jackrabbits, who were a little wary of us. After breakfast we went on a short walk and they kept a close eye on us to make sure we didn't get too close.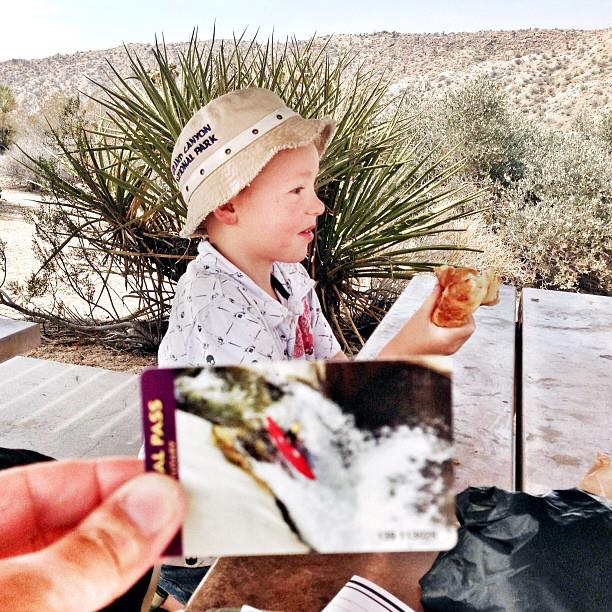 At the end of the road is where the hiking trail starts. We didn't go too far because we had a big day ahead of us, but did take a short walk to the top of the stairs.
It really was a beautiful area and I'd love to go back and explore more in the cooler months.
Joshua Tree National Park
Once we were done with our short hike, we drove into Joshua Tree National Park and stopped at various signs along the way to learn more about the landscape.
It was almost as if giants had come through the land and made boulder piles, some were out in the middle of nowhere like they'd been carefully stacked there.
Westin Mission Hills
We headed back to The Westin Mission Hills Golf Resort & Spa at lunchtime, changed into swimsuits, and headed straight for the Las Brisas pool again. We ordered poolside lunches and drinks from the Las Brisas Café and Caliente Bar. After lunch Flynn headed back to the water-slide while M and I swam in the pool for an hour.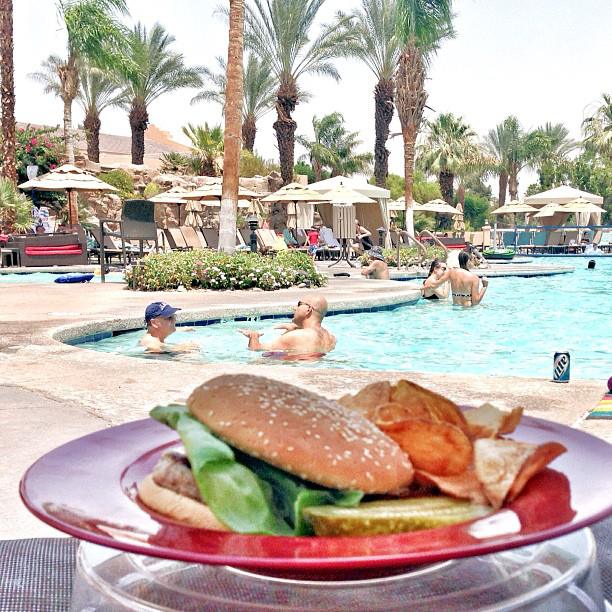 After lunch we went out to explore more of Palm Springs.
Palm Springs Aerial Tramway
This time we hopped into the car for a 25-minute drive to the Palm Springs Aerial Tramway. We took a ride on the aerial tram from Chino Canyon to the Mountain Station at Mount San Jacinto State Park. I had booked tickets the day before, including dinner reservations at Peaks Restaurant located inside the Mountain Station.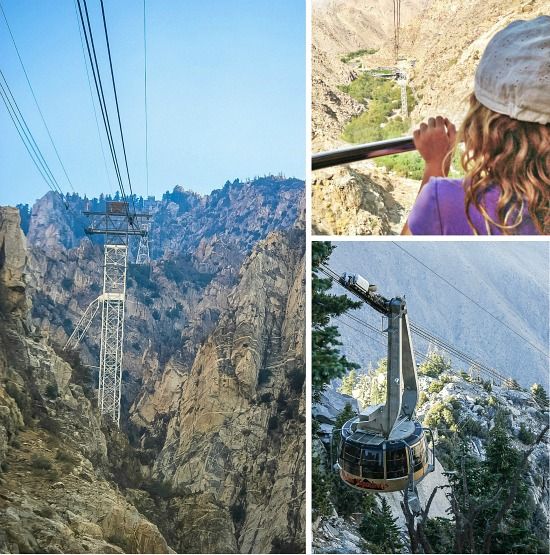 The ride on the aerial tram is fabulous and the kids (especially Flynn) loved it. It's all standing room on the tram, but it slowly rotates 360 degrees as you go up the mountain so you get to experience the views from every angle.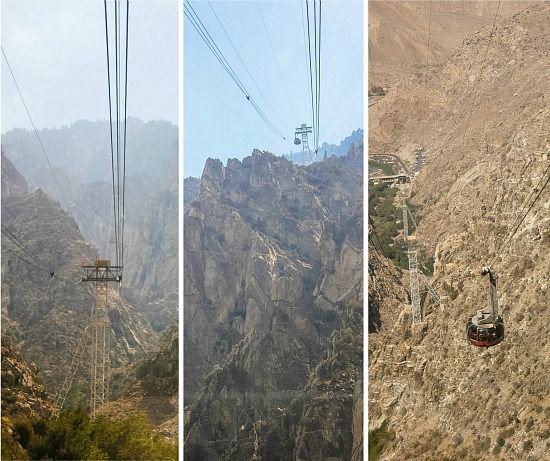 Before dinner, we headed out on a nature walk, where we spotted various birds, squirrels, and a snake slithered across the path right in front of us. It was absolutely breathtaking up there. We watched a short film at the Mountain Station and took in the amazing views, and the not-so-amazing ones (thanks to the smoke from the nearby mountain fires).
After exploring a little, we headed to dinner at Peaks Restaurant. We had a fabulous view from our window table. The kids were thrilled to see a raccoon on the deck outside begging for food from all of the visitors.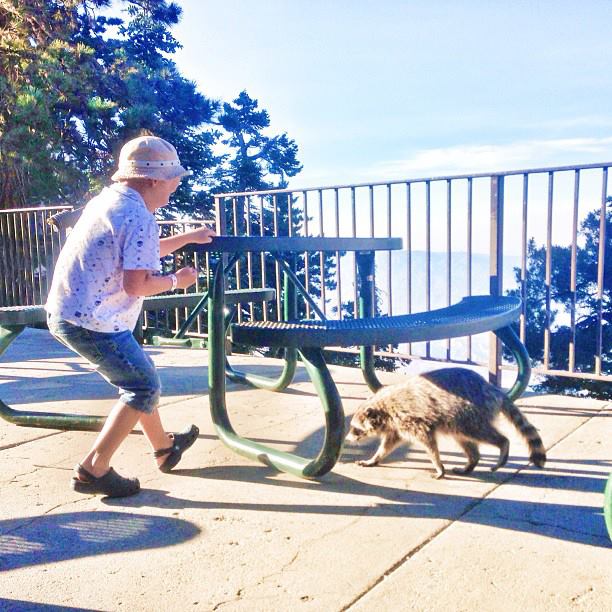 Take a look at the photo below.  This was what I could see in my mirror as we were driving back to The Westin Mission Hills Golf Resort & Spa. As the sun was setting, the smoke from the local mountain was turning the sky shades of orange, yellow, and red.