We go on a lot of road trips, the kids have extra curricular activities and there is always waiting around at doctors offices and various other appointments, so taking snacks or lunch with us not only saves us money, but also reduces the number of times we might be tempted by the dreaded (aka unhealthy) drive-thru. We had some adorable little lunch sacks that the preschool teachers gave the twins last year as gifts, but I had wanted to make new ones for a while.

Now, I don't have a complete tutorial for these, but they are very easy to make; I kind of winged it, as I tend to do sometimes.
I came across absolutely gorgeous handmade lunch bags on The Purl Bee but knew I wanted to use oilcloth (which I had quite a few bits and pieces in my stash, and thought it would be easier to clean) like Skip To My Lou had used to make hers.
So I decided to start measuring and cutting and see what happened.
So this is what I cut:
2 9″ x 7″ rectangles (front and back)
2 4″ x 9″ rectangles (sides)
1 4″ x 7″ rectangle (base)
Using my sewing machine I stitched a hem along the top of each of the side, front and back pieces. I then stitched the side, front and back pieces together. Then stitched the base of the bag on last.
Next, I stitched a small piece of cord elastic to the inside of the back into the shape of a loop.
I handstitched a large button to the front of the bag.
I found some strong ribbon in my stash, hemmed it and hand stitched it using embroidery thread to the top of the back of the lunch bag to make a handle.
And that was it.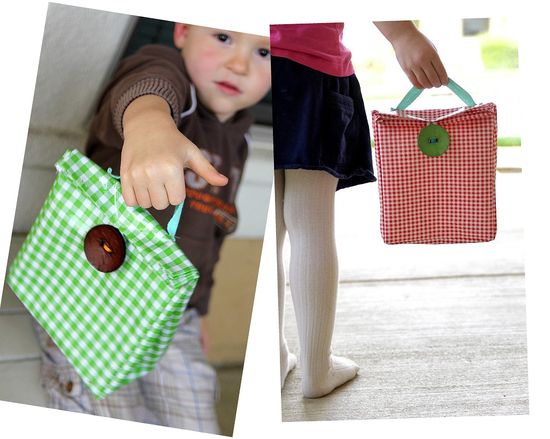 AS SEEN ON:
10Marifet.org | iVillage | BabyCenter UK | SheKnows
Save