Have your child store their special stickers, awards, and other items they want to collect in a handmade scrapbook album. We'll show you how.
UPDATE: This craft project was initially created for a website by the name of Kidzui, however that website no longer exists.
My kids absolutely love it when they get stickers and stamps for a job well done.  What they don't like is leaving them on their t-shirts, and then the t-shirts going through the wash, or them washing away in the bath.  So we made some adorable memory books to store their treasures.  Head on over to Kidzui for the full instructions.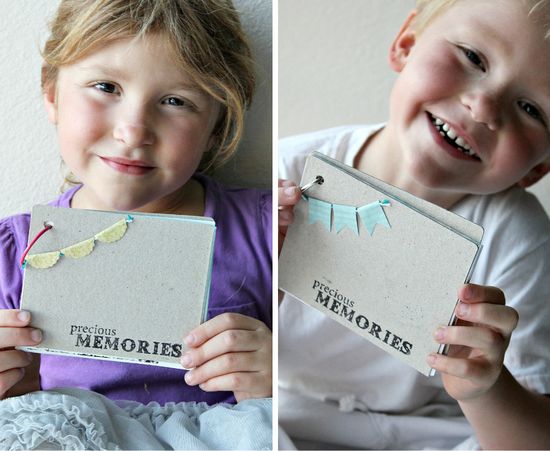 These books are the perfect way for kids to store their special memories.
What you need:
chipboard album
plain paper
book binding rings
stamps
decorative banner – or alternatively, scrapbook paper and string
You can purchase chipboard albums at most craft stores, this makes it so much easier to make your own custom albums, however if you want a certain size you can also buy sheets of chipboard and cut them to size.
Cut paper to fit into your album, hole punch the side, and then put your album together using the book binding rings.
Use stamps to create your album title, and then add a little decoration to it. I found these super cute mini banners that are normally used for scrapbooking, but you can make your own too.
Save
Save