These homemade peanut butter chocolate granola bar bites made using REESE'S Spreads are perfect for school snacks, picnics, or after school snacks.
Disclosure: I received compensation and information and/or free products from The Hershey Company and/or Collective Bias. All opinions expressed within are my own. #AnySnackPerfect #CollectiveBias
We eat a lot of granola bars here. The kids take them to school for their morning snack, we eat them at home, and I often throw a couple into my bag for when the kids get hungry in the car, or we are heading out for the day hiking or to the beach.
Of course, though, the kids are very particular about the kinds of granola bars they will eat, there must not be raisins, fruit, or nuts (that are visible) at all, under any circumstances.
So I decided to try my hand at making my own. I may have eaten 9 of these tasty little peanut butter chocolate granola bar bites right after making them, it was afternoon tea time after all.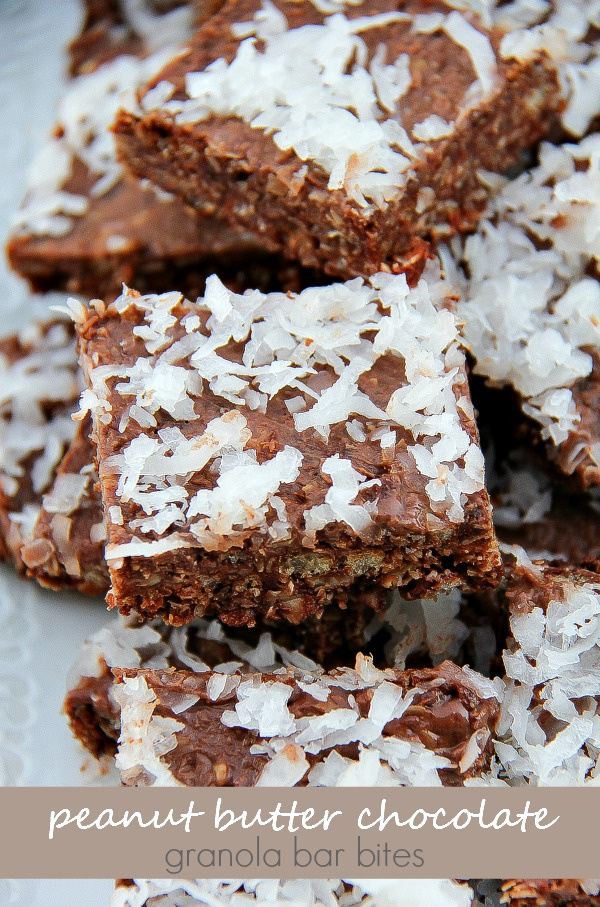 These are incredibly easy to make. Most of your time will be spent tapping your fingers waiting for the oven timer because the smell wafting through the house is driving you crazy.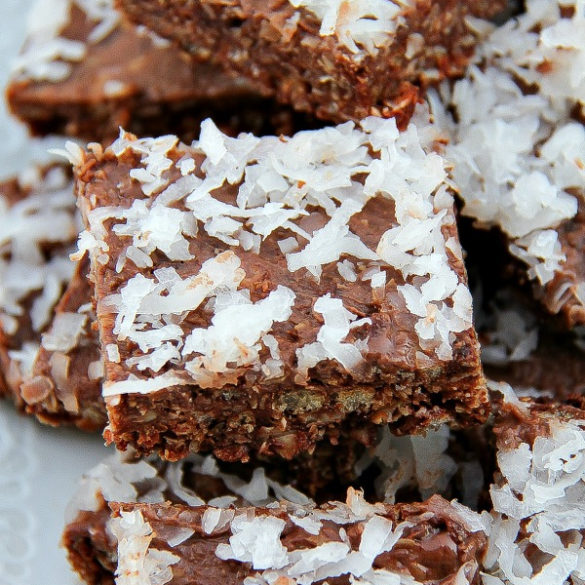 Ingredients
3 cups quick-cook oats
2 cups Rice Krispies
1/4 cup ground flax
1/2 cup coconut flakes + extra to sprinkle on top
1/4 cup Reese's Spreads peanut butter chocolate + extra for spreading on top
1/4 cup honey
2 tbs butter - melted
2 tbs coconut oil - divided in half
1/2 cup brown sugar
3/4 cup chocolate morsels
1 tsp vanilla extract
Instructions
Preheat the oven to 350F.
Line a baking tray with foil.
Combine the oats with 1 tablespoon of coconut oil and the melted butter.
Cook in the oven for 15 minutes. Pull it out a couple of times to stir and make sure the oil and butter are mixed through and the oats aren't burning.
While the oats are cooking, in a saucepan combine the flax, honey, 2 tablespoons of Reese's Spreads peanut butter chocolate, 1 tablespoon of coconut oil, the brown sugar and vanilla extract.
Bring to the boil stirring constantly and ensure there are no lumps. Note: this will cook fairly quickly and will also harden quickly too, so make it during the last 5-6 minutes of the oats cooking in the oven.
Once the oats are finished, turn the heat down to 325F.
In a large bowl gently combine the toasted oats with the coconut flakes, Rice Krispies, and chocolate chips. Once combined, pour over the peanut butter chocolate sauce and mix thoroughly.
Line a slightly larger baking tray with parchment paper. Press the mixture onto the paper. If it's not pressed enough it will fall apart when it's sliced.
Bake in the oven for 18-20 minutes. Set aside to cool a little, and then transfer to the refrigerator to cool completely.
Once cooled, spread a thin layer of Reese's Spreads peanut butter chocolate over the top and then sprinkle with more coconut flakes.
Slice into small squares and store in an airtight container.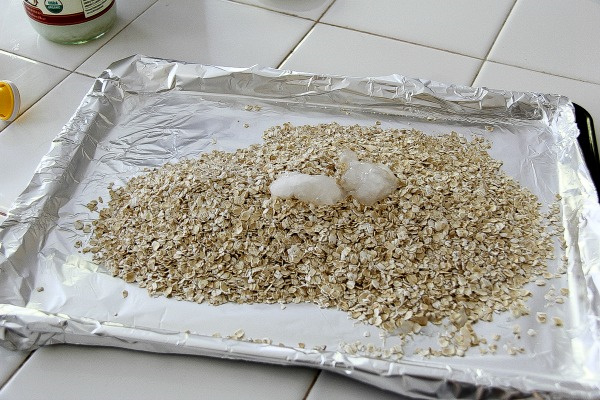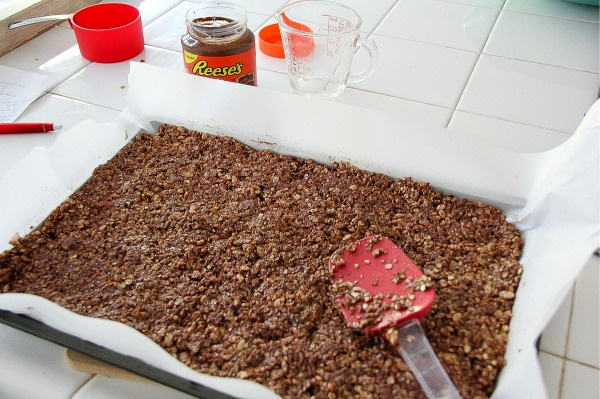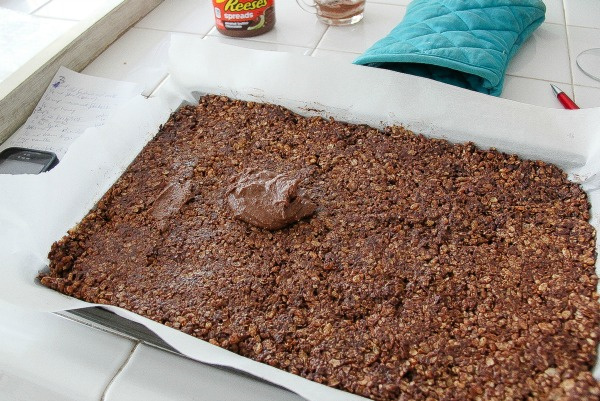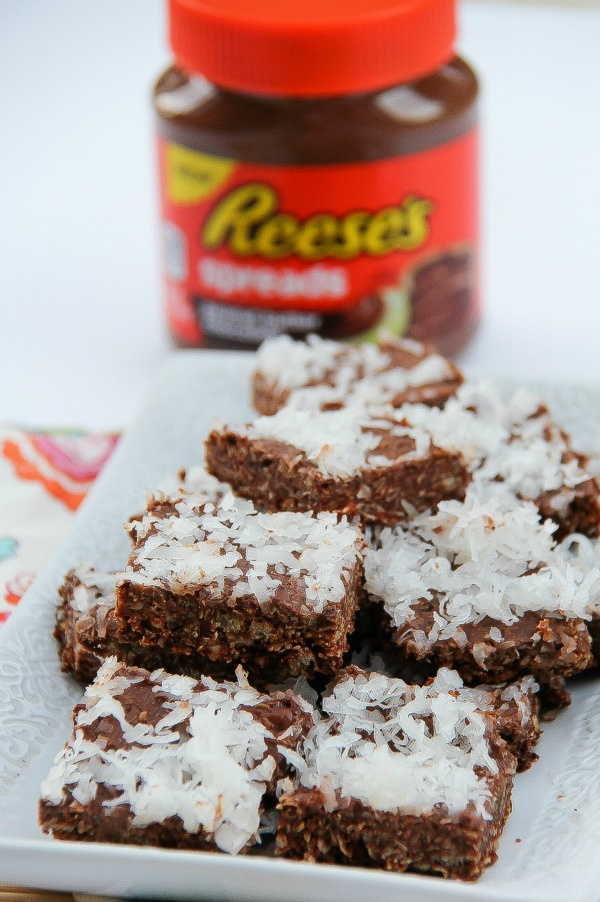 REESE'S Spreads are based on the iconic Reese's Peanut Butter Cup. They are the perfect combination of chocolate and peanut butter flavors in spreadable form.
How to use Reese's spreads
On toast, waffles, and pancakes
As a dip for apples, bananas, pretzels, and vanilla wafers
In your favorite dessert and snack recipes
New REESE'S Spreads are available at Walmart.
Please pin this post for later: