We had a Marine  wives girls night out during the week.   We always go to the same salon … they let us bring in wine and snacks.  We like that.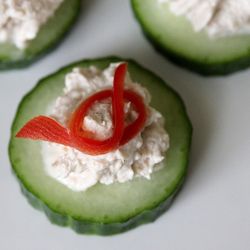 I took these yummy little Salmon and Cucumber Rounds.  It had been a hot day and I thought these would be a refreshing treat.
The original recipe comes from Family Circle: Fabulous Party Pieces.  It's a recipe book (the type you get as you check out at the grocery store) that I picked up when I worked for the distributor in Australia, way back when ….
I amended the recipe just a little:
Ingredients:
2 European cucumbers
2 x 6oz cans of pink salmon (boneless and skinless) – drained
120g cream cheese
1 tsp ground coriander
1 tbs sour cream
1 tbs plain yogurt
Juice from 1 lemon
Pinch ground pepper
1 red bell pepper
Put salmon into a medium sized bowl and break apart with a fork.  Mix in the cream cheese.  Gradually add the coriander, sour cream, yogurt, lemon and ground pepper.  Combining as you go. 
Slice the cucumber into fairly thick pieces.  Top with the salmon and cream cheese mixture.
Top with thin shaved strips of red bell pepper.