Stay at a cabin in the woods at Jenny Wiley State Park. Kids will love swimming in the pool, elk watching, and canoeing on the river.
I'm not sure if I've mentioned it on here before, but Mike and I (and occasionally the kids when they are with us) have taken on completing the Kentucky State Parks Culinary Trail.
The Culinary Trail runs until October 31st, but that means if you live in Kentucky, you can still potentially get all nine stamps in your Culinary Trail passport and turn it in on time. Basically, you eat your way around the state tasting local cuisine and traditional dishes. Obviously, they had me at food.
We still have two more stops to make (which we are hoping to do next weekend if we aren't tugged in the direction of a bourbon festival instead). One of our most memorable stops on the trail so far has been at Jenny Wiley State Resort Park.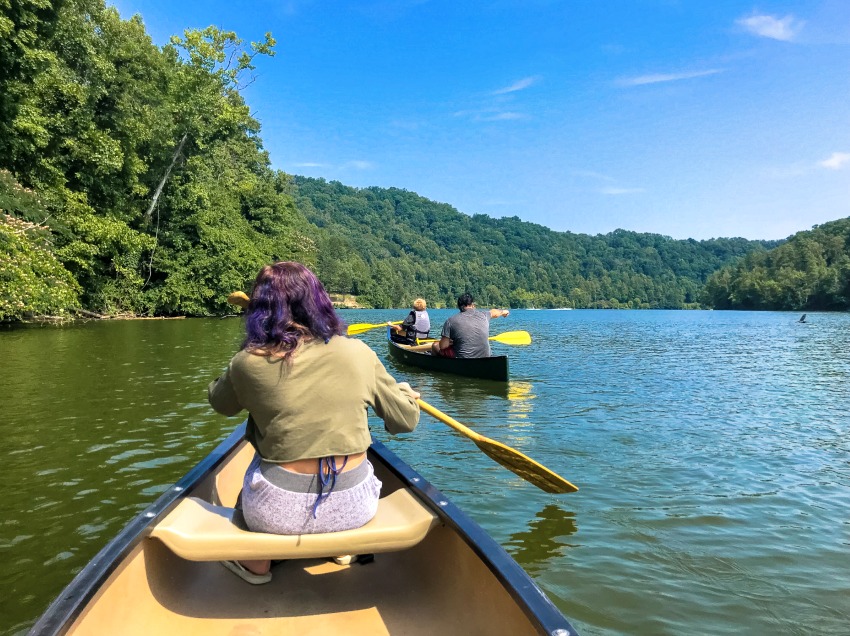 We rented a cabin here for a weekend with the twins'. They were adamant they didn't want to camp, so we thought the safest route (for our sanity) was to get a cabin. We did joke a lot about how there'd be no WI-FI once we got there. They were horrified. We laughed and laughed …
AND THEN THERE WAS NO WI-FI! I can't make this up, it was patchy throughout the drive up there, but we got into our cabin and nothing. NOTHING! Mike and I were more horrified than the kids I think. Not because we can't be without WI-FI, we often go away and have none, but we were going to have to sleep with one eye open because the kids were NOT. HAPPY. ONE. BIT!
I'm going to apologize right now for the photos, unfortunately, I didn't take my camera with me so only had my cell phone to capture a few memories.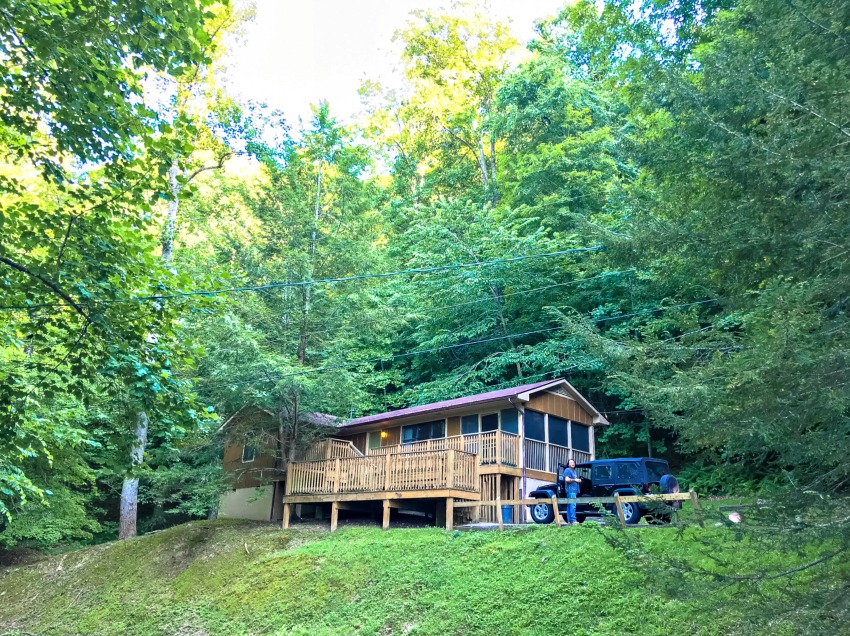 We did have televisions in the cabin, three of them actually. So at least there'd be no fighting over that. Mike and I had one in our bedroom, and instead of sleeping in the second bedroom with his sister, Flynn opted to sleep on the couch so he'd have his own screen.
We had arrived in the afternoon and found out that there was WI-FI at the lodge. So, Mike and I took off into town to pick up milk for the kiddos, and when we got back we headed to the lodge for an early dinner. The food was fantastic, even the kids liked their meals, and the view of the river was beautiful. There were bird feeders outside the window as well so we watched the birds hopping around outside on the hill.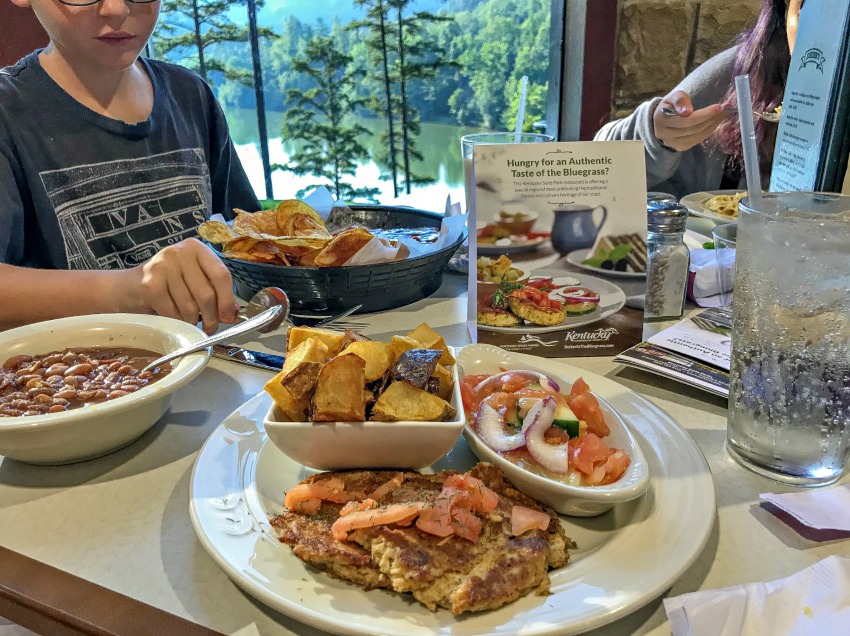 After dinner, the twins' weren't ready to head back to the land of no WI-FI so wanted to stay at the lodge for a while. Not a problem at all. A band had just started playing on the balcony, so Mike and I popped back to the cabin and picked up the milk we'd bought for the kids, settled them onto big comfy couches next to outlets in the lobby of the lodge and we headed outside to watch the sun setting over Dewey Lake and listen to the live music. It was perfect!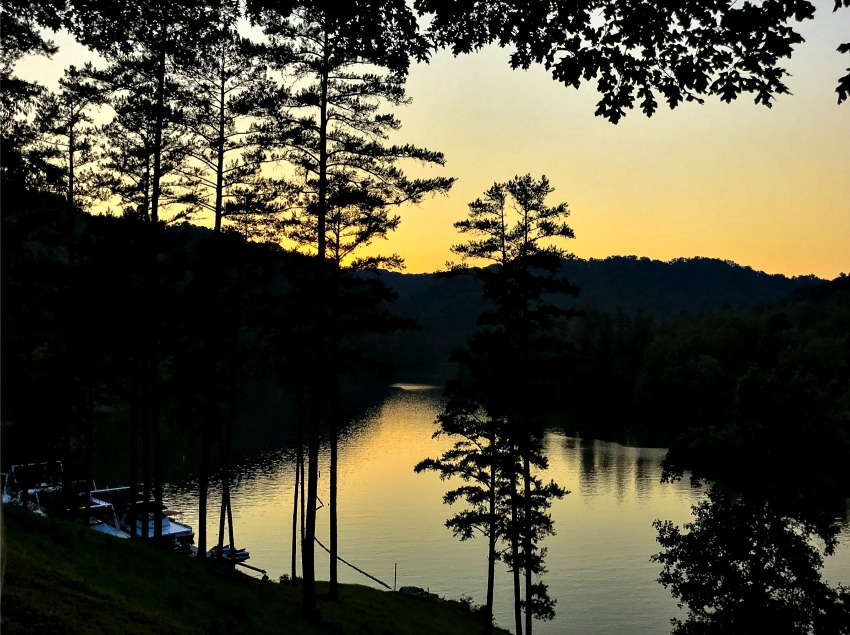 Once it was dark and the band had packed up, we heard that they were setting up a screen on the balcony to watch JAWS! We asked the kids if they wanted to watch it, they were happily playing on-line and chatting with friends, so Mike and I got in quite the date night until the kids were finally ready to head to bed.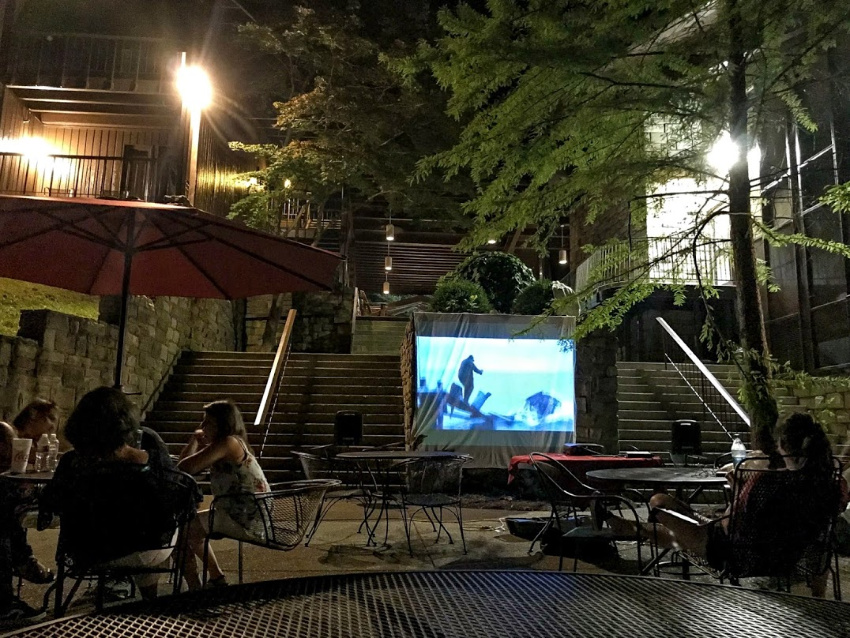 The next morning we woke up to the sounds of birds chirping and chipmunks and squirrels playing outside in the grass. We headed back to the lodge for breakfast and then down the hill to the dock where we rented canoes to head out onto the lake.
I grew up kayaking and canoeing (and so did Mike) so we absolutely loved this. The kids had never been before so it was quite an experience for them. Flynn thought you had to go as fast as possible to get to … we have no idea where he was trying to get to quickly. Marisol kept having to 'take a break' and hold her phone up looking for a bar of service. But, I know they both enjoyed the experience.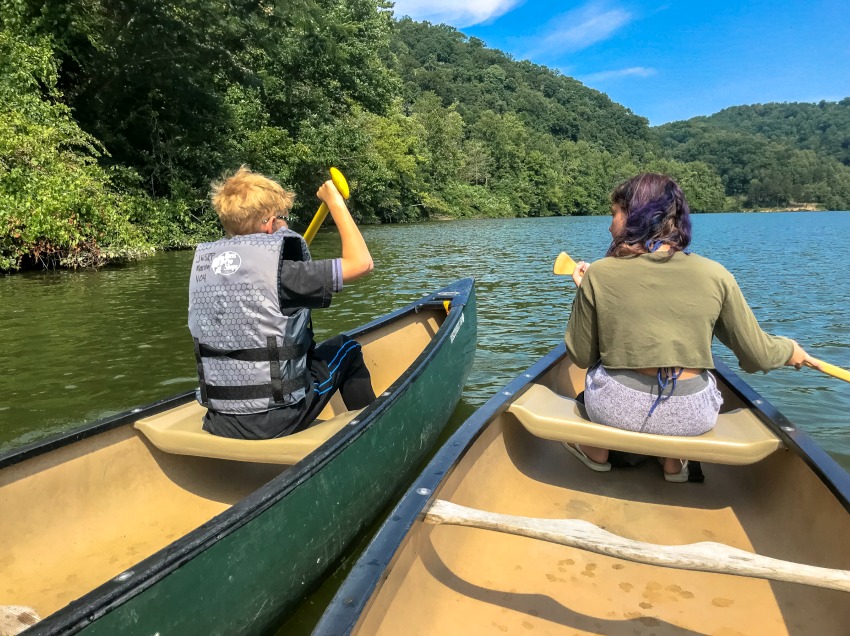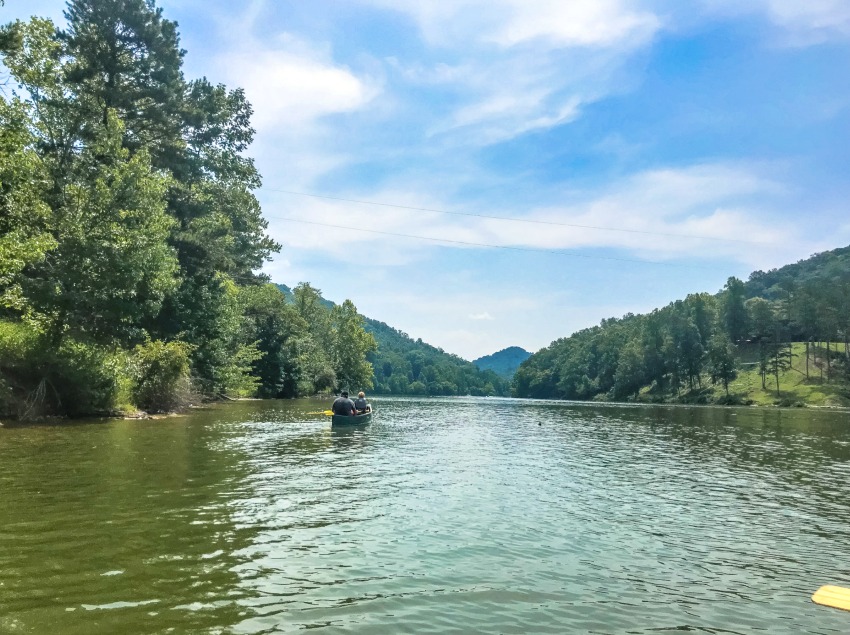 Things we would love to do next time we go, but didn't get a chance to this time:
The outdoor theater
Hiking
Elk and bird watching
Fishing
And yes, they do have an outdoor swimming pool as well.
And, even with the lack of WI-FI, it's still been our most memorable State Park visit so far. Of course, we do love Lake Cumberland too, but there was something so peaceful and pretty here, and they had so much to do. Maybe it's just that we were able to sneak in a date night and keep the kids happy at the same time.
Please pin this post for later: