The best Halloween treats are made with just 3 ingredients, and these Halloween party foods are sure to please all of your Halloween party guests.
This post is sponsored by Tyson Foods Inc, but the content and opinions expressed here are my own.
Halloween is just around the corner, our decorations are going up, and it's time to start thinking about party food!
There's nothing that I love more than fun Halloween party food that the kids will love. Tyson®, State Fair® and Hillshire Farm® products are the perfect addition to your celebrations!
I've previously shared with you a couple of really simple 3-ingredient Halloween treats, well, I'm back with even more. Because nobody wants to make a fun party spread with food that requires a ton of ingredients and are difficult to make. These spooktacular treats though are perfect for an after-school party with the neighborhood kids, or a big Halloween bash.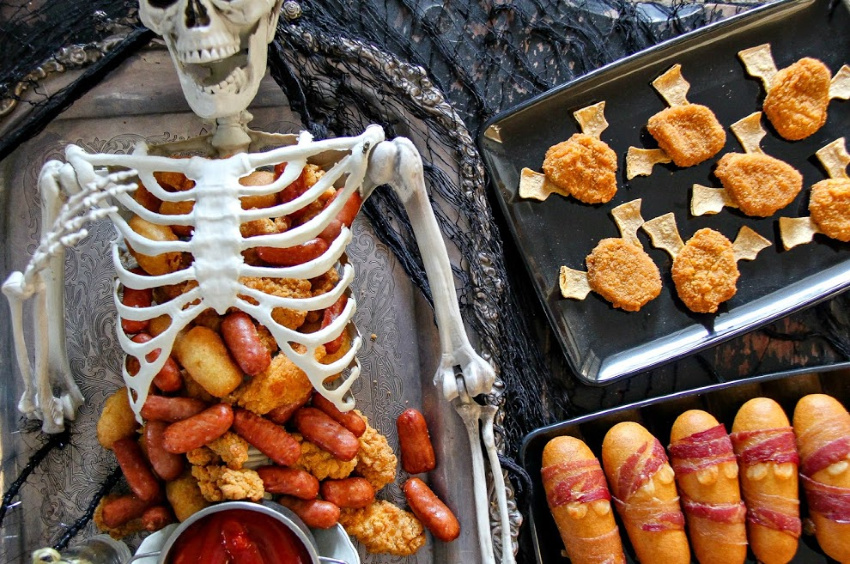 You can get everything you need to make this fun Halloween party food from Walmart, including a skeleton for the party platter … just make sure to give it a really good clean before placing food on it.
Let's start with the Chicken Nugget Bats and then I'll show you how to prepare everything else here.
Chicken Nugget Bats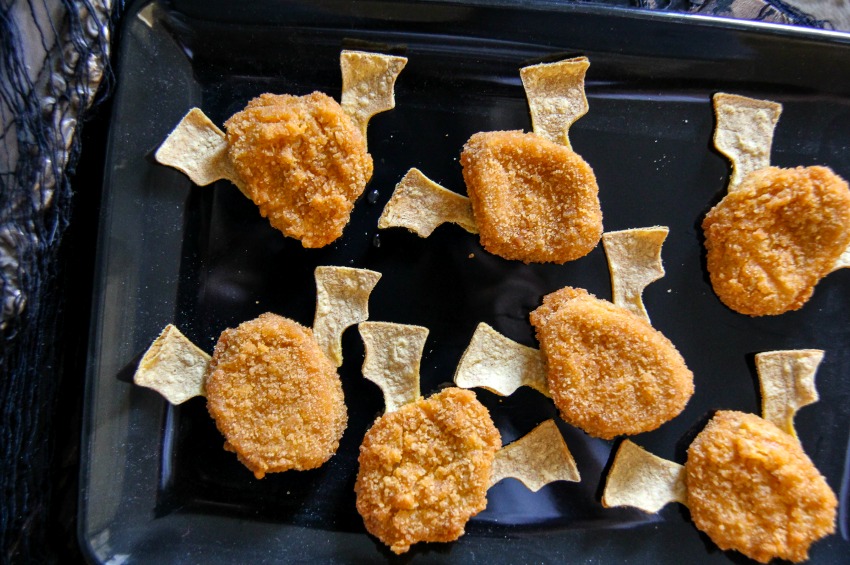 How cute are these? … I mean spooky. They're totally spooky!
Ingredients:
Tyson® Chicken Nuggets
Yellow corn tortillas
Mozzarella cheese stick
Preheat the oven to 400F.
Using a bat-shaped cookie cutter, cut out bats from the yellow corn tortillas. Place them on a baking tray lined with aluminum foil.
Cut thin slices of the mozzarella cheese stick and place it on the center of the tortilla bat, and then place the chicken nugget over the top. This will make the tortilla attach to the nugget during baking.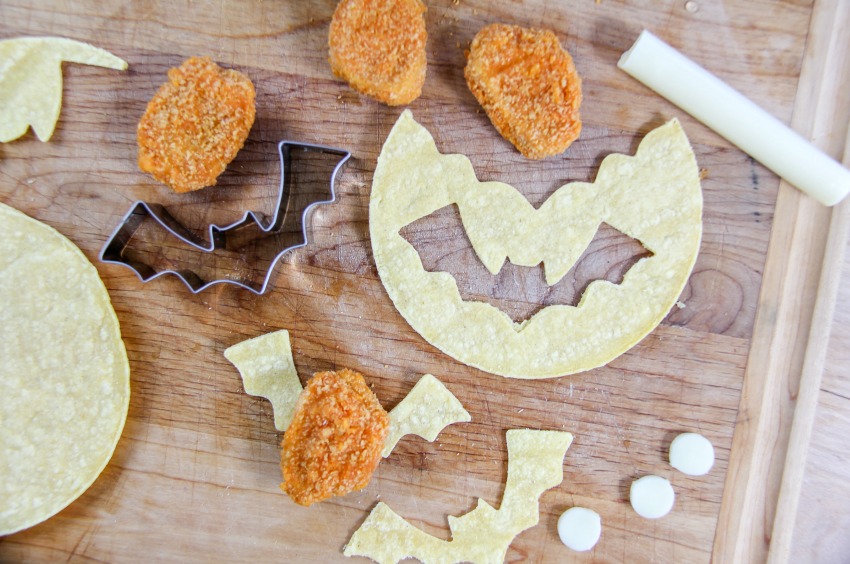 Bake according to the Tyson® Chicken Nuggets package directions (for approximately 13 minutes).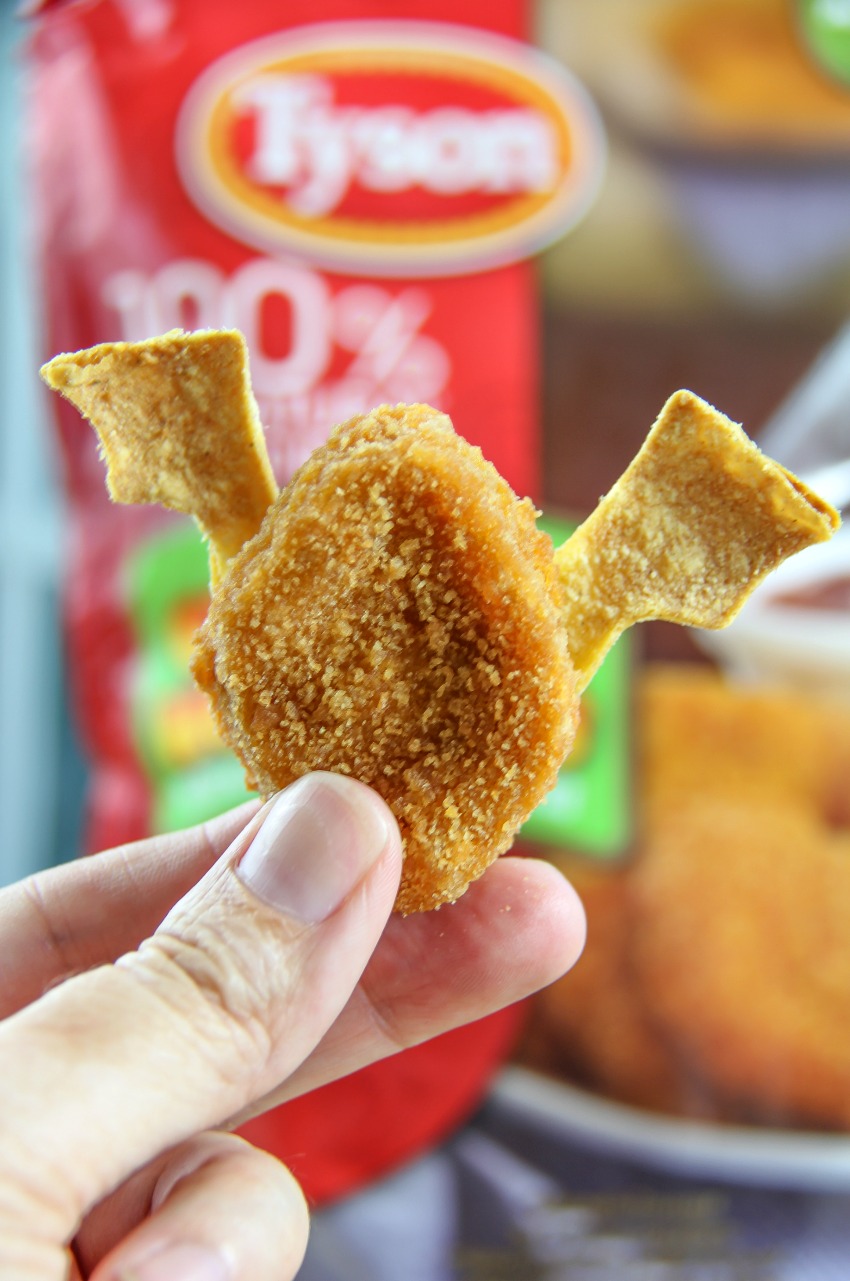 CORN DOG MUMMIES
These corn dog mummies wrapped in bacon are the perfect addition to your Halloween party table.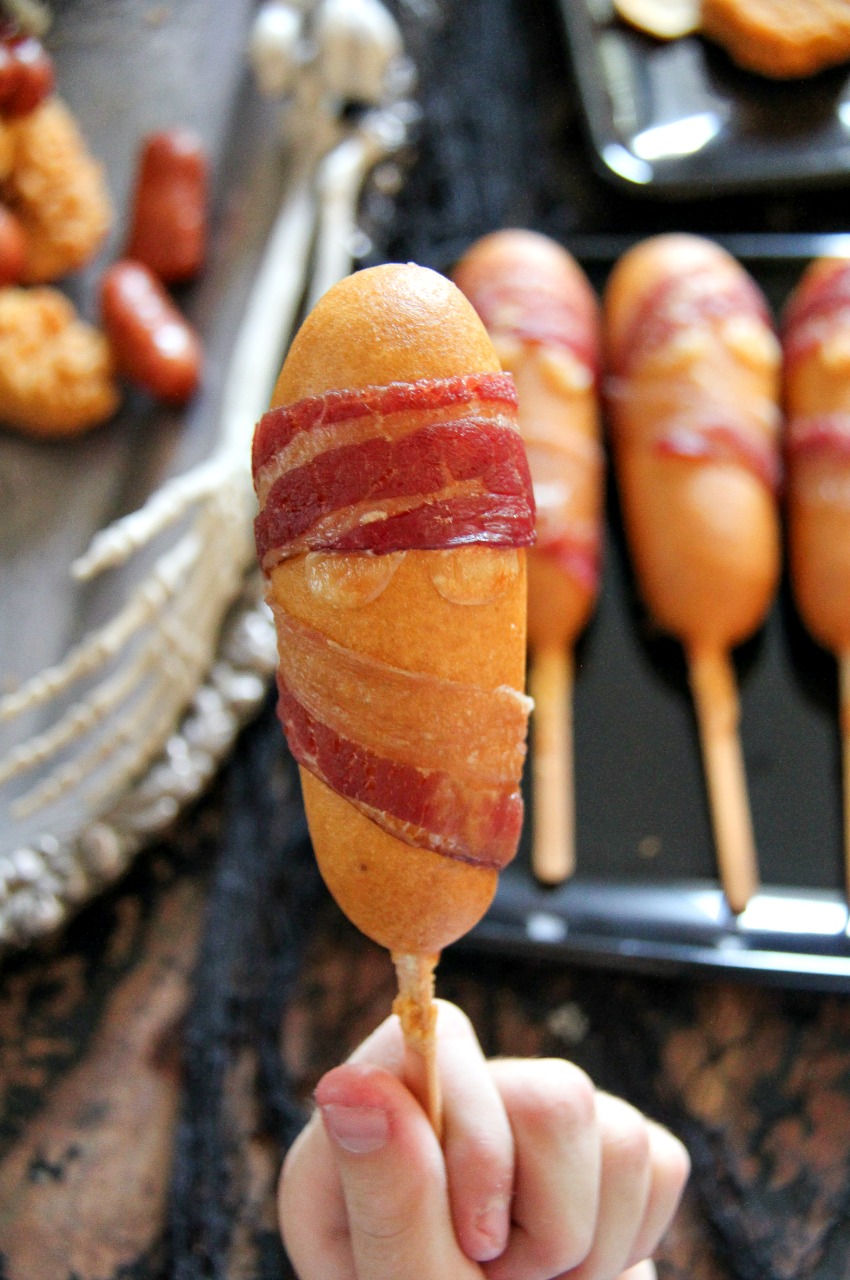 Ingredients:
State Fair® Corn Dogs
Bacon – thin sliced
White cheddar cheese slice
Preheat the oven to 375F.
Wrap the corn dog with bacon, and place on an aluminum foil lined baking tray.
Cut small pieces of cheese to make the eyes and tuck them under the bacon. Tip: I used the end of a cake decorating tip to cut out the eyes.
Place into the oven and cook according to the directions on the State Fair® Corn Dogs package.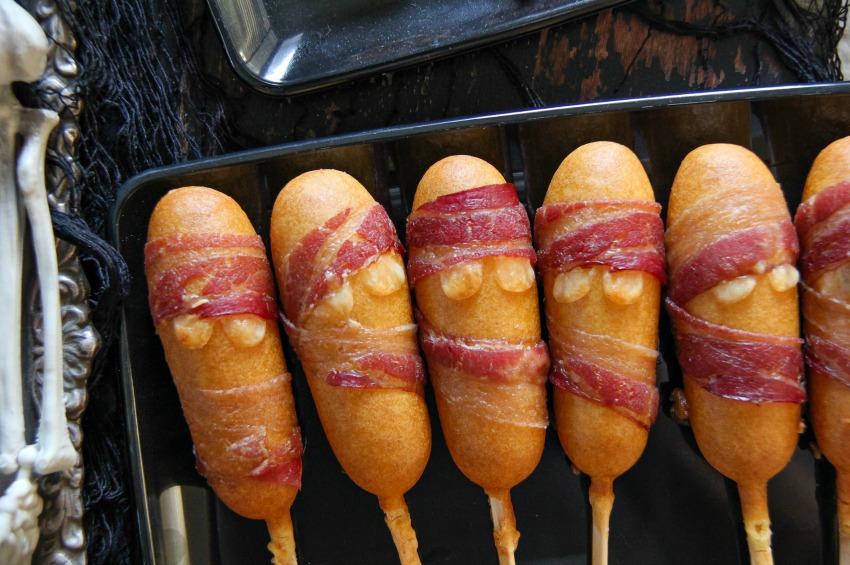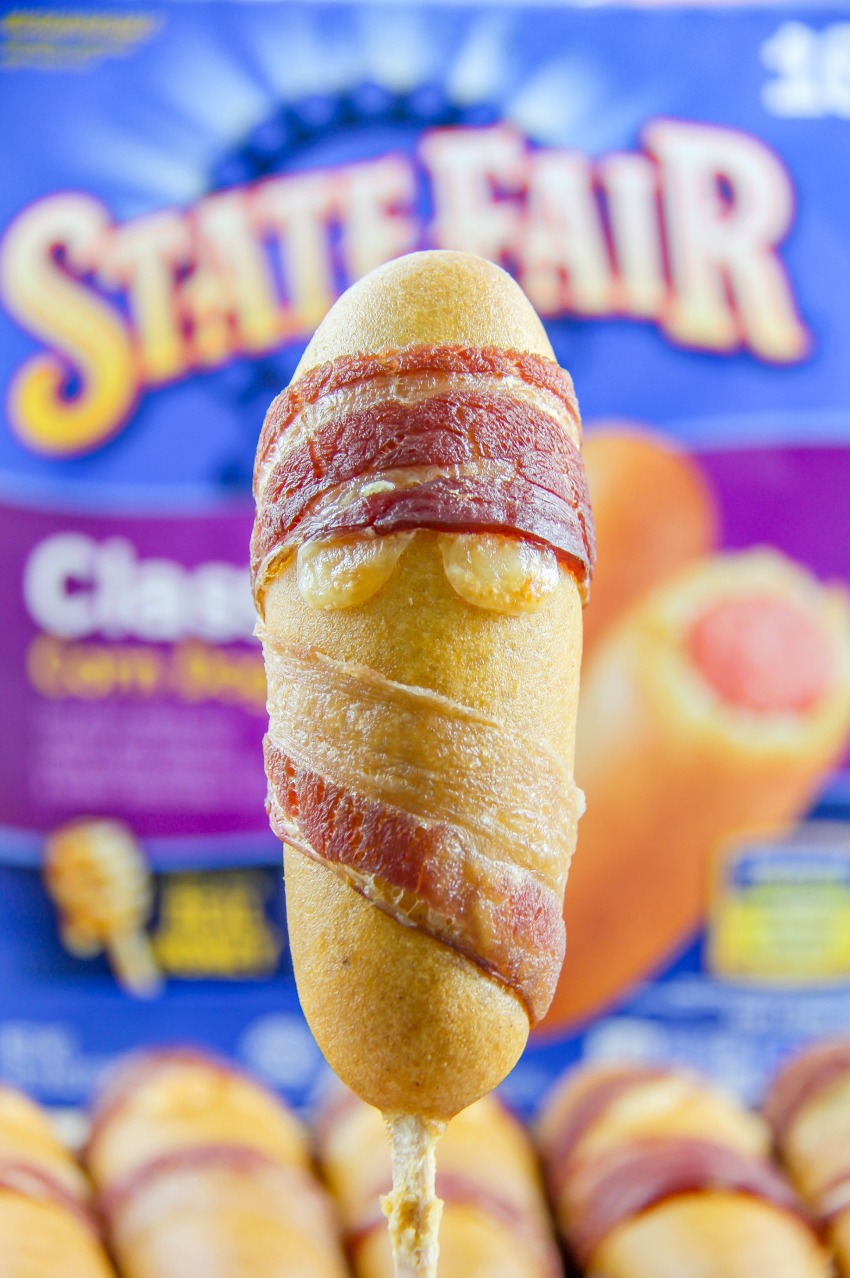 SKELETON PARTY PLATTER
These skeleton party platters are the easiest of all to prepare. Simply wash out a skeleton, place it on a tray, and fill with your favorite Tyson®, State Fair®, and Hillshire Farm® brand party foods.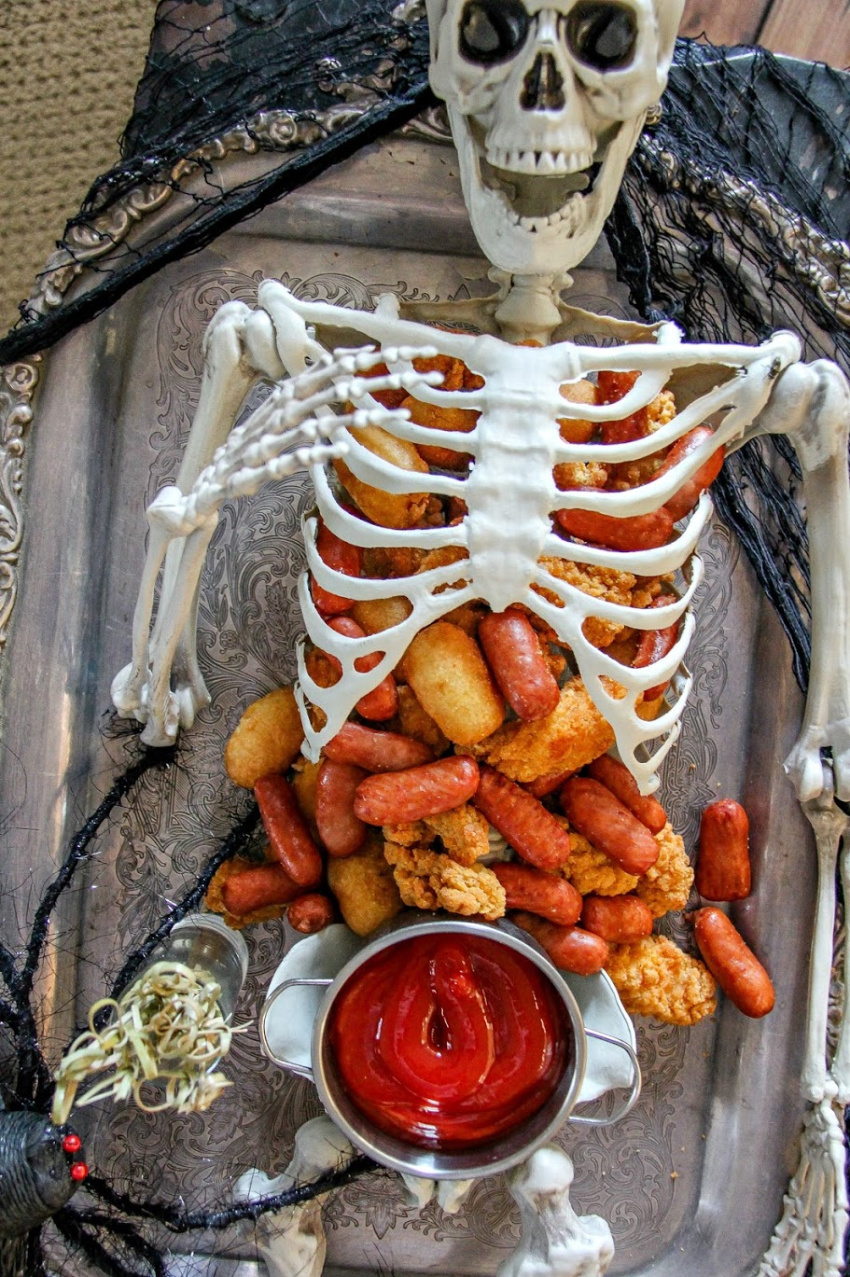 For this party platter I used:
State Fair® Corn Dogs
Hillshire Farm® Lit'l Smokies® Smoked Sausages
Tyson® Crispy Chicken Strips
Prepare all of the above treats according to the package directions, and then place inside your skeleton.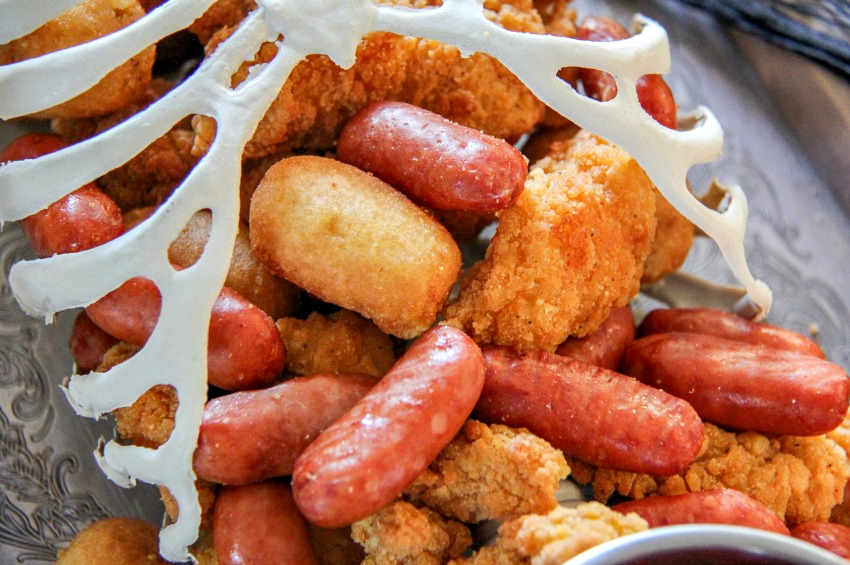 Don't forget a bowl of ketchup, and party picks.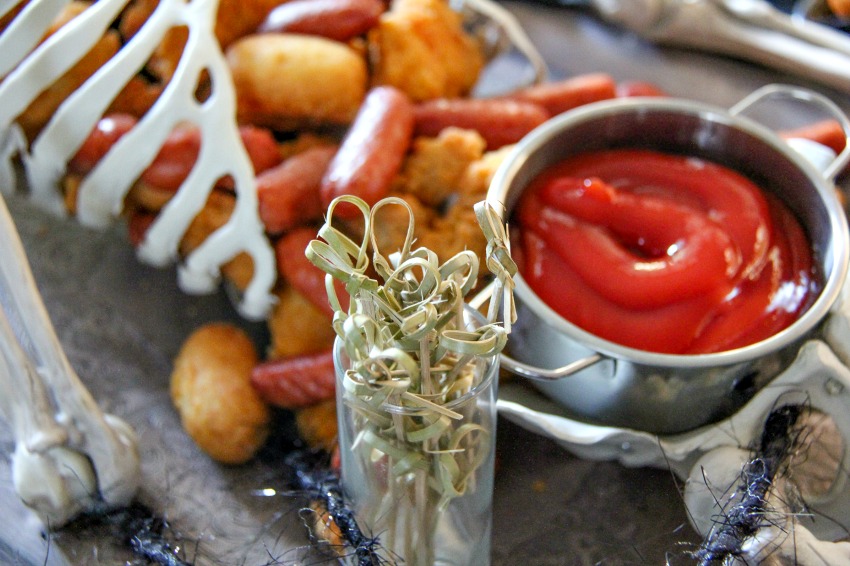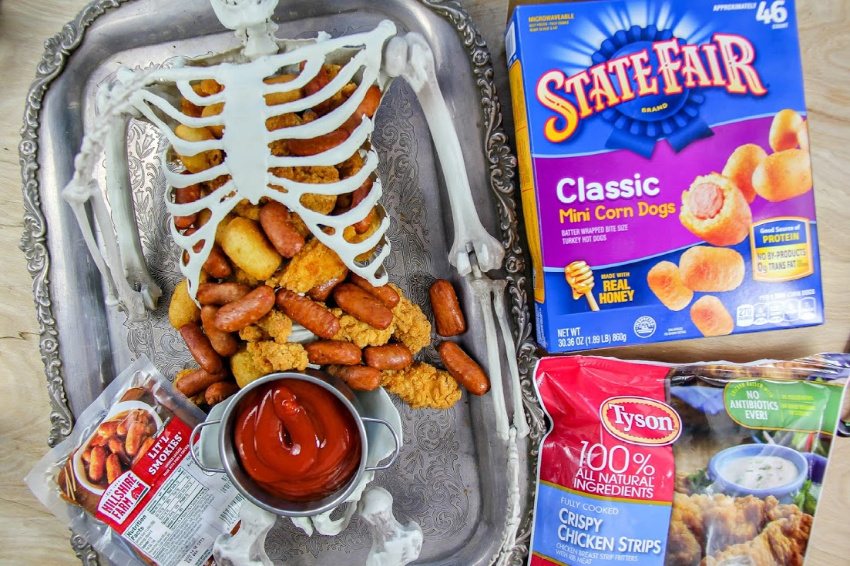 Looking for more great Halloween party ideas? Check out FeastOnFrightBites.com for more inspiration.
Please pin this post for later: