Our craft room ideas, DIY furniture, storage hacks, and cabinets for organizing your craft supplies will inspire you to transform your space.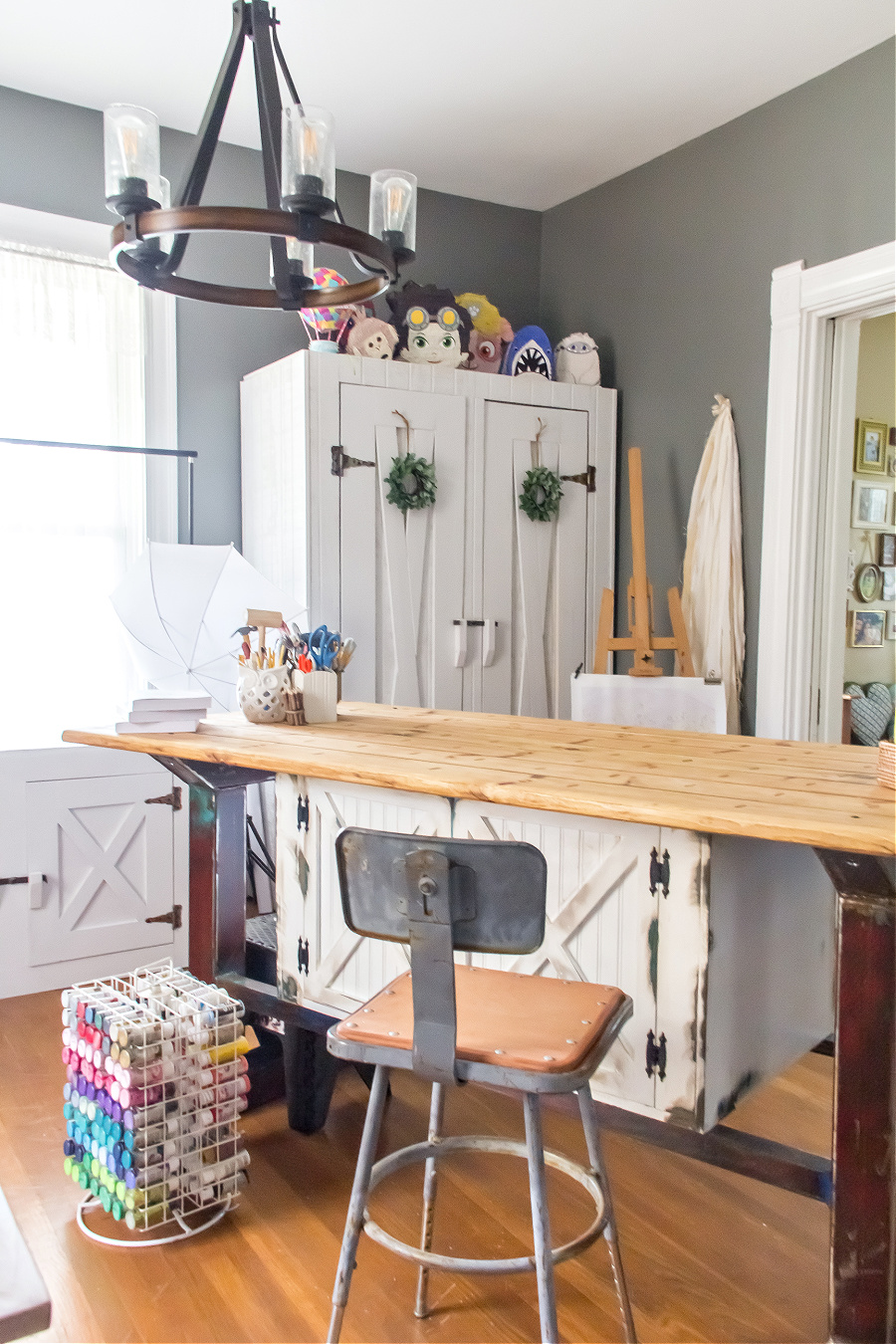 When we were looking for a new house to buy, one of the must-haves on our list was a space for my office and craft room. This house had the perfect space, which is actually a formal dining room. We have a large eat-in kitchen that (after we renovate) will comfortably fit our large dining table so we didn't need a formal dining room too. There are two windows for natural light, a fireplace to use as a backdrop for photos, and pocket doors that open into our living room so I can watch television while I'm working.
I won't subject you to see the mess that is my office desk yet, but let me give you a tour around the rest of the room. There is still a lot of work to be done in the room, but I'll continue updating as we finish projects.
Craft room ideas
Large craft table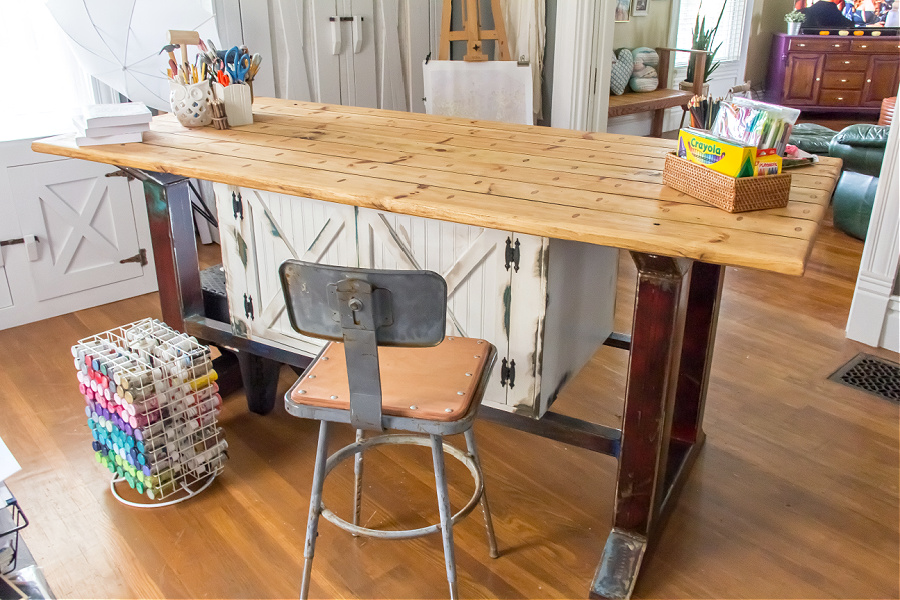 I absolutely love my large craft table. The top of it is an old barn door that we were going to hang in the bedroom at the old house but never ended up doing it. The cabinet (where most of my painting supplies are stored) is part of an old television stand that Mike had built for his daughter many years ago. The legs we had in storage in the garage. Mike put all of these random bits and pieces together to build me this custom craft table.
A few months ago we hit the road to do a portion of the 127 yard sale. You need to look it up if you've never been, it's seriously huge. I found this metal stool at one of our stops. The seat needed to be completely replaced and about an hour after we got home Mike did just that. I'm still on the hunt for 2 or 3 more stools to go on the other side of the table for when the grandkids and the twins want to (or need to) do projects.
Sewing storage ideas
I take on all kinds of crafts in this room from art to kids crafts, photography, and of course, sewing and knitting. I love this sewing space.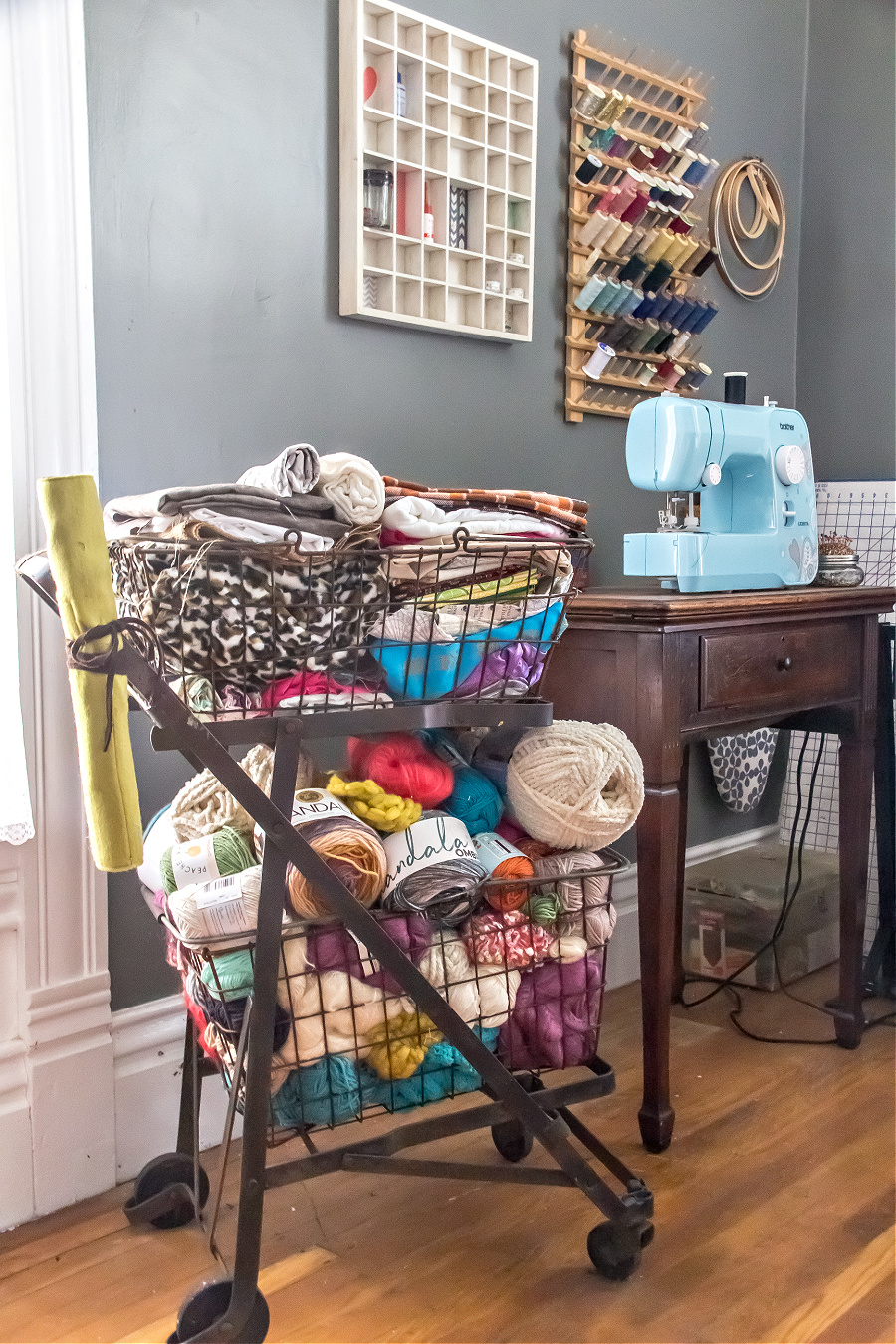 My favorite thing in my sewing space is this vintage shopping cart. I came across it at a huge antique mall at the Mellwood Arts Center in Louisville about 6 months ago. I knew immediately that I wanted to use it to store fabric and yarn. At the time though I couldn't justify the expense, Mike went back the next day and surprised me with it.
I still need to paint the sewing table so it matches the rest of the furniture, and paint the spool rack hanging on the wall as well.
Craft closet organizer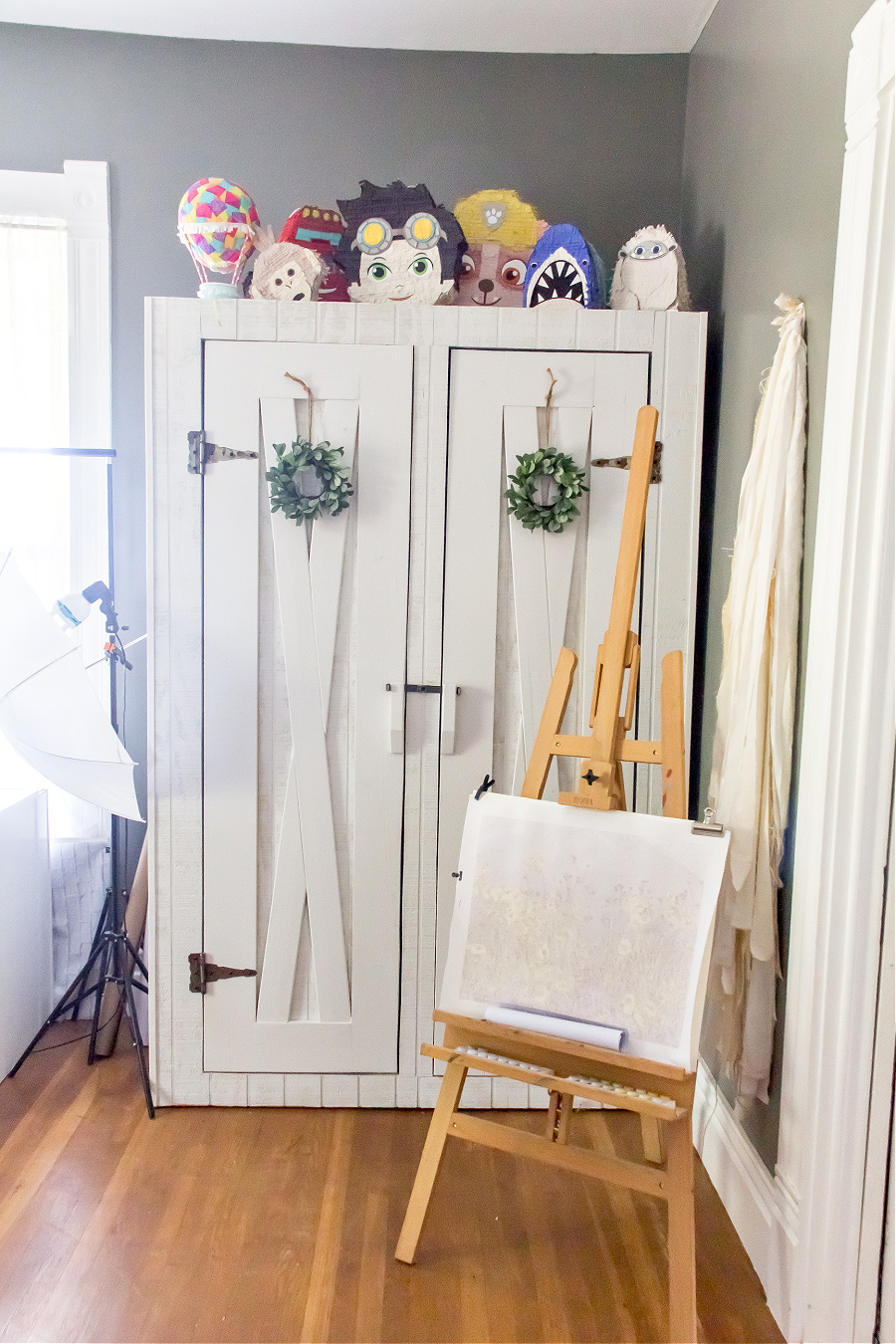 Mike was inspired by the doors on the craft table to build this closet for storing my craft supplies. Isn't it gorgeous? There is so much space inside that I've filled with baskets and clear containers to keep everything organized.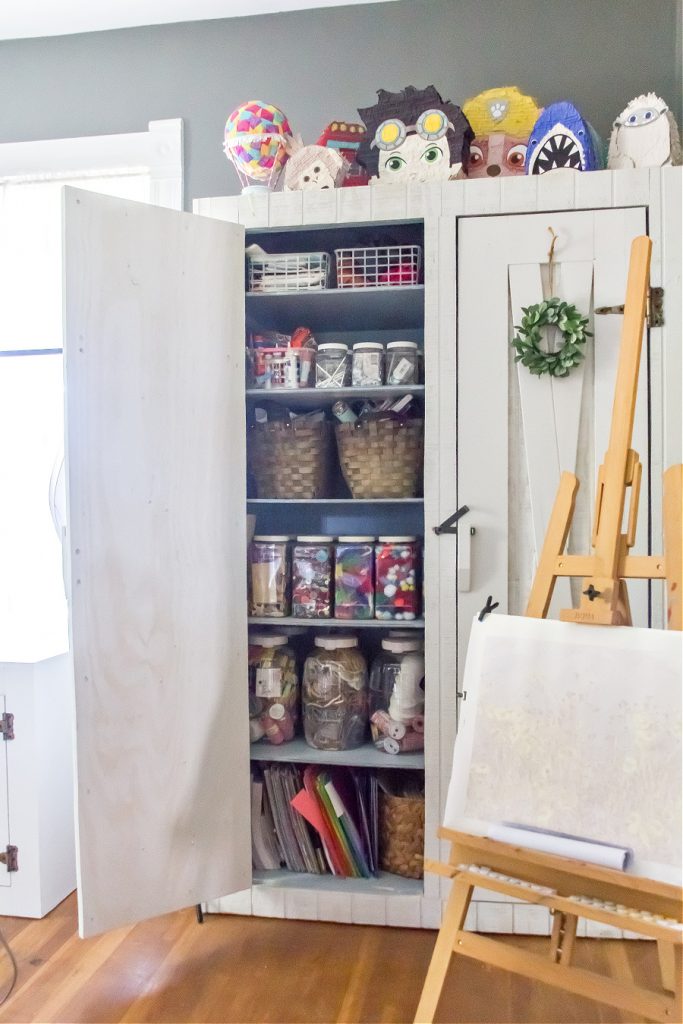 DIY home photography studio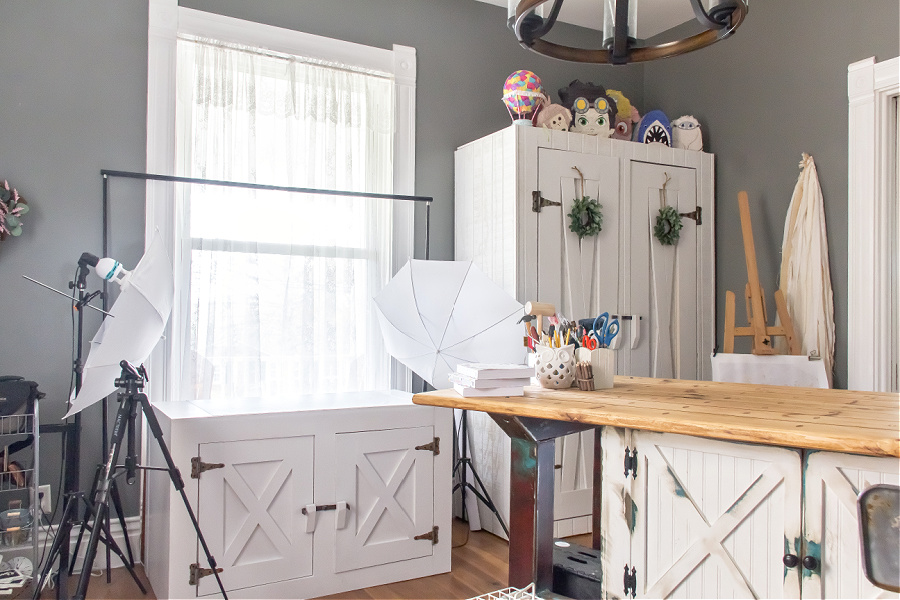 Seeing as I take nearly all of the photographs for my blog (and for clients) at home I also needed a photography space in my craft room. Once again, using inspiration from my craft table, Mike built this smaller white cabinet. Inside I keep a lot of props that I use for photos. Attached to the back of the cabinet is an open pocket that I store all of the backdrops and large colored cardboard sheets for photographing children's crafts.
Metal drawers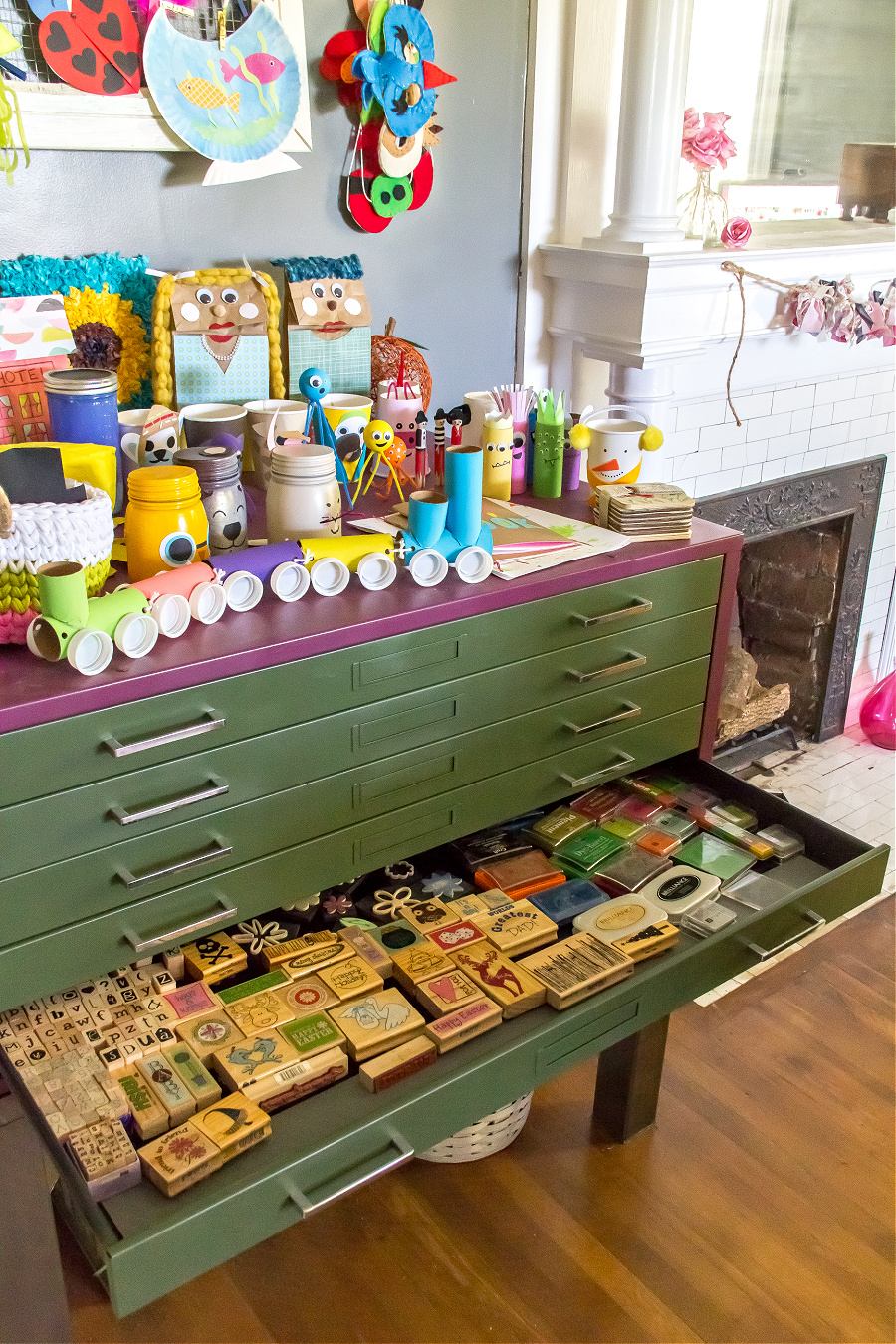 Before I had even met Mike he had painted these old metal drawers in purple and green. They are so much fun, and perfect for storing craft supplies such as rubber stamps, trays of beads, stencils, and tools.
More craft room ideas
Are you looking for more ideas for organizing your craft room? Take a look at my previous posts too: