This deliciously creamy chicken and bacon rigatoni recipe is made with and pairs beautifully with Middle Sister Rebel Red wine.
Disclosure: I was selected for this opportunity as a member of Clever Girls and the content and opinions expressed here are all my own.
Are you a middle sister? I'm the oldest sister. The one who got into trouble because my parents were still feeling their way around setting limits and boundaries. My sister is the middle sister. She's the one who is perfect at everything she does. The phrase 'how does she do it' was made just for her. Looking back, I think rules were created because of people like me.
I wasn't the easiest child. As a teen I may have climbed out the window to go to visit my boyfriend, may have attended clubs underage, dated a musician, and ditched school (before dropping out) in favor of watching soapies or swimming in a friend's pool. There may have also been a local hair salon where the dreamiest hairdresser worked that I spent too much time hanging out at during and after school. I'm not confirming or denying that any of that took place though.
My sister didn't drop out of school though. She has a great job, two amazing children, and still looks barely 18. She's not a rule follower, marches to the beat of her own drum, and she's a bit of a rebel.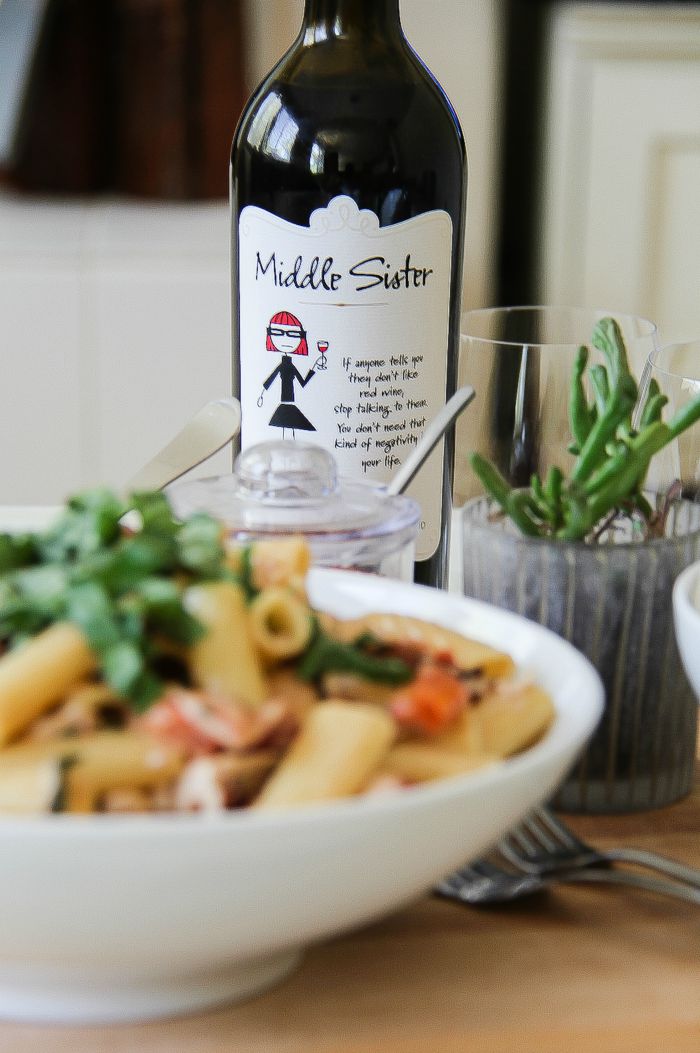 When it came to choosing a Middle Sister wine to feature it was only natural that I choose the Rebel Red.
Before I share more about Middle Sister wines and their sassy new labels … if you are like me you purchase wine based on the label … I have a delicious recipe for a creamy chicken and bacon pasta.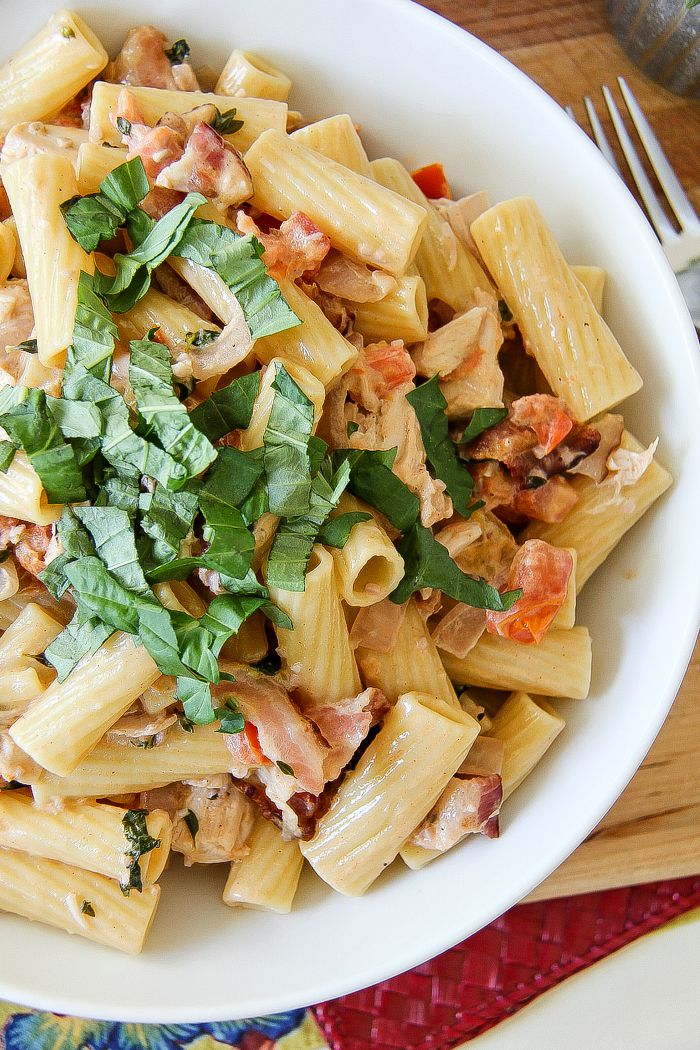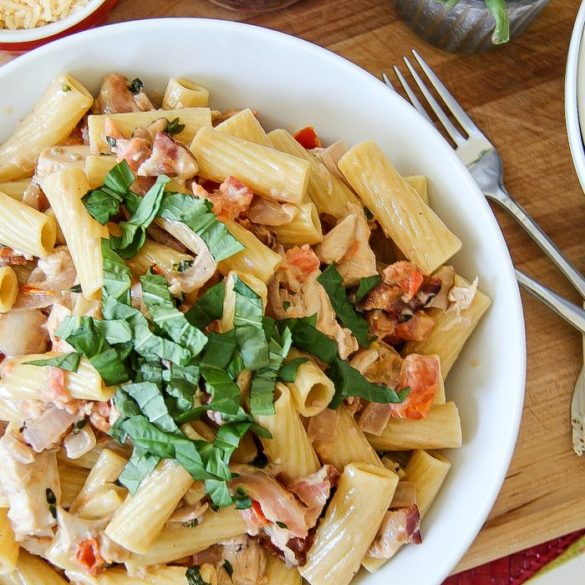 Ingredients
1 package of Rigatoni
5 rashes of bacon - cooked and roughly chopped
2 chicken breasts - roughly chopped (I love using the grocery store roast chickens for pasta)
3 Roma tomatoes - diced
1 yellow onion - chopped
1 tbs chopped garlic
1/4 cup fresh basil
1/3 cup fresh thyme - remove leaves from stems
1/4 cup Middle Sister wines - Rebel Red
1 cup heavy whipping cream
1 tbs bacon grease
pinch of salt and pepper
Instructions
Heat the bacon grease in a pan, and then add the onion and garlic. Saute until the onion is translucent. Add the wine and tomatoes and continue stirring occasionally for a few minutes before adding the fresh herbs and salt and pepper.
Stir in the chicken and bacon, and then top with cream. Stir until completely combined and then turn down the heat to simmer while you cook the rigatoni in a pot of boiling water.
Once the rigatoni is drained mix in the chicken and bacon sauce.
Serve with Parmesan cheese, a bottle of Middle Sister's Rebel Red, and if you like a little kick like I do, red pepper flakes.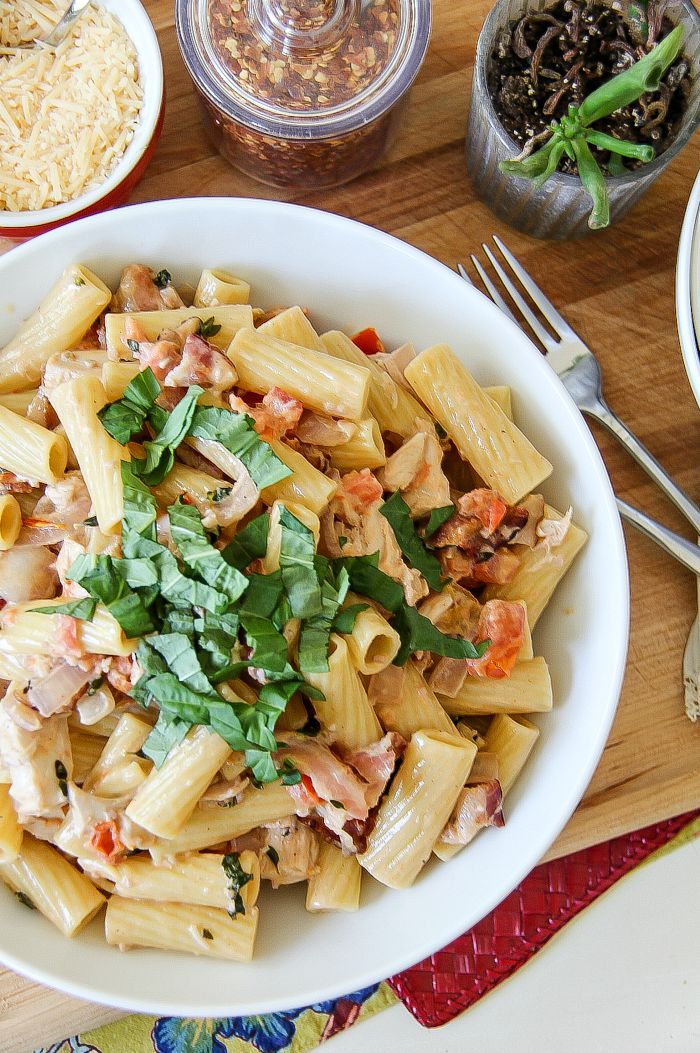 About Middle Sister Wine
Middle Sister just received a brand makeover and now features "Drops of Wisdom" which are a dose of inspiration right on the front label. Check out the fabulous new look!
The Middle Sister brand is based on a series of quirky "middle sister" characters who each claim their own varietal and personality.
Which Middle Sister wine are you?
Mischief Maker Cabernet Sauvignon
Wild One Malbec
Goodie Two Shoes Pinot Noir
Drama Queen Pinot Grigio
Rebel Red (red blend)
Sweet & Sassy Moscato
Did you know that birth order is commonly believed to have a profound and lasting effect on psychological development? Middle Sister wines did! And that is why they have dedicated a wine to the sister in the middle – the one who always seems to have a personality of her own, and steals the show. Not everyone has a wine named especially just for her…some people are just born lucky! Enjoy these sassy wines with your favorite family meals.
Middle Sister wines were crafted by award-winning winemaker Nancy Walker (a middle sister herself), the portfolio includes a wide variety of delicious red, white and sparkling wines from California and Argentina.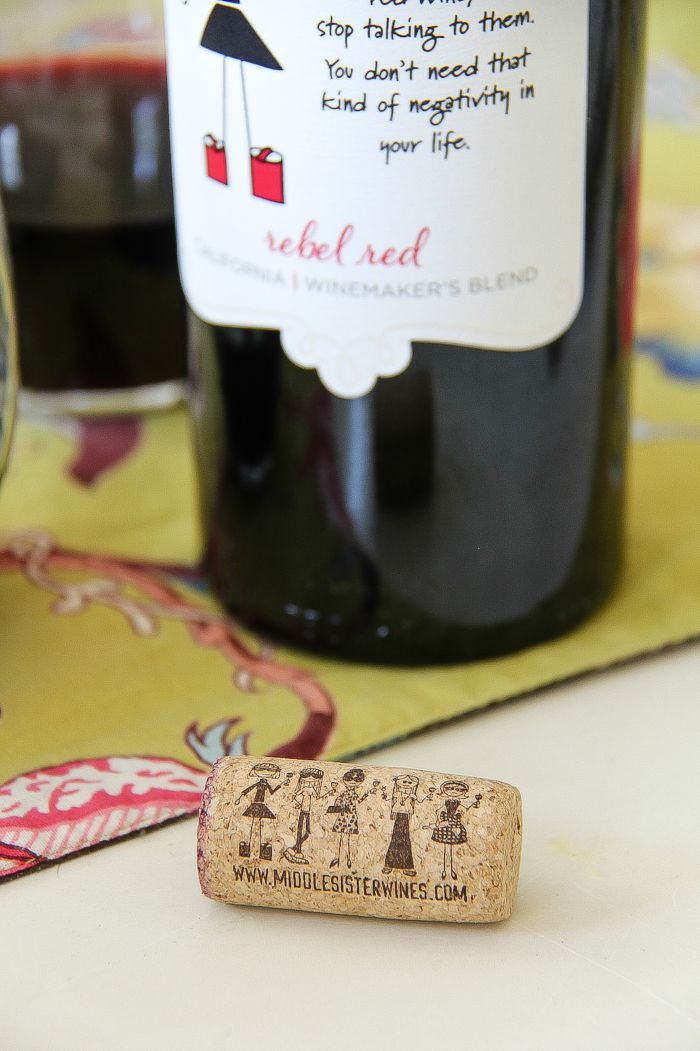 Please pin this post for later:Save