Does your child have jeans that are too short or have too many holes? Turn them into shorts and patch knee holes with our easy ideas.
I've written about this topic before. I have a boy. That boy has holes in nearly every pair of jeans he owns.
The spring weather has arrived in Southern California and we are experiencing weather around 60-70 degrees most days. It was time to grab all of my son's jeans with holes in the knees, cut them into shorts and patch the knees.
I found three pairs today, although I daresay there will be more coming out of the laundry in the next couple of days.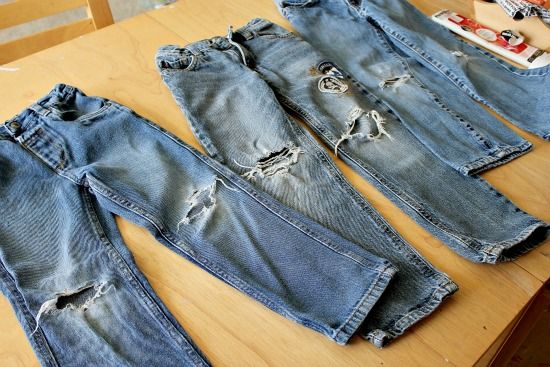 How to turn boys jeans into shorts and patch knee holes
Instead of sewing these ones, I decided to take the easy way out and pulled out a roll of hemming tape. I'm not sure how long I've had it, or where it came from, but by the looks of the package, it's been quite a long time.
The first step was to measure my son's legs to see how long the shorts needed to be. I then cut off the bottom of the jeans and used the hemming tape to hem the bottom of them.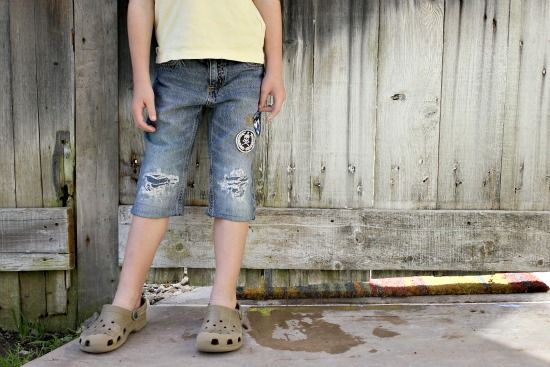 With the first pair, I cut a piece of denim out of the legs that I had cut off so that all of the fabric didn't go to waste. There's a great tutorial to do really big zig-zag stitching over the front of the patch. I didn't do this with all three, just the first pair.
I didn't use the zig-zag stitch for the next two pairs. With the second pair, I simply patched the holes with orange fleece.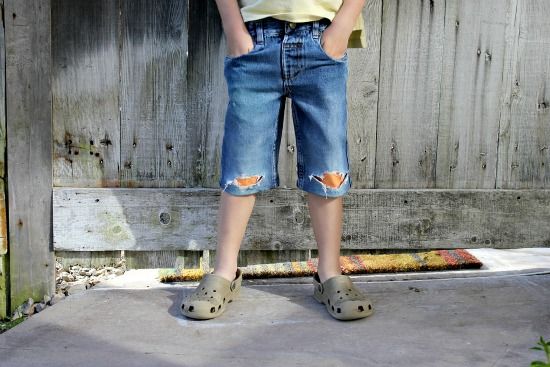 For the third pair, I used a really cool fabric with acronyms/teen slang on it. I ended up loving this one so much that I hemmed the shorts in it, then matched up a couple of the slang terms ROTFL and LMHO into the section that needed to be patched.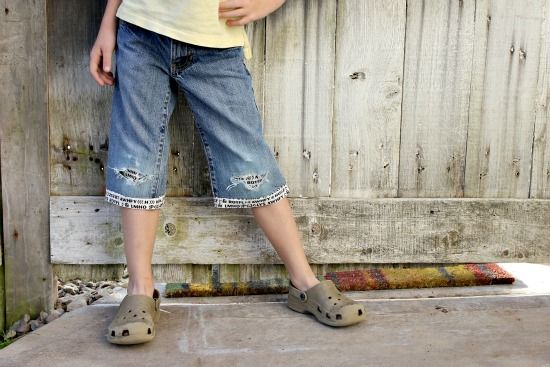 Looking for more ideas for turning kids jeans into shorts? Take a look at these: