This fun Valentine's Day tic tac toe board is so easy to make and the perfect gift and activity to do with the kids this year.
With Valentines Day just around the corner, hugs and kisses abound!  In celebration of the X's and O's special day, I came up with this easy craft that you can build in an afternoon and enjoy for years to come. Have lots of fun making this Tic-Tac-Toe Valentines Day game and playing it with your special valentine. 
This mini-chalkboard can be used for lots more than just tic-tac-toe games.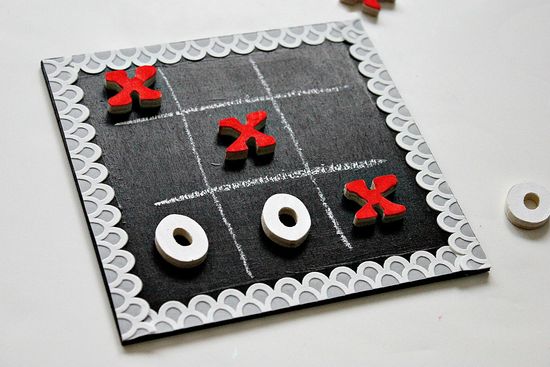 Valentine's Day tic tac toe
What you need
Plywood
Craftwood letters ' x' and 'o'
Sandpaper
Paint and brushes
Chalkboard paint
Border – stickers, or ribbon tape (optional)
Instructions
If you were unable to find a square piece of plywood, you can measure and then carefully cut a piece to size using an X-acto knife.
With your plywood cut to size, paint the board with chalkboard paint. You will need 3-4 coats for a durable, writable surface.  Once the paint is dry, you can add your border.
While you're waiting for the coats of chalkboard paint to dry, you can paint your 'X' and 'O' letters with acrylic paint. Red and white make perfect Valentine's Day colors, but you can choose any colors you'd like. You will need about 3 coats of paint on your letters, too.
Once all of your paint has dried, you're ready! Draw your grid lines with some chalk and play a game of tic-tac-toe with your valentine.
Do you have any Valentine's Day game suggestions? 
More Valentine's Day crafts
Are you looking for more fun Valentine's Day crafts to make? Take a look at these:
Please pin this post for later: