This quick and easy DIY wall art using napkins and a canvas takes just 10-minutes to make and will brighten up your walls.
Do you have a canvas that you painted, stenciled, or that was pre-printed, and it no longer fits with your home decor? Don't throw it out or donate it, wrap it instead.
This is such a quick and easy craft project that will bring new life to your walls. This idea is especially great if you are frequently changing colors, or room themes, switching out holiday decor, or have kids who always want something new.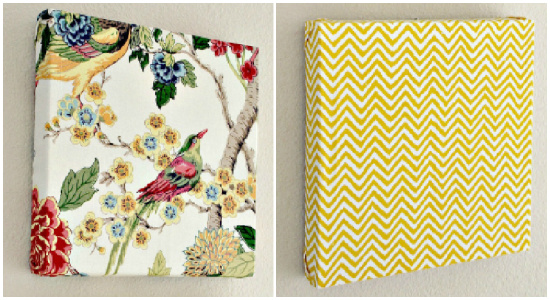 How to make quick and easy DIY wall art
To make it even easier, rather than cut and hem fabric, I use napkins. I adore the table linens at World Market. They always have such beautiful designs. I often keep a variety of designs on hand for taking photographs and to create a pretty mismatched table. I've also made cushion covers out of them in the past.
Supplies
A used canvas
Napkin
Staple Gun
Sawtooth Picture Hanger
Picture Hook
Hammer
Instructions
Simply wrap the fabric around the canvas and staple attach it to the back of the canvas using the staple gun. If one side is longer you can just turn the edge over before stapling. Fold the corners over neatly and staple those into place too.
Once the napkin is stapled into place, hammer a sawtooth hanger into place in the center top of the canvas.
Hammer the picture hook into the wall and hang your lovely new piece of art.
Tip: If you have a darker paint or print on the canvas and are using a lighter print fabric, add a coat of white paint and set it aside to dry before wrapping the napkin around.
Looking for more DIY wall art ideas? Try these:
Please pin this post for later: